How to Prepare for CAT VARC 2021 (Verbal and Reading Comprehension)
How to Prepare for CAT VARC (Verbal and Reading Comprehension) - Indian Institute of Management (IIM) Ahmedabad has not defined any specific syllabus of CAT. However, based on previous years' CAT question papers and trends, Careers360 brings to you the compiled syllabus along with the preparation tips for CAT VARC section.
Stay up-to date with CAT News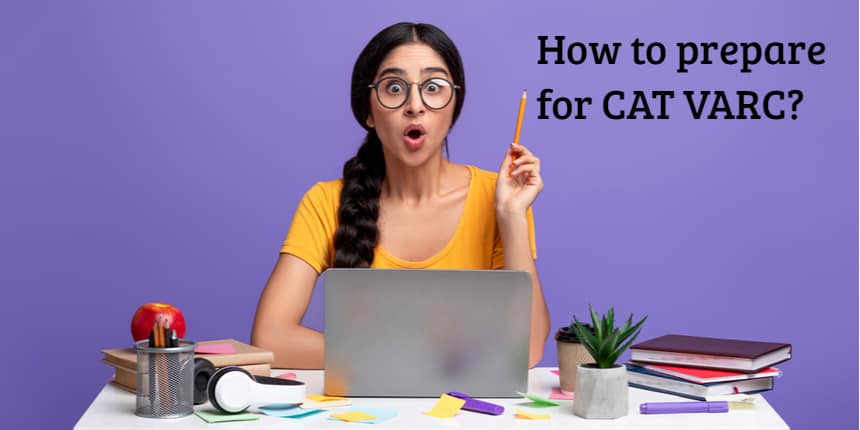 Aspirants often find it difficult to crack this section and often end up thinking 'How to prepare for CAT VARC?' Verbal and Reading Comprehension in CAT exam holds great weightage when considered for shortlisting. Last year as the CAT exam pattern was revised, there were 26 questions from CAT VARC where 18 were reading comprehension based questions and 8 were based on Verbal Ability. In fact, in CAT 2020 the VARC section of CAT turned out to be the toughest in all three slots. In order to score good CAT percentile, continue reading the article on CAT VARC books and CAT VARC preparation 2021.
Read more-
Components of VARC section in CAT 2021
Below given are the components or distribution of VARC questions for CAT:
Vocabulary
Grammar
Verbal Reasoning
Reading Comprehension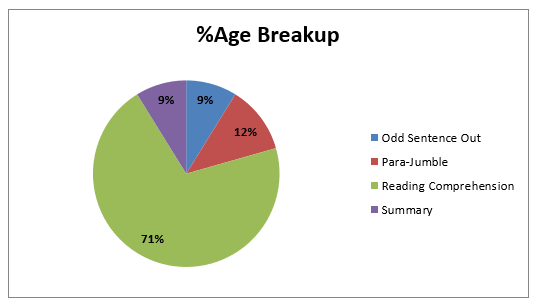 Also check- Previous Year's CAT Analysis
CAT test pattern has remained constant from 2015 to 2019, except last year where questions were reduced to 76 along with the time duration of the paper. Hence, before moving forward with CAT 2021 preparation for Verbal Ability and Reading Comprehension, let us get familiar with the VARC sectional composition. This composition of CAT VARC questions is based on 2019 CAT paper pattern which is expected to be same this year.
CAT VARC Exam Pattern 2021 (Expected)
| | |
| --- | --- |
| CAT Verbal Ability Questions Composition | Verbal Ability Reading Comprehension pattern |
| Section Name | Verbal Ability & Reading Comprehension (VARC) |
| Total VARC Questions | 34 |
| Total Verbal Ability Questions | 10 |
| Verbal Ability and Reading Comprehension Time to attempt the section | 60 Minutes |
| Marks for Each Correct Answer | +3 |
| Negative Marks for Each Wrong Answer | -1 |
| Difficulty Level of Verbal Ability Questions | Moderate to High |
| Good attempt | 24-26 |
| No Negative Marking Questions in CAT Verbal Ability section (Non-MCQs) | 8-10 |
Read more-
Verbal Ability & Reading Comprehension Syllabus for CAT
Candidates must be aware of the CAT exam syllabus in detail for better CAT preparation. However here we will discuss the topics or syllabus for VARC section itself.
VARC CAT Syllabus 2021
VARC Topics

Fill in the blanks

Para completion and inference

Verbal logic

Verbal reasoning

Contextual usage

Different usage of same word

Sentence completion

Foreign language words used in English

Idioms

Subject-verb agreement

Clauses

Articles

Tenses

Reading comprehension

Para-jumbles

Noun/pronoun

Conjunctions

Punctuation

Syllogisms

Analogies

Antonyms

Jumbled paragraphs

Sentence correction

One word substitution
How to prepare for CAT Verbal Ability?
Verbal Ability or Reading Comprehension tests your ability to understand
1. The nuances of the written word
2. Identify and differentiate the subtleties of meanings of words
3. Correct syntax, structure and formation of sentences
4. Identify the complex ideas presented in the paragraph and link it to the overall theme
Tips for CAT VARC preparation 2021
The most important difference between VARC and other sections of CAT is that this section is not about finding the right answers but rather finding the wrong ones and eliminating them. Many options might appear correct, so you need to develop logic and understand why they are wrong and not the other way around.
Develop a healthy reading habit, take out 30 mins of your day for reading a novel and another half to one hour (depending on your speed) to read at least the editorial section of the newspaper.
Get Updated CAT Verbal Preparation Material of Best Coaching Institutes
You can download some of the PDFs like Verbal Ability for CAT by Arun Sharma Pdf

Attempt a number of mock tests for the VA section as it helps you to expose to a variety of questions. The most important phase of the mock test is to post the test which helps you analyse your performance of the skill.

Download mobile applications like vocabulary builder, word to word and so forth to make learning fun.

While you learn new words or phrases, always apply those in day to day expressions while talking to your friends or family. It helps you to retain the information and know the usage.

While you are bored of reading and getting lazy, switch to watching movies/series and play word games.

Mark difficult words and learn their meanings from the dictionary. Students are advised to always keep the dictionary handy while watching movie/reading books.

Get Free CAT Mock Test here.
To download CAT Sample Papers 2021, click here.
Best Books for CAT Verbal Ability Section
Before beginning with the preparation for CAT, students must go through the list of best books for the CAT VARC section.
VARC Books for CAT Preparation:
S. No.

Books

Author

Details

1.

Word Power made easy

Norman Lewis

Improves Vocabulary

Explains correct usage of words

Review exercises at the end of chapters

Divided into oriented sections

2.

Mastering the Verbal Ability for CAT

Ajay Singh

More than 200 passages for better preparation

3.

How to Prepare for Verbal Ability and Reading Comprehension for the CAT




Arun Sharma and Meenakshi Upadhyay

Mock tests are provided

Analysis of past years papers

Written in a lucid manner

Topic-wise segregation is provided
Quick Links:-
How to prepare for CAT Reading Comprehension?
Reading comprehension is understanding of the text which will be provided to comprehend the ideas that the writer or author wants to convey. CAT RC section generally consists of 4-5 passages with approximately 300-400 words each. Each passage will consist of 5 questions, students will be required to answer the questions on the basis of the passage. To improve one's reading comprehension, he/she must follow the following points:
Assess your current reading by noting the time you take to read a passage. To know your capability pick a passage from any magazine, book, newspaper or novel and note the instances where you lag for example difficulty in understanding a few words.

If you take time to understand a few words, focus on improving your vocabulary by creating flashcards of the words you were not able to relate to. Write the definition of difficult words. Test yourself by taking the quiz from the words you have written on flashcards.

Take pleasure in what you read to improve your vocabulary. Hence, embrace whatever you read and don't make it a constant chore.

Summarize each time you feel you are getting confused.

When you feel tired, read the passage aloud.

Don't forget to read the previous sections of the text to link with the later paragraphs.

While practising, discuss the passage with friends on the basis of your understanding and have a healthy argument with the vocabulary you have learnt.
CAT 2020 topper Vishesh Garg, who scored 99.98 percentile in VARC provides a way out of the tougher sections, stating "For my strong point, all I did was practice based on the knowledge I knew. And for my weaker section though I start with basics I used to attend online lectures and go through the coaching material I have. For my strong section, what I made sure was not to leave out any question which I can score well that I have to attempt the best and for my weaker section I prepared enough to get the easiest and medium level questions done. I leave the hard question right away to save time."
Check more-
Frequently Asked Question (FAQs) - How to Prepare for CAT VARC 2021 (Verbal and Reading Comprehension)
Question: Which type of questions does VARC section comprise?
Answer:
VARC section has following composition:
Vocabulary
Grammar
Verbal Reasoning
Reading Comprehension
Question: What are the best books for VARC preparation?
Answer:
Best books for VARC preparation are Word Power Made Easy by Normal Lewis and High School English Grammar by Wren & Martin, etc.
Question: How many questions were asked in CAT 2020 in VARC?
Answer:
There were a total of 26 questions in CAT 2020 VARC, out of which 18 were RC based and 8 were verbal ability ones.
Question: What is the best preparation strategy for Verbal Ability and Reading Comprehension?
Answer:
Study English grammar and Verbal Ability first to understand the concept. Then practice a number of sample questions of different kinds to gain confidence, speed and accuracy. For RC passages, develop the habit of reading from early stages.
Question: What are the topics on which I should read books for RC preparation?
Answer:
Candidates must read books on economy, philosophy, science, astronomy, psychology, sociology, history, geography, art & culture, literature, fiction novels, auto-biographies and biographies.
Questions related to CAT
Showing 9971 out of 9971 Questions