CAT Selection Process: IIMs will start the selection process for admission to post-graduate management programmes after the conclusion of the CAT exam. IIM will announce CAT result 2023 in online mode in the last week of December 2023 probably. Candidates can check their CAT 2023 result by visiting the official website- iimcat.ac.in and by using the required CAT login credentials such as CAT user ID and password. Candidates will be shortlisted based on their score in CAT 2023 for further rounds such as GD and PI.
CAT Selection Process: Check IIM Admission Criteria 2024-26
Candidates should also perform well in the admission rounds in order to get selected for admission. Selection for admission will be done on the composite scores of candidates in all rounds. Also, academic performance will be considered for admission.
The criteria for shortlisting candidates will vary across IIMs, with each IIM having its separate admission policy. for details of admission criteria, candidates can visit the official website of the respective IIM. Most of the IIMs will release their admission criteria 2024 at their websites. Non-IIMs will also release the admission criteria. Candidates interested in taking admission at B-schools other than IIMs will have to check the admission criteria at their website.
Indian Institute of Management (IIMs) shortlists candidates for the interview round based on their own individual admission criteria. However, CAT score is a common and most important component in the selection process of all IIMs as well as CAT 2023 score accepting institutes. Other selection factors include candidates' past academic records, gender, diversity of qualifications, etc.
CAT Selection Process for MBA Admission 2024-26
IIMs will shortlist candidates on the basis of CAT 2023 and the selection process as they have mentioned separately on their website. The selection process for CAT will consist of Group Discussion (GD), Written Ability Test (WAT), and a Personal Interview (PI). Post the current covid-19 scenario, some institutes conduct only online interviews for shortlisted candidates.
IIM Admission Process 2024-26 through CAT
In this complete Careers360 article, we clearly discuss the weightage given to various aspects, the CAT selection process, the different selection processes of IIMs, non-IIMs, and other B-schools accepting CAT scores. The CAT 2023 selection procedure for IIMs consists of three rounds such as:
Round 1: CAT 2023 Result and IIM Shortlist

Round 2: Personal Interview

Round 3: Final Selection and Eligibility Verification
India's Top NIRF-Ranked Private B-Schools
Appearing for CAT 2023? You must aim for these Top NIRF ranked B-Schools. Check out courses, fee, placements and more.
Download EBook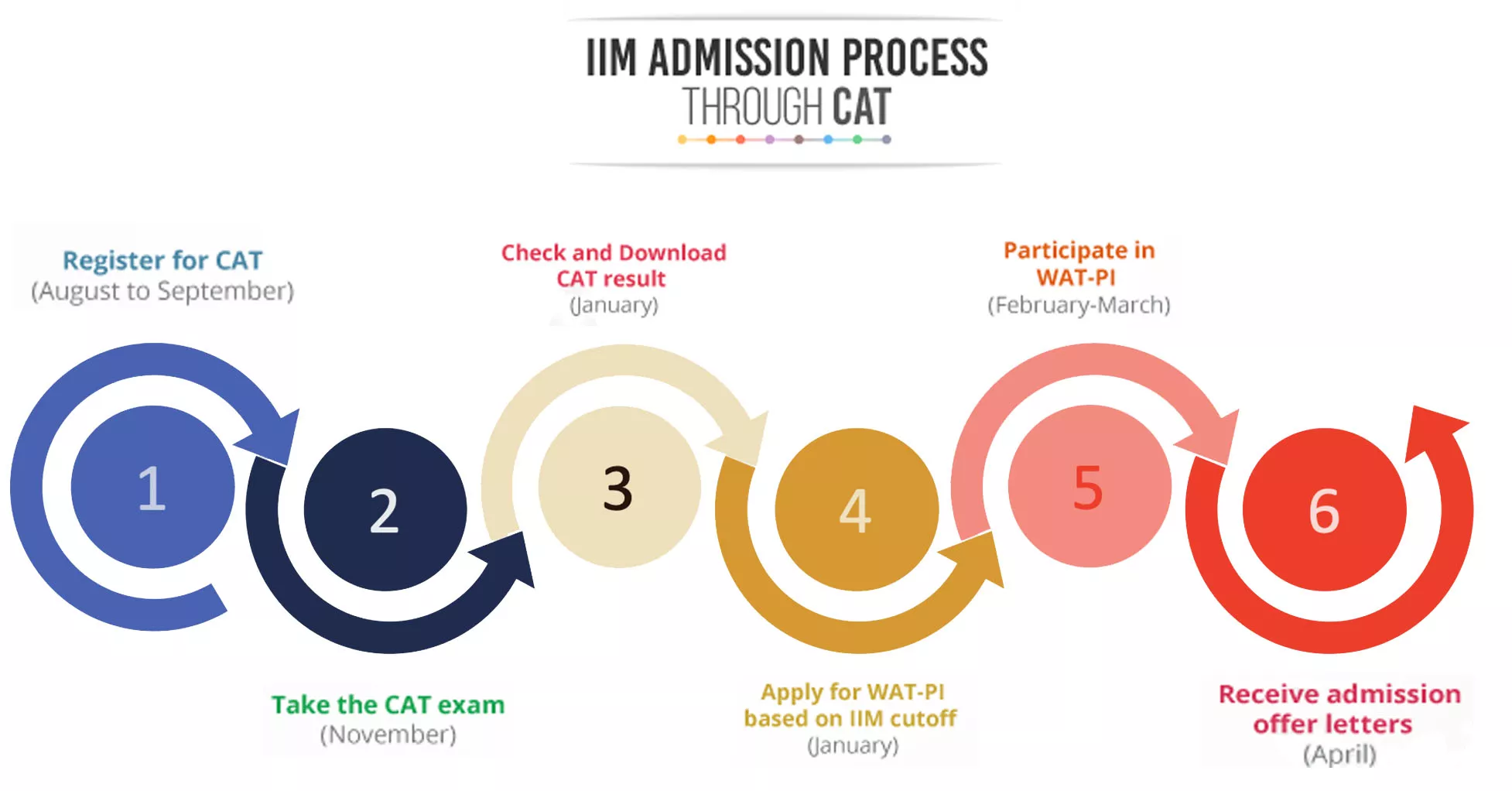 Round 1: CAT 2023 Result and IIM Shortlist
The first step is the announcement of CAT 2023 results by the exam conducting body. Respective IIM, the test conducting body for CAT 2023, will declare the CAT 2023 result. Consequently, IIMs will start releasing shortlist dates and then begin their shortlisting process. IIMs will release their individual CAT cutoff 2023 for different categories. The list of shortlisted candidates for the next stages of selection will be made available on the respective website of the concerned IIMs. IIMs will send interview letters directly to all shortlisted candidates.
MBA Admission Process 2024 through CAT - IIM Interview Call Letter
Candidates selected for the first round of the CAT selection process 2023 will receive invitation letters in their registered email id. The invitation letter will contain the following information:
Registration link

Last date to complete the CAP registration (for 9 IIMs)

Date, time, and venue of WAT/GD and PI
Round 2: WAT, PI, and GD Rounds
All candidates who meet the CAT cutoff can move on to the next stage of the IIM selection process 2024-26 for MBA i.e. Written Ability Tests (WAT), Personal Interviews (PI), and Group discussions (GD). Candidates are evaluated on the basis of general knowledge, communication ability, performance in previous rounds, and presence of mind.
Round 3: Final Selection and Eligibility Verification
Any candidate listed for a personal interview at IIMs must comply with the eligibility and verification for the CAT final selection process.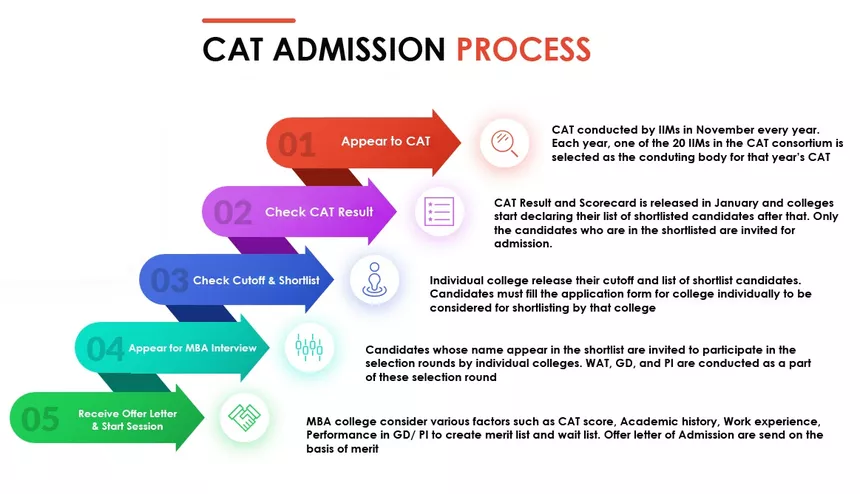 At this point, candidates get marks based on their academic performance. Here is a breakdown of the tentative parameters on which candidates are selected.
| | |
| --- | --- |
| CAT Parameters | Weightage |
| CAT 2023 | 25 |
| PI | 30 |
| WAT | 10 |
| Class 10 | 10 |
| Class 12 | 5 |
| Graduation | 10 |
| Weighted Work Experience | 10 |
| Total | 100 |
NOTE: The table above contains the parameters and weightage of respective IIM for the CAT exam. The weightage of each parameter will vary from year to year for each IIM.
Also Check: MBA Colleges Accepting 60 Percentile in CAT
Candidates are listed for WAT / GD-PI processes based on the CAT percentile. The aggregate score calculation process for the shortlist for WAT / GD-PI provided by IIM Lucknow is as follows: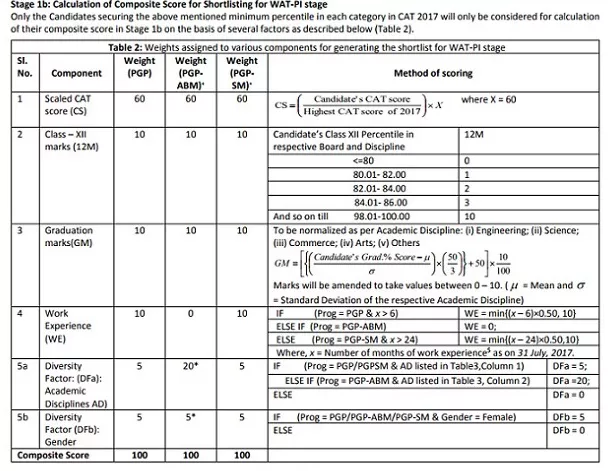 What are the documents to be taken at WAT/ GD and PI time?
Degree certificates & mark sheet verification:
Candidates are required to produce original and attested copies of certificates and mark sheets during the IIM selection round i.e. personal interview. If selected, the original degree mark sheets of all semesters and attested copies must be submitted at the time of joining.
Required documents at the time of WAT/ GD and PI:
IIM Interview call letter

CAT 2023 scorecard

Class 10 mark sheet and certificate

Class 12 mark sheet and certificate

The graduation mark sheet and certificate

Reservation category proof of certificate (if applicable)

Work experience certificate (if any)
Reserved category
Candidates are required to produce an attested copy as well as the original ST/ SC/ NC-OBC/ DA certificates during the personal interview. If selected, original certificates and attested copies of the reservation category must be submitted upon joining.
Final year undergraduate students
The selected candidates will have to submit an original as well as an attested copy of the certificate that the student has obtained 50% marks (45% for reserved category) from the Registrar/ Principal/ Director of the institute or university.
Their admission will be temporary until the original mark sheet and the qualifying degree at the undergraduate level are submitted before December 31, 2024. If a candidate fails to submit requisite documents on or before the stipulated time, his/ her admission will be automatically canceled.
Final CAT Selection Process
Other additional factors considered by most IIMs for CAT counselling are:
Previous academic performance of the candidates

Relevant work experience

Gender and academic diversity
Quick Link-
CAT Admission Process 2023 - (Tentative)Parameters for Final Selection Process
| | |
| --- | --- |
| Parameters | Details |
| CAT 2023 | Overall percentile score obtained in CAT 2023 exam. |
| Class 10 | The aggregate percentage marks in class 10 |
| Class 12 | The aggregate percentage marks in class 12 |
| Graduation | The aggregate percentage in 3 or 4 year's degree course |
| WAT/ GD-PI | In WAT / GD-PI the performance of each candidate is evaluated and marks are allotted accordingly. |
| Academic Diversity | Candidates with a non-engineering background are awarded extra points to ensure a fair representation of students from other streams. Points for academic diversity vary for each campus. |
| Gender Diversity | IIMs give extra points to women/ transgender people to promote fair representation of each gender. Points for gender diversity vary for each campus. |
| Work Experience | Additional points are awarded to candidates with work experience. For this, a limit of experience is defined as the lowest to the highest. Points for work experience vary for each campus. |

NOTE: It should be noted that these parameters vary from institute to institute each year.
Common Admission Process (CAP): CAT Admission Process for New IIMs
The newer IIMs such as Ranchi, Raipur, Trichy, Udaipur, Kashipur, etc will conduct a common counseling process called Common Admission Process (CAP). A shortlist of candidates will be made and they will be required to appear for the common written ability test and personal interview rounds. Each of these IIMs will publish a candidate's performance based on a separate merit list.
The following new IIMs will follow the CAP-based CAT result 2023
Key points of IIM CAP
All the participating Indian Institute Management will send the shortlisted candidates for WAT-PI to the IIM conducting CAP.

That IIM will conduct the WAT-PI round for all CAP participating IIMs.

After the CAP, the participating IIMs will evaluate the performance of the candidates in WAT, PI, CAT score, profile, etc., and create their individual merit list to offer admission.

The final list of selected candidates will be displayed on the respective IIM website. This is only available to candidates with an institute login/ CAT ID.
NOTE: The weightage of the eligible CAT cut-off and admission parameters will be common to all CAP participating institutes.
List of Top MBA Colleges Accepting CAT score in India
IIM Shortlist Status 2024-2026 based on CAT 2023 score
After the CAT 2023 results, IIMs will release the list of shortlisted candidates to join their 2024-26 batches. Candidates can check the table below for the previous year shortlist details. This will help them have an idea about tentative shortlist dates of IIMs and the number of seats for MBA and PGP programmes.
| | | |
| --- | --- | --- |
| IIMs | Shortlist Release Date | Number of Seats in MBA/PGP (Tentative) |
| | Second week of January 2023 | 395 |
| | First week of January 2023 | 375 |
| | First week of March, 2023 | 240 |
| | Last week of January 2023 | 120 |
| | Last week of January 2023 | 240 |
| | Third week of January 2023 | 460 |
| | Third week of January 2023 | 500 |
| | First week of March, 2023 | 120 |
| | Third week of January 2023 | 400 |
| | First week of March, 2023 | 160 |
| | Last week of January 2023 | 260 |
| | Last week of January 2023 | 185 |
| | First week of March, 2023 | 240 |
| | Last week of January 2023 | 260 |
| | Last week of January 2023 | 240 |
| | Last week of January 2023 | 180 |
| | Third week of January 2023 | 450 |
| | First week of March, 2023 | 120 |
| | First week of March, 2023 | 130 |
| | First week of March, 2023 | 120 |
MBA Admission 2024-26 Through CAT in Non-IIMs
There are 88 institutes that do not fall under the IIM category but are registered with CAT 2023. These institutes conduct their own CAT selection procedure 2023. Though the CAT 2023 counseling includes the same set of rounds as WAT and GD/ PI. However, not all of these rounds are mandatory for final admission. Some institutes like IMT Ghaziabad conduct group activities or group training instead of group discussions.
Also Check: Top MBA Colleges in India accepting CAT score