Where can I apply with 60 Percentile in CAT?
A low score or a dis satisfactory result does not always mean that the doors to your dream destination have closed. If your CAT percentile is in the range of 50 to 70 percentile, you must be wondering if there is any chance to get admission to a decent B-School. By now, you must have realized that admission chances at a top league B-School are out of the question. But that does not mean you have to bid farewell to your MBA dream which you have been pursuing since long and worked hard for.

Latest: CAT 2019 Result announced on January 4, 2020.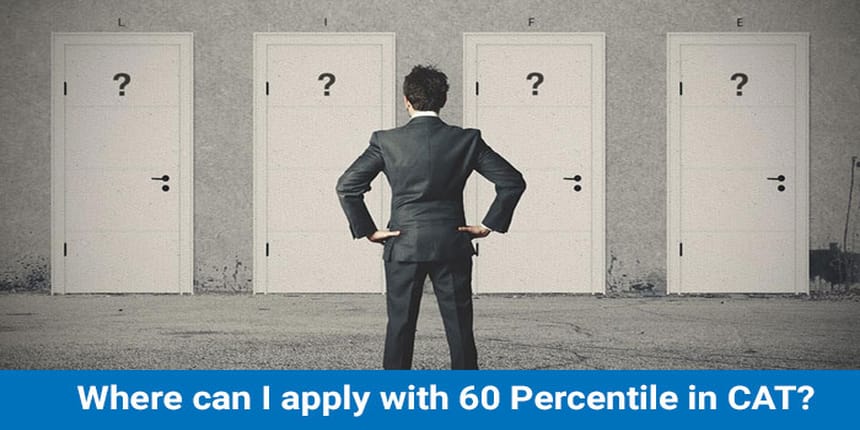 Selecting the right B-School with CAT percentile of 60 can be a tricky affair. Although there is no dearth of B-schools whose CAT cutoffs range above 50 percentile, selecting the right one is the main area of concern. To guide you with MBA admission, we bring to you the list of B-schools with cutoffs ranging from 60 to 70 percentile or below.
We have classified the B-schools into three categories: B-schools with CAT cutoff 60 percentile, 65 percentile and less than 60 percentile. Take a look at the tables below.
Case 1 – 60 Percentile
Note: The B-schools have been arranged in random order

Case 2 – 65 Percentile
Note: The B-schools have been arranged in random order

Case 3 - <60 Percentile
| | |
| --- | --- |
| B-School | Percentile |
| | 50 Percentile |
| | 50+ Percentile |
| | 50+ Percentile |
| | 50+ Percentile |
| | 55 Percentile |
| | 50 Percentile |
| | 55 Percentile |
| | 55 Percentile |
Note: The B-schools have been arranged in random order
What next?
Decide wisely – Even if your percentile meets the cutoff to a B-School, before applying, or confirming admission (considering you receive final admission offer), know if the institute is worth your precious two years. The factors you need to assess are brand name or repute, ROI factor (fee vs average salary offered at placement), location, industry exposure, faculty strength, resources, infrastructure among others. Seek review from current students, contact the college officials and if possible, visit the B-School to get a true picture.
Take other upcoming exams – CAT is the most competitive MBA entrance exam but not the only one. A low percentile is CAT does not mean that you don't have chance in other exams. MAT and ATMA are conducted more than three times in a year and you have high chances to secure a good percentile owing to easy difficulty level and lesser number of test takers. The number of participating institutes is also high. Also, the season for state level MBA entrance exam has also commenced. Hence, if you are looking for admission in Odisha, Tamil Nadu, Telangana, Andhra Pradesh etc., do keep an eye on the application window and appear for the state level entrance tests.
Prepare for GD PI and WAT – Although the final round of selection process may not carry a very high weightage and a shortlist is almost a confirmation to final admission offer, a good performance in GD/WAT and PI rounds would strengthen your admission chances.
Consider retest – If the reason for your low score is lack of preparation, you may consider appearing for CAT again this year. By now, you must have known your weak areas where you need to improve. Taking the lesson from your previous performance, start afresh to secure a much higher percentile and target admission to your dream B-schools.
Also Read
What are my MBA admission chances with 70-80 percentile in CAT?
What if my CAT percentile is between 80 and 90? Do I have any chance at top B-schools?
Which B-schools can I get if my CAT percentile is between 90 and 100?
Questions related to CAT
Showing 9103 out of 9103 Questions