MAT 2022 Cutoff - Know Expected Cut Off for Top MBA Colleges
MAT Cutoff 2022- MAT participating institutes release the MAT 2022 cutoff soon after the MAT result is announced by AIMA on its official website. In order to participate in the selection round of MAT participating institutes, one will have to meet the minimum cutoff of MAT 2022. While some colleges consider the overall MAT exam score for shortlisting candidates for Group Discussion (GD) and Personal Interview (PI), a few colleges also consider the MAT composite score and MAT sectional scores of the candidate.
Stay up-to date with MAT News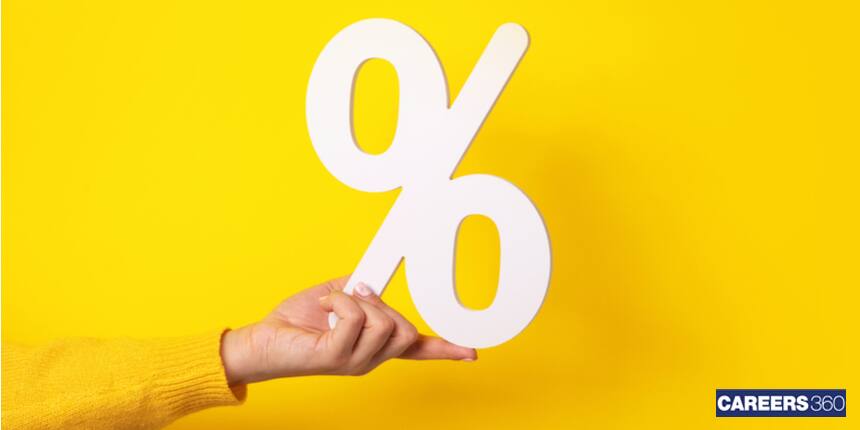 Ongoing MBA Admission
MAT cut off 2022 percentile of Top MBA colleges accepting the exam score is usually above 90 percentile. Being familiar with the MAT 2022 cutoff is a crucial aspect even for candidates who have just begun their MAT preparation.
5 min read
Mar 05, 2022
Read More
An idea of the MAT exam cutoff will help the applicants in setting a strategy on how many questions to attempt in MAT on the exam day to clear the required MAT colleges cutoff. Check details on MAT 2022 cutoff based on the previous years, college-wise MAT cutoff, and more.
MAT Cutoff 2022
If you have appeared in all the exam sessions of MAT 2022, your better score will be considered. The validity of the MAT scorecard is one year. MAT score for admission in top MBA colleges such as XIME Bangalore, NIT Warangal, and IPE Hyderabad lies between 600-700. Over 600+ B-schools accept MAT test scores. The overall MAT exam score is arrived at by considering:
MAT Composite Score
MAT sectional score

The MAT composite score is the marks calculated based on the candidate's performance in the first four sections of the exam, i.e. Language Comprehension, Mathematical Skills, Data Analysis & Sufficiency, and Intelligence & Critical Reasoning. This score is calculated on a scale of 199-801 for arriving at MAT 2022 cutoff.
4 min read
Mar 05, 2022
Read More
The score of the General Knowledge section is not included in the calculation of the MAT composite score. Let us check the MAT cutoff 2022 for some of the top MAT exam-accepting institutes.
Top MBA Colleges accepting MAT scores - State-wise
MAT 2022 Cutoff for Top MBA Colleges
Note- It must be noted there are a number of top MBA colleges apart from the above-mentioned colleges that accept MAT scores.
Check your MAT 2022 percentile using the Careers360 MAT percentile predictor.
MAT Expected Cutoff 2022
There will be no single cutoff list for MAT 2022. Different MAT accepting colleges will have different MAT cutoff 2022 i.e. it varies from institute to institute. Some MAT score accepting institutes shortlist candidates on the basis of sectional cut off, while some consider overall MAT cutoffs. The table given below shows the expected MAT participating institutes-wise cutoff.
MAT Cut Off: 80%ile and above
| | |
| --- | --- |
| B-School | Range of MAT Cut off Percentile |
| | 80-85 |
| | 80-85 |
| | 80-85 |
| International School of Business & Media (ISB&M) Pune | 80-85 |
| | 80-85 |
| SIESCOMS Navi Mumbai | 80-85 |
| | 80-85 |
| | 80-85 |
| | 80-85 |
| VIPS-TC-Delhi School of Business Delhi | 80-85 |
| | 80-85 |
| | 80-85 |
MAT Cut Off 75%ile and above
MAT Cut Off 60%ile and above
MAT 2022 Ideal Attempts
As per the MAT 2022 exam pattern, candidates are required to solve 200 questions divided into five different sections. Given below are the ideal attempts to attain good marks in MAT 2022.
MAT Ideal Attempts 2022
| | | | | |
| --- | --- | --- | --- | --- |
| Sections | No. of questions | Ideal Attempts | Ideal Time to solve a particular section (in minutes) | MAT score for 90+ percentile |
| Intelligence and Critical Reasoning | 40 | 25-28 | 35 | 27 |
| Language Comprehension | 40 | 25-30 | 30 | 28 |
| Mathematical Skills | 40 | 30-32 | 37 | 30 |
| Data Analysis and Sufficiency | 40 | 24-28 | 38 | 23 |
| Indian and Global Environment | 40 | 15-25 | 10 | Not considered for final MAT percentile calculation |
| Total | 200 | 125 | 150 minutes | 108-110 |
Quick Read-
How to check MAT Cut Off 2022?
The result of MAT 2022 is out and candidates can check the result on the official AIMA website. The candidates who have appeared in the entrance exam can check the MAT 2022 cutoff of participating institutes. Here are some easy steps by Careers360 that can be followed by candidates in case they wish to know how to check the cutoff of MAT 2022:
Visit the official website of the MAT participating institute
Click on the 'Admissions' tab
Enter your details and check the eligibility cutoff
MAT Cut off list will appear on the screen
How is MAT Cutoff calculated?
Participating institutes of MAT 2022 will release the cutoff on the basis of certain factors. At the time of selection, various other factors such as academic performance, work experience, etc. are also given importance other than just the MAT exam cutoff 2022. These factors are the determinants of the MAT 2022 exam cutoff. Some of the major factors which are considered before the cutoff of the MAT exam is released are-
MAT Cutoff Determining Factors
No. of test-takers- Candidates who appear for MAT 2022 are considered at the time cutoff is released. The more the test-takers, the higher will be the MAT cutoff of that particular time.
The difficulty level of the question paper- The higher the difficulty level, the lower will be the MAT 2022 cutoff and vice-versa.
Seat availability- The number of seats available in the respective institutes also affects the MAT cutoff 2022. If there are many seats, the cutoff of MAT will be lower.
Past year MAT cutoff trends- The cutoff of MAT 2022 is also dependent on the previous year's cutoff of participating institutes.
Top MBA Colleges accepting MAT scores - City-wise
What After MAT Cutoff 2022?
As mentioned above, MAT participating institutes 2022, will follow a separate admission process and will release the cutoff individually. Some colleges may conduct group discussion rounds along with a personal interview, while some may also include written ability tests. Keeping in the past track of participating institutes, many of them provide due weightage to the written test while shortlisting candidates.
MAT Selection Procedure 2022
Post the above rounds, shortlisted candidates will be called upon for the selection procedure of MAT 2022. All shortlisted candidates must carry with them the following list of documents at the time of the selection procedure-
The original academic certificate (Class 10, Class 12, and graduation) along with xerox copies

MAT rank card

Passport size photograph

Caste Certificate (if any)
Top Colleges in India offering MBA
Frequently Asked Question (FAQs) - MAT 2022 Cutoff - Know Expected Cut Off for Top MBA Colleges
Question: Is there any single cutoff of MAT 2022 for all participating institutes?
Answer:
No, there is no single MAT 2022 cutoff that is followed by all institutes.
Question: How is MAT 2022 cutoff calculated by MAT participating institutes?
Answer:
There are certain factors like previous cutoffs, the difficulty of MAT question paper, number of seats available and related on the basis of which participating institutes of MAT 2022 will release the MAT cutoff.
Question: What will be the validity of MAT scores?
Answer:
MAT scores are valid for a period of one year only.
Question: Is there any sectional cut off for admission through MAT?
Answer:
Some of the MAT accepting colleges take into consideration MAT sectional cut offs along with overall cut off, while some institutes consider only the overall MAT score for admission.
Question: What does having a 90 percentile in MAT mean?
Answer:
MAT percentile score depicts the percentage of examinees who scored below you in MAT of the total aspirants who appeared for MAT. So 90 percentile in MAT 90% aspirants whose score is less than yours.
Question: How many MBA colleges accept MAT score for admission in India?
Answer:
Over 600 MBA colleges accept MAT score for admission. These colleges are listed with AIMA as participating colleges. Check the entire list here.
Question: What is the next step after clearing MAT Cut off?
Answer:
Based on your choices filled in during MAT Registration, the institute will notify you about your selection to the pre-admission rounds along with all the guidelines and instructions.
Question: How many times can I appear in MAT exam in a year?
Answer:
Candidates can appear four times for admission to particular academic session, that is, February, May, September and December.
Question: In how many institutes can I apply on the basis of MAT?
Answer:
You can apply in any five MAT Colleges (seven, in case you are appearing for MAT 2022 through both the modes).
Question: What is a good MAT score for admission?
Answer:
Composite Score of 400 and above is considered a good MAT score. Most of the MBA colleges accepting MAT select students having MAT score in the range of 80 percentile to 99 percentile.
Question: How many colleges in India accepts MAT score?
Answer:
There are more than 600 colleges in India accepts MAT score to offer admission into MBA/ PGDM program.
Question: Is meeting specified MAT cutoff confirms admission?
Answer:
No, after meeting the specified MAT cutoff, candidates will have to appear for the further selection round which will be conducted by the participating institutes.
Questions related to MAT
Showing 4144 out of 4144 Questions