MAT Preparation Tips 2022 - All India Management Association, AIMA has announced the schedule for Management Aptitude Test, MAT December 2022 exam. With the declaration of MAT 2022 dates, candidates have upped their preparation. Acing the MAT exam do not require a special preparation, a candidate with right strategy and study plan can easily crack this MBA entrance test. Like other management entrance exams, in MAT, speed and accuracy also matters. Candidates are advised to take more and more mock tests and practice solving previous questions and sample papers.

The MAT entrance test is considered easier as compared to other management entrance exams such as CAT, XAT, or IIFT. So candidates preparing for CAT like MBA entrance exams won't require to sweat a lot, they just need to tweak their preparation around MAT exam pattern and syllabus. They should focus on improving speed and learning short tricks. MAT 2022 exam will have 200 multiple type questions in total that need to be solved in the given time of 150 minutes. So at the time of MAT exam preparation, candidates will have to work on speed and accuracy. In order to get into premier MAT participating institutes, candidates will have to secure a minimum of 95 percentile.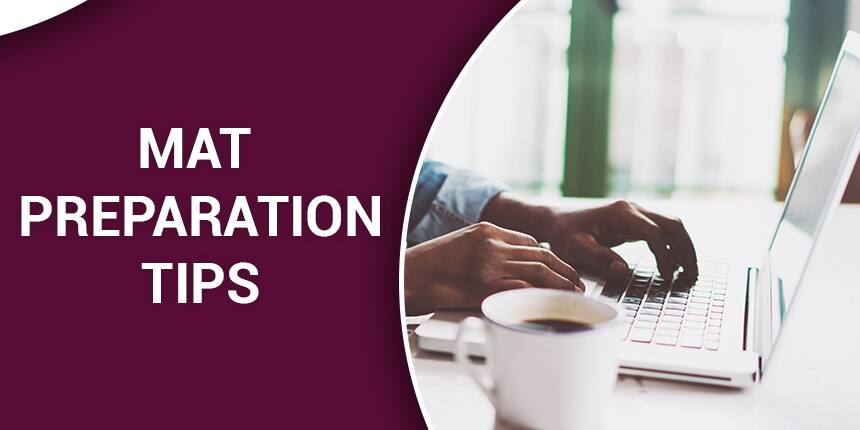 MAT 2022 Preparation Tips: Best Books, Important Topics, Strategy & Guide
MAT Preparation Tips 2022
MAT December 2022 exam is around the corner, and dates are out. Candidates planning to appear for the exam must boost up their preparation. There are certain questions that must occur in the mind of every management aspirant how to prepare for MAT, the best tips for preparation, the best books to follow for MAT 2022 exam, etc. On this page, we are going to share common tips to section wise preparation tips for MAT 2022.
Also, check the related articles
First understand the pattern of MAT Exam
As candidates start their MAT preparation, they must be aware of the exam pattern and other important things. This is the first step to preparation. Knowing the exam pattern will help the draw the plan and strategy around what take to crack Management Aptitude Test, MAT with a significantly high score. Understanding the pattern of the exam means paying attention to the sections which are covered and what weightage of marks they hold.
India's Top NIRF-Ranked Private B-Schools
Appearing for MAT 2023? You must aim for these Top NIRF ranked B-Schools. Check out courses, fee, placements and more.
Download EBook
MAT Exam Pattern 2022
According to the exam pattern of MAT, the MAT question paper will consist of a total of 200 questions with a total time duration of 150 minutes. All the questions will be divided into five sections. Check the detailed MAT exam pattern 2022.
Exam Pattern of MAT 2022- Sectional division
| | | |
| --- | --- | --- |
| Section name | Total number of questions | Sectional time limit |
| Data Analysis and Sufficiency | 40 | 35 Minutes |
| Intelligence and Critical Reasoning | 40 | 30 Minutes |
| Language Comprehension | 40 | 30 Minutes |
| Mathematics | 40 | 40 Minutes |
| Indian and Global Environment | 40 | 15 Minutes |
| Total | 200 | 150 Minutes (2.5 Hours) |
Maintain self-discipline and stick to the MAT preparation
It takes lots of effort and dedication to crack a competitive exam and a few months are not sufficient for full-fledged preparation of exams like MAT, aspirants should maintain self-discipline and must avoid wasting time on irrelevant activities. Also, candidates must stick to the preparation strategy they have adopted.
MAT Section Wise Preparation Tips
Practice questions based on different patterns
At the beginning of MAT preparation, candidates should practice a lot of questions based on different patterns and must refrain from practicing the same type of questions again and again. Practicing different types of questions adds value to your preparation and makes you more learned in less time.
Mock Test Key to Success
To check whether your MAT preparation is going on the right track or not, it is necessary to devote ample amounts of time to take the mock test. The MAT mock tests whether sectional or full-fledged, help one to increase speed and accuracy, wherein the speed will improve one's time management and the accuracy will create more chances to score well in the exam. Mock tests also help in developing shortcuts and tricks for the long calculative sections like Mathematics. Analysis of each and every mock test is also one of the most essential parts of the preparation.
At last, revise the basic concept and formulae
After an active MAT preparation, in the end, one should utilize their time for the revision of basic concepts and formulae to polish or to have a good command over MAT preparation.
Top Colleges in India offering MBA
MAT 2022 Preparation Tips - Section wise
MAT aspirants should have a section-wise strategic preparation plan to crack the MAT exam. Check the following table to know section-wise topics on which candidates will have to be more focused in order to ace the MAT entrance exam.
Section name

Areas/ Topics

Indian & Global Environment

This section is required to stay updated with the latest happening across the world. Candidates should include the following study material at the time of MAT preparation.

Business & Banking

Current Events & Happenings

General Political Information

Sports

Mathematical Skills

The main objective of this section is to evaluate candidates' mathematical skills. The important areas in this section are as follows.

Percentage, Profit & Loss, Mixtures

Number Systems

Time & Work, Time, Speed & Distance

Geometry, Trigonometry

Averages, Ratios, Interest

Intelligence & Critical Reasoning

In this section, candidates will be tested on their reasoning and deduction skills.

Language Comprehension

The motive of this section is to assess candidates' vocabulary and verbal abilities. The vital areas from which the maximum questions have been asked are-

Data Analysis & Sufficiency

In this section, questions are accompanied by some data represented in the form of graphs. Major areas are-

Standard DI tools like pie charts, bar graphs, data tables, and line graphs

Data Comparisons

Data Sufficiency
Last-Minute Tips to Crack MAT 2022 Exam
With MAT December 2022 exam, around the corner, most of the aspirants are plagued by a common question, " What tips to follow in the last few days of the exam?". Well, one thing is for sure, it is not the amount of time that decides the outcome of your exam but the quality of time that you spend preparing for it. So here are some last-minute preparation tips for the MAT exam:
At this last moment to MAT, do not start preparing for any new topic. Boost up your confidence by revising and brushing up your strengths
In the last few minutes before the exam, what should you do? Check the short notes you made on General Awareness and revise them
Do not stress as MAT is one of the low difficulty level MBA entrance exams
Practice test or mocks a couple of days before the exam to be fully prepared for the D-Day
Make sure to have your share of notes ready before the exam for efficient revising
Develop a structured approach while attempting the MAT exam. Solve the questions that you find easy and then move on to the difficult ones
Report at the test centre an hour prior to the test schedule
A day before your exam, get ready with the required documents such as the MAT admit card, the self-declaration form, and a photo ID
Section-wise recommended books for MAT Preparation
Candidates preparing for the MAT entrance test can refer to the following books.
Books for Language Comprehension
| | |
| --- | --- |
| MAT Books | Author Name |
| Word Power Made Easy | Norman Lewis |
| Verbal Ability & Comprehension for MBA Exams | Disha Publications |
| Verbal Ability and Reading Comprehension | Nishit K. Sinha |
| How to Prepare for Verbal Ability and Reading Comprehension for CAT | Arun Sharma and Meenakshi Upadhyay |
| Verbal Ability & Comprehension | Disha Publication |
| Verbal Ability & Reading Comprehension | Gautam Puri |
| English Comprehension for MAT | Disha Experts |
| Verbal Ability & Comprehension for CAT/XAT/GMAT/IIFT/CMAT/MAT/Bank PO/SSC | Bharat Patodi and Aditya Choudhary |
| Reading Comprehension Ordering of Words Ordering of Sentences | Dilip Kushwaha |
MAT Books for Intelligence and Critical Reasoning
| | |
| --- | --- |
| Books for MAT | Author Name |
| How to Prepare for Logical Reasoning for the CAT | Arun Sharma |
| A Modern Approach to Logical Reasoning | R.S.Aggarwal |
| Data Interpretation & Logical Reasoning | Gajendra Kumar |
| Koncept of Logical Reasoning | Gajendra Kumar |
| Logical Reasoning and Data Interpretation for the CAT | Nishit K Sinha |
| General Intelligence and Critical Reasoning for MAT | Disha Experts |
| Critical Reasoning Guide | CrackVerbal |
MAT Preparation Books for Data Analysis and Sufficiency
| | |
| --- | --- |
| MAT Books | Authors Name |
| Data Interpretation and Data Sufficiency | Arihant Experts |
| Data Analysis and Sufficiency | Arun Sharma |
| How to Prepare for Data Interpretation for MAT | Arun Sharma |
| Data Interpretation: Practice Book for the CAT and Other MBA Entrance Examinations | Nishit K. Sinha |
| The Pearson Guide to Quantitative Aptitude and Data Interpretation | Nishit Sinha |
| Data Interpretation & Data Sufficiency for CAT/ XAT/ IIFT/ CMAT/ MAT/ Bank PO/ SSC | Disha Experts |
| Data Analysis & Interpretation Data Sufficiency | Kiran Publications |
Best Books for MAT 2022 Preparation: Mathematical Skills
| | |
| --- | --- |
| Books for MAT | Author Name |
| Mathematics for MBA | R.S. Aggarwal |
| Magical Book on Quicker Maths | M. Tyra |
| How to Prepare for Quantitative Aptitude | Arun Sharma |
| Speed Mathematics: Do it quick, Do it right | Rajesh Kumar Thakur C |
| Quantitative Aptitude for Competitive Exams | RS Aggarwal |
| Vedic Mathematics: Secrets Skills for Quick, Accurate Mental Calculations | Sumita Bose |
| The Pearson Guide to Quantitative Aptitude | Dinesh Khattar |
MAT Books for Indian & Global Environment
| | |
| --- | --- |
| MAT Books | Author name |
| Objective General Knowledge | Lucents Publications |
| Manorama Year Book | Mammen Mathew |
| The Mega Yearbook | Disha Experts |
| General Knowledge 2020 | Arihant Publications |
Also Check;