XAT 2023 Last Minute Tips and Exam Day Guidelines
XAT 2023 Last-Minute Tips and Exam Day Guidelines - Commitment and hard work is a must if you wish to crack XAT 2023. Since XAT is considered to be the most difficult entrance exam after CAT, it requires hard work from candidates. It is ok to feel volatile, hesitant, and agitated (apprehensive) when the exam day is near, but that should not overpower your preparation and break down your motive of getting into XLRI Jamshedpur or any other top B-Schools of India.
Latest Updates for XAT
01 Feb 2022:

XLRI Jamshedpur has announced GD/PI shortlist in online mode. Click here to check the details.

01 Feb 2022:

XLRI Jamshedpur releases XAT 2022 cutoff for PGDM BM and PGDM HRM programmes.

18 Jan 2022:

XAT 2022 results are out. Click here to download the XAT scorecard 2022.
Stay up-to date with XAT News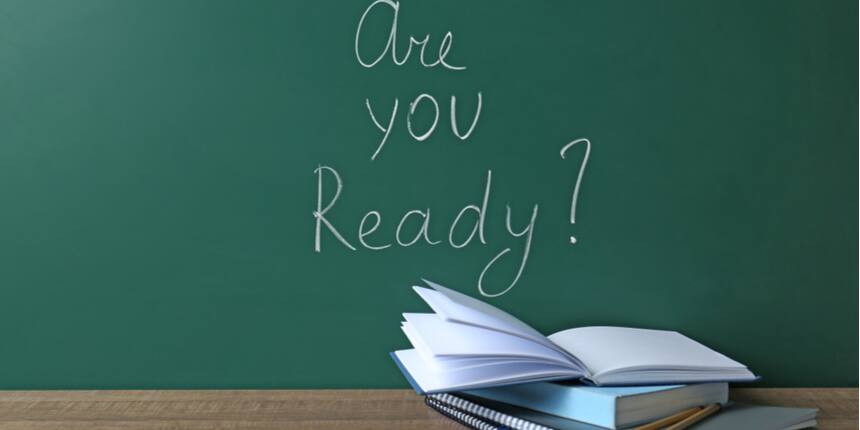 XAT 2023 will be conducted in the first week of January. Previous year XAT has bought some changes in the exam pattern such as exam time increased by 10 minutes and essay writing being restored. Now, the total duration of the XAT 2023 exam is expected as 190 minutes and total number of sections will be five. In this article on XAT 2023 last minute tips and exam day guidelines, Careers360 will guide you on what should be your last-minute strategies so you do not lose your marks. Along with that, some major exam day guidelines will also be provided in this article. Xavier Aptitude Test or XAT is a national-level entrance exam that is conducted only once a year by XLRI Jamshedpur.
Quick Links -
XAT Preparation Timetable
How to start XAT 2023 Preparation
XAT 2023 Last-Minute Tips - Practical
Do not forget to carry Admit Card
In all entrance exams, it is mandatory for candidates to carry a hard copy of their admit cards. In the XAT entrance also, XLRI Jamshedpur will ask candidates to carry at least two hard copies of the XAT 2023 admit card. Before reaching the exam centre of XAT 2023, it will be mandatory for candidates to have their admit cards. No candidate will be allowed to get inside the exam centre if he/she does not possess the hard copy of their XAT 2023 admit card.
Apart from a hard copy of XAT admit card 2023, candidates will be required to carry certain other documents for verification purpose as well. Some of the documents that candidates should carry to the exam centre of XAT 2023 are as follows -
Recent passport size photograph

Original Identity card like PAN, Aadhaar, Voter ID, Passport, Driving License

Stationery items
As per the exam pattern of XAT 2023, the exam will be conducted in computer-based mode. Hence, candidates are not required to carry anything. A rough sheet will be provided along with a pen if required by candidates
Check the Location of Exam Centre Beforehand
Once candidates download their admit card of XAT 2023, the exam centre allotted to them is mentioned there. As one of the practical advice on XAT last-minute tips and exam day guidelines, candidates are requested to visit the exam centre a few days before the exam to avoid the hindrances on exam day
XAT 2023 Exam Day Guidelines
Be on Reporting Time - It is advisable to candidates to be at the exam centre of XAT at least one hour before the exam time. The reporting time is also mentioned on the admit card and candidates are required to adhere to the time. No candidate will be allowed to go inside if they are late than the reporting time

Say Bye to Electronic Gadgets For Few Hours In order to ensure fulfillment of security requirements and avoid any kind of hassle, candidate are advised to not bring any kind of electronic gadgets like mobile phones, digital watches, calculators, etc., Candidates who during checking are found with any such gadgets will not be allowed to continue with their exams and will be debarred

Double Check Answers - As per the XAT 2023 exam pattern, there will be negative markings in the question paper. Hence, after answering candidates should ensure that they have revisited and re-checked their answers to avoid negative marking in wrong answers. If you are unsure, then do not attempt the question at all.
XAT Instructions 2023
Five options per question will be visible to candidates

One question at a time will be there on the screen. Candidates will be able to switch between questions using the next and previous question tab

On the top-right corner of the screen, a timer will be visible. XAT 2023 question paper will disappear once the timer gets to zero

If candidates are unsatisfied with marked answers, they can choose to unmark the same by clicking the 'Erase' button given at the bottom

There will be no sectional timing, hence, questions can be answered in any time frame

The option to bookmark a question is also available in case the candidate wishes to review it. This can be done by clicking on the 'Tag' button
Status of Questions in XAT 2023
| | | |
| --- | --- | --- |
| Colour | Indication | Status |
| Yellow | | Unanswered & Marked for review |
| Green | | Answered |
| White | | Unanswered yet |
| Purple | | Answered & Marked for review |
In case the candidate completes the paper within the stipulated time period, he/she can end the test by clicking the 'Preview Submit' button. Note that candidates will not be allowed to leave the exam hall before three hours i.e. the time duration of XAT 2023 is complete

Even if the candidates do not click on the 'Preview Submit' button, the result will be saved automatically
XAT 2023 Exam Strategy
Keeping in view the previous year's question paper, there are no fixed no. of questions that the candidates need to answer. Given below is a list of questions from each section along with a marking scheme that can be checked by candidates.
XAT Exam Pattern 2023
Sections (4)

Total Questions

Total Time Allotted

Decision Making

21

165 Minutes

Quantitative Ability and Data Interpretation

28

Verbal and Logical Ability

26

General Knowledge

25

25 Minutes
Essay
01
XAT Marking Scheme 2023 - Highlights
For each correct answer, one mark will be awarded

For each incorrect answer, a 0.25 mark will be deducted

A Total of 0.10 mark will be deducted for every eight unattempted questions

For the General Knowledge section, there will be no negative marking
Also Read-
How to prepare for XAT 2023 while working?
Section-wise XAT 2023 Last-Minute Tips and Exam Day Guidelines
For Verbal and Logical Ability
Topics like Critical Reasoning, Sentence Correction, Para Jumbles, Sentence Completion (multiple blanks), Reading Comprehension, etc., will form major questions in this section

The length of Reading Comprehensions and other passages in this section will not be very long but the English used will be difficult to read. Hence, candidates are advised to focus on strengthening their vocabulary for this section

To save time, it is advisable to attempt the questions related to Sentence Completion, Para Jumbles, Cloze test, Vocabulary, etc., and then move on to the difficult and time-consuming questions related to Reasoning, RC, and Correction. In XAT 2023, candidates can expect an equal number of inferential as well as specific detail based questions
For General Knowledge
There will be no negative marking in this section, hence candidates tend to waste their time in General Knowledge

It is suggested that candidates should answer only those questions which they can answer quickly and accurately
For Quantitative Ability and Data Interpretation
In XAT 2023 this section will possibly justify your preparation & hard work. Questions from Arithmetic, Number System, Geometry, Algebra, Base System, Mathematical Reasoning will be the mainstay in this section

For practice, use your CAT preparation material but don't go beyond the Advanced Level problems. DI sets are usually simple and do not create any problems in terms of reaching the solution

If QADI is strong then you should target almost all questions. Average candidates should target not more than 15-20 questions. The SQC techniques, as well as the three-round approach, will work here
For Decision Making
This section includes Behavioral and Mathematical decision-making questions. In behavioral questions, the situation is described and the protagonist in the passage needs to make a decision and solve his/her dilemma. Candidates are required to suggest the right course of action and mark the correct answer

Eliminate the choices based on the parameters of legality, fairness, and the desired end result
All the best!
Questions related to XAT
Showing 1032 out of 1032 Questions