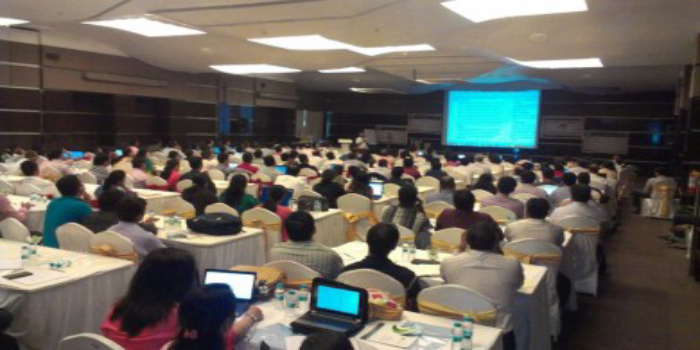 TS ICET Counselling 2018 - The allotment order for TS ICET 2018 has been released by Telangana State Council of Higher Education on July 7, 2018. Candidates can download the same by logging in with their Login ID, Hall Ticket No, Date of Birth and Password. The counselling for TS ICET 2018 to fill Master of Business Administration (MBA) seats in the management institutes/colleges of Telangana State started from June 30 and ended on July 4, 2018. The eligibility of candidates for the TS ICET counselling rounds is decided by cutoff ranks acquired by them according to their performance in TS ICET exam. The TS ICET 2018 counselling will be held in four stages. Kakatiya University, Warangal conducted TS ICET 2018 on May 23 and 24 on behalf of TSCHE to permit admission to the B-schools of Telangana. The result of TS ICET 2018 has been declared on June 13 along with the final answer key. In this article, Careers360 brings to you a comprehensive guide to understand the TS ICET counselling 2018 like the documents required, option entry, seat allotment and payment of fees and self-reporting.
TS ICET Counselling Dates 2018
| | |
| --- | --- |
| Events | Dates |
| TS ICET Counselling dates | June 30 to July 4, 2018 |
| TS ICET 2018 document/certificate verification | July 2 to 4, 2018 |
| Option entry to begin from | July 2 to 5, 2018 |
| Freezing of options | July 5, 2018 |
| Release of allotment (Provisional) | July 7, 2018 |
| Payment of tuition fee and candidate self reporting through website | July 7-12, 2018 |
| Reporting at the allotted college | July 12, 2018 |
| Commencement of classes | July 16, 2018 |
Latest:

To Download TS ICET 2018 Seat Allotment Order -

Click here 
Click on the link given above and then go to the 'Candidates Login' tab. Login with your TS ICET Login id, Hall ticket no, Date of Birth and Password and download the Allotment order. 
Counselling eligibility criteria
Candidates who had qualified in TSICET-2018 and who secured 50 percent (for OC) and 45 percent (for others) in aggregate marks Degree or its equivalent Examination are eligibile to appear in the TS ICET 2018 counselling process.
Minority candidates (Muslim / Christian) who have not qualified or not appeared in TSICET -2018 and who secured 50 percent (for OC) and 45 percent (for others) in aggregate marks Degree or its equivalent Examination will be considered for the leftover seats in respective minority colleges, if any, after exhausting all the qualified Minority candidates of TSICET-2018 in final phase of counselling. However, these candidates are not eligible for Fee Reimbursement Scheme.
ELIGIBILITY FOR ADMISSION: 
Candidate shall be an Indian National. 

Candidate should belong to the State of Telangana /Andhra Pradesh.

However maximum eligible age for obtaining a scholarship is 30 years for OC candidates and 34 years for other candidates as on July 1, 2018.

The candidate seeking MBA admission should have passed Recognised Bachelors Degree Examination of minimum three years duration except for Oriental Languages.
Note: Mere appearing for TS ICET 2018 and obtaining a rank does not entitle a candidate to be considered for admission automatically unless the candidate fulfils the requirements laid down for admissions.
PAYMENT OF PROCESSING FEE: 
Visit website https://tsicet.nic.in and click on the link "PAYMENT OF PROCESSING FEE"  Register by entering:
Registration Number given on TSICET-2018 Hall Ticket.

TSICET-2018 Hall Ticket Number. 

Date of Birth as mentioned in the SSC Marks Memo. 

 The Basic Information Form is displayed. Fill in the details regarding, Mobile No and Email Address. Also fill the details of Caste Certificate and Income Certificate application Number issued by MeeSeva, if applicable.

Update the information and pay the Processing Fee of Rs. 600 (for SC/ST) and Rs. 1200 (for others) through online payment (Credit Card / Debit Card / Net Banking) before attending for the Certificate Verification. Without payment of Processing Fee, the candidate is not permitted to attend for Certificate Verification. 

Download the list of colleges / courses / districts from the official website

Take the printout of Manual Option Entry Form from the website tsicet.nic.in.  
 TUITION FEE TO BE PAID: 
The Tuition Fee particulars and seats available under Convenor Quota college wise will be made available on the website before the commencement of option entry.
 CERTIFICATE VERIFICATION SCHEDULE
During Certificate Verification the candidates Aadhar details (Finger Print Biometric) shall be verified with UIDAI (Unique Identification Authority of India) at the Help Line Centres. Therefore it is mandatory for candidates to attend for Certificate Verification.
DECENTRALISED CERTIFICATE VERIFICATION SCHEDULE (other than Hyderabad and Warangal)

TS ICET Counselling 2018
Following steps are involved in the counselling process of TS ICET 2018:
Firstly, all the shortlisted candidates have to report the help centres for document verification.

Based on the preferences entered by candidates and availability of seats and merit, suitable seats will be allotted to admit students.

Candidates allotted seats will have to pay the requisite fee and report to the college allotted to them.

The total number of seats offered for admission are 23,358 for all categories combined. However, the TS ICET cutoff 2018 will vary depending on the categories ranging from General to SC/ST and OBC among others.
Click here to check the schedule of Decentralised Certificate Verification
Click here to check the schedule of Centralised Certificate Verification for NCC/CAP/Physically Challenged candidates
Stages of TS ICET Counselling 2018
The counselling is conducted in four stages.
Document Verification

Option Entry

Seat Allotment

Payment of fees and self-reporting
The stages of counselling are explained in details below.
Stage 1. TS ICET Counselling 2018 – Document Verification
Candidates need to attend the document verification in person at the help centres prescribed by the TS ICET 2018 examination authority. It is mandatory for all candidates to participate in document verification. During document verification, the Aadhaar card details will be verified. Candidates from General category who has secured 50 percent in Graduation or equivalent examination are eligible for admission. 45 percent is the minimum qualifying score for candidates belonging to SC/ST/OBC category students. The processing fee is Rs. 1,000 for General category, while it is Rs. 500 for SC/ ST category. This fee has to be paid at the time of document verification at the help centre.
Documents to bring at TS ICET Counselling 2018 Centre
All original certificates and 2 sets of Xerox copies of the following are needed to complete the verification process:
TS ICET 2018 Rank Card

TS ICET 2018 Hall Ticket

Aadhaar Card

Degree marks memos & pass certificate

Intermediate or its equivalent Memo-cum-Pass Certificate

SSC or its equivalent Marks memo

Intermediate or its equivalent Memo-Cum-Pass Certificate

Degree Memorandum of marks

Degree Provisional Pass Certificate

Study or Bonafide Certificate from IX class to Degree

Transfer Certificate (T.C)

Income Certificate issued on or after 01-01-2018 by competent authority, if applicable

Residence Certificate of candidate for a period of 7 years preceding to qualifying examination in case where the candidate has no institutionalised education

In respect of Non-Local candidates in order to consider them for allotment under unreserved seats the following certificates needs to be submitted:

Residence Certificate: Candidates who has resided in the State for a total period of 10 years excluding periods of study outside the State ; or either of whose parents have resided in the State for a total period of 10 years excluding periods of employment outside the State. 
Category-Wise Certificates Required for TS ICET Counselling 2018
Candidates belonging to various categories have to present the relevant certificates related to their category as part of the document verification process:
PH – Relevant certificate issued by the District Medical Board having disability more than or equal to 40 percent.

CAP – Necessary Certificate issued by Zilla Sainik Welfare Officer. In case of Ex-Servicemen, identity card and service discharge book is required for complete verification. Domicile candidates of Telangana or those with domicile certificate of their parents are eligible to apply.

NCC & Sports – Original certificates issued by competent authorities

Minorities – SSC 'TC' must have Minority Status or Certificate from the Head Master

Anglo-Indian – Certificate issued by competent authority of their place of residence

The seat allotment of TS ICET 2018 will be carried out based on the fulfilment of document requirements and guidelines laid down by individual B-Schools. A total of 28,174 seats are on offer for admissions to MBA programmes.
TS ICET Counselling 2018 - Registration for document verification
The registration process to carry out the entire document verification after TS ICET is as follows:
Candidates have to wait for the announcement from the authorities of the helpline centres for registration.

Candidates have to hand over their rank card to the officer at the entrance, collect the information form and fill up the details.

Candidates will be called for biometric verification as per their ranks, pay the processing fee, submit the mobile number and Aadhaar number. Following this, they will be given a receipt from the help-line centre.

Candidates have to enter their admit card number, rank in the register and sign it.

With this, the registration is completed. Candidates have to collect their registration-cum-verification form from the computer operator.

Verify the details and proceed to the verification counter for certificate verification.
Stage 2. TS ICET Counselling 2018 – Option Entry
Once the document verification is successful, candidates can proceed to option entry. Exercising options is basically the selection of colleges where they wish to join. Candidates are advised to go through the college profile, availability of courses, duration of the course, job prospects before exercising their options. This action can be performed online. The procedure of option entry is explained here:
Candidates have to generate the password. For this, click on the 'Candidates registration' tab to generate the password. Enter details like ROC form number, TS ICET Hall Ticket number, rank and date of birth.

After completing the registration and generating the password, click on candidates login for exercising the options.

Now enter login ID, hall ticket number, password and date of birth and click on 'Sign in'.

Select one or more districts for display of college in those districts.

Click on 'Display Option Entry form'.

The university colleges, girl colleges, and minority institutions are displayed in different colours.

Candidates have to enter their admit card number.

Enter the option numbers in the boxes on the screen against the colleges.

Click on save options at regular intervals.

After entry of options, click on logout button.
Stage 3. TS ICET Counselling 2018 – Seat Allotment
The allotments will be processed as per merit, category, gender, local area and special reservation. To download the allotment order, enter the login ID number, Hall ticket number, password and Date of Birth.
Stage 4. TS ICET 2018 Counselling  – Fee payment and self -reporting
Candidates have to pay the requisite fee to accept his allotment through self-reporting system. Click on 'Accept my joining'. Following this, a joining report containing the admission number is generated. Candidates have to take its printout and submit along with the allotment order at the defined college.
Process of participating in the subsequent phases of TS ICET Counselling 2018
If candidates have not participated in previous phases of counselling, then they can participate as a fresh candidate by attending certificate/document verification at one of the help centres.

If no seat is allotted in the previous phase of TS ICET 2018 counselling, candidates can participate in the next phase.

If a seat is allotted and candidates have not accepted the joining then the allotted seat will be cancelled and will be treated as a vacancy to be filled later. Candidates can participate in the counselling but are eligible to join new college allotted in the second phase and cannot claim for the previous allotment.

If a candidate has paid the fee, accepted the joining and reported at the allotted college, they can still participate in the subsequent rounds of counselling. If a seat is allotted as per new option, then the first allotment will be cancelled and candidates will be moved to the new allotted college.
TS ICET Counselling 2018 - Process of cancellation of seat
If candidates want to withdraw or cancel the allotted seat, at the end of the Counselling process, they can do so before a stipulated date. For this, candidates have to approach the Convener in person or by registered post and have to submit the following documents-
Duly filled in application for cancellation of allotted seat

Original receipt of certificates issued at the time of certificate verification at helpline centre

Latest provisional allotment order

Receipt of fee payment

Request letter for cancellation of allotted seat by the candidate.
ALLOTMENT OF SEATS:  
The provisional allotment of seats will be made on July 7, 2018, and will be placed in the official website. 

For downloading the candidate's provisional allotment order, they have to enter the ROC Form Number, TSICET Hall Ticket Number, Password and Date of Birth in Candidate login in the website.

Candidates have to pay the Tuition Fee mentioned in the Provisional allotment order through Credit Card / Debit Card/ Net Banking) with in the prescribed time and self report through online system in candidates login and take admission number to confirm the provisionally allotted seat. This would be followed by taking the printout. 

The candidates with zero Tuition Fee mentioned on provisional allotment order shall perform the self reporting with in the prescribed time through online system in candidates login and take admission number to confirm the provisionally allotted seat and take the printout. If the candidate does not pay the prescribed Tuition Fee within the schedule mentioned, the provisional allotted seat automatically stands cancelled and he / she shall not have any claim on the provisionally allotted seat. 

After payment of the Tuition Fee, if the candidate cancels the provisionally allotted seat through online on or before commencement of second phase of counselling full Tuition Fee paid will be refunded. 

If the candidate cancels his / her admission will forfeit the Tuition Fee paid as mentioned 50 percent after second phase and 100 percent after spot admission notification. 
As many as 778 B-schools of Telangana accept TSICET scores and the total number of seats is 23,358. This year, more than 60,000 candidates appeared for the exam.
Questions related to TSICET