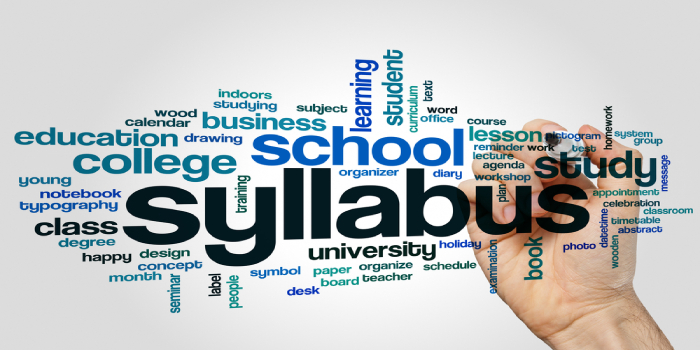 CAT Syllabus 2018 – Candidates appearing for national level management entrance exam must follow the prescribed CAT 2018 syllabus to prepare for it. Indian Institute of Management Calcutta (IIM-C), the conducting body of Common Admission Test (CAT), do not release any official syllabus for the exam. Based on previous years' question papers, a list of tentative topics and sub-topics is compiled by the experts which can be used as CAT syllabus 2018. With the help of most probable CAT 2018 syllabus, aspiring management candidates can prepare for the country's most competitive management entrance exam in a more strategised manner. The CAT syllabus 2018 is majorly divided into three major sections - Verbal & Reading Comprehension (VARC), Data Interpretation & Logical Reasoning (DI & LR), and Quantitative Ability (QA). These topics cover a vast range of sub-topics which are revealed in the CAT 2018 syllabus in this article.

Latest: CAT 2018 Application Form extended till September 26.
CAT Sample Paper
Download Free Sample Paper for CAT
Download Now
Watch Video on CAT Preparation Books
Before knowing about the CAT syllabus 2018 in details, let's have a look at the exam pattern. It'll allow the candidates to understand the syllabus section-wise. CAT 2018 will be conducted in computer based mode on November 25. The duration of the CAT exam would be 180 minutes (3 hours) and it'll carry 100 questions divided into three sections. Here is the exam pattern for CAT 2018:
CAT Exam Pattern
| | | |
| --- | --- | --- |
| Section | Sectional Duration | No of Questions |
| Verbal & Reading Comprehension (VARC) | 1 hour | 34 |
| Data Interpretation & Logical Reasoning (DI & LR) | 1 hour | 32 |
| Quantitative Ability (QA) | 1 hour | 34 |
| Total | 3 hours | 100 |
All the sections carry both Multiple Choice Questions (MCQs) and Non-MCQs (subjective questions).
Marking Scheme – The usual marking scheme in CAT gives 3 marks for a correct answer and deducts 1 mark for an incorrect answer. No marks are given or deducted for un-attempted questions.
Now, let's have a look at the CAT 2018 syllabus and the important topics under each section.
CAT Syllabus 2018 - Section wise
Section

CAT Exam Syllabus

Verbal and Reading Comprehension (VARC)

Reading Comprehension-

The Reading Comprehension passages are generally of medium length, carrying 250 to 500 words. Question types can be both direct or inferential. 

English Language-

Fact Inference

Judgment

Fill in the blanks

Grammar

Para Completion

Para Jumble

Sentence Correction

Verbal Reasoning

Analogies and Reverse Analogies

Synonyms Antonyms (Vocabulary Based), etc.

Data Interpretation and Logical Reasoning (DI & LR)

Data Interpretation-

Bar Graph

Combination of Graphs

Caselet

Data Sufficiency

Line Graph

Pie Chart

Tables, etc. 

Logical Reasoning–

Assumptions

Blood Relations

Binary Logic

Clocks and Calendars

Constraint-based puzzles

Data Arrangement

Family Tree

Matching Puzzles

Proposition

Statements

Seating Arrangement

Sets and Syllogism

Venn Diagram, etc.

Quantitative Ability (QA)

Major Topics-

Algebra

Arithmetic

Geometry

Higher Maths

Mensuration

Modern Mathematics

Number System

Trigonometry etc. 

Sub-topics-

Arithmetic progression

Arithmetic mean

Average

Angles and triangles

sphere's rectangles

cubes and cone

BODMAS

Clocks

Geometric progression and Geometric mean

HCF and LCM

Harmonic mean

Installment and payments

Lines

Median and Mode

Percentage

Partnership

Profit and loss

Ratio and proportion

Partnership

Pipe and cisterns

Speed and distance

Work & time etc.
Prepare according to CAT 2018 Syllabus
The best way to prepare for CAT is by solving the sample papers and taking regular mock tests. By solving sample papers, candidates will automatically cover all the topics given in the CAT syllabus.
Click Here to download the CAT sample paper
IIM Calcutta will also release the mock test of CAT on October 17. With the help of sample papers and the official CAT mock test, aspirants will be able to prepare for CAT 2018. We bring a list of must read books for the CAT aspirants covering all the sections of the exam.
Best Books for CAT Preparation - Books are the best companions to aid exam preparation. However, the plethora of books available in the market makes it perplexing for aspirants to pick the best ones. It is important to ensure that while choosing the books on CAT preparation, the content remains in sync with the latest exam pattern and covers the CAT syllabus. Let us look at the best books for CAT 2018 preparation below:
CAT Preparation Books
Section

Books

Quantitative Ability (QA)

 

Arun Sharma's 'How to prepare for Quantitative Ability for CAT', published by Tata McGraw Hill

Arun Sharma's The Complete CAT Digest, by Tata McGraw-Hill

Quantitative Aptitude for Competitive Examinations by Abhijit Guha (Tata McGraw-Hill)

How to Prepare for the CAT Common Admissions Test by Muhamed Muneer, published by Om Books.

Quantitative Aptitude for CAT and Other MBA Entrance Exams by Trishna Knowledge Systems (Pearson)

Data Interpretation and Logical Reasoning (DI & LR)

Trishna's Verbal Ability And Logical Reasoning For The CAT And Other MBA Examinations by T.I.M.E. Publisher: Pearson

How to Prepare for Data Interpretation & Logical Reasoning for CAT (Tata McGraw-Hill) by Arun Sharma

Verbal and Reading Comprehension (VARC)

Nishit Sinha's The Pearson Guide to Verbal Ability and Logical Reasoning (Pearson) 

How to Prepare for the Verbal Ability and Reading Comprehension for the CAT by Arun Sharma and Meenakshi Upadhyay (Tata McGraw-Hill) 

Barron's Pocket Guide to Vocabulary

Word Power Made Easy by Norman Lewis
CAT 2018 exam will be conducted on November 25, 2018 (Sunday) in online mode by IIM Calcutta. Prof. Sumanta Basu is the exam convener for CAT 2018. The admit card for CAT 2018 can be downloaded from October 24 onwards. Around two lakh candidates appear for the exam every year for admissions in 20 IIMs and over 100 B-schools in India.