How to Prepare for CAT 2022: Get Best Books, Study Material & Preparation Tips
How to prepare for CAT 2022 - Common Admission Test commonly referred to as CAT is one of the top exams conducted by the Indian Institutes of Management (IIM) on a rotational basis for admitting candidates in B-Schools across India. CAT 2022 will be conducted tentatively in the last week of November and those planning to appear for the exam are often confronted with the question as to how to prepare for CAT 2022.
Latest Updates for CAT
14 Jan 2022:

Browse top MBA colleges in India/States/Cities, accepting CAT score, here.

04 Jan 2022:

CAT 2021 result have been announced on January 3. Check out CAT topper list 2021 here.

03 Jan 2022:

IIM Ahmedabad has announced the CAT 2021 result. Download the scorecard now!
Stay up-to date with CAT News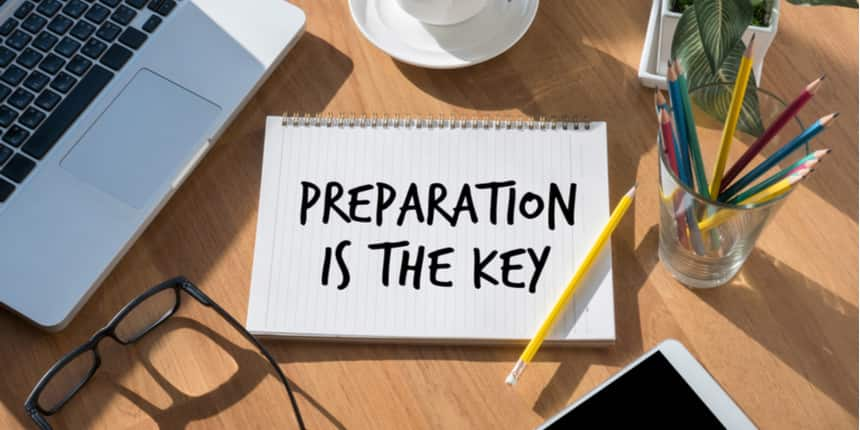 Careers360 brings to you expert advice on how to prepare for CAT? Candidates willing to take admission in Top B-Schools must crack the toughest competitive exam. With an application intake of around two lakh per annum, candidates must know beforehand the basis and easy-to-go strategies for CAT preparation. Candidates must devise a proper strategy if they are planning to appear for the Common Admission Test (CAT).
5 min read
Mar 05, 2022
Read More
See Also:
CAT Preparation Tips in COVID times by Topper
CAT Exam Pattern 2022
IIM will prescribe the CAT 2022 exam pattern for the academic year 2023-2025. Candidates willing who are planning to fill the CAT application form 2022 must check the exam pattern beforehand in order to start their CAT preparation. Read the complete article on how to prepare for CAT 2022 and CAT preparation as it highlights the important aspect that will help candidates to not only prepare but also score good marks.
Ongoing MBA Admission 2022
CAT Exam Pattern 2022
Particulars

Details

Exam Duration

2 hours

Total no. of questions

76

Mode of CAT 2022

Computer-Based

Marking scheme

Three marks for the correct answer will be awarded

One mark will be deducted for an incorrect answer

Sections

Verbal ability and reading comprehension

Data interpretation & logical reasoning

Quantitative ability
How to prepare for CAT 2022: Sectional Strategy
Candidates who will be taking up CAT 2022 should know in advance the exam pattern and followed the syllabus. Future candidates must start their CAT preparation early and not wait for the last moment. Early beginners can refer to the following strategy according to the three sections that will be part of the CAT 2022. Check section-wise CAT 2022 exam tips.
4 min read
Mar 05, 2022
Read More
7 min read
Mar 05, 2022
Read More
Quantitative Ability (QA)
Focus on enhancing your basics of mathematics.

Learn topics like profit and loss, number system, geometry as they will form key questions in CAT 2022.

Practice as much as you can and go for mock tests.
Browse Top MBA Colleges Accepting CAT Score: Location-Wise
Quick Link- How to Prepare for CAT Quantitative Ability
Verbal Ability & Reading Comprehension (VARC)
Reading as much as possible is the best way to crack this section and score good marks.

Go through newspapers, journals, blogs, articles, etc to enhance your reading skills.

Try solving questions based on comprehension, inferences, and para jumbles. Candidates can join any private tuition or take CAT coaching and prepare from the foundational booklets provided to them.
Quick Link- How to prepare for CAT VARC (Verbal and Reading Comprehension)

Logical Reasoning and Data Interpretation (DILR)
Considered to be one of the toughest section in CAT exam, needs a lot of hard work to be done from the candidate's side.

Check the previous year's question papers of CAT and try to re-attempt those questions.

Try to study basic topics like seating arrangements, blood relations, syllogisms, etc to grip hands on this section. Do no use a calculator while solving questions.
Top Colleges in India offering Management Courses
Quick Link-
Basic and Easy to go Strategies on How to prepare for CAT 2022
Although there is no specific syllabus prescribed by IIMs for CAT preparation, on the basis of past year's analysis, given below are the major points that will help candidates score good marks. Some basic and easy to go strategies are -
CAT 2022 Preparation: Basic Guidelines
| | | | |
| --- | --- | --- | --- |
| 1. | Time Management | 4. | Analyze and Understand |
| 2. | Reverse Action | 5. | Focus on Strengths & Goal Accomplishment |
| 3. | Attempt Mock Tests | 6. | Practice Everything |
Also check, CAT 2022: When and how to start preparation to know when to start your preparation and what should be your strategy.
Time Management
With 40 minutes' time allotted to each section, candidates must devise their strategy so they can answer all questions. Managing their time will help candidates turn their efforts into fruitful results. Divide your 24 hours in such a way that you practice each section daily. Speaking about time management, Vishesh Garg, CAT 2020 topper told us that he considered time management as the fourth section apart from the other three provided by IIMs. For candidates appearing in CAT for the first time, time management will provide them with the following benefits at the time of CAT preparation-
Enhance your efficiency

Increase your productivity

Lower stress level
Sharing his personal experience CAT topper Ashish Sen said, "I believe time management is much easier when you are passionate about what you are doing, so simply realizing that makes a lot of difference".
Quick Links-
Analyze and Understand
Before making any kind of strategy on how to prepare for CAT 2022, it is advisable that candidates first check the exam pattern of CAT 2022. Analyzing no. of sections, topics and sub-topics asked in previous years exam. Before taking up any kind of tests, analyze these points and try to figure out what your major areas are, which subjects require improvement, etc. The analysis is not only done prior to your CAT preparation but can be in between and at the end of your CAT preparation. CAT topper Shivam Chandak, worked hard relentlessly, analyzed his mistakes, and overcame them by scoring 99.91 percentile.
People might be interested in-
Focus on strengths & Goal Accomplishment
Rahul Manglik, CAT 2020 topper says, "Play your strengths and work on your weaknesses". After analyzing which are your strong areas make them stronger by regular practice. Devise proper strategy on overcoming and correcting your areas of improvement. Whereas for CAT 2020 topper Ronit, "candidates must develop a concrete idea of their strengths as well as weaknesses". In order to achieve good scores, candidates must capitalize on their strengths first and then move towards the lesser strong areas.
CAT topper Aditya Devalla said that his calm attitude and focused only on what was necessary. Cracking CAT with a good percentile is not less than a challenge but everything is possible if you focus your mind on what you wish to achieve. CAT 2022 will be no different than previous exams.
Attempt Mock Test
Almost all the toppers accept that their success was somewhere dependent on the mock test they appeared for the CAT exam. One of the best strategies for how to prepare for CAT 2022 is giving CAT Mock test as they give candidates a simulated environment of the exam. Benefits of the mock test include self-assessment, time management, accuracy in answering the questions as well as understanding the exam day nervousness level.
Quick Links-
Practice everything you studied
Experts of CAT advise candidates to practice what they preach. Regularly practicing what you know will help you in accessing what more is required at the time of CAT preparation. Study each topic and then practice them on a weekly basis to keep them fresh in your mind. For CAT 2020 topper Abhilasha Balakrishnan, "Regular practice and lot of mock tests helped him achieve his goals". Know what other CAT 2020 toppers have to say on preparation.
Reverse Action
While solving the mock test or the actual CAT 2020 if you find yourself surrounded with questions getting a little difficult, you may choose for the reverse action and scan the answers given first. Many times it happens that answers contain imperative clues that can help you solve the questions more accurately.
CAT Toppers


Questions related to CAT
Showing 10540 out of 10540 Questions