Why Take Mock Tests Before CAT 2020?
Why Take Mock Tests Before CAT 2020? - To have a fair understanding of the question paper pattern and marking scheme, it is mandatory for candidates to take the mock test of CAT 2020. It is basically a replica of the real CAT 2020 exam. In simple words, CAT 2020 mock test is a practice test that can be taken by candidates before starting their preparation or even after they are pretty much sure that they have completed the preparation part. Note that IIMs provide facilities for mock tests to the low vision candidates as well. Now the question is why take mock tests before CAT 2020? The main reason for giving the test is to gauge where the candidate stands, what will be the difficulty level, the topics expected to be asked as well as get a complete simulated environment. In this article of Why take mock tests before CAT Exam 2020? Careers360 will help you know what mock test is? Details about CAT, the importance of mock tests and much more. Indian Institute of Management also provides official CAT mock test to help candidates in preparing well.
Latest: Candidates can now download CAT 2020 admit card. Know about CAT Mock Test 2020.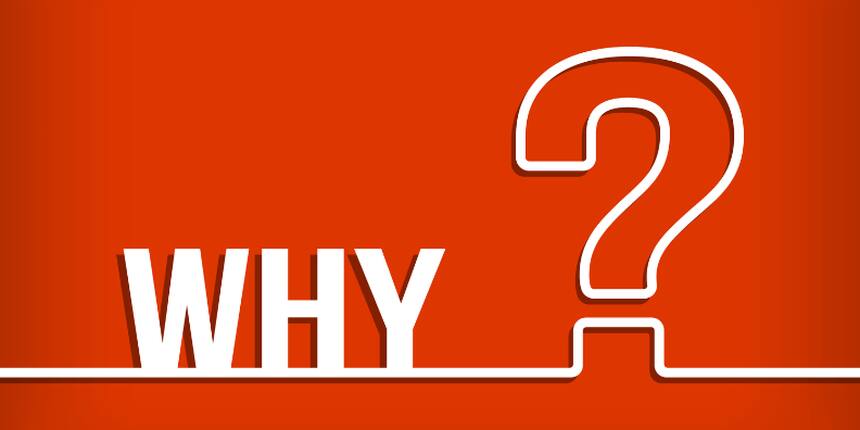 What is the Mock Test of CAT 2020?
While preparing for any exams, candidates attempt preliminary exams to know their base level. Similarly CAT 2020 mock tests are designed by IIM Indore to give a brief overview of how the exam will be like to candidates. In simple words, CAT mock test 2020 helps candidates in empathizing the exam day scenario beforehand to avoid last minute curtailments. Mock tests are basically designed and conducted in such a way that it helps candidates in building concepts, preparing strategies, identifying their weaknesses, and taking steps to eliminate them by devising proper and timely strategies. CAT 2020 will be conducted on November 29.
Quick Link-
Why, When and How to Take CAT Mock Test?
How Difficult Will CAT 2020 Be?
Everyone knows that CAT is a National level test which is conducted by IIMs on a rotating basis. Over two lakh candidates participate and appear for it every year, whereas the seats offered are not even many. The best way to gauge the difficulty level of IIM entrance exam will be through the previous year paper patterns, mock tests, sample tests and other test series available in the market. As compared to other entrance tests like XAT, IIFT, MAT, CMAT, CAT is considered to be the most difficult.
Why Take The Test? Know The Importance of CAT Mock Test 2020
Well it is rightly said by Seve Ballesteros,"To give yourself the best possible chance of playing to your potential, you must prepare for every eventuality. That means practice". Mock CAT test series is available and can be easily assessed by any candidate whether or not he has joined any coaching institute. Some of the major points why mock test of CAT 2020 are essential for all candidates is given below-
Evaluating your current level of preparation and focusing on your future preparation plan

Know time management techniques

Learn tricks and shortcuts

Mock test acquaintances with the D-Day scenario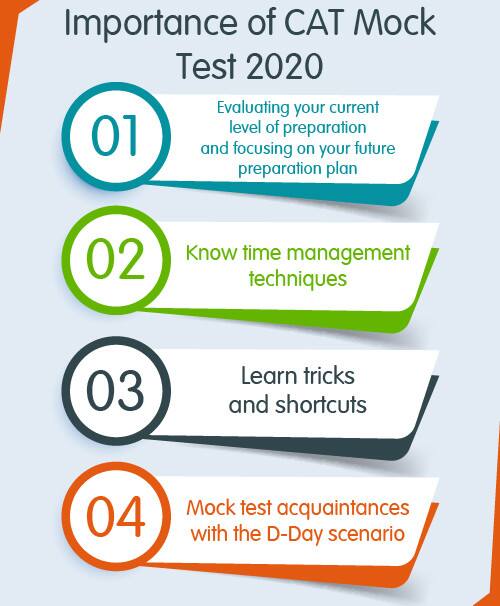 Evaluating your current level of preparation and focusing on your future preparation plan- Mock tests are one of the most effective methods by which candidates can evaluate their preparation level and performance. For improved results, it is suggested by CAT 2019 toppers as well as experts that all candidates must give mock tests. Candidates who register for CAT or any competitive exam have two options i.e. either take the mock test before starting the preparation (to know where they stand) or take the mock test after completing the syllabus (to know how much they have prepared). Using either method is good, but moving with both (pre and post mocks) is the best option that candidates can avail for themselves. As per expert Ankur Jain, candidates should focus on mock tests (AIMCATs and SAMCATs), in the last month, analyse them and study and prepare for the same as per the deficiencies revealed in the test.
Quick Links-
CAT 2020 Mistakes you must avoid on the test day
How to tackle TITA questions in CAT
Know time management techniques- In the IIM entrance exam, due to time limit pressure as well as negative marking scheme, it becomes difficult to answer questions with 100 percent or nearly 100 percent accuracy as it may lead to a drop in the score and percentile. Time management in CAT is considered to be the fourth section by CAT toppers as they have to answer questions within sectional time limits. The one who understands the importance of time can achieve anything in life. One of the time management theories which can be applied to CAT is the "ABC System theory" that defines that in order to use time more effectively, one needs to prioritize on the tasks to be done or need to be undertaken.
Quick Links-
Sectional Time Management Tips for CAT 2020
CAT 2020: 10 key points to know while attempting exam
Learn tricks and shortcuts- Candidates who join coaching institutes get to know very well about the hacks of solving challenging and demanding questions. For those of you who think of cracking CAT without coaching must try to contact friends/fellows who can assist in knowing shortcut methods and tricks of solving questions. Nowadays so many online tutorials are available for beginners that are helpful and are free of cost. Mock test of CAT 2020 simulates many variations in terms of questions that CAT could come up with and thus helps candidates to optimize accuracy and speed for the exam. To understand and learn hacks, one can also go for previous year questions papers of CAT.
Quick Links-
Mock test acquaintances with the D-Day scenario
CAT 2020 mock tests are aimed at familiarizing candidates with the questions that could come up in the exam. Complete exam day scenarios are created, 40 minute sectional time limits available options, and so on. And if candidates are lucky enough to find similar questions on the exam day as they solved in one of the CAT 2020 mocks then that would be the greatest thing. The more CAT mock tests you appear for, the better are your chances to finish CAT 2020 with accuracy and on time.
Once you are aware of where you are lacking in terms of preparation, you can modify your strategy. Ideally, the post mock test of CAT 2020 should be taken around 8 weeks before the D-Day. As per exam dates of CAT 2020, the exam is scheduled to be conducted on November 29 which means candidates should start appearing for post mock test in the last week of August or first week of September.
Quick Links-
CAT 2020: When and how to start preparation
Questions related to CAT
Showing 9109 out of 9109 Questions