How to Score 100 Percentile in CAT 2021?
How to Score 100 Percentile in CAT 2021? - Every CAT aspirant starts his/her preparation with the single aim of getting into the Indian Institute of Management. Definitely hitting the scorecard with a perfect 100 percentile in CAT is not an onerous task especially when you know where to look for it.

If you are a fresher/ first-time CAT 2021 taker or a professional willing to appear for the IIM entrance exam then read this article on "How to score 100 percentile in CAT 2021?" Most positively, CAT 100 percentiles follow a different pattern of study from the rest of the crowd. In this article of How to Score 100 Percentile in CAT 2021, Careers360 discusses the major preparation strategy for CAT 2021 and tips from toppers. Common Admission Test is considered to be one of the toughest management entrance exams in India. More than 2 lacs of candidates register themselves for CAT every year with the aim of getting into IIMs or other top B-Schools of India that accept CAT scores.
Stay up-to date with CAT News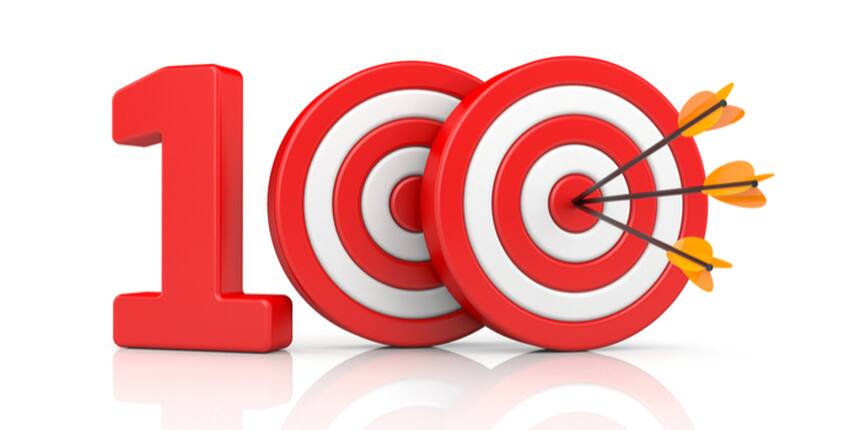 Ongoing MBA Admission 2021
Major Preparation Tips to Get 100 Percentile
It is imperative that candidates who are willing to give CAT 2021 must have complete knowledge and detailed information related to no. of questions asked, sections, the time allotted, marking scheme, etc., All such details to be acknowledged through the CAT 2021 exam pattern. Below mentioned are the major preparation tips to get 100 percentile in CAT 2021 which can be followed by both professional and fresher candidates.
Understand the Basics First

Never Miss Out Mocks

Keep an Eye on Net Correct Attempt

Know the CAT Normalization Process and Answer Respectively

Understand the Denotation of Time Management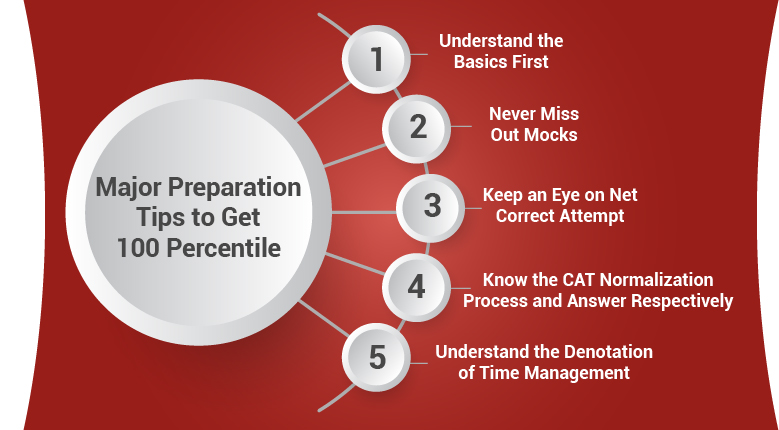 Understand the Basics First
CAT 2021 will be conducted on November 28 in computer-based mode. Henceforth, candidates have a handful of time to make better preparation plans. Initially, for the beginning months to CAT 2021 preparation, the focus of all candidates should be on expanding their base related to various CAT topics

Concept clarity is the fundamental requirement. While preparing candidates must have some hard copies of the CAT 2021 syllabus and move according to that only

One can not solve questions until their base related to the topics is not clear

Candidates can focus and try to bring improvement in areas that they feel are not strong and should take initiative to focus and enhance their preparation for weaker areas
Never Miss Out Mocks
Every year IIMs also release Mock Tests for both good and low vision candidates to provide a gist of the actual exam simulated ambiance

By attempting CAT 2021 mock tests candidates can understand and access the level of difficulty of CAT 2021.

One of the major Preparation Tips to Get 100 Percentile by topper of CAT Lakshya Kumar is that candidates should take up regular mock tests (once a week) from April

Post any mock, give some time to analyze the test and figure out what went wrong, and then focus on that to improve it with your CAT preparation strategy. Nothing can beat mock tests of CAT if candidates wish to know the current preparation level and understand how to score 100 percentile in CAT 2021

Apart from mocks, candidates are advised to check the previous year question papers of CAT. once done with the syllabus, candidates should take out time and attempt at least one paper per day keeping in mind the speed and accuracy simultaneously
Quick Links-
Why, When and How to take CAT Mock Test?
CAT 2021: When and how to start preparation
CAT Sample Paper 2021
Keep an Eye on Net Correct Attempt
As per the marking scheme of CAT, each correct answer is to grab 3 marks, zero for every unattempted question and deduction of one mark is done for each wrong answer. For TITA questions there is no negative marking at all.
Let us now take an example to understand the term 'net correct attempt'
Let us say a candidate named XYZ has attempted a total of 76 questions out of which he gets 41 correct and 35 incorrect. Following the marking scheme, he will score 41x3 i.e 123 for correct answers. Additionally, 35 marks (-1 for each of the 35 wrong answers) will be deducted from his total score of 123. Since there is no negative marking for a number of unattempted questions, they will not have any effect on CAT score and percentile. Here, the net score of the candidate will be 123-35= 88. Hence, candidates should carefully answer the questions. It is advisable to attempt only those questions which can be answered with 100% surety. Do not go for tricky or complicated questions as it may result in losing that has been gained from other aspects.
Quick Links -
How to tackle TITA questions in CAT?
How to prepare for CAT VARC
Know the CAT Normalization Process and Answer Respectively
Every year the result of CAT is declared only after the same has been normalized. As mentioned above that CAT is the most awaited exam which is taken up by lacs of candidates, hence it is conducted in two slots. Thus, in order to ensure rectitude and impartiality in the performance of candidates taking up the exam, IIMs have CAT normalization process. As one of the Major Preparation Tips to Get 100 Percentile, candidates taking the exam must know about the normalization process and be rest assured that their scorecard is unbiased and is verified properly by Indian Institute of Management without any discrepancy.
Quick Links -
How To Calculate CAT Percentile?
CAT Score v/s Percentile
Understand the Denotation of Time Management
As per one of the CAT toppers, Lakshya Kumar time management should be considered as equally important as the other three sections in CAT entrance exam. It is not just preparing for the three sections but preparing all these 3 within 2 hours of the stipulated time. To achieve fruitful & desired results, candidates must try to build a good study time table and divide the same in such a way that daily three sections are covered.
Quick Links -
Sectional Time Management Tips for CAT 2021
How to do Time Management for CAT?
Toppers Advice
CAT toppers message for next year's CAT takers is also provided in this article of how to score 100 percentile in CAT 2021. Rahul Gupta who scored a 100 percentile in CAT says, "My message to the future aspirants is started your preparation early and do not wait till the last stage. Most importantly, what will make you get an edge over others is consistency. You must take your preparation seriously, quickly identify your mistakes and also take the mock tests on a regular basis."
Another CAT topper who scored 100 percentile in CAT, Rishi Mittal said, "I think the right set of mentors, seniors to guide and friends to support you academically and non academically is very important. Rest all the things like determination, perseverance, honesty, and consistency are a must."
Questions related to CAT
Showing 9996 out of 9996 Questions