How to Prepare for CAT 2020 in 6 months
How to Prepare for CAT 2020 Exam in 6 months - Aspirants who are appearing for the Common Admission Test always go through the dilemma of when and how to start preparation for CAT? With six months left for the examination now is the time when you can plan on how to begin your preparation for CAT 2020 and bell the most coveted examination. Keeping in view the previous years' CAT schedule, it is believed that CAT will be conducted on November 29. With six months left for the examination, it's time to put your best efforts through planning. Decide whether you want to join a coaching institute or not by keeping in view your strengths. In the exclusive interview with Careers360, many toppers began their preparation six months before the examination, hence, to know the tips on how to prepare for CAT in 6 months read this complete article by Careers360.
Latest- CAT 2020 application form correction window to open from September 27. IIM Indore has made changes in the CAT 2020 exam pattern.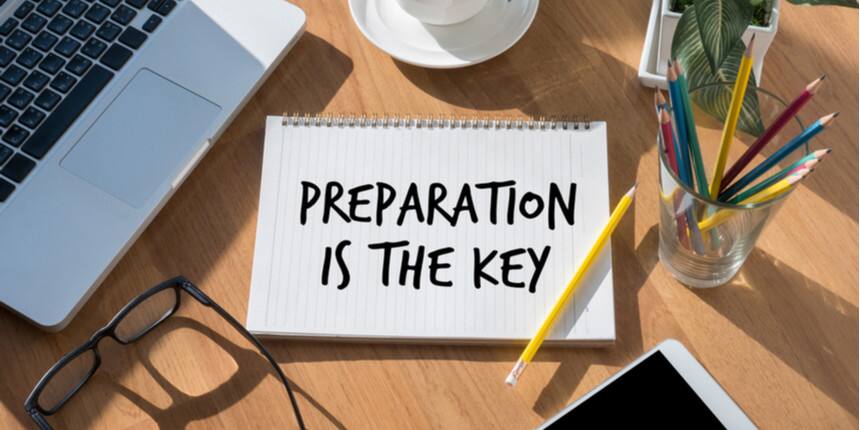 How to Prepare for CAT in 6 Months
Are you familiar with the CAT Exam Pattern?
Make sure that before beginning with the CAT 2020 preparation you must know the exam pattern completely to facilitate an effective preparation plan. Let's have a look at the CAT 2020 exam pattern:
CAT 2020 Exam Pattern
| | | | | |
| --- | --- | --- | --- | --- |
| S. No | Section Name | Total Number of Questions | Total Number of TITA Questions | Total Number of MCQs |
| 1 | Verbal Ability & Reading Comprehension | 34 | 7 | 27 |
| 2 | Data Interpretation & Logical Reasoning | 32 | 8 | 24 |
| 3 | Quantitative Ability | 34 | 11 | 23 |
| 4 | Total | 100 | 74 | 26 |
No matter how strongly motivated a person is, when the exams are approaching near anxiety and complexity follows through. It does when you are not sure about your concepts. Hence, we can develop a sense of confidence in processing our preparation by understanding, organizing and remembering key information.
Now decide between self-study Vs coaching centre
Aspirants are often in dilemma to opt between self-study or coaching. As suggested by many experts candidates belonging to engineering background have an upper hand in QA section, whereas students who are from a non-engineering background, they might think to opt for coaching as it helps them in solving questions in the limited time frame. However, it is possible to make everything a piece of cake by self-studying for which the key ingredients are self-motivation and discipline.
Work on strong and weak areas
Knowing one's strong and weak areas will help one know the level of preparation and the areas which require more focus. However, working on weak areas simply doesn't mean you will not look towards strong areas. Always when beginning with preparation start with your strong areas so that it builds confidence in you to face the weaknesses.
Section Wise Preparation Tips & Strategies
VARC - As you are through with your basic concepts, now is the time to gear up. Attend various online classes despite whether you have joined a coaching institute or not. Along with this continue reading online or through newspapers like The Hindu. Make sure to practise daily 3-5 questions on para jumbles, RCs, para summaries and other topics related to grammar. At last, once in every weak make sure you take a quiz and assess your vocabulary skills.
LRDI - Solving LRDI questions at the beginning might seem tricky, however, once you start solving 3-5 sets daily you will become familiar with the pattern and speed up and will be able to solve with much accuracy.
QA - To begin with the preparation of QA section it is compulsory to clear your basics topic-wise. Starting with the topics like arithmetic, profit and loss, a percentage are the few topics around which questions are framed. Grind into the topic and see what all different questions you can come through. Once you have cleared your concepts in this section, you will be able to do calculations in your mind while solving the QA questions in CAT.
Final Step: Take Mock Tests
One of the crucial and important steps of preparation is taking mock tests. Some students believe once they finish the syllabus then they will start giving the mock tests. However, since the CAT syllabus remains vast, to touch each and every topic sometimes becomes impossible. In that case, students must not wait until the syllabus gets over. They should start taking CAT mock test prior 4 months to examination and examine the areas of questions and their performance.
Mock tests will help you analyze your strengths and weaknesses more profoundly which will be of great help not only for CAT exam but also for other coveted management entrance examinations.
While preparing make sure that you refer good study materials. Many toppers consider that having good study material has helped them crack CAT and has led to the path of top B-Schools of India. Click here to know section-wise best books for CAT preparation.
How to Prepare for CAT in 6 months - Monthly Plan
From May to July
Begin your journey for CAT preparation by analysing where you stand. This can be analysed by giving several mock tests and assess your answers closely. You should identify your weak and strong areas and gather good online resources or books to rectify those errors. In these months students must focus on building speed and accuracy by being well versed with the techniques to solve quant questions, short cuts for DI and LR and strategy for verbal ability. These months act as a foundation month to your preparation and give as much as longer hours possible.
From August to September
In these crucial months, as you are grading near to November you must solely focus on practice and speed. Solve as many as questions possible by picking CAT sample papers. Enrol with various coaching institutes for their mock test series and get a pinch of salt by your result. After giving mock tests analyse your performance and check where you went wrong.
From October till D-Day
With the CAT just around the corner focus on your scoring. Work according to the CAT exam pattern question papers. Make sure to have a good revision.
Questions related to CAT
Showing 8934 out of 8934 Questions