How to Prepare for CAT Exam 2022 in 6 months- Careers360
How to Prepare for CAT 2022 in 6 months: Candidates who are going to appear for the Common Admission Test have a question like when to start preparing for CAT 2022? With six months left until the exam, it's time for you to plan how to start your preparation for CAT 2022. With the implementation of the tips and strategies provided in this article, candidates can ace the CAT exam 2022 by completing the CAT preparation in 6 months only.
Considering the CAT schedule of previous years, CAT 2022 will be held on the last Sunday of November 2022 probably. Decide whether or not you want to join a coaching institute considering your strengths. In an exclusive interview with Careers360, many toppers began their preparation six months before the exam. So, read this complete article by Careers360 to learn tips and strategies to accomplish the CAT preparation in 6 months.
Latest Updates for CAT
3 days ago:

Click here to know CAT 2022 result date and timings.

26 Nov 2022:

CAT 2022 exam tomorrow; know do's and don'ts to avoid any mistake for exam day. Click here.

21 Nov 2022:

Click here to check CAT previous year questions and paper pattern.
Stay up-to date with CAT News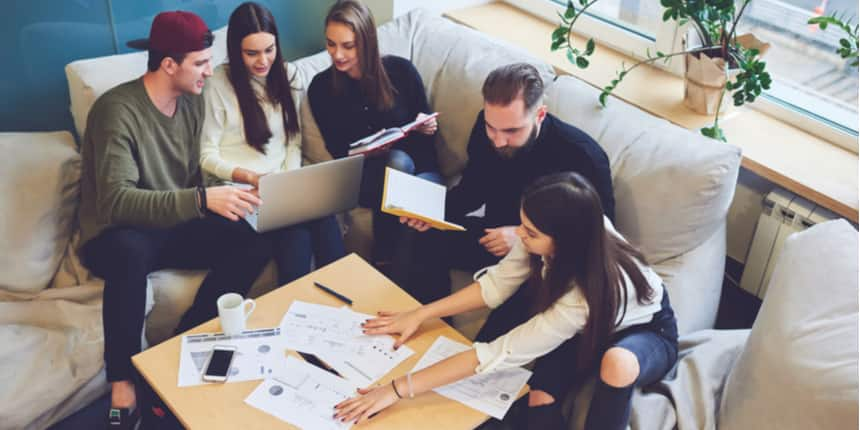 CAT Preparation Tips for Beginners in 6 months
Wondering how to prepare for CAT 2022 in six months? Here are some things carved out for candidates to learn how to prepare for CAT while you still have six months on hand. You can also create a Google Alert entitled "CAT and MBA" to receive news and events as they occur. Thorough research and selection criteria for colleges should also be done.
There are a lot of CAT preparation books that are available online. By going through CAT preparation books or CAT preparation tips from toppers, candidates can easily crack the exam with a good percentile. Before starting the CAT exam preparation, the candidates should ask themselves some questions such as,
Are you familiar with the CAT Exam Pattern

?

When starting your journey to focus on resolving the query of how to prepare for CAT 2022 in six months, make sure that you are fully aware of the CAT 2022 exam pattern to facilitate effective preparation planning.
CAT Exam Pattern 2022
| | | | |
| --- | --- | --- | --- |
| Section name | Total questions | MCQs | Non-MCQs |
| Verbal Ability & Reading Comprehension (VARC) | 26 | 18 | 8 |
| Data Interpretation & Logical Reasoning (DILR) | 24 | 18 | 6 |
| Quantitative Aptitude (QA) | 26 | 18 | 8 |
| Total | 76 | 54 | 22 |
Also know; CAT 2022 Sample Paper
Clear your concepts
No matter how strongly motivated a person is when the exams approach tension, the complexity will follow. It does when you don't know about your ideas. Therefore, develop confidence in the processing of our preparation by understanding, organizing, and remembering important information.
Now decide between coaching centre or self-study
Candidates are often confused to choose between self-study or training. As many experts in the engineering background have suggested, there is a superior in the QA section, whereas students from non-engineering backgrounds may think to choose the training as it helps them to solve questions within a limited time frame. However, everything can be turned into cake pieces by self-examination, the main ingredients for which are self-motivation and discipline.
Set weekly targets
CAT preparation in 6 months requires the candidates to set a weekly target for them and try to achieve it. Candidates shall also include giving CAT mock test once in 15 days and stick to it. While taking the mock test, try to get at least 5 questions correct in each section.
Work on weak and strong areas
Knowing one's strong and weak parts can help determine the level of the preparation and the areas that require more attention. However, working in weak areas does not mean that you will not look towards strong areas. Always start with the preparation and start with your strong areas so that you have the confidence to face the weaknesses.
Time Management
The secret to aiming and achieving how to crack CAT 2022 in six months is to master the art of time management. There is always an over-emphasis on CAT preparation. So, you don't have to put 6 -7 hours to prepare, but rather measure them into actionable targets. Set aside a standard time that suits your routine and stick to it. The best way is to create a schedule that helps to prepare well for CAT 2022.
Quick Links:
Section-wise CAT preparation
Now that you are with your basic concepts it is time to gear up. Attend various online classes regardless of whether you join a training company or not. You can continue reading with it online or in newspapers like The Hindu. Practice 3-5 questions daily on para jumbles, RCs, para summaries, and other topics related to grammar. Finally, make sure each weak person takes a quiz and evaluates your vocabulary skills.
Initially solving DILR questions may seem tricky, however, once you start solving 3-5 sets daily, you will become more familiar with the method, speed up, and be able to solve it more accurately.
To get started preparing a QA section, it is imperative that you clear your basics topic-wise. Starting with the topics like profit and loss, a percentage, arithmetic are the few topics around which questions are framed. Grind on the topic and look at all the different questions you can ask. If you have cleared your concepts in this section, you can do calculations in your mind while solving QA questions in CAT.
Newspapers
Update yourself with events happening around the world. In addition to improving your vocabulary and general awareness, you will also get different perspectives on an issue. Also, be aware that most GD titles are taken from recent events.
Go for the Tricks
Once candidates know the basics, candidates can apply the tricks they learned to similar questions. Tricks help you solve questions in the shortest amount of time. For tips, candidates can visit Careers360 and get various useful shortcut tips.
Take Mock Tests
One of the most crucial and important steps in the preparation is to carry out mock tests. Some students hope that once they finish the CAT preparation they will start offering mock tests. However, because the CAT syllabus 2022 is so broad, it is sometimes impossible to touch on every topic. As such, students should not wait until the end of the CAT 2022 syllabus. They should start taking the mock test for CAT 2022 before 4 months to examine the parts of the questions and their effectiveness.
Mock tests will help candidates to analyze their strengths and weaknesses in more depth, which will greatly help not only the CAT exam but also other desirable management entrance exams.
Analyze your performance
Be it section tests, unit tests, or overall CAT mock tests; Always analyze your performance. Especially in verbal skills which is a tricky topic, where people tend to make similar mistakes. Identify your mistakes and improve them. The lower the candidate score, the better the focus now.
Quant is something that has a time validity attached to it. With these tips, you are all ready for the CAT exam 2022. It is recommended that CAT take a lot of mock tests and be completely ready to deal with CAT questions easily. So, it can be said that it is not very difficult to prepare a CAT in 6 months if one prepares it in a smart and efficient way.
Also, read
Recommended Books for CAT
While preparing for CAT make sure that you refer to good study materials. Many toppers consider that having good CAT preparation books and materials helped to clear the CAT and paved the way for the best B-schools in India. There are a lot of best CAT preparation books for the CAT 2022 exam which can allow the achievement of the task of how to crack CAT 2022 in 6 months.
On the e-commerce site, they also provide CAT preparation books for beginners. We show the table below some CAT preparation books and syllabus preferred by the last year's CAT toppers. These books are the key to concluding the task of how to prepare for CAT exam.
Section

Name of the Book

Name of the Author

Data Interpretation & Logical Reasoning

Data Interpretation & Data Sufficiency

Ananta Ashisha

How to Prepare for DILR for CAT (Tata McGraw-Hill)

Arun Sharma

Logical Reasoning and Data Interpretation for the CAT

Nishit K. Sinha

Verbal Ability & Reading Comprehension

The Pearson Guide to Verbal Ability and Logical Reasoning

Nishit Sinha

Word Power Made Easy

Norman Lewis

How to Prepare for the VARC for the CAT

Arun Sharma and Meenakshi Upadhyay (Tata McGraw-Hill)

Quantitative Aptitude

QA for CAT and Other MBA Entrance Exams

Trishna Knowledge Systems (Pearson)

How to Prepare for Data Interpretation for CAT

Arun Sharma

The Complete CAT Digest, by Tata McGraw-Hill

Arun Sharma
How to Prepare for CAT 2022 in 6 months - Monthly Plan
From the month of May to July 2022
Begin your journey to unfold the path to how to prepare for CAT exam by analyzing where you stand. You can analyze this by providing multiple mock tests and evaluate your answers closely. You need to identify your weak and strong areas and gather good online MBA CAT preparation books or materials to fix those errors.
During these months students should focus on building speed and accuracy by becoming familiar with the techniques for solving quant questions, shortcuts for DI and LR, and the strategy for verbal skill. These months act as a foundation month for your CAT preparation and can give you more time.
From the month of August and September 2022
During these important months, when you grade in November, you should focus only on training and speed. Solve as many questions as possible by selecting the CAT sample papers. Join various training institutes for their mock test series and get a pinch of salt through your result. Examine your performance after giving a mock test for CAT 2022 and check where you went wrong.
From the month of October till D-Day
With the CAT 2022 just around the corner focus on your scoring. Work according to the CAT exam pattern and question papers. Make sure there is a good correction. This is surely going to assist the students to crack and unfold the question of how to crack CAT 2022 in six months.
Top MBA Entrance Exams
Frequently Asked Question (FAQs) - How to Prepare for CAT Exam 2022 in 6 months- Careers360
Question: When should I start preparing for cat 2022?
Answer:
Since CAT is scheduled for November, you have plenty of time to study consistently and regularly and prepare for the new CAT 2022. But the important thing is, get started today. Do not wait another day or month. Know when and how to start CAT 2022 preparation.
Question: Are there any CAT preparation tips for commerce students?
Answer:
The time required to prepare for any exam will vary from person to person. Some learn fast, some learn slowly. The amount of time one has to devote to CAT preparation depends on how much work one has to do with its capabilities. The commerce students/ engineering students/ working professionals have to focus on their weakest areas.
Question: How can I crack the CAT 2022 without joining coaching?
Answer:
You can definitely. Candidates joined the training to be disciplined and motivated throughout the preparation. However, this is a completely personal choice. This article also provides the details for CAT preparation strategy without coaching.
Question: Where can I download free CAT preparation books pdf?
Answer:
If candidates want to buy second-hand CAT books, then candidates can go to the online site. There is a nice collection of CAT preparation books online that is available free of cost.
Question: How did people in the 99th percentile prepare for the CAT?
Answer:
Candidates have to decide to prepare for CAT in January 2022 which was the beginning of the final semester of graduates. Should join in the best CAT coaching institute and have to prepare well. Take a lot of CAT mock tests.
Question: How to prepare for CAT 2022 in six months?
Answer:
There are a lot of CAT preparation books that are available online. By going through CAT preparation books or CAT preparation tips from toppers, candidates can easily crack the exam with a good percentile. Before starting the CAT exam preparation, candidates must also analyse the exam pattern and strategy suitable to them.
Questions related to CAT
Showing 8425 out of 8425 Questions