One Year Study Plan for CAT 2022
One Year Study Plan for CAT 2022 - Do you think you have the potential to take admission in Top B-Schools of India? But still, wondering how to start the CAT 2022 preparation? IIM's collectively conduct the National Level entrance exam every year. CAT 2022 will be held in the last week of November. Clearing CAT 2022 is a cakewalk only when you know where to put your efforts into. Some candidates think that studying in the last month would suffice and make them clear CAT 2022, but mind you, candidates need a proper preparation strategy. Scoring a sharp 100 definitely requires a lot of efforts, hence Careers360 brings to you the expert advice on what should be your one-year study plan for CAT 2022, with and without coaching preparation, methods to be adopted while preparing and much more. Common Admission Test which is commonly abridged as CAT is a national level exam which is conducted once in a year and is considered by thousands of colleges to admit candidates in MBA or other post-graduate programmes.
Stay up-to date with CAT News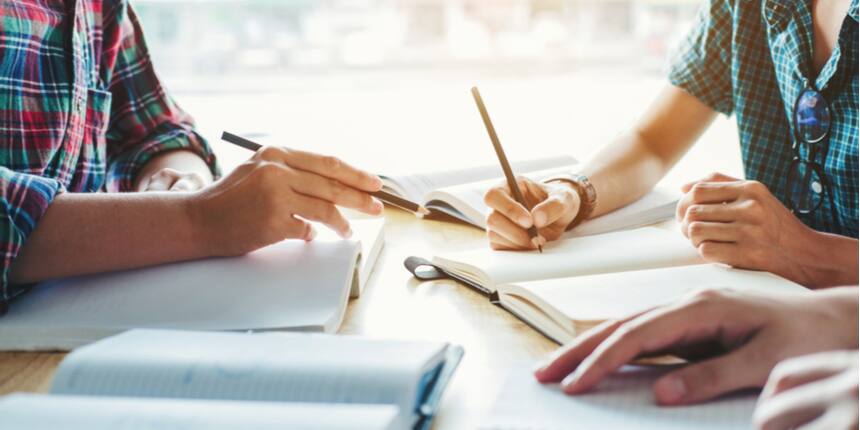 CAT 2022 Study Plan
One year study plan for CAT 2022 is sufficient enough for candidates to crack the exam with good scores. To start the preparation, firstly candidates need to decide which study plan they want to proceed ahead with. Candidates have two choices with them before they start their preparation which is given below -
CAT 2022 preparation without coaching

CAT 2022 with the assistance of coaching institutes
Let us look at each of the two plans in a detailed version.
CAT 2022 Preparation Without Coaching
Some of the experts of CAT and past year toppers advocate the fact that advisership, mentoring or joining coaching for CAT can be beneficial to a great extent. However, it is not always But it is not imperative. Anime Aashish, the topper of CAT said that joining a coaching class for CAT is not obligatory through which a candidate can think of getting into top B-Schools. Walking on the footprints of Mayank Raj who self-prepared for CAT without being part of any coaching institute, took the assistance of internet. Some experts admit the fact that roughly 500 hours of serious preparation for CAT 2022 would be sufficient to reach the peak potential to crack the exam and get admission in the best B-Schools of India. If candidates are planning to go for self-study and without any coaching for CAT 2022, then candidates can follow the below-mentioned one-year study plan for CAT 2022.
Methodology for One Year Study Plan for CAT 2022:
| | |
| --- | --- |
| S. No. | Methods |
| 1. | Division of Syllabus |
| 2. | Monthly Planning |
| 3. | Create study groups |
| 4. | Get the right study material |
Let's check each point in detail:
Division of Syllabus:
As per the exam pattern of CAT, the paper will be divided into three major sections i.e. verbal ability & reading comprehension, quantitative ability and logical reasoning and data interpretation. After making the decision of giving CAT, candidates need to move according to the syllabus. Remember that CAT 2022 preparation time is now. Follow the below-mentioned strategy to start preparation on the basis of sections.
For Logical Reasoning and Data Interpretation:
Keeping in view the past records, this section of LR & DI is considered to be a difficult nut to crack and hence required tough grind to be done from the side of candidates

For this, it is advisable to thoroughly go through the previous year CAT question papers
For Quantitative Ability:
Basic level mathematics preparation is a must to score in this section of QA

Major topics of the QA section include questions from seating arrangements, number system, profit and loss, geometry, blood relations etc.,

Practising mock test for the section will be more beneficial

At the time of solving QA questions, candidates avoid using calculators
For Verbal Ability & Reading Comprehension:
According to the CAT topper topper Anumay, candidates can develop vocabulary skills by regular reading habit and explore different topics of CAT with major details.

Go through journals, blog posts, articles, hear podcasts etc., to improve this section

Practice topics like inferences, comprehensions and para jumbles
Monthly Planning
Candidates must divide their preparation strategy to answer when exactly they should start to prepare for CAT 2022? Most candidates get confused and end up wasting a lot of their precious time. To begin with, candidates can start their preparation with 9 months, 6 months and 3 months planning. CAT 2022: when and how to start preparation can be divided by candidates as follows.
Division on Month-wise Basis:
Monthly Division

Focus of CAT 2022 Preparation Strategy

9 Months

(March-May)




Time Management

Concept clarity with shortcuts

6 Months

(June-August)

Work on areas of improvements

Practice sample paper/past years questions

3 Month

(September-November)




Mock tests

Focus on Strong Topics
Create a study group
Taking help from alike minds will accelerate one's performance for sure. Hence, try to search for other candidates who are planning to appear for CAT 2022. A good company helps a lot and can assure better consequences. Therefore, it is advisable for candidates to search out people who are planning for B-School for the upcoming academic year. Study group participants can help and motivate others to create a lively and competitive free environment. According to CAT topper Lakshya Kumar, it is better to form a focused friend's circle with the same objective can help in clearing doubts and formulate a better strategy. Apart from the helping hand, friends who know the importance of CAT can help one to start studying post a decent amount of recreational time.
Get the right study material
CAT is about attempting questions with accuracy rather than solving more questions. Do not forget that negative marking will be applicable in CAT 2022 just like the previous years. To score well in all sections will be possible only when candidates know from where to prepare. Candidates must try to figure out and look for the best books for CAT 2022 preparation. If you look out for CAT books, the market will provide you with big stacks of books. But what will you do if those books don't serve the purpose? Before buying books, it is advisable to go through the syllabus carefully. Check whether the book you are planning to buy contains all topics or most of them or not. Buy those books which provide quality content. Some of the best books for CAT 2022 preparation are given below and can be referred by candidates.
How to prepare for Quantitative Aptitude for the CAT - Arun Sharma

How to Prepare for Data Interpretation for CAT - Arun Sharma

Logical Reasoning and Data Interpretation for CAT - K. Sinha Nishit

Mastering the Verbal Ability for CAT - Ajay Singh
To know details on how candidates can study without coaching, check out CAT 2022 preparation without coaching.
CAT 2022 with the assistance of coaching institutes
Rahul Gupta, topper of CAT 2019 who hit a straight 100 percentile told Careers360 that he took coaching and received feedback from the professional with regard to the preparation strategy. "A good coaching institute will prove beneficial along with regular CAT mock tests" says Rahul. Whereas CAT 2019 topper Somansh Chordia says, "Coaching institutes provide guidance and content and make the preparation path easy, however, it is not always necessary to join one.
Below are the benefits associated with CAT coaching, if you are planning to join a coaching institute for CAT 2022 -
Competitive environment to stay focused

Sufficient study material

Mock Test series

Shortcut methods of solving difficult questions
According to Rishi Mittal, Topper of CAT, clearing CAT requires both i.e. self-study can bring in the difference, whereas coaching institutes provide a right base, quick concept clarity as well as straight forward guidance.
All the best.
Questions related to CAT
Showing 10892 out of 10892 Questions