How To Crack CAT 2021? - With IIMs declaring the final results of shortlisted candidates for the year 2021 admissions, aspirants who are planning to give CAT 2021 are now in the forefront. At the cutting edge towards acing the most coveted IIMs entrance exam, candidates need to pull up their socks. For all the prospective CAT candidates, it is indispensable to prepare and plan their preparation strategy accordingly. CAT 2021 calls for planning and endurance! In this article of How To Crack CAT 2021? Careers360 brings forth the mindful tips to crack CAT 2021 in order to flatten the path for all the test takers. In the Common Admission Test, apart from the three sections time management is considered to be of equal importance. Hence, while preparing for CAT 2021 candidates need to ensure that they utilise their time efficiently and maximise their potential in optimum manner.
Stay up-to date with CAT News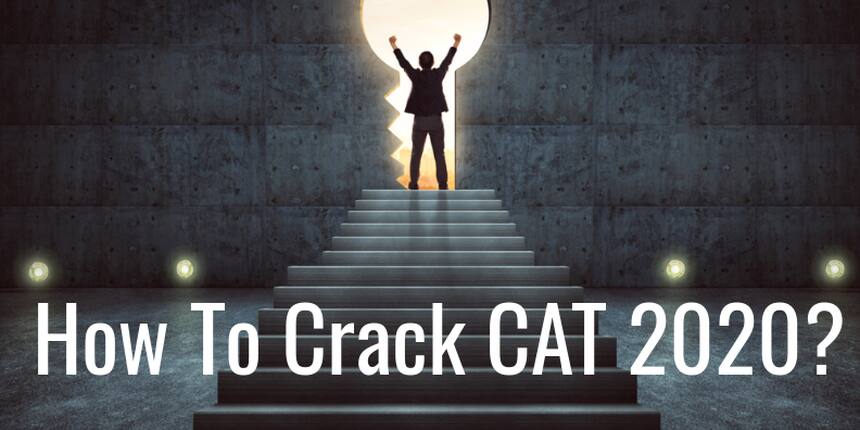 Ongoing MBA Admission 2021
Basic Tips on How to Crack CAT 2021 Exam
After deciding on to take up the IIM entrance exam, the most challenging question faced by candidates is how to crack CAT 2021? Both experts as well as toppers of CAT emphasize on the importance of effective planning, practice and accuracy of questions attempted in their navigating tips. Based on that, eight major strategies mentioned below pertaining to 'How to crack CAT 2021?' are provided which are all interconnected and aim to render a cumulative effect if followed in a stringent manner.
Strategies For CAT 2021
Time Management

Speed and Accuracy

Selecting the Right Set of Questions

Number of Attempts

Section Wise Strategy

Join Online Study Groups

Mock Test of CAT

Last Minute Discussions at Bay
Let us look at each point one by one to have more clear description about the CAT 2021 strategies to be followed -
Time Management
As per the experts of CAT, a thumb rule which is mandatory for candidates to follow is - they should devote around three hours a day. To be elaborative on time, experts say, having three hours per day will provide 600+ hours to be battle ready till the exam day as CAT 2021 will be conducted on November 28. Initially, candidates should start with the sections he/she is relatively sluggish. Candidates should practice more sets of LR starting from the basics. Ideally, all CAT 2021 candidates should start from the drawing board stage in order to understand the basics for all sections. The objective should be to allow flexibility in 2 hours to cover all weak areas in all three sections initially. As candidates are near to CAT 2021, they should scale up their practice hours to 5 or 6 hours.
Quick link -
How to do Time Management for CAT?
Speed and Accuracy
Since the CAT entrance exam has a sectional time limit as per the exam pattern of CAT 2021, candidates need to maintain their speed while attempting questions. Moreover, the no. of accurate answers attempted will be counted. One mark for each inaccurate/incorrect answer will be deducted, while four marks will be added in total marks scored for correct/accurate answers. Hence, candidates while preparing for CAT 2021 should focus on improving their reading and understanding skills especially for the VARC section as the questions themselves are lengthy and time consuming. Make sure you have sufficient time to read and answer the known questions.
Quick Link -
How to prepare for CAT without coaching
Selecting the Right Set of Questions
Focus of candidates should not be on solving all the questions, but candidates should focus on the level of accuracy. Hence, candidates are expected to prioritise the set of questions on the basis of strengths and weaknesses. Invest starting time in solving questions that you are sure of. Avoid guessing work in MCQ questions. TITA questions can be attempted with few guesses but candidates should ensure that they have sufficient time for other questions as well. Performance as well as success in the CAT 2021 will be dependent much on candidates preparation level as well as the command over strengthening topics.
Speed immensely counts in order to attain a grip on CAT 2021. Hence while preparing for CAT candidates should focus on managing their speed along with accuracy. Candidates need to prepare with techniques to complete the test within the stipulated time.
Quick Link -
How to tackle TITA questions in CAT?
Number of Attempts
With special reference to the questions to be attempted per section in CAT 2021, Gautam Puri, Vice Chairman, Career Launcher says that the net score required to obtain 99 percentile and above depends on the no. of questions one attempts. The following table projects the no. of attempts to secure good marks in CAT 2021 as per experts.
How To Crack CAT 2021 With Number of Attempts:
| | | |
| --- | --- | --- |
| Sections | Number of Questions to Attempt | Net Score |
| Data Interpretation & Logical Reasoning | 22 to 24 attempts | 65 to 70 |
| VARC | 20 to 22 attempts | 55 to 60 |
| Quantitative Ability | 23 to 25 attempts | 70 to 75 |
| Overall | | 175 |
Section Wise Strategy
Keeping in mind the previous track of the CAT question papers, mainly there are three sections in CAT entrance exam. While initiating their preparation candidates are advised to draw a productive section wise strategy.
For Quantitative Ability: For this section candidates focus on building up basics of mathematics. Topics like profit and loss, geometry, number system as these topics are frequently asked and for CAT 2021 might form the key questions
Quick Link:
How to Prepare for CAT Quantitative Ability
For Verbal Ability & Reading Comprehension: Reading habit should be inculcated in candidates. Reading anything be it blogs, newspapers, articles, journals to enhance skills will be helpful for the CAT 2021 VARC section. Try to give one hour daily to this section just for reading purposes and focus on improving vocabulary. Solving comprehension, inferences, passages will be helpful
Quick Link:
How to prepare for CAT VARC (Verbal and Reading Comprehension)
For Logical Reasoning and Data Interpretation: Learn basics like seating arrangements, syllogisms, blood relations and such topics to have a good hold on this section. Using calculator for tough questions would be beneficial as IIMs do provide the facility
Quick Link:
How to prepare for CAT DI & LR
Join Online Study Groups
Due to technological advancements, candidates nowadays have the options to join online study groups. Nowadays popular social media groups are coming up, trending and providing relevant tips on cracking CAT and other management exams. Ronit Banerjea Topper of CAT 2019 on one on one interview told Careers360 that he joined the coaching institute and began his preparation with the study material in order to learn new and shortcut techniques of solving the questions.
Mock Test of CAT
According to Shashidhar Unni, Academic Head for CAT, T.I.M.E. Chennai, "To expect an IIM entrance test to be a breeze is living in La La Land by candidates. They should try to understand concepts across various fields and then apply a sensible preparation and acing strategy to gain maximum accuracy". CAT Mock Test helps candidates to evaluate their preparation level and also helps them to have a better understanding of the pattern beforehand. Rishi Mittal, topper of CAT 2019 says, "His strategy was nothing out of the ordinary honestly. He solved the material provided in the classes, attempted mocks regularly, identified his strengths and weaknesses in every mock of CAT, capitalized on strengths and worked on his weaknesses, and repeated this cycle. By the time the CAT exam arrived he had given around 20-25 mocks which gave him the exposure of a good amount of questions.
Quick Links -
Why, When and How to take CAT Mock Test?
Why take mock tests before CAT 2021?
Last Minute Discussions at Bay
Combination of concentration and cynosure should be the only mantra that candidates should follow for the day of CAT 2021. Before the D-day, it is a usual practice for candidates to discuss preparation with friends as well as peers. But it is advisable that one should refrain this practice. It is imperative that candidates should be confident about their preparation and not indulge in the preparation/discussions that are done last minute. This may affect the state of mind of the test takers and the whole preparation may go in vein. Therefore, before appearing for CAT 2021, the focus should not be invested in the last minute futile discussions.
Quick links-
CAT 2021 Mistakes you must avoid on the test day
Questions related to CAT
Showing 9994 out of 9994 Questions