CAT 2020 Exam Preparation Tips by Shashidhar Unni, Academic Head for CAT, T.I.M.E. Chennai
In the normal course, your job/college competes with CAT for your time. This year we have seen multiple disruptions favoring full advantage for CAT. CAT is an aptitude test, not a test of knowledge per se so the usual technique of preparing for college exams or board exams just won't fly. If a student understands this nuance, it will help in laying out a road map for the preparation. CAT tests aspirants on 10th/11th standard English, Mathematics, Logical Reasoning, and Data Interpretation. However, to expect an IIM entrance test to be a breeze is living in La La Land. The aspirant needs to understand concepts across fields and apply a sensible strategy to maximize accuracy in the mock tests. The CAT preparation should include time set aside for strengthening concepts, working out exercises in weak concepts, and taking regular sectional tests and mock tests. Practicing problems of various iterations will expose aspirants to different permutations so that they aren't caught flat-footed by the canny exam setters. Read the full article by Shashidhar Unni, Academic Head for CAT, T.I.M.E. Chennai.
Latest Update- Candidates can check CAT 2020 analysis. Know all about CAT 2020 answer key.
Stay up-to date with CAT News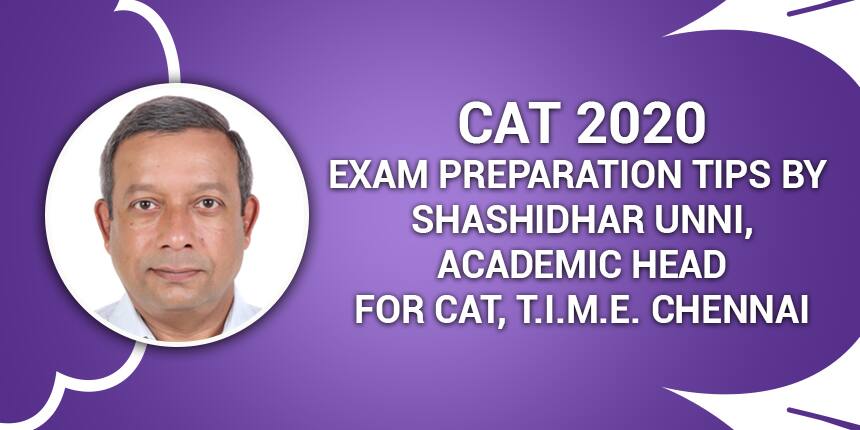 Focus on Time Management
The most important part of the planning is to determine how many hours can be set aside exclusively for CAT preparation. A thumb rule is that around 3 hours a day will give you 600+ hours to be battle-ready for November. Of the 3 hours, logically the student should expand more on areas where he/she is relatively weak. If the student is floundering with Venn Diagrams or Distribution because of which the DILR is dragging down the overall mock test percentile, the student should practice more of LR sets starting from the basics. Ideally, the student should visit this right from the drawing board stage so that the basics are understood. If Mensuration is his next weak area and finally inference based questions in Reading Comprehension is troubling him, he needs to split the 3 hours into, say, 1 hour for Venn Diagrams, 45 minutes for Mensuration, and 45 minutes for Critical Reasoning exercises. As he improves, he can scale down the number of hours on the Venn Diagram and use those minutes for other iffy areas. The objective is to allow complete flexibility of those 3 hours in covering all weak-ish areas in all three sections. As you near CAT 2020, you can scale up your practice hours to 5 or 6 hours.
Work on the Concepts and Analyse CAT Mock Tests
The student absorbs concepts from the text material and applies it to the vast bank of Sectional Tests available in the portal. Once the concepts are properly applied, the student should work out the strategy to be adopted for mock tests, in consultation with his/her mentor. Whether the strategy is working or if it needs to be changed/tweaked can be decided after closely examining the performance in the mocks. Analysis of CAT mocks is key to determining how prepared the aspirant is. Analysis should not be confined to why the answer was wrong, it should also look at how many of the unanswered questions could've been correctly answered and how long he/she took to answer a question correctly vis a vis the rest of the test takers.
Questions related to CAT
Showing 9986 out of 9986 Questions