How to prepare for GD-PI & WAT rounds of top B-Schools?
How to prepare for GD-PI & WAT rounds of top B-Schools? - Getting admission in B-Schools is quite a task these days due to the complexity of the admission process. Gone are those days when getting admission in top B-Schools was just a cakewalk. Since the IIMs and other top B-Schools came into focus, candidates began to worry about getting the best. Major top B-Schools be it IIMs or other B-Schools than IIMs conduct their own entrance exams, post which the further selection rounds begin. The admission process of top B-Schools includes GD-PI & WAT rounds. Clearing the B-Schools entrance exams can be achieved with hard work and dedication. But the challenge that candidates face is when they have to take part in the next stage of selection after they have qualified the written exam.
Stay up-to date with CAT News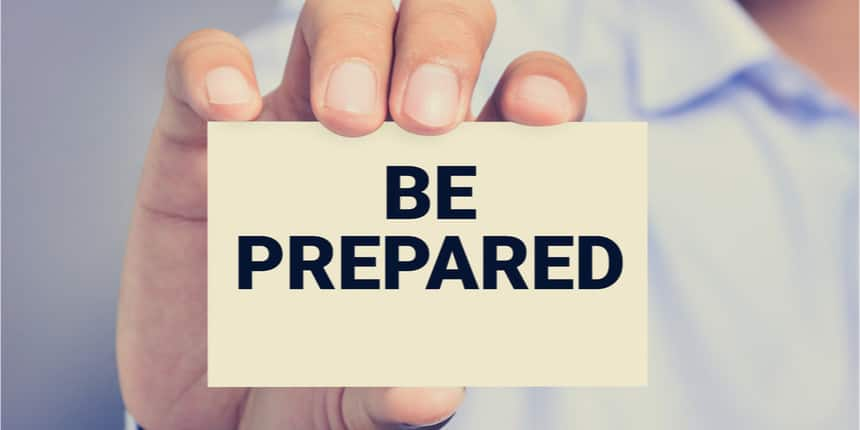 Ongoing MBA Admission 2021
The very first question that comes in their minds is - How to prepare for GD-PI & WAT rounds of top B-Schools? Overall selection of candidates is based on the composite score of entrance exams, GD-PI & WAT rounds, candidate's profile, work experience and much more. In this article of How to prepare for GD-PI & WAT rounds of Top B-Schools? Careers360 will help you know what WAT, GD-PI is? Common yet major preparation tips for selection rounds of IIMs and other top B-School.
Parameters of Judgment for GD-PI & WAT
Communication Skills

Writing Ability

Attitude & Aptitude Level

Interaction skills

Decisiveness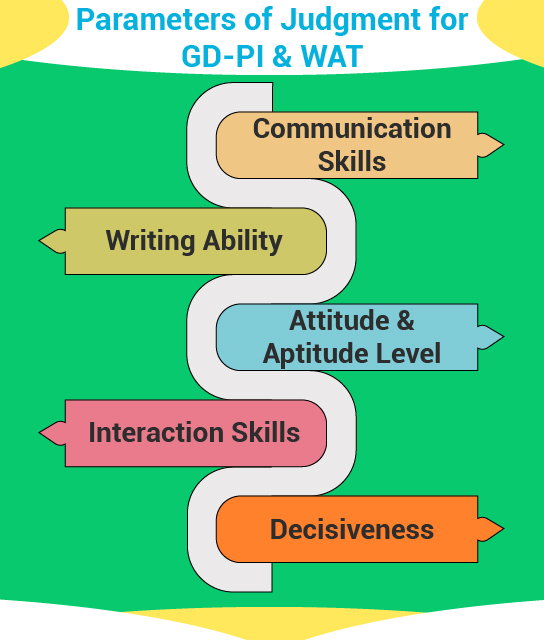 Preparation Tips for GD-PI & WAT Rounds of Top B-Schools
Before moving straight onto the preparation tips, let us first look onto what exactly the GD-PI & WAT rounds are and why they are conducted by top B-Schools to provide admissions to candidates.
What is the Writing Ability Test (WAT)?
WAT round is very much like the essay writing part, in which candidates are given a topic to write

The round is conducted in offline mode i.e. pen paper-based and candidates are allotted a time duration of 15-30 minutes depending upon the institute they are applying for

Out of the 20 IIMs, most of them have replaced GD round with WAT round as it is a great assessment process to judge candidates

The word limit of 200 to 400 words is given to candidates and a pre-mentioned timeline

Within this word and time limit, candidates are required to formulate ideas, jot down the points and provide a structure to reach a conclusion
What is Group Discussion (GD)?
GD is another judgement round whereby a group of 8-10 candidates is formed and given a topic to discuss

The round can be conducted in both online and offline modes and the time duration is usually 20-30 minutes

Group members are called group participants while the person conducting the GD round is called GTO (group testing officer) or if more than one person is conducting then GTO panel/panellists

Candidates are given time to think in advance after the topic is disclosed and then participants discuss the same in a polite manner to reach an effective conclusion
What is Personal Interview (PI)?
Personal or face to face interaction of selected candidate with the judges/interviewers is called the personal interview

The candidate is judged on the basis of his/her interpersonal communication skills, responsiveness, confidence

It is better to be well prepared as your overall impression will be impactful in a face to face round
Preparation Tips for Writing Ability Test (WAT)
Gain Subject Knowledge

Make Notes on Ongoing Trends

Time Management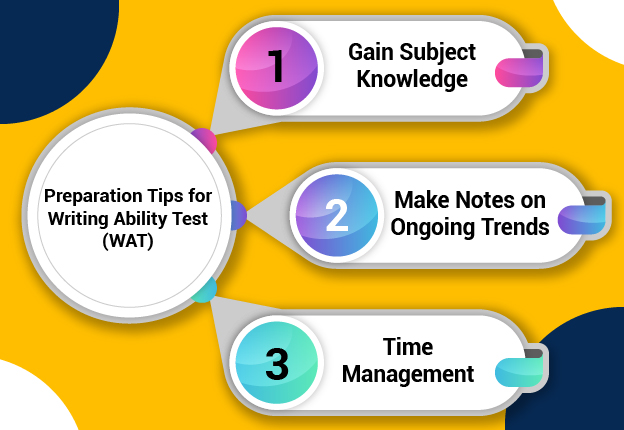 Gain Subject Knowledge - Do not go unprepared for a WAT round. Gaining knowledge on major managerial subjects is one of the major preparation tips for written ability test. Update yourself with current trends. Read national as well as international magazines/journals.

Make Notes on Ongoing Trends - One of the preparation tips for written ability test is to make a bullet board and paste ongoing events on it. If it is not possible to have a bullet board, then buy some colourful sticky notes or flashcards and stick them at a visible place. Note all important information on them and get to read it every time your eyes attract the colour.

Time Management - As time is precious in all domains of life. Hence, while appearing for WAT round, candidates must keep the value of time and try to submit their complete work within the stipulated time as per specifications of the B-Schools.
Note - Expert Ramnath Kanakadandi advises candidates to go for a CODER approach i.e.
C - Collect ideas
O – Organise them
D – Develop them
E – Express them
R – Review
Hence, collect the knowledge about the subject, organize and develop the important sticky/flash notes, express the same within the specified time limit and review them before submission.
Preparation Tips for Group Discussion (GD)
Read More

Avoid Jargon/Slangs

Practice in Front of Mirror

Don't Deviate From Your Point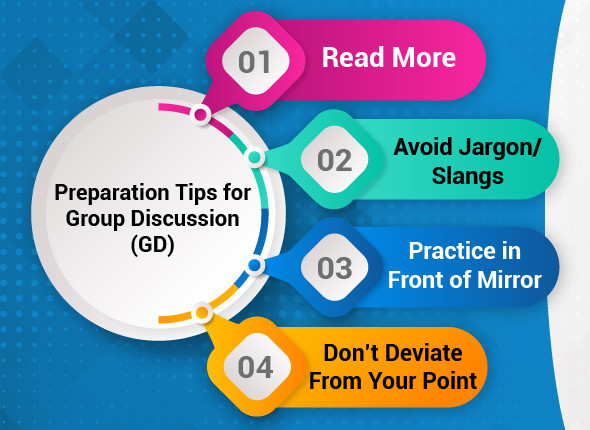 Read More - To prepare for group discussion rounds it is advisable to candidates to read as much as possible about the latest topics. A group discussion topics can be divided into Abstract Topics, Current Affairs Topics, Business & Economy Topics as well as Social Issues Topics. Go through some of the topics and try to add something extraordinary.
Quick Links -
Current Group Discussion Topics
Group discussion topics on current affairs
Avoid Jargon/Slangs - Do not try to showcase your vocabulary skills in a group discussion round as it may leave a reverse impact on your results. Be clear and specific to what you have to say. Avoid technical jargon and common slangs while in a formal group discussion round. It may happen that Jargon/Slangs may not be known to other group participants or group testing officers

Practice in Front of Mirror - If you feel you are low in confidence at the time of speaking openly, then practice speaking in front of the mirror. Think about what you have to say, and then be clear with your words. See your facial expressions, body gestures while you speak this way you will learn how to speak and express yourself in front of others
Quick Links -
Major topics for Group Discussion
How to create an impact during GD
Don't Deviate From Your Point - Be specific with your points. For example, if you are with the pros of any topic stick to the same and do not deviate from your wordings on hearing others as per the preparation tips for group discussion. Do not be diplomatic until you are concluding the group discussion topic
Preparation Tips for Personal Interview (PI)
Showcase Confidence

Improve Listening

Have a Presence of Mind

Have a Formal Dress Code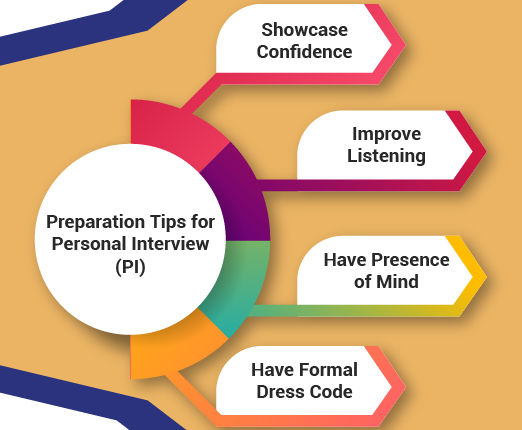 Showcase Confidence - Being confident enhances your personality. Looking confident and feeling confident should be one of the preparation tips for the personal interview. Remember that being nervous is easy and natural, thinking the same will make you look pathetic and may reduce your chances of success in a personal interview

Improve Listening - Understand the difference between hearing and listening. Do not hear the interviewer, try to listen to what he says or asks you. By listening carefully you will be able to answer accurately and up to his/her/their expectations

Have a Presence of Mind - One of the Preparation Tips for Personal Interview apart from listening is to be present. Do not make the interviewers wait for your answer else it may leave them guessing and doubting your preparation

Have Formal Dress Code - Remember you are going to appear for a personal interview for admission in one of the top B-Schools. Hence, select a proper and formal dress code. Male candidates can go for a formal light shade full-sleeve shirt with pants. Footwear could be Oxford, Derby, Brogue etc., While female candidates can wear a half sleeve shirt along with trousers/knee-length skirt with heels/Ballerinas. Be formal and remember that appearance also matters in a personal interview
Quick links -
Tips to ace your personal interview preparation
Questions related to CAT
Showing 9971 out of 9971 Questions