Important GD Topics for MBA 2022 - Group Discussion Topics on Current Affairs
Important GD Topics for MBA 2022: Group Discussion Topics on Current Affairs - Wondering what Group Discussion topics on current affairs are in trend? How can you prepare beforehand to make a mark amongst other candidates for admission to the desired MBA program? Well, before moving straight on to the group discussion topics on Current Affairs, let us first look and what a group discussion is? Why is it used? What are its types? Group Discussion is a simple and most widely used technique by corporate houses and educational institutions.
Stay up-to date with CAT News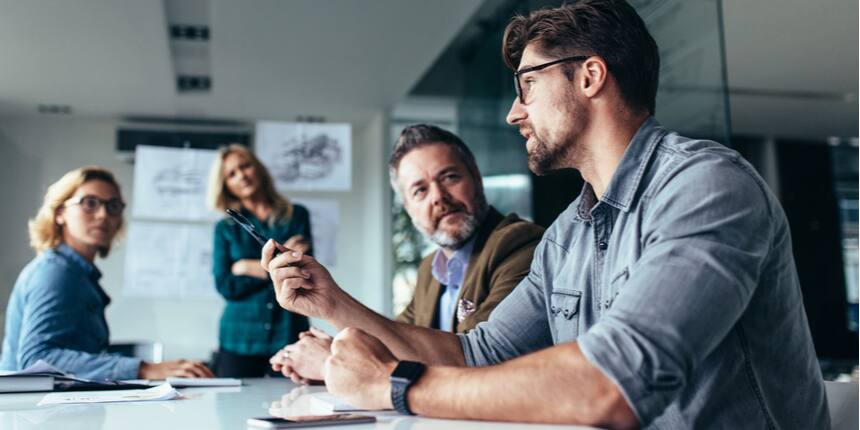 Mostly a regular group discussion lasts for 15-20 minutes whereby a topic is given to the group participants and they have to discuss the same. The person who gives the topic is known as the Group Testing Officer i.e. GTO. If the group size is larger, then in such cases, more than one GTO could be present and will be called GTO panelists. It is liable to be nervous about what could be asked as group discussion topics. Hence it is better to be well prepared with all the latest GD topics. In this article, we will discuss the aim of group discussion, and major GD Topics on Current Affairs that are in trend.
6 min read
Mar 05, 2022
Read More
Quick Links -
All About MBA - Full Form, Admission, Courses, Syllabus, Eligibility and Careers
Aim of Group Discussion
In group discussion topics apart from testing the candidates for communication, leadership, thoughtfulness ability, etc., group discussion aims to sort out the heterogeneous candidates into a homogeneous group. This makes the further process of selection easy and effective for the organizations and institutes. A candidate has three choices to make in a group discussion around when GD topics are given. Such are given below -
Choices available with candidates in when Group Discussion Topics are given-
Initiate - If the GD topics are well-versed and the candidate has a lot of knowledge about the group discussion topic on current affairs given by GTO then the very first option available to the candidate is to initiate the group discussion round. Not necessarily to have actual figures but even sound knowledge can act beneficial for the candidate to make the move initially. To make the discussion more impactful, candidates can begin with some quotes which are relevant to the topic.
4 min read
Mar 05, 2022
Read More
Follow - If due to uncertainty, the candidate is unaware of the group discussion topic on current affairs given by GTO, then he/she should not hasten to speak in the group discussion. It is wise to wait and listen to what other fellow members have to speak. Remember not to speak until you have something effective to speak. Once you have enough material to add on, you can take charge and converse it forward.
Conclude - In case you are unable to speak either as initiator or follower, you still have one option left with you i.e. to conclude the group discussion topic. While others speak, you can note down the key points in the paper and conclude the group discussion topic on current affairs. Make the conclusion short yet crisp to attract the GTO or panelists. The conclusion should not be one-sided, it should have pros as well as cons.
Quick links -
Group Discussion Topics on Current Affairs
Now that we know what a group discussion is, why is it conducted and what roles can be played by candidates. Let us look at the major group discussion topics on current affairs which are in trend and are highly used by not only IITs, IIMs but other b-schools than IIMs. Given below are the 30 major Group Discussion Topics on Current Affairs which can be checked by candidates for better preparation -
Top 10 Group Discussion Topics on Current Affairs
| | |
| --- | --- |
| Impact of COVID 19 on Environment | How prepared is India to tackle COVID-19 outbreak? |
| Impact of COVID-19 on global economy | Bifurcation of Jammu & Kashmir |
| Crisis in the Automobile Industry | UAPA (Amendment) Bill, 2019 |
| Syrian crisis | Electric vehicles in India |
| Shanghai Cooperation Organization | BIMSTEC |
Major Group Discussion Topics on Current Affairs:
| | |
| --- | --- |
| Group Discussion Topics on Current Affairs | Group Discussion Topics on Current Affairs |
| Is triple talaq empowering muslim women? | Are MSMEs backbone of Indian Economy? |
| How successful is e-drishti software? | Who are the winners of long term capital gain? |
| COVID 19 - Impact on world economy | How far will the UDAAN scheme take India? |
| How B-Schools suffered from the coronavirus outbreak? | Will India be the next refugee centre? |
| Should Trading on Bitcoins be made legal in India? | Was CAA necessary? |
| Drawbacks of Make in India | Discuss on the Me too campaign |
| Benefits of Neighbourhood First policy | Is Social Media a hub of fake news? |
| Simultaneous Election - Move for the India's federal structure | Indian Foreign Policy in the era of Gro-Political Volatility |
| Insurance for Rich/Poor - Who is benefitted? | New Industrial Revolution |
| Tata or Ambani - Who is the best in true terms? | Benefits of computer-based exam |
| RBI vs GOI | Crisis of Indian Economy |
| Growing prominence of India in Global market scenario | Success of Pradhan Mantri Jan-Dhan Yojana? |
| Swachh Bharat Mission - Will it be a dream forever? | Will India ever see the success of the Smart city mission? |
| Beti Bachao, Beti Padhao - Are Indian Women safe? | Will India's Renewable energy targets by 2022 be only a dream? |
| Benefits of e-basta scheme? | What challenges were faced by daily wage workers due to COVID 19 coronavirus lockdown? |
Abstract Topics
| | |
| --- | --- |
| Work-Life Balance is a myth | Building strategies Vs Execution |
| Hard Work Vs Smart Work | How important is it to be patient in Business and Management? |
| Friends, Enemy or Frenemies" | Innovation Vs Inventions |
| Change is the only constant | Leader Vs Follower |
| Thoughts on Me too Campaign | Do we need more entrepreneurs than managers? |
| Ethics or Profit? | Freedom: A myth? |
| Can failures teach you important lessons in life? | Women are better multi-tasker agree or disagree? |
Quick links -
Questions related to CAT
Showing 10585 out of 10585 Questions