Focus Areas for Your GD Preparation
Focus Areas for Your GD Preparation - Group Discussion (GD) is a situation, where a group of candidates interacts with each other on a particular theme or topic. The main purpose behind conducting the Group Discussion is to test the communication skills of the candidates and it could be formal or informal. The candidates participating in GD must know what the conducting body is expecting from them during a GD.
Latest Update - Candidates can check CAT 2020 answer key now. Know all about CAT 2020 result.
Stay up-to date with CAT News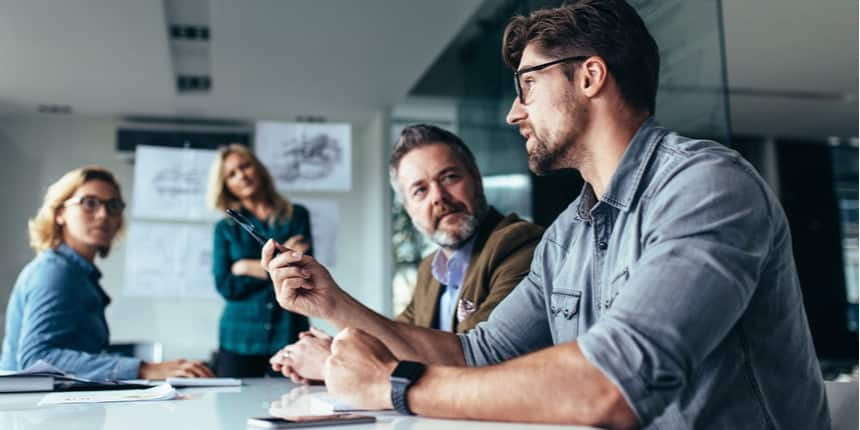 Check when and how to prepare for CAT

Here are some focus areas, if are practised consistently can make one stand apart from the crowd in GD:
Be Fearless
It is always advised that one should be fearless during his or her GD or PI. Usually, people misinterpret the word "fearless" as they think being fearless means - one should behave like a lion and deny others' opinion. Which is totally not correct, instead, being fearless simply means to put your opinions in the right way without having any fear or hesitation.
Do not opt for an aggressive approach
It is a big NO to aggression or any aggressive approach in GD. A candidate in GD should be knowledgeable and not aggressive because a knowledgeable person very well knows how to stay calm in such a situation and how to present himself in a good manner even if someone is provoking him to show some aggression. It is your knowledge of a subject that brings you in limelight before the judging panel and not your false aggression.
Develop good speaking skills
To ace any type of GD, whether it is formal and informal, you should develop very good speaking skills because sometimes, you may have excellent thoughts and ideas based on the theme of the GD but find it difficult to convey those ideas. In this situation, therefore, it becomes necessary for the candidates to have good communication skills.
To enhance speaking skills, it is not necessary to develop an accent. Rather, one should go for -
Watching English movies with subtitles, during his spare time.

Readings books and Biographies and should always try to speak the sentences as well.

One may also go for watching English news channels or reading English newspaper as this exercise, in all ways, will enhance his knowledge and vocabulary, and a good vocabulary ultimately helps in developing good oratory skills.
Just be yourself
In front of a judging panel, it is important to show the judges what personality you possess. It does not matter to the judges whether you are an extrovert or an introvert but what matters them is, what qualities as an individual you possess. So, there is no point in faking anything. Always try to make yourself more presentable before the judging panel.
Stock yourself with all kind of information
Before going for a GD, you should stock yourself with all kinds of knowledge because the topics or themes of the GD are allotted on the spot so it is difficult for one to predict the topic of the GD. But, the candidates can stock themselves with the knowledge of the following areas:
Current affairs

Historical topics

Sports, Arts and Literature

Statistical data (stating statistical data would definitely have a good impact)
Good knowledge of all the topics
Having good knowledge of all the topics can definitely help you to stand apart and have an edge over others. So try to inculcate the habit of getting knowledge about every topic and especially focus on the current events and issues as in most of the GD current issues are discussed.
Good Appearance
Good appearance makes you more presentable. Choose clean and simple attire for GD as it reflects discipline in a candidate and avoids fancy dressings. Take care of your hygiene, definitely cut your nails if required. In other words, choose a decent look for GD.
Questions related to CAT
Showing 9984 out of 9984 Questions