CAT Eligibility Criteria 2020 - Age Limit, Qualification, Marks
CAT 2020 Eligibility Criteria - Indian Institute of Management Indore has mentioned the CAT eligibility criteria 2020 in the brochure that has been released. Candidates aspiring to appear for CAT must ensure to adhere to the eligibility criteria of CAT 2020 before filling the registration form. Students must note that those failing to meet CAT eligibility criteria 2020, their candidature will stand cancelled. As per the CAT 2020 eligibility criteria, educational qualifications and other requisites to be met by the candidates of different categories will be described. Once criteria is fulfilled students can fill the registration form of CAT 2020 from August 5 onwards till September 16. CAT exam 2020 will be held on November 29, 2020. CAT is a national level entrance examination conducted annually for admission to IIMs and other coveted B-Schools. Read this complete article to know in detail about eligibility criteria pertaining to nationality, academic qualifications, category and reservation.
Latest: CAT 2020 application form released on August 5. CAT 2020 will be conducted by IIM Indore on November 29.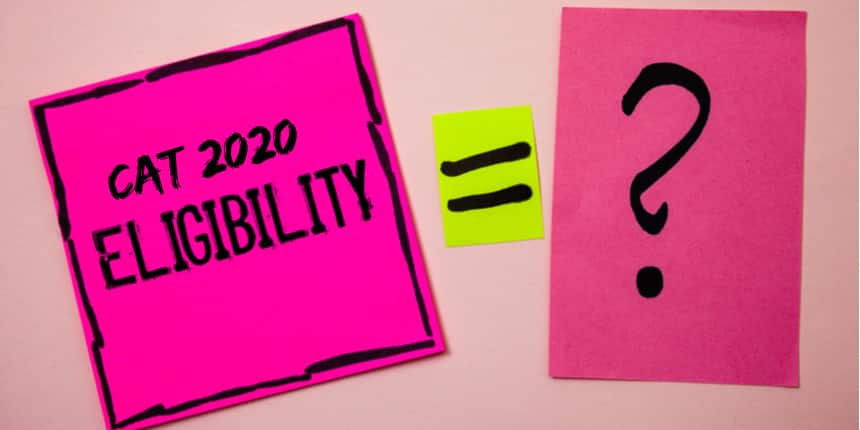 CAT Eligibility Criteria 2020 - Educational Qualifications
As per the CAT exam eligibility criteria 2020 candidates must hold a Bachelor's Degree from a recognized or statutory institute/college as incorporated by an Act of Parliament or State legislature in India or declared to be deemed as a University under Section 3 of the UGC Act, 1956, or possess an equivalent qualification recognised by the Ministry of HRD, Government of India

Students must have an aggregate score of at least 50% or equivalent CGPA for general, EWS and NC-OBC categories. Whereas, aspirants belonging to reserved category (Scheduled Caste (SC), Scheduled Tribe (ST) and Persons with Disability (PWD) categories) must have an aggregate of 45% or equivalent CGPA.

Candidates who are appearing for the qualifying examination or the results are awaited can also apply, however their admission will be provisional. Such students, if selected, must ensure that they submit a certificate from the registrar/principal of their institute/university stating that they have completed all the requirements for obtaining the bachelor's or equivalent qualification.

Aspirants of CAT 2020 must fulfill any of the following conditions:

Completed graduation with the minimum percentage of marks.

Should be in the final year of qualifying examination with minimum percentage of marks

Should have completed a professional degree (CS/CA/ICWA) with required percentage.

CAT Eligibility Criteria 2020 - Calculation of Marks
Aggregate percentage of marks will be calculated on the basis of the practice followed by the respective institute or university from which the student has graduated.

In case of CGPA and grades the marks will be converted into percentage on the basis of procedure certified by the respective institute or university.

Other case, if any institute or university doesn't provide any scheme for conversion then the percentage will be calculated by dividing the student's CGPA by the maximum possible CGPA and the result will be multiplied by 100.

For instance,
If a CGPA of a candidate is 7.7 and the maximum CGPA is 10, then,
7.7/10 = 0.77
Multiplying the result with 100= 0.77 X 100= 77 %
Note - Mere fulfillment of eligibility criteria of CAT exam 2020 does not guarantee admission to IIMs or other top B-Schools.
CAT Eligibility Criteria- Disqualifying Factors
Students will be disqualified in the admission process of B-Schools accepting CAT score if:
Candidate has not appeared for a Bachelor's degree or is in progress of completing the professional degree such as CA/CS/ICWA
Aspirant's institute from where he/she has graduated is not recognized by AICTE/UGC/MHRD.
Student is appearing for both Bachelor's degree and a professional degree.
CAT Exam Eligibility Criteria Vs IIMs' Eligibility Criteria
The only difference between CAT eligibility criteria and IIM eligibility criteria is that a student has to complete his/her graduation (with minimum three years of education) or must be in final year to appear for CAT. whereas, to fulfill IIM eligibility criteria, one has to meet minimum CAT percentile to get shortlisted for the admission procedure of IIMs.
Also Read:
One Year Study Plan for CAT 2020
CAT 2020 Preparation Strategy - Preparation Tips & Schedule
CAT Reservation Criteria 2020
As per the legal requirements of CAT 2020, the seats for different categories will be reserved as per the following criteria:
| | |
| --- | --- |
| Category | Percentage of seats |
| Scheduled Caste | 15 |
| Scheduled Tribe | 7.5 |
| Other Backward Classes (Non-Creamy) | 27 |
| Economically Weaker Section | 10 |
| Person with Benchmark Disability* | 5 |
Person with Benchmark Disability* it refers to person who is not less than 40% of a specified disability.
Specified disability will include the following disabilities as specified in the Schedule of the RPwD Act 2016:
Blindness and low vision

Deaf and hard of hearing

Loco motor disability including cerebral palsy, leprosy cured, dwarfism, acid attack victims and muscular dystrophy.

Autism, intellectual disability, specific learning disability and mental illness

Multiple disabilities from amongst persons under clauses (a) to (d)

Other 'specified disabilities' mentioned in 'The Schedule' of the RPwD Act 2016
Note - Candidates are hereby advised to read the description that will be provided by each IIMs during the selection process. No change of category will be entertained during the registration of CAT 2020.
CAT Exam Eligibility Criteria 2020 - Additional Information for Reserved Categories
In case a candidate belongs to ST or SC category, then the caste certificate which will be provided by the Government of India must clearly state the following details:
(a) Name of the caste/tribe
(b) Whether the aspirant belongs to Scheduled Caste or Scheduled Tribe
(c) District and State or Union Territory of the student's ordinary residence
(d) The appropriate Government of India schedule under which the candidate's caste/tribe is approved by it as Scheduled Caste or Scheduled Tribe
Students must not forget to upload the necessary caste certificate at the time of CAT 2020 registration. Failure to which student's candidature will stand cancelled.

Students must get the caste certificate and its photocopy at the time of interview process.
CAT Registration 2020
IIM begins the registration process of CAT 2020 from August 5. Candidates will be able to fill the CAT registration form 2020 in online mode till September 16. Also, students will get the opportunity to correct their application form in case of any error. The correction window is expected to begin in the last week of September 2020.
Frequently Asked Question (FAQs) - CAT Eligibility Criteria 2020 - Age Limit, Qualification, Marks
Question: Is there any age criteria to apply for CAT 2020?
Answer:
IIM does not prescribe any age criteria to apply for CAT 2020.
Question: Can I apply if I have a retest/compartment in Bachelor's degree?
Answer:
Yes, candidates can apply despite having the backlog or if the result is awaited, however they must fulfill the criteria during the time of MBA admission.
Question: Through which professional degrees I can apply through?
Answer:
Candidates having any of the professional degree - CA/ICWA/CS are eligible to apply.
Question: Is there any reservation criteria for candidates belonging to reserved categories?
Answer:
Yes, as per the norms set by the Government of India the reservation policy has been mentioned above in the article for various categories.
Question: How can I know if I belong to NC-OBC category?
Answer:
Candidates can know if they belong to NC-OBC category by visiting the website- www.ncbc.nic.in/Home