MAT Syllabus 2023: All India Management Association (AIMA) prescribes MAT 2023 syllabus based on previous exam sessions. The MAT test will be conducted in both online and offline modes and the questions will be asked based on the MAT exam syllabus 2023.
MAT has five sections, with each section having 40 questions. The total number of questions in MAT 2023 are 200, and the candidates need to attempt them in 150 minutes. MAT syllabus 2023 provides detailed information about the important topics to study along with the number of the questions from each topic. So it is important for the candidates to know the syllabus of the MAT exam as this helps them prepare well for the test.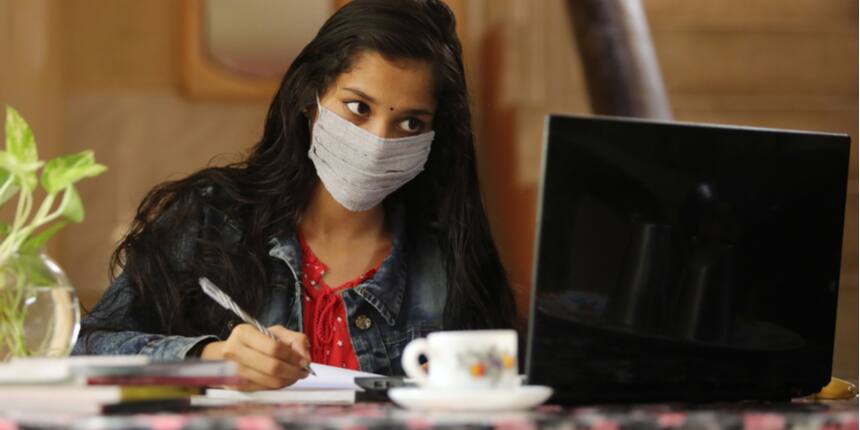 MAT Syllabus 2023: Check Section-wise Syllabus
MAT Syllabus 2023
Candidates save a chunk of time on preparation because by looking at the MAT exam syllabus 2023, they know what exactly they need to study. This also helps you assess your ability and know where you stand in terms of preparing for the entrance exam. So you can drive your focus on the areas where you are particularly weak. In short, knowing the MAT syllabus 2023 in advance will help the candidates to draw a clear-cut effective strategy for the preparation of the MAT exam. MAT is conducted four times a year in a computer-based (CBT), internet-based mode (IBT), and pen and paper-based mode (PBT). The schedule of MAT 2023 for the May session has been released.
The entire MAT exam syllabus 2023 is divided into five key sections which are Language Comprehension, Data Analysis and Sufficiency, Mathematical Skills, Indian & Global Environment, and Intelligence & Critical Reasoning. Each section will have 40 questions. The difficulty level of questions in the paper may be easy or moderate. However, some questions might be tricky.
Also, check the related articles
India's Top NIRF-Ranked Private B-Schools
Appearing for MAT 2023? You must aim for these Top NIRF ranked B-Schools. Check out courses, fee, placements and more.
Download EBook
MAT 2023 Syllabus: Exam pattern
Sections

No. of questions

Total number of questions

Language Comprehension

40

200

Data Analysis and Sufficiency

40

Mathematical Skills

40

Intelligence and Critical Reasoning

40

Indian and Global Environment

40
MAT Exam Syllabus 2023: Section Wise
Each section of the MAT exam has an equal number of questions in MCQ format. Even though the Indian and Global Environment section is not included in the calculation of the marks, it has 40 questions. Check the section-wise weightage below.
MAT Syllabus 2023 for English Language and Reading Comprehension
English language skills are tested in almost every entrance exam for MBA/ PGDM. This is because language comprehension is one of the essential requirements to enter into the business world in terms of presentation and many other aspects. It is necessary for candidates to have a good hold of grammar and vocabulary. The sub-topics from which questions are asked are:
MAT Syllabus for the English language
| | |
| --- | --- |
| Synonyms and Antonyms | Sentence Correction |
| Idioms and phrases | Fill in the blanks |
| Para jumbles | The odd word one out |
| Word replacement | Reading Comprehension Passage |
MAT Syllabus 2023 for Mathematical Skills
This is basically a quantitative aptitude section where your mathematical solving skills and strong concepts up to class 12 come into play. You need to be aware of the shortcut tricks as you have to solve the questions within a stipulated time. You need to spot and solve the easiest questions at first and then move toward the more difficult questions.
Do not spend too much time on a single question if you do not know the answer. Hence ace at mental calculation rather than solving on pen and paper.
| | |
| --- | --- |
| Number systems | Percentages |
| Profit and loss | Partnerships |
| Time and Work | Pipes and Cisterns |
| Ratio and Proportion | Mixtures and Allegations |
| Time speed and Distance | Averages |
| Profit and loss | AP, GP, HP |
| Permutations and Combinations | Probability |
| Functions and Graphs | Linear and Special Equations |
Top MBA Colleges accepting MAT scores - State-wise
MAT 2023 Syllabus for Data Analysis and Sufficiency
This section comprises 40 questions and gauges your analytical skills. You need to be aware of all types of graphs like line charts, bar graphs, pie graphs, mixed graphs, and tabular forms. Candidates must keep in mind that it is a practice-intensive section. The syllabus for it is given below:
Syllabus of MAT - Data Analysis and Sufficiency
| | |
| --- | --- |
| Data Charts | Graphs - Line X-Y graphs |
| Bar diagrams & charts including Simple, Stacked, and Composite Bar charts | Pie charts |
| Data tables | Caselet based data |
| Data sufficiency | Venn diagram |
| Mixed charts and graphs | |
MAT Exam Syllabus 2023 for Indian and Global Environment
This section consumes very little time as compared to other sections. So candidates are advised to solve this section at the end. Aspirants need to start brushing up their GK from the very early phase from which they start to prepare for MAT 2023. Newspapers, monthly magazines, subscribing to news alerts on your desktops, and mobiles can come to your rescue. Also, this section has no weightage when it comes to calculating the overall percentile of MAT.
MAT 2023 Syllabus - Indian and Global Environment
| | |
| --- | --- |
| Business awareness | Who's who |
| Sports | Politics |
| Entertainment | Social Issues |
| Monetary and fiscal tools | International Organizations |
| Constitution of India | Geography, History, and Civics |
Also Check;
Best Books for MAT 2023 Preparation
To crack the MAT exam, candidates should study books based on subjects and question paper patterns of the exam specifically. Check below, popular books for MAT preparation:
MAT Entrance Exam Guide by RPH Editorial
MAT 20 Years Topic-wise Solved Papers by Disha Experts
Mission MBA: MAT Mock Tests & Solved Papers by BS Sijwalii and Tarun Goyal
In order to prepare section-wise, candidates can check here the best books for MAT 2023 preparation.
Top MBA Entrance Exams
MAT Exam Pattern 2023
All India Management Association has prescribed the exam pattern for MAT 2023 which includes the total number of questions that will be asked, marking scheme, duration of the exam, mode of exam, etc.
MAT 2023 Exam pattern
Particulars

Details

Mode of the exam

Online and offline

Duration of the exam

150 minutes

Total number of questions

200

Total number of sections

Five sections of 40 questions each

Sections

Intelligence and Critical Reasoning

Language Comprehension

Mathematics

Data Analysis and Sufficiency

Indian and Global Environment
MAT Sample Paper 2023
Candidates must solve the sample papers of MAT 2023 so that they know what kind of questions will be asked in the entrance test. Solving MAT sample papers will help candidates to analyze what topics to focus more on.
The more sample papers and mock tests you attempt, the more adept you become in your preparation for the main exam day. With the help of MAT sample question papers, students can easily understand the exam pattern and syllabus of the MAT exam.
Click here to take MAT free mock test 2023
Top MBA Colleges accepting MAT scores - City-wise