MBA Salary in India: Top B-School in India or MBA institutions provide job opportunities after the completion of the MBA course. As per trends, MBA starting salary in India per month ranges from Rs 7,00,000 to Rs 12,00,000 manually for various MBA programs. As per last year's MBA average salary in India, it was Rs 7,71,801.
MBA Salary for Freshers
| | |
| --- | --- |
| MBA Profile | MBA Freshers Salary in India |
| Supply Chain Manager | Rs 3.42 LPA |
| Operations Manager | Rs 3.72 LPA |
| HR Manager | Rs 3.69 LPA |
| Marketing Manager | Rs 4.13 LPA |
| General Manager | Rs 6.50 LPA |
The common question on the internet is what is the highest MBA salary in India? The MBA salary of a graduate in India offered is directly proportional to the qualification and experience. The top MBA colleges in India offer very good placements with high salary packages and this is one of the reasons for so many students opting MBA courses every year.
Average MBA Salary in India
MBA salary also depends upon the MBA specialization chosen by a candidate. Generally, the highest MBA salaries are grabbed in MBA specializations like Finance, Marketing, General Management, Business Analytics, and Entrepreneurship. With industries changing rapidly, the scope for MBA professionals has undergone a radical shift. On average, the highest paying jobs after MBA in India offer a salary of Rs 4,00,000 to 32,00,000 per annum, depending on the domain and specialization chosen by the candidate. MBA is one of the well-paid Postgraudate PG program.
MBA Starting Salary in India
The average placement MBA marketing salaries for some of the top business schools in the country is as follows:
| | |
| --- | --- |
| Name of the Institution | MBA starting salary (per annum)* |
| | Rs 21.1 Lakh |
| | Rs 19.17 Lakh |
| | Rs. 20.1 Lakh |
| | Rs 22.1 Lakh |
| | Rs 18.91 Lakh |
| | Rs 18.27 Lakh |
*- These are the approximate figures. The actual numbers may vary.
What is the Salary of MBA in India Per Month?
Before or while pursuing MBA program, usually students search for what is the MBA in hospital management salary per month as per their MBA specialization. Checkout the breakdown of monthly package of a MBA graduate.
| | |
| --- | --- |
| MBA Specialization | Average MBA salary per month in India |
| MBA Marketing Salary in India per month | Rs 65,000 |
| MBA in Digital Marketing | Rs 45,000 |
| MBA in Finance Salary | Rs 60,000 |
| MBA in HR Salary | Rs 43,000 |
| MBA in Business Analytics | Rs 45,000 |
| MBA in Entrepreneurship | Rs 45,000 |
| MBA in Operations | Rs 63,000 |
| MBA in IT | Rs 48,000 |
| MBA in Event Management | Rs 50,000 |
| MBA in Healthcare | Rs 50,000 |
IIM MBA Salary in India: Average/ Highest Domestic Placements 2023
Name of IIM

MBA Highest Package in India
(per annum – Rs in lakh)

Average Domestic CTC
(per annum - Rs in lakh)

55.88

26.13

32.10

26.18

--

29

51

26

46.88

22.50

41.50

23.60

32.00

19.17

22.80

13.74

MBA – 22.37

MBA HR – 26.50

MBA – 15.11

MBA HR – 14.55

28.12

15.20

25.00

14.96

45

13.82

40.00

13.84

19.20

13.12

27

13.08

20

11.20

40

12.61

26

11.28

18.92

11.61

24.50

10.64
MBA Salary in India: Experience-wise
MBA salary with experience for graduates is higher than that of freshers. Here are the details about experience MBA salary in India
MBA starting salary in India per month with 1-4 years experience in India: With 1-4 years of experience, the salary can level up to Rs. 4,00,000 per annum and more.

Salary after MBA with 5 years of experience in India: The average salary after 5 years of experience in India is somewhere near about Rs. 8,00,000 per annum.

MBA 10 Years experience salary in India: The average salary of an MBA graduate with over 10 years of experience in India is Rs. 14,00,000 per annum.
Note- These are just the estimated salaries. The actual figures vary company-wise and by considering other factors too.
Resource Links for Online MBA
Factors, affecting MBA Degree Salary in India:
The MBA starting salary in India entirely depends on five main factors.
MBA specialization opted by the candidate

Experience of the candidate

Industry

Institute/college from which a candidate has passed

Designation
MBA After Jobs and Salary: Top skills graduates should have for a high salary
1. Interpersonal skills
Interpersonal skills are, of course, essential for anyone in a leadership role. These can really make the difference between success and failure – be it with clients, peers or those you're managing. And let's not forget, lacking such skills will seriously impede your ability to engage in that all-important networking – no one's going to share the hottest new opportunity with you if you can't engage with them.
2. Strategic thinking
Strategic thinking is a cornerstone of the MBA degree salary – one of the main intended outcomes of the degree has always been to help you move from a functional role to a 'big picture' one. Are you able to see the future of an organization, and how it's going to get there, factoring in the agility to deal with competitors and market forces? If so, you will find yourself much in demand with top MBA employers.
3. Entrepreneurial skills
Entrepreneurial skills are the ability to spot a gap in the market, judgment enough to know whether it's worth filling and the creativity and technical understanding, if not ability, to do so can be invaluable to a dynamic organization with designs on growth. And remember, not every example of entrepreneurship needs to change the world.
4. Communication skills
Being able to communicate up, down and across is essential in any management position. Communications skills are an area employers have often found candidates somewhat lacking. Luckily this is also a skillset that an MBA will help you to foster, with working in diverse groups with all its concomitant challenges playing a significant role in MBA learning.
5. Leadership Skills
A good manager will possess leadership skills to facilitate the carrying out of functional roles by his or her subordinates – not an easy undertaking, by any means. However, a good leader will inspire those who work with them and around them, make them feel valued and give the whole undertaking a sense of direction. Notably, this was the skill surveyed top MBA employers were most satisfied that MBAs possessed.
MBA salary in India at top institutes
| | | |
| --- | --- | --- |
| Top MBA institutes in India | MBA Average Salary in India (INR) | Top Recruiters |
| Indian Institute of Digital Education (IIDE) | 5.5 LPA | Times of India, Kinnect, One Plus India, Tik Tok |
| NIIT University | 4.8 LPA | Morgan Stanley, Genpact, IBM |
| Regional College of Management | 8.5 LPA | Cognizant, Airtel, ICICI Bank |
| Lovely Professional University | 3.5 LPA | Cognizant, Informatica, Capgemini, Bosch |
| Symbiosis Institute of Digital and Telecom Management | 10 LPA | MindTree, Times Internet, Fireworks, Wipro. Infotech |
| Taxila Business School | 7 LPA | UpGrad, Asian Paints, CoolBoots, Berger Paints |
MBA Scope and Salary: Specialization-wise
The types of jobs for which you will be eligible for in the future, will be determined by your specialization. Choosing the right MBA specialization may enhance your resume, especially if you feel that your undergraduate degree alone is holding you back from making progress. Choosing the best MBA specialization is mandatory as employers recruit employees based on their specialized skills. The majority of the students are selected from marketing, followed by the finance specialization.
Average MBA Salary as per specialization
| | |
| --- | --- |
| MBA Specialization | Average MBA Salary* |
| | Rs 2,00,000 to Rs 14,70,000 |
| | Rs 4,50,000 to Rs 15,50,000 |
| | Rs 10,000 to Rs 6,00,000 |
| | Rs 6,25,000 to Rs 8,50,000 |
| | Rs 14,25,000 to Rs 20,43,000 |
*- The salaries are quoted as per payscale.com.
MBA Finance Salary in India
MBA in Finance is one of the popular options for an individual looking forward to a postgraduate degree. A graduate with a specialization in Finance will be responsible to analyse the company's reports, how to maximize the stock values, forecast economic trends, balance risk and profitability, and at last investment portfolio management.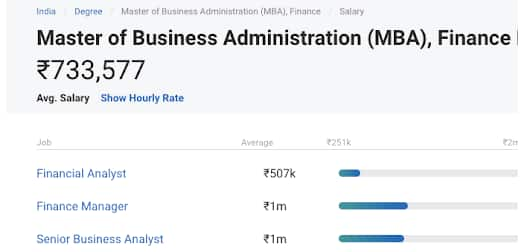 Average MBA Finance Salary
| | |
| --- | --- |
| Job Position | Average Salary |
| Accounting Manager | Rs 7,10,360 |
| Credit Managers | Rs 5,80,576 |
| Financial Analyst | Rs 4,12,339 |
| Corporate Controllers | Rs 12,24,490 |
MBA in HR Salary in India
As the number of employees increases, so does the requirement arise for personnel to manage their activities. Due to the cited reason, MBA in HR has gained traction across all verticals. The requirement of an MBA in HR professionals can be seen across all the industry domains and is expected to rise further.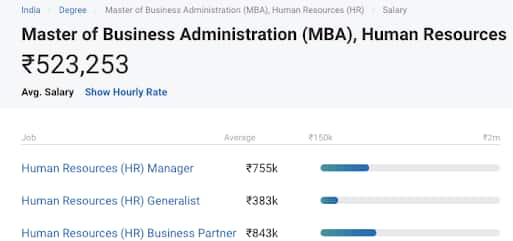 Average Salary for MBA in HR 2023
| | |
| --- | --- |
| Job Position | Average Salary |
| Human Resources Manager | Rs 7,05,853 |
| Senior Human Resources Consultant | Rs 11,64,803 |
| HR Operations Manager | Rs 8,74,286 |
| Employee Relations Manager | Rs 7,32,503 |
MBA in Information Technology Salary in India
Students studying an MBA in Information Technology Management are structured to train and produce managers who can effectively handle the planning, design, selection, implementation, use, and management of current and parallel information and communication technologies.

Top Colleges in India offering Management Courses
MBA IT Salary 2023
| | |
| --- | --- |
| Job Position | Average Salary |
| Project Manager | Rs 12,44,457 |
| Business Development Manager | Rs 5,98,910 |
| Marketing Manager | Rs 6,90,763 |
| System Manager | Rs 8,81,633 |
MBA Logistics Management Salary in India
Logistics Management is a significant part of supply chain management which deals with planning, implementing, controlling the flow, storage of goods and services between the point of origin and point of consumption.
Salary in MBA Logistics in India
| | |
| --- | --- |
| Job Position | Average Salary |
| Logistics Officer | Rs 4,36,344 |
| Logistics Supervisor | Rs 2,56,529 |
| Logistic Manager | Rs 6,06,122 |
| Supply Chain Coordinator | Rs 3,97,561 |
MBA Marketing salary in India per month
An MBA in Marketing can help you get a job promotion and qualify for management and executive positions in your current company. Since postgraduate business programs emphasize developing leadership and communication skills, graduates can advance to marketing positions with great ease.
Whether you are interested in sales, business development, media and entertainment, advertisement, brand management, or even general management, these skills form the heart of any senior-level role. Top Institutes offering an MBA in Marketing: IIM Bangalore, IIM Calcutta, IIM Ahmedabad, XLRI Jamshedpur, IMT Ghaziabad, and Indian School of Business Hyderabad. Some of the top recruiters for an MBA in marketing are Vodafone, Amazon, Samsung, Hindustan Unilever, and Flipkart.
Also Read: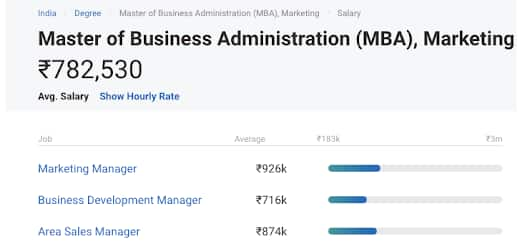 Salary in MBA Marketing Management
| | |
| --- | --- |
| Job Profile | Salary in India |
| Senior Marketing Manager | Rs 1,342,969 |
| Marketing Manager | Rs 685,280 |
| Senior Business Analyst | Rs 994,494 |
| Business Development Manager | Rs 597,879 |
| Business Development Executive | Rs 299,907 |
| Area Sales Manager | Rs 609,533 |
| Project Manager | Rs 1,263,774 |
Popular Cities offering the best jobs after MBA
The city in which we choose to work plays a major role in our professional life. The cities that offer the best opportunities for an MBA graduate are:
Gurgaon, Haryana
Bangalore, Karnataka

Delhi

Pune, Maharashtra

Mumbai, Maharashtra

Chennai, Tamil Nadu
B-School Accepting CAT Scores - Location-wise