What After MBA? -Top Recruiters, Job Opportunities, Scope, Salaries
What After MBA: There are over 6,000 colleges in India that offer the MBA course. While MBA is considered as a passport for a successful corporate career, not all MBA colleges called BSchools provide such success. Among the many, the top BSchools are the IIMs (there are 20 IIMs), XLRI, FMS, IIFT, SP Jain, IITs, ISB, NMIMS, SIBM, and many others. To get into these colleges a student is expected to clear an entrance exam such as a CAT, XAT, NMAT, SNAP, IIFT, or a GMAT depending on which institute takes which written test.

Graduates from these top colleges have multiple career options. Not only jobs, but they also have further study options as well, especially when one looks at taking up a Ph.D.! To add to that, the jobs that one can do does not limit to any single domain. One can step into any sector one wants to work in with an MBA degree.
Stay up-to date with CAT News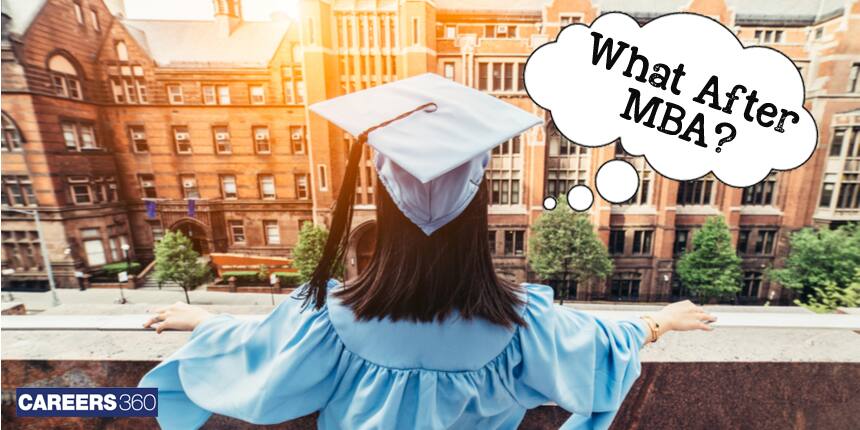 MBA Admission Open Now:
What After MBA
MBA is also a very popular and sought-after degree internationally and some of the top international BSchools include Harvard, Wharton School of Business, Stanford, Insead in Paris, London School of Business, and many more. Almost all these BSchools take the GMAT as their written test for admission. The graduates from these BSchools have global exposure and have very high-paying jobs as well!
What does an MBA teach?
The typical MBA degree teaches a student important skills which will be useful in both the short and long run. Running a business and its management is the main focus. To cater to this, the courses in MBA include Marketing and Sales, Finance and Accounts, Production and Operations, Information Management and Technology, Human Resource Management along with imparting knowledge in Economics, Statistics, and Humanities.
These skills allow a graduate to pursue a corporate career as well as pursue any entrepreneurial opportunities in the future. In addition, the MBA degree opens up opportunities in both conventional and unconventional jobs giving higher payoffs as one's experience increases.
The MBA course teaches both technical and soft skills which are necessary for contemporary jobs. A graduate can strategically think through problems, have good communication skills, and build a trustable network once she finishes her MBA degree. This establishes her credibility as both an employee and employer.
Also check;
Other MBA Entrance Exams that you can apply for
Job opportunities after MBA
When it comes to job opportunities after an MBA degree, a student can choose between two options: conventional and unconventional.
Both have equal opportunities. Just the path may vary vastly. Yet the basic soft skills and management skills required for any career path remain the same.
Know more about;
Conventional
There are mainly 5 conventional paths that one can choose post an MBA.
Marketing and Sales
Any business will be a non-starter without a robust marketing and sales department. The marketing and sales path has mainly three career options. These options are:-
Core Sales - This sales refers to the B2C ( Business to Consumer) and B2B (Business to Business) form of sales. This direct face-to-face sale tests the abilities of a sales executive on both emotional quotient and rationale. Since sales are the art of persuasion, effective communication skills and high analytical skills are the need of the executive. FMCGs, Consumer Durables, non-Consumer durables, Automobile, pharma, education, healthcare including Googles and Facebooks of the world require Core Sales personnel.

Inside Sales - This is the form of sales that is quite challenging as one may not be able to see the body language or guess the thought process of a customer. By sitting at an office desk, an inside salesperson must have high communication and persuasion skills to convince the potential customer to buy the products. It can be done via phone, email, or even through a digital online medium. Typically, MBA graduates are required to supervise the lower level Inside Sales executives.

Digital Sales and Marketing - SEO, PPC, Leads, Impressions etc are the new words in the Marketing Jargon. As the word suggests, digital marketing is the art of online persuasion of a product. Digital Sales and Marketing aim to increase online traffic of a product or service on the company's website or webpage or mobile app. It encourages the use of technology and online surfing of products to close sales quickly. Digital Marketing experts are the most sought-after professionals and are highly paid too!
Other Top MBA Entrance Exams
Finance
Finance is the most sought-after area and primarily due to the highly paid jobs in this sector. Many people need help with managing their finances in the proper way as they have no or very little financial knowledge. A corporation may have the right accounts and budgets but may lack the means to generate Capital. An MBA trains its graduates to tackle financial problems both local and global. There are three main careers that one can take up in finance:-
Investment Banking - This sector of banking refers to the generation of capital for companies, individuals, or even the government. The Investment Banker acts on behalf of the client to ensure that money is raised for the needs of the company. The banker ensures minimum risk and high payoffs to the client for the projects she is handling. There are four particular areas that an Investment banker looks at viz., Strategy Business Advisory, Mergers & Acquisitions, Fundraise (through debt or equity including IPOs), and trading.

Corporate Finance - For the smooth running of any business, or ensuring efficient utilization of funds corporate finance professionals are sought after. Corporate finance professionals help in structuring the Capital, valuation, funding while ensuring the efficient utilization of the funds that a corporate/company needs.

Banking, Financial Services & Insurance (BFSI) - Safety is a must for everyone. Similarly, financial safety for people of every age is required. Future, being an unpredictable entity, requires some sort of planning such that future needs are met. This is where the banking and Insurance industry comes into play. There are umpteen job opportunities in this sector and an MBA in Finance is most sought after by this industry.
Operations
Operations are a huge part of any organization. To oversee the working and smooth function of any organization, an operations manager is needed.
Supply Chain & Logistics - A graduate taking up a supply chain job is tested on his/her leadership and management skills. From raw materials, till the finished products are sold, a logistics manager ensures smooth functioning of the entire chain of movement of goods. With the advent of the Amazons, Flipkarts, Zomatos, Swiggys, and others, Supply Chain management has taken over a new dimension. The opportunities in this area have been plenty in the last decade and are only expected to increase.

Production Management - For any production and its process, a proper plan and design is required. A production manager overlooks the same. She formulates a design that allows for maximum utilization of raw materials and labor while allowing for minimal or no wastage.

Vendor Management - As the name suggests, this manager needs to put to use her communication and management skills to manage suppliers and vendors. For large organizations such as Automobiles, Pharma, and others, the manufacturing requires multiple parts which are supplied by various vendors. Ensuring smooth supply along with the quality of such supplies is the essential work of a Vendor Management professional. A vendor manager negotiates, manages, and maintains good relations with vendors so as to keep the functioning smooth of a manufacturing organization.
Human Resources
An HR Manager, or Human Resources professional looks after the most important resource of a company, the people! The HR function includes recruitment, induction, training, re-training, appraisal and compensation, statutory compliances, including the entire gamut of professional and personal growth of an employee. This function is a critical function and hence MBAs are highly sought after by organizations.
Systems/ Information Management
Data Analyst, Data Scientist, Business Analyst, Project Management, Pre-Sales, IT Consultant, Cybersecurity manager, Cloud manager, and many more such jobs are available in the Systems and Information Management domain. The Big 4, the top IT Companies, Specialised Analytics companies or regular FMCGs and Consumer Durable companies take up MBA professionals for these core jobs.
Read more;
Unconventional
When it comes to the unconventional path after an MBA, the opportunities are countless. One can choose to become a hotel manager or a hospital manager. One can choose to completely step out of the core jobs after MBA and take up tangent ones. Here are a few examples:
One can become a Movie Director like Mani Rathnam. Originally a consultant, but made his fame in the film industry after his movies in Tamil and Hindi.

One can choose to become a writer! Chetan Bhagat, an IIM Ahmedabad graduate is now a worldwide known author for his bestselling books.

One can even choose to become a commentator! Harsha Bhogle, the famous Indian Cricket commentator is an IIM Ahmedabad alumni.
Like these people, one can choose any career one wants to pursue. An MBA degree opens multiple doors and opportunities for graduates.
Browse Top MBA Colleges Accepting CAT Score: Location-Wise
Questions related to CAT
Showing 9971 out of 9971 Questions