Top 10 Skills for a Successful Management Career
Skills for a Management Career: From the workplace to course activities, there are some skills that are not only useful in life but also highly desired by employers. In this article, we would like to introduce you to the top 10 management skills you need to enhance your career and personal growth. You do not need management skills? Think again.

Contrary to popular belief, management skills are beyond organizations and companies - they help improve your professional path, your personal skills, and your relationships. If you want to advance in a management role, you need the best set of skills. If you were invited for an interview, use your past experience to illustrate how you acquired and developed the following skills just like yourself.
Stay up-to date with CAT News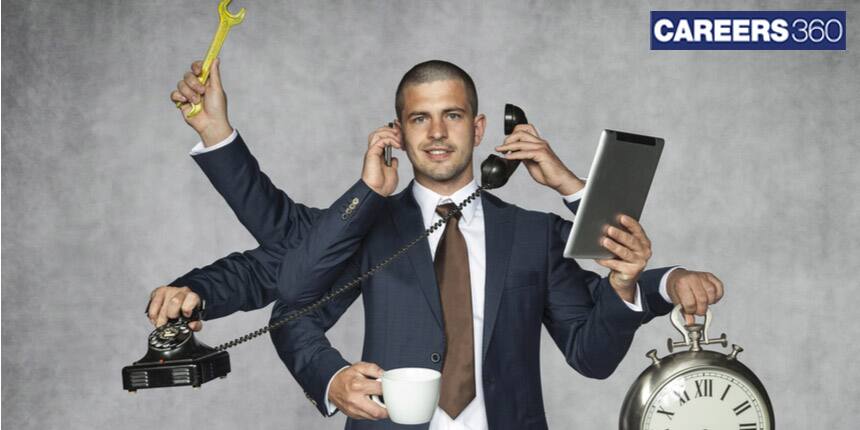 Ongoing MBA Admission 2021
What is management? Why is it useful?
Traditionally, the term "Management" refers to four common functions (and often a group of people) involved: planning, organizing, leading, and coordinating resources. Note that the four functions are repeated throughout the system and are highly integrated. This topic helps the reader to gain a comprehensive understanding of the areas of knowledge and skills required to perform the key functions of management.
According to (Management Innovation, 2008), "Management is the process of achieving organizational goals by working with people and other organizational resources."
Management has the following 3 characteristics:
It is a process or series of continuing and related activities.

It involves and concentrates on reaching organizational goals.

It reaches these goals by working with and through people and other organizational resources.
In addition, management combines all six Ms., namely Men and women, Money, Methods, Machinery, Materials, and Markets. They use these resources to achieve the goals of the organization such as high sales, maximum profit, business expansion.
Top MBA Entrance Exams
Top Management Skills you need for Success
Management skills are highly transformative, profitable, and beneficial. They can be useful beyond employer-employee relationships.
Entrepreneurship

Teamwork

Leadership

Strategic thinking

Project management

Conflict management

Negotiation

Communication

Time management

Adaptability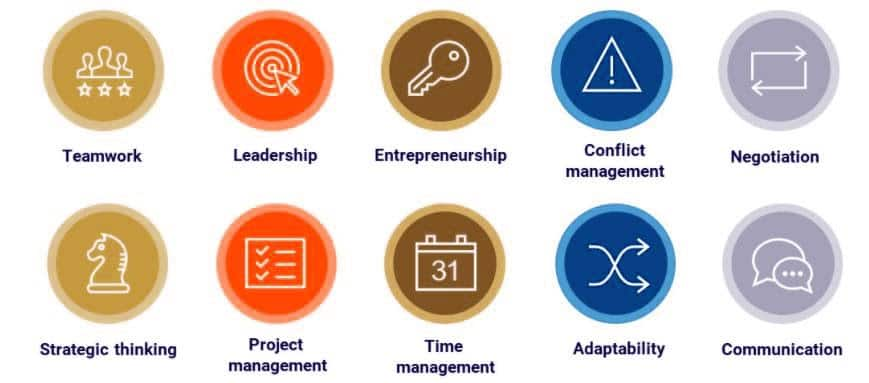 Top Colleges in India offering MBA
Top 10 Skills for a Successful Management Career
1. Teamwork
The ability to work in a team provides new and different perspectives, helps with motivation, and reduces stress. Ultimately, a team is a great learning opportunity and may open doors that you may not even know to exist. In the work world, teams are increasingly trusted as a tool to increase organizational efficiency and effectiveness.
Wondering how to improve your teamwork skills? Be comfortable with highly effective team management ideas such as team performance and team mentality models. Both concepts have a strong track record when it comes to improving team performance and can be easily used in everyday business.
2. Leadership Skills
Investing in leadership is about investing in your ability to help express the best from yourself and others. Good leaders can act not only as forerunners of ideas but also as persuasive motivating guides to help others go beyond their expectations. How to become a leader? There are plenty of different leadership approaches. Consider transforming leadership as a starting point.
3. Entrepreneurship
Entrepreneurial skills are tools that help make a vision a reality. Consider startups and their founders: Often, entrepreneurs are practical and confident, beautiful communicators who are not afraid to think outside the box and put something new in the world. As the late Steve Jobs famously said: "stay hungry, stay foolish".
4. Conflict Management
It's natural that people disagree on all sorts of systems - they will. Disagreement is normal and healthy, but only when properly managed. Learning some expansion strategies and taking the time to understand different perspectives can go a long way regardless of your position.
5. Negotiation
An old adage goes that "nothing in life comes for free", which means we have to work for the things we want to achieve. A talent that is useful not only in politics but in all spheres of life - a big part, being able to say what you want in a harmonious, respectful way. Negotiation skills will last as long as asking to find a compromise in a fair and professional way.
6. Strategic Thinking
You do not need a complete fleshy strategy to be strategic - on the contrary, strategic thinking is a continuous process of "strategy". Think about chess: When playing, you can plan ahead, be brave, be intentional, and constantly improve your tactics depending on what you learn. To win the game, you need to prioritize, consider some possible scenarios and make decisions based on the best resources available.
7. Project Management
Any endeavor that is limited at any time and has a specific goal can be considered a project (learning new skills, getting promoted, building a house, etc.). Project management skills help you define, plan, organize, guide and control. With a plan away from confusion, you can achieve things like being strategic with your resources and learning from failure while monitoring progress.
8. Time Management
Time management is not just about being on time (it's a great skill that leaves a lasting good idea!). Learning to use your time more without procrastination (surprisingly) gives you more time, avoids frustration, and can be accomplished. Bonus: You can re-invest your time in things you really care about.
9. Adaptability
No one knows everything, and being aware of it is often helpful, especially in a fast-changing world. If you want to take a new path and try something completely different without abandoning your principles, you will always be in a state of renewal and will never stop learning. This is a good starting point for innovation.
10. Communication
Effective communication skills can be considered as a basic life skills. It is not possible to perfect the ability to communicate information, but working on it can help personal relationships, improve your confidence, and really elevate your life.
B-Schools Accepting Scores - Location Wise
How can you improve your management skills?
There are many different ways to improve your management skills. One of the easiest ways is self-examination. You can read business books and intellectual articles about your most important management skills.
Top BBA Entrance Exams
Questions related to CAT
Showing 9966 out of 9966 Questions