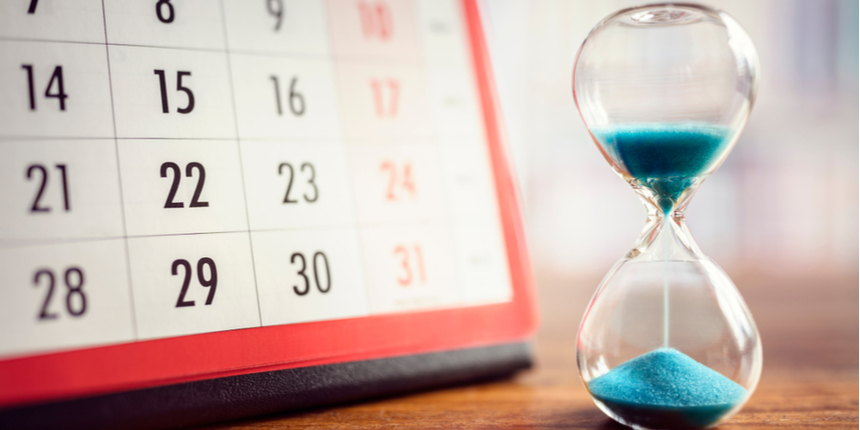 How to prepare for CAT in one month - The countdown has begun. With just one month left to go, CAT 2018 aspirants must have already completed the CAT syllabus. After months of burning the midnight lamp, their hard work will now be put to test. Within a month, the dream of entering the hallowed galleries of their dream B-School will also draw closer. Thus, one must tread carefully and know how to prepare for CAT 2018 in one month.
CAT Sample Paper
Download Free Sample Paper for CAT
Download Now
As an aspirant of one of the biggest competitive MBA entrance tests, how should you spend these four weeks of preparation? How do you formulate a strategy that stands apart as you compete with more than two lakh applicants? What should your timetable be in terms of sectional tests, mock tests, analysis and revision? 
According to CAT experts, the last 30 days to CAT 2018 should be strategically divided between, preparation, revision, taking mock tests, analysis and developing the exam-taking strategy. Here we bring to you nine strategies to be followed for CAT 2018 which is scheduled for November 25, 2018. Know what the experts and toppers have to say on how to prepare for CAT 2018 in one month.
How to Prepare for CAT 2018 in one month
Brush up your basics
Arks Srinivas, National Head, MBA Prep, Career Launcher emphasises on the importance of revisiting fundamentals during the last one month to CAT 2018. "Regularly practice and revise the formula, vocabulary and grammar rules, so that you don't have to think hard on the exam day." If you have brushed up your basics, you will be able to tackle any question, be it a straight or a tricky one. With 30 days to go, ensure that you prepare fully on the important topics.
Mock tests are the way to go
If you haven't already, it is time to finalise your test-taking strategy for D-day. You should know what strategy to implement and how to balance time during CAT 2018 to avoid feeling at bay while taking the exam. Without a well-devised strategy, you might fret if you are not well prepared.
Make sure to take as many mock tests as possible during the last one month to CAT. IIM Calcutta will also release CAT mock test on the official CAT website. The test will be released on October 17, 2018, to help candidates get a feel of the navigation. It is also highly essential to get habituated to sit for three hours to take the test comfortably.
Aseem Garg, CAT 2017 Topper and 99.97 percentiler shares his mock-taking strategy for last month, "In October I was dedicated to giving as many mock CAT tests as possible and analysed each one religiously. I believe that for a mock test of 3 hours, one should at least spend 2 hours analysing it. I gave around 15-20 mock tests in this month, along with their analysis."
One section at a time
Besides taking regular mock tests, it is crucial to get conversant with all the types of questions that can be asked in each section. To do this, pick up a broad area, say Data Interpretation and start solving questions. It would be great if you can lay your hands on a sectional test that covers DI and be thorough with it. Similarly, follow the same practice with other sections.
Break the three sections of CAT (Quantitative Ability, DILR and VARC) into a few broad areas. As Arks Srinivas suggests, "Solve only Pie Chart questions in a day, take up Line Graph questions on the next and move to other topics and sections in a similar way" and similarly for each of the three sections in CAT.
Additionally, he also suggests section-wise test-taking strategy to practice one month before CAT.
QA – Do it in two rounds (35 minutes and 25 minutes)
Or six questions in 10 minutes

Or eight to nine questions in 15 minutes
DI – 30 minutes (7.5 minutes for each set)
- Or in each 15 minutes slot, check two sets and choose ONE!
LA – 30 minutes (7.5 minutes for each set)
- Or In each 15 minutes slot, check two sets and choose ONE!
RC – 45 minutes (8 minutes for each passage)
VA - 12-15 minutes (Doing all non-Parajumble questions)
In every section, sticking to the time limits is sacrosanct.

Within each set of say DI/LR or RC – doing all questions is NOT the     objective. Reading and trying to attempt is!
CAT 2017 Topper Ankit Gupta who made his way through IIM Calcutta says "For the last 40-45 days, I gave one mock per day along with random questions and maybe a sectional test. That helped a lot in keeping things fresh in my mind."
Sharpen your swords
Now that only 30 days are left, it is time to fortify your strengths and build on weak areas that you have previously identified. This will ensure that you score higher, which in turn will boost your confidence. Bearing this opinion, Topper Aseem Garg shares that in November, he focused more on strengthening his strong areas. He re-analysed some of the mock tests and also gave mocks on weekends.
While starting the test with a section, scan the questions and choose the questions on your strength areas. Gautam Puri, Co-founder Career Launcher, Vice Chairman & MD shares his insights on the test-taking strategy, "Try to attempt each section in three rounds. In the first round pick the questions that you are sure about and can solve without wasting time. In round two, pick questions that are an opportunity for you, while in round three, pick questions that you think you can solve but are time-consuming and ensure you answer all the non-MCQs as they do not have any negative marking."
Tackle your weaknesses
Once you have mastered your strong areas, it is time to get a hold of your weak areas as well. This does not imply that you must start studying them from scratch or invest time in going through all of them daily. It simply means that you must prepare them only if the topics bear high weightage in the CAT paper without spending too much time on them.
Sharing the trick to tackling weak areas, Kartikey Tiwari, a student of IIM Kashipur and CAT 99.01 percentiler says, "Analyse the mocks thoroughly and focus on the areas you're weak in. Make a separate copy of your mistakes and try not to repeat them in future. Also, get all your doubts and questions clarified by your coaching institute mentor, no matter how silly it may seem."
Revise daily
At this point in time, as an aspirant of CAT, you have around 30 days. Here are some tips to help you aid your daily revision in this time period:
1. Try to take at least one mock test daily. Keep analysing the result and keep working on your weak areas.
2. Take sectional tests of the weak areas as and when needed.
3. Keep practising lengthy questions, especially in Quant and DI section.
4. You may also set a daily target of about 15-20 questions belonging to a topic which your forte does not lie in.
5. Glance through the formulae and shortcuts daily. You must have kept a separate notebook to note these. In case you haven't already, then it is a good idea to start jotting them down now, as your last minute preparation strategy for CAT. This will help keep things fresh in your mind on CAT test day.
As Gautam Puri states, "The importance of revision is often underestimated by the students. What they must keep in mind is that without revising, their learning would remain half-baked. In this one month, keep a day exclusively for revision and take a mock test the next day."
Develop a strategy
You must have solved plenty of previous year papers of CAT and mock tests by now. But what next? Here's what you need to do after that-
Figure out the pattern and trends in questions based on CAT previous year question papers.

Know     your strengths and weaknesses in each section and prepare     accordingly.

For VARC section, concentrate on solving a maximum number of reading     comprehension passages as they carry more weightage.

In DI and LR section, the questions are usually lengthy. Focusing on     building speed through practice will be of great help.

The QA section is dreaded by many. But worry not, brush up on the formulae, and read through them every day. Just keep the shortcuts, tricks and their application in mind for D-day.     

Plan a week-wise robust plan to get the most out of last month of CAT     Preparation. If you are a working professional, utilise your weekends to the fullest.     

Distribute your time evenly to prepare for all the three sections. Do not let any section take the backseat at this point in time.     
Every CAT preparation journey starts off with a set goal in mind. If you have a goal to score a perfect 100 percentile or even if you are aiming for 99 percentile, you must know how to keep a check on the net correct attempts. In simple terms, you must know how many questions to attempt to reach your goal and beware of negative marking.
CAT topper, Nikhil Raj Singh and IIM Shillong student says, "My basic strategy for the D-Day was to attempt as many questions as possible. Even though there was a slight compromise with the strategy but I ended up attempting 90 per cent questions with around 70 per cent accuracy."
Keep away from starting new topics
There is no point in starting a new topic at this stage. Rather, utilise your time better by revising the topics which you have prepared so far. Vinayak Kudva, Product Head, IMS Learning says, "If you start a new topic now, you would not be able to grasp it completely and lose valuable time trying to do it. Hence I would suggest you not to prepare a new topic at this stage."
Without a doubt, the last 30 days can make a huge difference to your CAT score. These last few days can make or break a lot of things. Months of hard work invested will not go futile, but this is the time to press the 'nitro button' and accelerate things up for the last mile. Simply put, if you know the right preparation strategy of how to prepare for CAT in one month, you could jump about 20 to 30 percentile in the final analysis. What's more, those who are getting 90 percentile in mock tests now, can hope to touch even 99 percentile with the right approach and can make it to the best B-schools.
A Relaxed Mind can change the Game
Panic leads to distortion of focus, and you certainly don't want to go through that on CAT test day. It is natural that the stress and anticipation might be building up as CAT day draws closer, but do not let it get the better of you as it will affect your performance negatively.
CAT 2017 Topper and FMS Delhi student Saswat Gupta shares his mantra to tackle the tiring process of preparation "One should keep his/her calm by remembering the obstacles they have previously overcome and take confidence from them. If one feels that he/she does not have previous inspiring achievement, then they can take satisfaction from mock tests and from the week on week improvement in preparation level."
Adhere to the time limits and stick to the game plan, always. Stay positive and believe in yourself because stress will not achieve anything, anyway. Just make the most of it as you draw closer to the light at the end of the tunnel!