Last Minute Preparation Strategy for CAT 2020
Last Minute Preparation Strategy for CAT 2020 - During the whole preparation period of CAT 2020 candidates follow their strategy to score good. But, when few days are left i.e. 10 days for the D-day, one should follow a different strategy to ace the toughest entrance exam of Management of Business Administration (MBA). Prior to ten days of exam is known as the high time to gear up and take necessary steps towards CAT 2020 preparation. Every year prior to the few days of exam one should take the CAT mock test which will be released by the exam authority on October 16 to get more familiar with the CAT question paper. If we talk from the point of view of CAT preparation of the last ten days, it will be totally different and crucial as compared to the early days preparation. At that point candidates should slender their CAT preparation and should avoid doing unnecessary things such as taking new topics to cover, investing much time to the lengthy questions and get overconfident about CAT. Those who are taking CAT 2020, this article belongs to them, it contains all the important tips and strategies which one need to follow during the last minute preparation strategy for CAT 2020. Read the full article to know the last minute section wise preparation for CAT 2020.
Latest - IIM Indore released CAT 2020 admit card on October 28. Take the CAT 2020 mock test during preparation.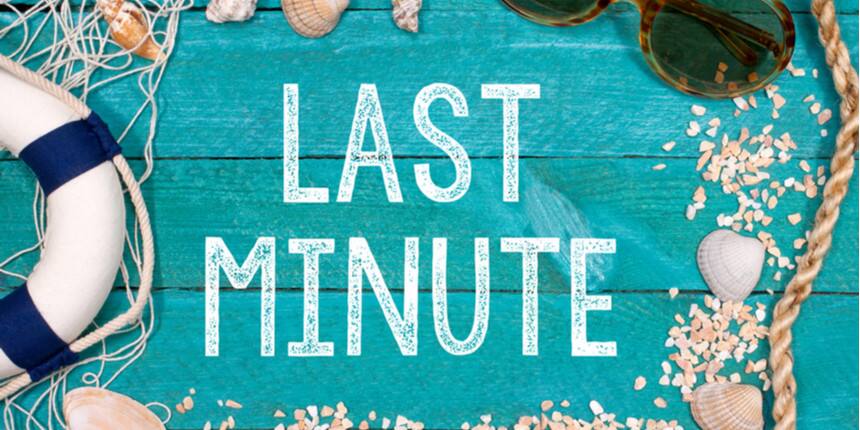 Also Read - How many questions to attempt in CAT 2019 to get 99 percentile
Prior to a few days of CAT, one should evaluate themselves, how well they are prepared to tackle the exam day pressure. Apart from that how you are going to apply the concept while solving a question on the exam day to not to lose the accuracy level and manage time as well. Check the tips that one can apply during the last minute preparation of CAT 2020 and fetch the desired score.
Avoid Studying New Topics
In the last few days of CAT 2020 preparation never ever touch any topic which is new to you. Learning an entire topic in these crucial days will lead one to confusion. The main demerit of taking a new topic is, it will reduce the quality of understanding and it will make it difficult to memorize pre-learned concepts. Candidates should only focus and polish such topics about which they are confident. Expert says- keep polish learned concepts and get command over it. On the exam day prior to solving any question from the section, one should invest 5 minutes to scan the section so that one will get to know, which question they should take to solve first so that time will get easily managed.
Check also- CAT Score Vs Percentile
Revise from already prepared notes -Everyday till the exam
As per experts, it is good to do last minute CAT preparation with the prepared sticky notes and do not touch the books which they have used during the early days of preparation. By doing revision through handouts will help to brush up such topics in which you are confident about it. Sometimes, candidates can easily figure out the answer while just taking a look at those notes (This clearly saves candidates time if they will be able to do calculation in their mind). Apart from saving time, practicing with handouts in the last days of preparation will boost candidates confidence level. So, candidates are advised to avoid preparing from the textbook and from other study material in the last days of CAT 2020 preparation.
Keep taking mock test in the final days of preparation of CAT
It is always better to give mock tests everyday, but due to the length syllabus of CAT many candidates would not be able to take mocks everyday but in the last five days of examination one should take mocks and keep track of the time. While taking final mocks one should set an aura like they are sitting in the examination hall for this they need to keep aside their phone, room should be locked, have your rough sheet and a pen, and timer should be set.
You Might be Interested in- How to crack CAT 2020 in first attempt
Quality (not quantity) should be your measure
Candidates should ensure that, do not take such questions first which they are not sure of. By doing this one can lose their confidence level in the beginning of the exam. Firstly, they should solve such questions which they can solve while reading the question. In the beginning of every section one should keep aside the difficult questions, through this candidates can increase their overall number of attempted questions.
Keep polishing speed and accuracy level
Losing speed and accuracy is always a bane in any entrance exam. When the exam day is near one should keep focus on them, as speed and accuracy is the integral part of CAT. If someone is seeking an answer for how they can maintain speed and accuracy level? Then here is the answer- candidates should try to increase their calculation speed in a smart way. Do mental calculation as much as one can. As per past year trend, the questions asked in CAT do not require complex calculation, hence, candidates are easily able to do the mental calculation, try to avoid on-screen calculator it will save time. There are lots of tricks available over the internet and in textbooks to increase mental calculation speed. Those questions related to the reasoning part will get easily solved by doing mental calculations.
Manage time in an effective way
After taking command over speed and accuracy level candidates should take a look on time management. Firstly, they need to evaluate whether they are able to solve a section within stipulated time or not. If we talk about CAT 2020 time management strategy, then one should classify their time into three parts. In the first part one should attempt those questions, which they can answer at the time of reading the questions or need a bit of calculation. After that candidates should take such questions, which they find they can solve but need some additional time. In the end candidates take such questions which are time consuming and tough one. If a candidate will be able to solve 75 percent of questions from the whole paper with good accuracy and speed one can expect a decent percentile. By doing time management, candidates can stay relaxed on the exam day.
Check Also - How to score 100 percentile in CAT 2020
Last Minute Preparation Strategy for CAT 2020 (Section wise)
At last moments of preparation, candidates need to focus on major as well as minor things. No doubt preparation as a whole is very much important for any competitive exam but at the same time it is also essential to emphasize on specific sections of the test as it ensures how well one could attempt the paper. Check preparation strategies given to ace each section of CAT 2020.
Last Minute Preparation Strategy for CAT 2020 - Quantitative Aptitude
The quantitative aptitude section is considered to be the most difficult section in CAT. To ace
In this section, one needs to have a good speed and accuracy rate. The major part of this section is covered by concept base questions. Thus, it is quite important for the candidates to first, clear their concept for each topic. To excel in this section one should have a strong command on calculation as well and they should try to calculate in mind without using pen-paper in order to save time. In the last days of CAT 2020 preparation, candidates should go through the previous year question paper so that one should know the domination topics of Quantitative Aptitude section and attempt such questions first while taking the CAT 2020.
Last Minute Preparation Strategy for CAT 2020 (Data Interpretation and Logical Reasoning)
The Data Interpretation and Logical Reasoning section is wholly based upon practice. Generally, the question asked under this section is to check the analytical and logical thinking of the candidates. There is no need to learn any kind of formulae to ace this section. One needs to apply his mind logically to get the answers. The elimination method can also be used to perform better in this section i.e., one can eliminate the options that are totally irrelevant and illogical to get the right answer.
Last Minute Preparation Strategy for CAT 2020 (Verbal Ability and Reading Comprehension)
The Verbal and Reading comprehension section is well known for taking time. The only section which can disbalance the time management. In this section, candidates will have to read long passages and answer all the asked questions pertaining to passage. This section requires a good reading skill. Another important thing is that the aspirants must have a good command on their vocabulary as it is very much important to ace the verbal ability section of the paper.
Reading Comprehension
Those who have good command over reading can easily excel in the Reading comprehension section. Those who have developed the skill of concluding the long passages by reading at the time preparation can score good in this section. Experts say while taking this section at the time of CAT 2020 one should read very carefully the whole passage and try to understand in first read. Do not read the paragraphs in a hurry, because sometimes questions asked in the Reading Comprehension section are tricky one..
Verbal Ability
Only those candidates can easily tackle questions from the Verbal Ability section, who did their Verbal Ability preparation for CAT 2020 from day one. In the last minute preparation of CAT 2020 for Verbal Ability section one should read their flash cards they have prepared at the initial stage of their preparation.
Quick Links -
Questions related to CAT
Showing 9109 out of 9109 Questions