How to do Time Management for CAT 2022 Exam?
How to do Time Management for CAT? - Time becomes more valuable when you are planning to crack one of the toughest exams, CAT. But the question that bothers CAT aspirants is, How to do Time Management for CAT? Can I crack CAT? Managing time is the most important and crucial aspect when it comes to CAT exam preparation.

Ever thought about what you will do with the best books of the CAT or study material when you do not know when to start your CAT exam preparation. Common Admission Test i.e. CAT is a national-level entrance exam that is conducted once a year. CAT is conducted by the Indian Institutes of Management, Bangalore this year on November 27.
Stay up-to date with CAT News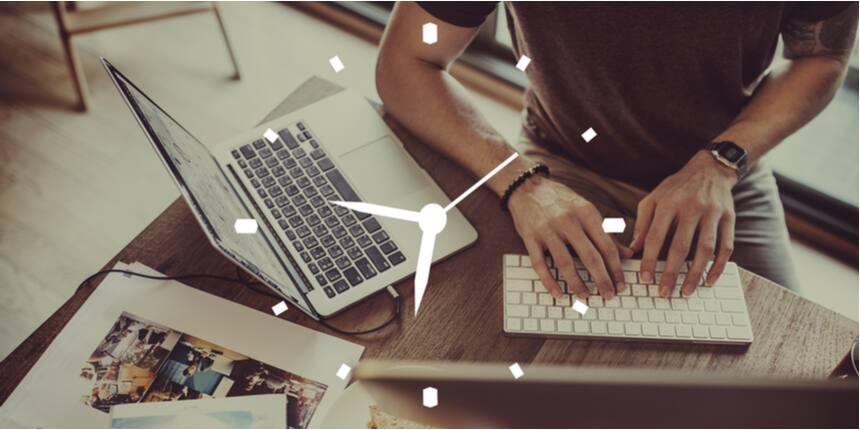 Toppers' Say on Time Management
When we say how to do time management for CAT, it does not only refer to the overall timings of the CAT exam but includes the sectional timing as well. One of the theories on Time Management is "Goal setting theory" which is based on the concept that a person can be more motivated to perform any task if they have a clear and specific goal to achieve.
As per the topper of CAT, Vishesh Garg, "Time management should be considered as the fourth section of the CAT examination. It is not just preparing Verbal Ability, Reasoning, and Quant but preparing all these 3 and attempting them within 3 hours of the stipulated time". For him, Time management & hard work will lead to success for sure."
Another CAT topper Ashish Sen said, "Time management combined with my knowledge on my strong and weak areas benefited me to get 99+ which I never expected. I managed to schedule the preparation time along with placement preparation. During the exam, I found 2 sections in DILR time taking and chose not to attempt them. Coming to QA, I knew which questions I would solve in 60 minutes and attempted only 20 questions."
Quick Links -
What to Ask Yourself Before Doing Time Management for CAT?
No doubt about the fact that the CAT is radically different from entrance exams as it requires candidates to answer a large number of questions in a restricted time duration thus forcing CAT candidates to choose which one's to leave and which one's to answer. Thus proper time management for CAT 2022 becomes crucial. The IIM Entrance exam requires focusing on both simultaneously i.e. accuracy+ speed. Remember, CAT is never about solving maximum questions, but correct ones.
Why is it important to properly manage time for CAT 2022?
As per the exam pattern of CAT 2022, candidates will have 40 minutes to solve any particular section. In a duration of 40 minutes per section, candidates will have to solve both multiple-choice questions as well as TITA questions. Henceforth, it becomes imperative for candidates to understand and manage their time well. This moves on to another time management theory that is Pareto's 80/20 rule which states that 80% of the task is completed with 20% of the efforts that you come up with.
Top MBA Entrance Exams
Before Exam Day - How to do Time Management for CAT?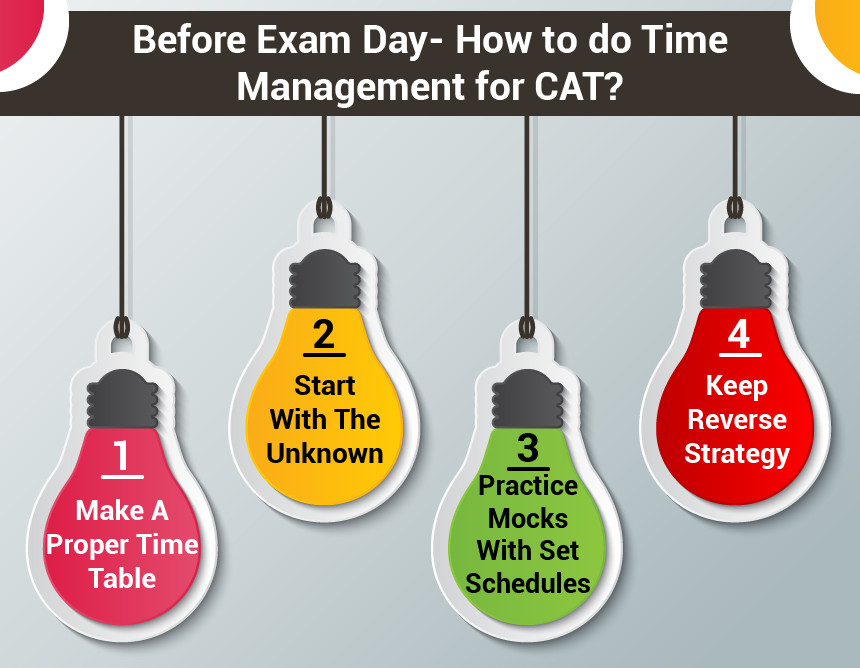 Make A Proper Time Table - Making a timetable will allow candidates to move as per schedule.
Always remember that planning before execution should be made compulsory

Another time management theory for CAT is the ABC System theory that states, to use time more effectively, a person needs to prioritize the tasks that need to be undertaken

Shivam Chandak (One of the toppers of CAT 2020) said, "I had not joined any coaching but I took test series and also did previous CAT papers. I think self-study is sufficient when one has a clear picture of his/her schedule. That being said, I think good coaching will definitely improve one's chances provided he/she maintains self-study along with it"
Quick Link -
Start With The Unknown - Since you have a good 6 to 9 months of time duration in hand, you can always start with those CAT syllabus topics which are unknown or what you find difficult.
Use the technology and search those topics over the internet on google, bing, etc.,

Make sure to find apparent and meticulous ways of solving questions using the time management tricks

If you are unable to understand or find any topic, make sure you contact a few of your friends who are on a similar track and are preparing for CAT or have attempted in previous years

To start ahead with the unknown, it is advisable to give one hour daily on each topic and simultaneously make notes of the same.
Practice Mocks With Set Schedules - To gain an understanding of the CAT exam day scenario, giving mocks is extensively recommended. The mock test of CAT will help candidates to assess themselves, understand the exam pattern well, and see the preparation level required.
Candidates can take a mock test of CAT before and after the preparation depending on their personal preference

Do not take a mock test of CAT for granted. CAT topper Aditya Devalla said "he used to regularly take the mock test and devote at least four to five hours. He practiced a lot of questions on Geometry so that he was able to solve it with ease as solving more questions gave him the confidence to respond correctly on the day of the exam"

Topper Abhilasha Balakrishnan said "he attempted mocks regularly, identified his strengths and weaknesses in every mock, capitalized on strengths and worked on his weaknesses, and repeated this cycle. By the time CAT arrived, he had given around 20-25 mocks which gave him exposure to a lot of questions and DILR sets. Rest it was just being present on the day of the exam and applying all of this properly"
Keep Reverse Strategy - Do not try to work out your brain on what is unimportant. Solve the previous question papers of CAT using the reverse strategy, especially for those questions which seem difficult to leave. Understand the questions, and look out at the options. In the reverse strategy, candidates first have to go through the options given and then try to put the question with options to find the most suitable answer.
Top Colleges in India offering MBA
During Exam Day - How to do Time Management for CAT?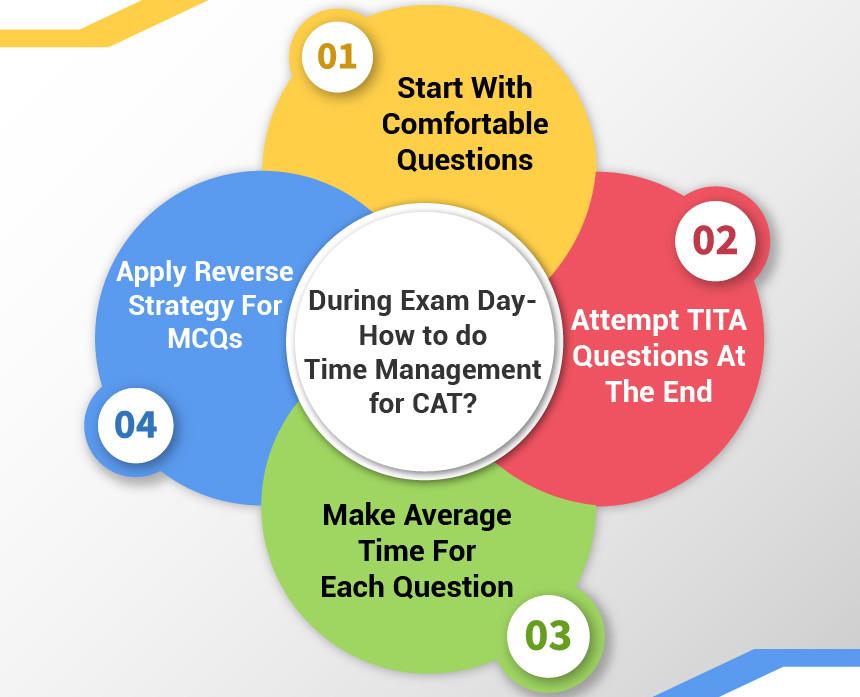 Solve Easy Questions First - On exam day, as soon as you start your CAT question paper, it is advisable to start with easy questions. Here easy questions mean those that candidates are comfortable in solving i.e. questions that are easily understandable, quickly solved, and require less time. Finding such questions becomes easy only when you know the time management for CAT. For questions that appear to be unknown or time-consuming, mark them for later on. While you are in the exam hall to give the CAT, before starting a section, spend initial time scanning the questions. On the top right corner, a small button on the screen will allow candidates to look at the entire section in a single view.
Attempt TITA Questions At The End - Every year IIMs include more than five TITA questions in the question paper. TITA questions are attractive because of no negative marking. Candidates tend to waste a lot of time on TITA questions on account of no negative marking as they forget they have MCQs to solve as well. But candidates forget that TITA questions are time-consuming. Henceforth, it is advisable to do TITA questions at the end when you are done with the MCQs of that particular section.
Quick Link - How to tackle TITA questions in CAT?
Make Average Time For Each Question - Before starting the CAT question paper, it is advisable to set an average time per question. If you are unable to do so, try taking an average time per section and along with that leave some additional time to review what you have answered to ensure chances of accuracy.
Quick Link - How To Crack CAT 2022?
Apply Reverse Strategy For MCQs - To properly utilize the technique of time management for CAT, try solving the multiple-choice questions with the reverse strategy for those questions which are difficult and non-understandable.
Quick Link -
Do you know the Art of Leaving?
To save time and do sectional time management for CAT, it is crucial to remember that you know the art of leaving. Leave those questions unanswered which you think are difficult, time-consuming, or are out of your reach.
B-School Accepting CAT Scores - Location-wise
Frequently Asked Question (FAQs) - How to do Time Management for CAT 2022 Exam?
Question: Is studying 2 hours a day enough for CAT?
Answer:
There are no fixed hours that can be considered to be best for CAT preparation. Candidates shall choose to devote study hours according to their capacity, caliber and time left for the CAT exam.
Question: How much time preparation is needed for CAT?
Answer:
Ideally, a period of six months should be devoted to CAT 2022 preparation. However, there are many toppers who have aced this exam in a shorter period of time.
Question: How many hours do CAT toppers study?
Answer:
Different CAT toppers have pointed out different study hours. However, most of them have emphasised the practice of mock tests and sample papers as part of preparation.
Question: Is 1 month enough for CAT preparation?
Answer:
Yes, there are many toppers who have completed the CAT exam syllabus within one month.
Questions related to CAT
Showing 10888 out of 10888 Questions