How to Prepare for PI-WAT Rounds of Top B-Schools
How to prepare for PI-WAT rounds of top B-schools - With the shortlist announcement at IIMs and other B-schools, MBA aspirants have shifted focus from practicing aptitude-based problems to honing their soft skills and communication abilities. Writing Ability Test (WAT) and Personal Interview (PI) are the major components of the selection procedure.

The majority of the top B-schools in India will conduct the selection rounds from March to April 2022. Hence, it is high time for the candidates to be prepared for these rounds. This article of Careers360 brings expert and topper tips and pointers on how to prepare for PI-WAT rounds of top B-schools.
Stay up-to date with CAT News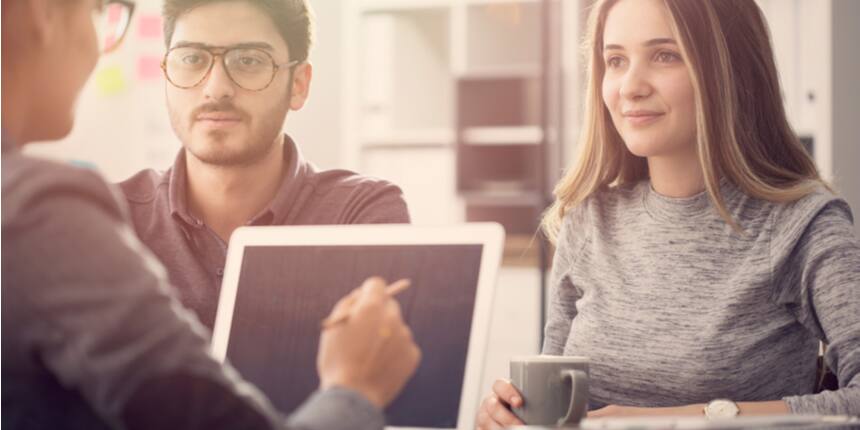 What does WAT look for?
B-Schools aim to test a candidate's ability to think critically, communicate ideas, formulate a constructive critique and write the responses in a given time on paper. It is important for aspirants to know how to structure the essay. Other factors that are tested are current affairs and how aspirants are able to blend an abstract topic with an event of current relevance.
Sharing her preparation strategy for WAT, Anusha JVD, a student of IIM Calcutta, says, "WAT is something which demands thinking on toes along with proper arranging of thoughts to a coherent whole. I recommend practicing to write short essays about random topics revolving around your views on current affairs and also some generic topics."
Also read;
How to structure WAT?
The word limit of WAT or essay writing ranges from 200 to 400 words. Within this word and time limit (20 to 30 minutes), candidates have to collect the idea behind the topic, jot down the points and give it a proper structure of introduction, body, and conclusion.
Ramnath Kanakadandi, Course Director, T.I.M.E, suggests the CODER approach.
C - Collect ideas
O – Organise them
D – Develop them
E – Express them
R – Review
Content: Identify the keywords in the topic, think of the information you have, and what ideas or views you could develop on the basis of this information.
Organize ideas: Organise ideas and group them coherently. You must think of the following questions, what would be the theme of the essay? What would be the appropriate ideas to start with? What are the further ideas that one could continue with? What ideas would be the right ones to end with?
Develop: Think of questions like what sort of information would hold the readers' attention and examples they could relate to? What pieces of information, explanation, and examples would support the theme, and the purpose? How long should the essay be?
Express: An essay should start with an introduction, using statements and information of general nature that provide some background to the topic. Each idea or a set of ideas would form a paragraph. The sequence of paragraphs should lead to the conclusion.
Review: You must devote the last few minutes to reading through the essay to ensure that there is a logical flow and coherence and the language is error-free to ensure that the flow remains or is improved.
Top Colleges in India offering MBA
Time Management
Most B-schools give a specific duration to write the essay. Hence, you have to ensure that you follow the entire process within the stipulated duration. Ashish Shrivastava of IIM Lucknow says, "Candidates should time themselves during practice and make sure that they can write the whole essay in under 10 minutes. Candidates should finalize the framework and content after they have heard the time limit."
Always form your opinion and stick to that
While writing the essay, you have to write either in favor or against the topic. The conclusion must carry the essence of your opinion. Your opinion will help the panelists understand your viewpoints and personality. "Usually the WAT topic will have positive and negative aspects. Use the time given to think by noting these points along with an example and anecdote that you can think of.
While writing, give preference to more relevant points. Conclude well, give a decision/take a side as pertinent to the topic," says Jayesh Patil, another student of IIM Lucknow.
How to prepare for WAT
The best way to start preparing for WAT is by being updated with current affairs. Read at least two national dailies and magazines such as Frontline, Outlook, and The Week and keep notes to develop critical analysis. Gautam Puri, Vice Chairman, Career Launcher, says, "Students must read newspapers daily and magazines, in order to cover a wide variety of topics ranging across the domestic and the international circuit."
Talking about WAT preparation, Sahithi Vinjamuri, an IIM Shillong student, says, "I focused on enhancing my knowledge for the content aspect as I was comfortable with grammar and sentence formulation. In a way, my PI and WAT preparation took place simultaneously as all three required general awareness. I kept up with current affairs by reading newspapers."
Dealing with abstract topics
The advantage of an abstract topic is that you can direct it to any topic of relevance about which you are aware. V K Narasimhan of IIM Lucknow says, "My topic was 'Loose lips sink ships. I went about elaborating what the metaphor meant and then I gave examples from corporate India such as the Tata-Mistry spat and the Ambani brothers' tussle for Dirubhai's property."
Also Check;
Topics of WAT over the past year
Here bring to you the topics of previous years asked in IIMs and other top B-schools. While some topics are direct and easy, some are abstract, where you need to relate it with a recent event or current affair to make it relevant.
All decisions in a democracy should be taken through referendums – IIM Lucknow

Suggest ways to reduce the problem of teacher absenteeism in primary and middle schools – IIM Bangalore

Is Immigration a boon or a bane – SJMSoM, IIT Bombay

It takes less time to do something right than that to explain why it went wrong – IIM Kozhikode

Cultural diversity impedes democratic governance – IIM Lucknow

Demonetisation – IIM Bangalore

The name should be more important than money – IIM Kozhikode

Farmer suicides are on a rise. What measures do you suggest to improve this situation? – IIM Calcutta

Ads don't just sell products but also notions of success. To what extent do you agree? Give Reasons – IIM Indore

Is it right to allot investor money and profits to CSR activities? – IIM Kozhikode

The Government of India has announced monetary benefits for improving sanitation in rural areas. Will this be useful and what other measures do you suggest for the same. – IIM Bangalore

Centralization of Indian Public Sector Oil companies will be a boon – IIM Lucknow

Net Neutrality – IIM Lucknow

Food delivery start-ups are becoming very common in India. What, according to you, is the impact of such start-ups? Can they provide a revenue stream for housewives? What are your views on it? - IIM Calcutta

Ethical dilemma in business

Should women change their last name post marriage?

Sustainable modernization of Indian villages

India's bid for a permanent seat at UN

How can Indian Sports be promoted to reach the level of cricket?

Can there be peace between India and Pakistan?
Abstract Topics
Loose lips sink ships

An elephant is the best animal

Honesty is the best policy

Sometimes you win, sometimes you learn

One plus one is not equal to two

Order or chaos? Which leads to more welfare?
Quick Links -
How to Prepare for PI (Personal Interview)
PI is one of the most crucial rounds of a B-School selection process. In general, B-Schools assign around 40 percent weightage to PI rounds. The purpose of the interview round is to get an overview of the candidate's personality. Experts suggest that before appearing for a PI, candidates must know how to tackle witty and twisted questions of the interview panel. The key is to remain calm while answering such questions.
Advising on how to prepare for interview rounds, Vinayak Kudva, Head of PG India & Mumbai Region, IMS, says, "PI is the last step to get to know the candidate. Traits that cannot be uncovered through entrance tests, GD, or WAT are evaluated here. Selectors try to understand the candidate's personality, interests, motivation, and aspirations."
Factors to check while preparing for Personal Interview
Reflect confidence

Be honest with your answers

Answer politely, even if you don't know the correct answer

Drive the interviewers towards your strength

Know your CV and SOP well
Common questions to prepare
During your PI you can be asked to tell the panel about yourself or the meaning of your name, hobbies, and interests. You might also be asked about your reasons to do an MBA and your plans after you have completed your MBA or how the course will support your goal. You can also be asked about your strengths and weaknesses as well.
The basic and most common questions to prepare for the PI rounds include the following:
Tell us about yourself

What is the meaning of your name? (Typically used as an ice breaker and if you have an uncommon name)

Why do you wish to do an MBA?

What are your plans after an MBA?

How will your MBA support your goal?

How does your academic background relate to your goal?

What are your strengths, give examples?

What are your weaknesses, give examples?

What are your short-term long-term goals?

Elaborate on your work experience.

How relevant is your experience?

Why do you want to join a particular institute?

Which specialization do you want to opt for?

What are your hobbies/interests? (Technical questions on the same)
The other topics which are common in PI include the following:
Current affairs – Politics, Economics, Business, Social events, demographics, Sports, Literature, Entertainment, Awards and Recognition

Educational background

Social background

Work experience

Hobbies and interests

Your performance or points presented in Group Discussion/Written Ability Test
Also Read;
How to deal with situations – uncomfortable question/answer you don't know
In case of questions that leave of tongue-tied, it is best to either confess your ignorance on the topic/question or give a witty reply. Anusha Ramachandran, an IIM Shillong student, while sharing her PI experience at IIM Indore says, "I was grilled on automobile engineering, and I did not know the answers. I politely told them that I did not have an answer. They were quite hard on me and kept asking me more questions about the same subject. Finally, they moved on to the next topic."
There can be unexpected questions as well where you may not sure how to articulate the answer. The key is to frame your answer based on related themes and direct the conversation accordingly. Meghna Duvvuri, an IIM Calcutta student used to work with Samsung, in the camera team. While she had expected questions about cameras and technology related to that and her work experience, one of the panelists asked her "Why millennials are in love with taking photos?"
Sharing her answer, Meghna says, "This wasn't a question that I had expected, but since I had recently read an article about millennials I could successfully navigate the discussion in the way I wanted to. It's impossible to prepare for every question that can be asked in the interview, but making sure the basics are covered and keeping calm is of utmost importance. This way, the interview can be turned into a discussion and a level of comfort is established between the interviewers and interviewee."
Top MBA Entrance Exams
Questions related to CAT
Showing 10713 out of 10713 Questions