Group Discussion For MBA - Do you know how colleges sort suitable candidates out of the heterogeneous bunch? Well, there are various techniques through which candidates are selected for admission. Group discussion for MBA admission focuses on aspects when candidates are called upon for interviews.
Group discussion is a group activity in which two or more candidates are given a topic to discuss and get to a conclusion. Top b-schools like XLRI Jamshedpur, MDI Gurgaon, etc, all conduct group discussion rounds to provide admission to candidates in two years MBA courses. Generally, candidates get anxious in group discussion rounds and do not know how to create an impact during GD.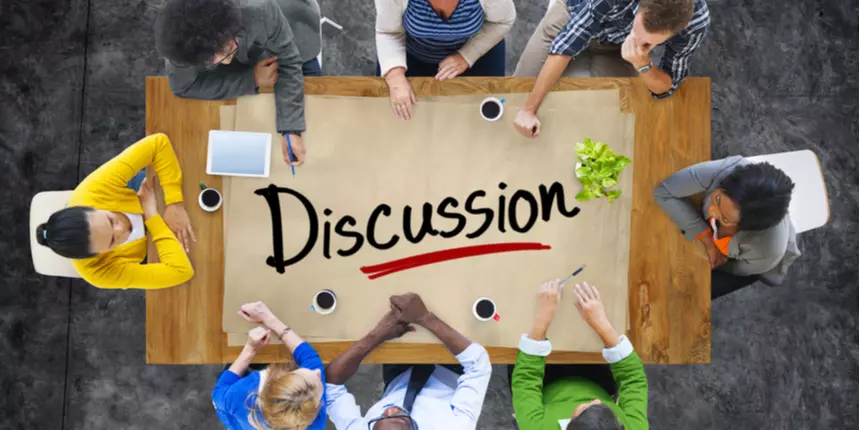 Group Discussion For MBA Admission - GD Topics, Tips & Importance
What is Group Discussion?
Group discussion is the most common selection technique used not only in MBA combinations but also in campus recruitment movements. The number of people in a group discussion varies from 5 to 15. This group is given a topic they need to discuss on a specific topic. The goal of a good group discussion is to make sure that participants make logical observations to draw different insights into the topic.
Judging the quality of the group discussion is done by a committee that only gives the topic to the candidates and asks them to fold the topic if the group loses track of time. There are several types of group discussions that will be discussed further in this article.
Importance of Group Discussion in MBA
It is crucial for candidates to go well-prepared for the group discussion round. The group discussion round is a major component through which companies conduct the final selection rounds. Not only top b-schools like IIMs, but other b-schools other than IIMs also conduct group discussion rounds. Usually, there is a Group Testing Officer (GTA) who gives the topics and monitors the group participants.
Even at the time of recruitment, several institutes and organizations conduct this activity. It is advisable for candidates to follow a three-step policy with regard to their preparation i.e. the 3 Ps.
Click on the link All About MBA to know complete details.
Group Discussion follows a set pattern and rules that allow candidates to communicate efficiently and effectively. Along with communication ability, there are several things that the group testing officer (GTO) monitors while giving GD topics for MBA. Candidates must know the group discussion skills which are looked out by institutes or companies at the time of admission or hiring respectively.
Group Discussion in MBA
MBA colleges always refer to group discussions as the "exchange of knowledge and arguments" where the purpose of the argument should not be a success, but progress". Group discussion is one of the most important shortlist rounds for qualifying for MBA programs at a B-School. Admission to B-School is granted only after the candidate has cleared all the selection rounds with merits. The selection rounds are:
Written Ability Test (WAT)
Group Discussion (GD)
Personal Interview (PI)
After scrutinizing their performance in GD, the B-School conducts GD rounds for the purpose of enrolling the most deserving candidates in their MBA programs. GD performance is assessed at different levels, i.e. candidate title, thought process, voice tone, communication skills, strategic thinking, and decision-making knowledge. These parameters enable the Admissions Council to select candidates from the interview and declare online eligibility lists in their favor.
How to prepare for Group Discussion in MBA?
Here are various ways to help you prepare for the group discussion round;
Read books on diverse topics as well as magazines and periodicals.
Refer to the Correct subject matter.
Subscribing to content-rich newsletters online
Keep an eye out for repetition of topics
Think in an analytical manner
Voicing your opinions when nobody is around
Quick Links -
Top MBA Personal Interview Questions for Admission
How to crack GD-PI WAT rounds of top B-schools
Group Discussions: Go beyond "I don't agree with you"
Factors considered in Group Discussion
| | |
| --- | --- |
| Focus On | Description |
| Communication Skills | Your ability to speak, way of putting your views forward |
| Interactive Nature | How well can you interact and cohere with others? |
| Team Player | How open-minded the candidates are? Can they adjust with others? |
| Listening Skill | Do you listen to what others say or just blabber your stuff always? |
| Managerial Skills | Leadership, decision making, initiator, problem-solving, critical thinking skills, etc., |
| Confidence Level | Facing people at every point of time |
Subject matter of Group Discussion
Current GD Topics for MBA on which Group discussion rounds are conducted are based on:
Business & Economy

Social Issues

International events

Abstract ideas

Current Affairs
Note - Group discussion for MBA may or may not include controversial topics
Major Group Discussion For MBA Topics
GD Topics on Business & Economy: These GD topics for MBA are selected to see whether the candidate has knowledge about the current and latest business trends, business and economy, major policy initiatives of the world and country, and their impact nationally. Some of the topics and how to prepare for group discussion for an MBA:
COVID-19 Coronavirus - Impact on World Economy

How Coronavirus Affected Indian Economy

The 5 Trillion Economy

Online Shopping - Harmful for Indian Economy having Small Traders?

Impact of FDI on Indian Economy

Is Aadhaar Secured Enough to be Called an Indian Citizen?

ATM Cash Withdrawal - Is It Justified

Hindrance of Bureaucracy in Indian Economic Reform

A merger of Banks - Good/Bad for Economy?

Privatization of Indian Economy
GD Topics on Current Affairs: The GD topics for MBA on Current Affairs are based on National and International Policies, benefits, consequences, issues that are profoundly debatable. Some of the topics of group discussion for MBA are:
Freedom of Media - Pros/Cons

Is India Ready To Go Cashless?

Success of Demonetization

Causes of Cyberbullying

Is GST a reform? One Nation One Tax

Artificial Intelligence - Curse or Boon?

Will "Others" Gender Get Equal Rights?

Article 15 of the Constitution

COVID-19 Coronavirus

Removal of Caste-based Education - Is it Possible?
GD Topics on Social Issues: Being socially active is what every Top MBA institute is doing. Organizations also indulge in social activities for the benefit of society. Thus, at the time of hiring or providing admissions, organizations and institutes also focus on this aspect and include it in GD topics for MBA. Hence, they try to put more emphasis on such issues. Some of the topics of group discussion for MBA are:
Is Women Empowerment the Solution to Violence Against Women?

Is Urban India Suffering From Mental Illness?

Are Indian States Poor?

Female WorkForce v/s Male WorkForce

Role of Social Media Influencers

Gender Equity v/s Equality

Can Death Penalty Reduce Rapes?

Moral Values of Kids - Is It Possible?

Are Indian Values Decaying?

Joint Family v/s Nuclear Family
GD Topics on Abstract/ Philosophical Topics: GD topics for MBA on the abstract area is done to check the multiple interpretations of candidates and how they can use their creativity and resourcefulness. Some of the topics of group discussion for MBA are:
Every Cloud Has a Silver Lining

Haste Makes Waste

Invention of Wheel

Black, White and Grey

Majority & Minority

Multitasker - Women v/s Man

Who Will Cry When You Die?

Red or Red

Zero to One

Frenemies is the New Trend
Quick Links -
Group Discussion Topics for MBA
Tips for GDs & Personal interviews