Group Discussion Topics for MBA
Group Discussion Topics for MBA - Wondering what are the current GD topics for MBA? Getting through an MBA management entrance exam to receive a call from your dream B-school is just a step away from achieving your management and business dreams. In order to accomplish your goal, it is pertinent to know GD topics for MBA 2020. B-School admission or selection process is basically a two-step process - 1) entrance test, 2) Group Discussion or Personal Interview and Written Ability Test. If the candidates prepare well for latest GD topics for MBA, then they could sail through the second stage of the selection process with ease. What lies ahead after clearing the entrance test is a herculean task of converting that call into a confirmed admission. Hence, the candidates must try to be well versed with the group discussion topics for MBA. Written ability test and group discussion are an integral part of the MBA admission process and having a sound knowledge about different events will help the candidates to decide what could be the prospective topics for MBA. These are basically personality assessment test to assess a candidate's leadership skills, communication ability and problem-solving skills. Aspirants, therefore, must know the GD topics for MBA beforehand to give the best performance.
Latest CAT Update: CAT 2020 result has declared by IIM on January 2, 2021. Also know about CAT cutoff 2020.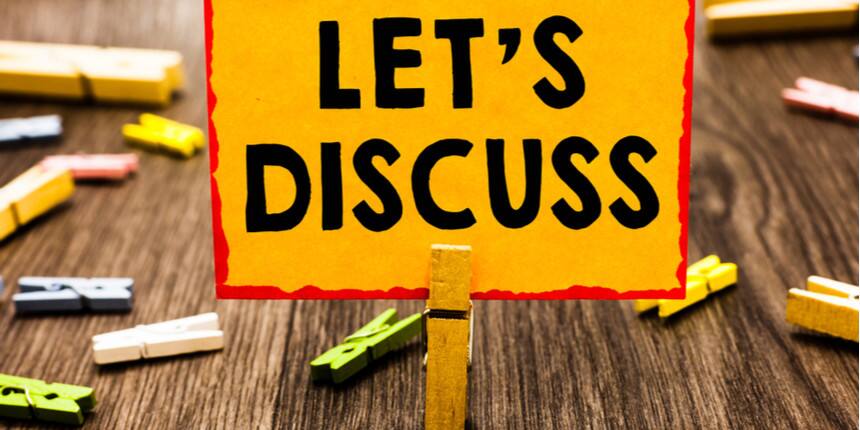 Did you receive an invitation for an interview from the college where you wish to get admission? Are you gearing up for an interview? Now, it's time to prepare for the personal interview and written ability test. Careers360 brings all the group discussion topics for the MBA aspirants to crack GD-PI-WAT rounds of top colleges in India.
Latest GD Topics for MBA 2020
Vinayak Kudva, Chief Mentor, IMS Learning Resources, talks about various topics of group discussion for MBA and states, "The WAT and GD topics for MBA are mostly of sociological significance and may be based on long-standing or newly uncovered issues. Students should go through the topics allotted by various B-schools last year, to get an idea of what can be expected." Sometimes, WAT and GD topics for MBA admission can be as generic as 'Importance of reservation and impact of advertising.'
Go through the table below to know WAT and MBA GD topics selection of the top B-schools and IIM.
WAT-GD Topics for MBA
| | |
| --- | --- |
| Topics | B-School |
| Cultural diversity impedes democratic governance | |
| All decisions in a democracy should be taken through referendums | IIM Lucknow |
| Changing role of women actors in Bollywood | IIM CAP |
| The issues in the Indian Education sector | |
| Sustainable Development in India | |
| Space research projects are a waste of money | IIM Lucknow |
| Are conventional retail stores competing with E-commerce market and what can be the possible future? | IIM CAP |
| Have coaching institutes in India just become a source of business? | |
| Demonetisation | DMS, IIT Delhi |
| India's diplomatic ties with China | |
| Can technology help in preventing Money Laundering? | |
| Sports and its benefits | DMS, IIT Delhi |
| Development alternatives for the rural economy | IIFM Bhopal |
| Indians are good at being second best but not first | |
| Loose lips sink ships | IIM Lucknow |
| Centralization of Indian Public Sector Oil companies will be a boon | IIM Lucknow |
Although the group discussion topics for MBA can range from current affairs, technologies, sports and education, majority of questions are based on current affairs. It is, therefore, recommended that the candidates are always updated on the important and major events across nation and world-wide.
As per experts' insights, the following can be the WAT and Group Discussion topics for MBA admission rounds:
GST - Pros and Cons

How sustainable is the Jio model in Indian Telecom industry?

How can banks prevent scams by Neerav Modi and the likes?

How significant is Nepotism in Bollywood?

Is the Start-Up wave in India dying?

Should Freedom of Expression have limits?

Union Budget 2018

From Aadhaar Cards to Facebook - how much are out data safe?

IIM Bill

Ban on Triple Talaq

Indo-Pak Ties under threat?

Bitcoin

How to deal with inflation?

Corruption in politics

Drug abuse in sports

Is India a soft nation?

America's hegemony in world affairs.

Safety of women

India's space mission

Iran-US Nuclear agreement
Tips to ace Group Discussion for MBA Admission
A group discussion tests a candidate's knowledge, leadership qualities, not to mention the communication skills. As there is fierce competition, hardly one or two candidates manage to qualify in the group discussion while others get eliminated owing to lack of preparation and knowledge about group discussion, not to say blunders. Making it to the final stage of the admission process and not able to crack is really shattering. To avoid such nightmare, always follow the rule of thumb.
How to get selected in a Group Discussion
An ideal way to emerge as a winner in a group discussion is to always have a grasp on what you speak. At the same time you should be confident and audible during the group discussion. Chances will be slim when you follow others' ideas without giving your own input on the group discussion topic for MBA 2020.
Propose an argument in the Discussion
Prior to starting a discussion, one should have enough clarity in communication. Confidence and personality are like the icing on the cake while one is expressing their views on a group discussion topic for MBA, but the essential attributes that will help you win are your thought process and good hold on the language. Always remember to conclude your argument with a question. A candidate who wishes to answer your question will have an eye contact with you while giving you an opportunity to share your thoughts on the same during GD for MBA.
How to get into a group discussion
Knowing the right time and how to enter a group discussion for MBA is important. Sometimes you wait too long seeking an opportunity to enter a discussion that you end up missing the opportunity. When there are 8 to 12 people in a group discussion including 8-12 peers, and you manage to speak for 2-4 minutes adding significant value to the discussion, you stand a chance of getting selected. Aspirants can check the pointers below to know the best approach to enter a group discussion for MBA successfully:
Enter with a supportive statement - While you may not agree with another aspirant's opinion on the group discussion topic for MBA, it is always smart to put forth your points using positive transitional phrases, for example, 'I totally agree with what he says...' or 'I would like to add.' After adding the phrase, you can proceed with the argument.

Enter when the noise level decreases - An ideal time to shift all the attention towards you in the discussion is to wait for the voice levels to go down. You, however, should not wait for long, barge in if a few minutes have passed without any decrease in the noise and express your views on the group discussion topic.

Enter by asking a question - Asking question will help you get in the limelight. Post asking the question, you can add your views and also put follow up questions during the GD for MBA.

Enter after a person has concluded - Wait for the right moment to interrupt. It is quite obvious that a candidate doesn't give others a chance to speak before completing all the points. Your chances of success will increase if you enter the conversation after the candidate has said all the points.
Some more Points to follow

Some more Effective Tips to keep in mind during a GD
Be positive

Maintain good posture

It is always good to be assertive, but getting aggressive is a big no

Enter the discussion only when you have sufficient knowledge with respect to the particular topic

Do not speak anything illogical and try to incorporate facts and figures

Do not use complicated words, keep it simple and stay polite

Always maintain eye contact while conversing

Keep your cool and do not lose your temper on any point

Focus on your peers, do not stare at the judges while delivering the speech.
Also Read
How to tackle GD-PI-WAT rounds at top B-Schools
GD-PI-WAT Preparation: Tips from Toppers and Experts
How Koustav Pal cracked GD-PI-WAT to get IIM admission
How Jobin Jacob cracked GD-PI-WAT to get MDI Gurgaon MBA seat
Frequently Asked Question (FAQs) - Group Discussion Topics for MBA
Question: Which types of articles were during selection process of B-schools for the year 2019?
Answer:
The various article asked in the B-schools admission process related mostly to current changes in the society and to the environment-related issues. A list of various group discussion topics that were asked in admission process of various B-schools is given in the article, kindly have a look at it.
Question: What are the various tips and strategy that a person should keep in mind while preparing for Group Discussion?
Answer:
The various tips and strategy for Group Discussion are mentioned below:
Have a grasp on what you speak
Propose an argument in the GD.
Enter with a supportive statement or a question or when the noise level decreases.
Question: Name some of the highlighted topics which can be asked during Group Discussion Round of B-schools?
Answer:
Some of the topics which can be asked during the Group Discussion are mentioned in the article, kindly have a look at it. Some of them are:
GST - Pros and Cons
Indo-Pak Ties under threat?
Corruption in politics
Iran-US Nuclear agreement
Questions related to CAT
Showing 9494 out of 9494 Questions