How to Prepare for CAT 2022 in 4 months?
How to Prepare for CAT 2022 in 4 months? - Candidates who want to pursue a management program from IIM or from any other premier B-school of India must necessarily appear for CAT 2022 and crack it with a good percentile. Apart from other MBA entrance tests, CAT exam is the toughest one to crack. But as they say, one can climb Everest with preparation, commitment, approach, and targeting. The same applies to CAT 2022 preparation.
Latest Updates for CAT
5 days ago:

CAT 2022 exam tomorrow; know do's and don'ts to avoid any mistake for exam day. Click here.

21 Nov 2022:

Click here to check CAT previous year questions and paper pattern.

15 Nov 2022:

Click here to know about the revision tips to ace CAT 2022 with 99+ percentile.
Stay up-to date with CAT News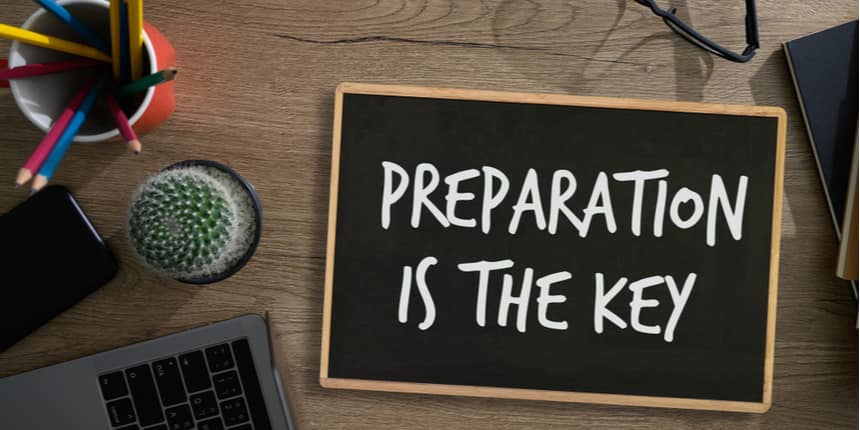 Four months seem like a short span to complete the CAT 2022 self preparation. However, with the right exam strategy and practice, one can score a high percentile in CAT 2022. If one has already started their CAT preparation for 2022 which means their basics are clear and now they need to focus on speed, accuracy, shortcuts, tips, and tricks. However, for those who are going to start their preparation from now on, then this article is a must read. In this article of Careers360, one will get to know "How to prepare for CAT 2022 in 4 months", and how one can draw their study plan so that they crack the exam without any difficulty and make their way to the premier B-School of India. Read the full article to know "how to prepare for CAT in 4 months."
How to Prepare for CAT 2022 in 4 months?
Before making any study plan or preparation strategy for the CAT exam, one should get familiar with the CAT exam pattern and its detailed syllabus. As per past year's trend, the exam pattern of CAT 2022 consists of three sections, namely, Quantitative Ability (QA), Verbal and Reading Comprehension (VARC), and Data Interpretation and Logical Reasoning (DILR). There are 20 questions for the QA and 24 questions in the VARC section and DILR consists of a total of 20 questions with a total of 66 questions. While taking CAT 2022, candidates can not switch between the sections due to the sectional time limit. Candidates get 40 minutes for each section. The total time duration is 2 hours for CAT 2022 which means candidates have to manage their time accordingly so that they can avoid the hassle and anxiety.
If one has only four months to prepare for CAT 2022, then they should divide their preparation plan stage-wise. It makes their preparation easy and they can be able to handle the CAT preparation pressure with ease. Here are some tips to follow while preparing for CAT when only four months are left for D-day.
Spot yourself where you are standing
Before starting the CAT 2022 preparation, candidates need to check where they stand currently such as whether their basics are clear or not, did they know the basic formulas to solve Quantitative Aptitude questions, etc. After knowing this, candidates can get an idea about their strong and weak areas. If one is unable to assess their level of preparation, then moving forward can be a herculean task. After making a diagnosis report candidates can categorize in which sections they have a good accuracy rate and which are the ones where they need to work hard. It will hardly take 2 to 3 days to spot yourself where one is standing.
Understanding concepts and knowing their application
Once candidates have gone through with the exam pattern and syllabus of CAT 2022, they need to start working on the fundamentals of every topic during the four months of CAT preparation. Through this candidates can get conceptual clarity and they can strengthen their basics. While preparing for the Verbal Ability section one should do their reading on regular basis to get a hold of it. Apart from the VARC section, the other section demands a good amount of time to practice the concepts. When one is well versed with the basics then they should start their preparation chapter and section-wise and at a swift pace.
Make a different strategy for the Quantitative Aptitude section
The Quantitative aptitude section actually carries the major chunk of CAT preparation. Apart from other sections, Quant has a very vast syllabus from algebra to percentages, basically, the Quant section tests the fundamentals of a candidate. It needs a proper strategy to prepare for each topic in a systematic way. Through this process, candidates can understand the basics and can set a benchmark for CAT preparation. One can make the Quant section easy for them, they only need to include Learning and practice while preparing for CAT 2022.
DILR Section Demystified: Strategies for CAT 2022
There is no fixed syllabus for Data Interpretation and Logical Reasoning syllabus, which makes it a bit difficult as compared to other sections. Among the three sections, the Data Interpretation and Logical Reasoning section are the most crucial and challenging in the CAT 2022. If one is good at solving puzzles then they can tackle the Logical Reasoning section very easily. Those who are not familiar with DILR questions so have to solve previous year CAT papers and solve questions from standard templates, Einstein puzzles, the grid puzzle, etc.
Focus on Self-Study
Self-study is very important when it comes to acing any exam. The best part of self-study is one can get to know where he or she stands and anticipate accordingly. Sometimes, self-study might be frustrating but this is the only way to achieve any goal. One can include the following factors while doing self-study.
Read the textbook

Read the class notes

Make colorful and proper notes

Look up other online resources

Teach someone what you have learned
Mock test, its analysis, and revision - An elixir
CAT preparation is considered incomplete if one has not attempted the mocks. CAT mock test, test series, or CAT sample paper are basically designed to make aspirants understand the structure and level of the CAT entrance test. The result of the CAT mock test will indicate the candidate's strengths and weaknesses. Taking mocks at the beginning of preparation, candidates have ample time to improve their weak areas, and simultaneously they can strengthen their strong portions.
Adapt yourself to the need of the CAT
Candidates should set a target to solve at least six past-year papers in a week. After solving every paper, candidates should spend time analysing it. See where you scored well as well as where you could be good and what are the main reasons for not doing better. This step should perform in the second last month of preparation. The main benefit of solving past years papers is, candidates can get to know whether they are making progress or not.
Hit the bull's eye and get the victory
In the last 10 to 15 days of CAT preparation, do not explore any new topics. Only practice what you know and extract the maximum benefit. Just polish your strength and do a revision of all sticky notes which you have made during exam preparation.
How to Prepare for CAT in 4 months? - Toppers Views and Tips
According to CAT 2021 topper, Satya Sripada (99.51 percentile), focus on basics. Revise what you have studied in the day before going to sleep and have a revision day once in a week where you go through all the notes again. Note down important questions or tricks in a different notebook. Give mocks regularly and analyse them properly. Revisit the same mock a second time after a couple of weeks. You need to go through the syllabus and past papers and build your own strategy to counter the exam.
Questions related to CAT
Showing 10885 out of 10885 Questions