How to Prepare for XAT 2023 in One Month?
How to Prepare for XAT in One Month? - After IIMs, the prestigious institute that drags the attention of youngsters is XLRI Jamshedpur. But the question is how to prepare for XAT as it is considered to be the toughest exam after CAT. Especially with a month left, it becomes more thoughtful on which tactics to apply for good marks. Careers360 in this article on how to prepare for XAT in one month will help candidates know the major techniques/strategies which they should apply to take admission in XLRI Jamshedpur.
Latest Updates for XAT
01 Feb 2022:

XLRI Jamshedpur has announced GD/PI shortlist in online mode. Click here to check the details.

01 Feb 2022:

XLRI Jamshedpur releases XAT 2022 cutoff for PGDM BM and PGDM HRM programmes.

18 Jan 2022:

XAT 2022 results are out. Click here to download the XAT scorecard 2022.
Stay up-to date with XAT News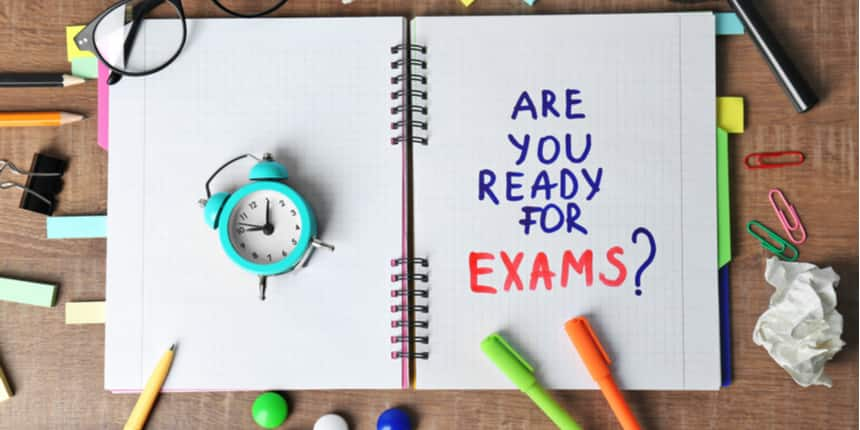 Candidates will get admission either in PGDM-HRM or PGDM-BM or PGDM-GM program. XAT 2022 was conducted on January 2 in a computer-based mode. The exam pattern of XAT 2023 should be the basis of making a preparation. The remaining one month should be pre-planned beforehand and focus should be on all four sections as there is negative marking as well. In order to ace XAT with a good score, candidates must read the complete article by Careers360.
Tips to be Followed on How to Prepare for XAT in One Month?
As per the exam pattern of XAT 2023, the paper will be of three hours. Candidates will have to solve four sections namely Verbal & Logical Ability, Quantitative Ability & Data Interpretation, Decision Making, and General Knowledge. The challenge here would be to manage the time and still answer questions accurately as there would be negative marking as well. Hence, candidates who are at the edge are slightly confused about how to prepare for XAT in one month. Given below tips on cracking XAT in one month can be followed by candidates to get good XAT Result 2023.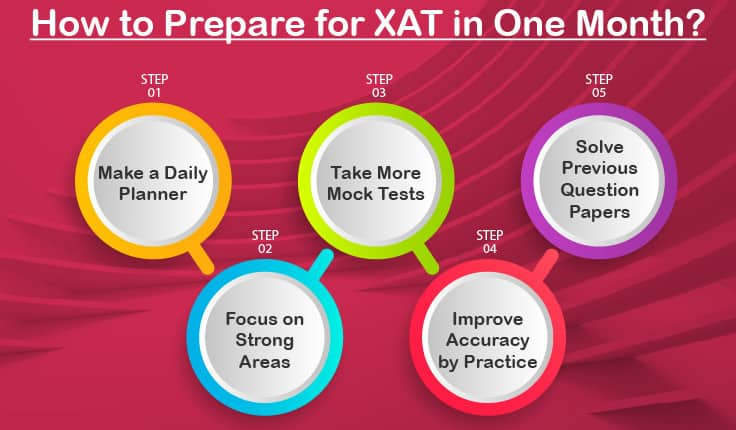 Make a Daily Planner
A famous proverb says, "well begun is half done". Hence, no matter a month is left for XAT, candidates who preplan things to be done are considered to have covered half way round. To start with, first and foremost candidates need to make a daily planner. Check the XAT 2023 syllabus and divide the topics to be covered. Set a time schedule of devoting two hours each to all four sections. By doing this, candidates will be able to make a justified and equalized plan without bias. Candidates should try to take breaks of 15-30 minutes between sections to re-energize themselves. Try to look for some of the best books for XAT 2023.
Quick Links -
Focus on Strong Areas
Since only one month is left for XAT 2023, candidates should not make haste in studying the whole syllabus. They should calmly go through the syllabus and highlight the topics they are familiar with. Mark the strong topics and lay emphasis on them. Do not cram the sub-topics/ methods/ equations/ formulas just for the sake of giving the exam.
Know what experts suggest on XAT - Quick Links
Take More Mock Tests
The best way to prepare and gauge the preparation level is mock tests of XAT. Candidates who are to give XAT 2023 are advised to attempt the mock tests before as well as after their preparation. XAT 2023 mock test will not only provide a simulated environment to understand the exam day pressure but will also help in finding the type of questions that may come up in the D-Day. Aiswarya Padma B Who Scored 96.986 Percentile in XAT 2020 told Careers360 that the mock of XAT helped her a lot. XLRI Jamshedpur provides the facility of official mock tests.
Improve Accuracy by Practice
Practice even if you don't like it is a common phrase used nowadays as it can make you good to go. Since there is a different kind of negative marking scheme in XAT exam 2023, candidates need to be very careful in solving the questions. It is advisable for candidates to leave the question unanswered than answering wrong and losing marks.
Solve Previous Question Papers
One of the major tips on how to prepare for XAT in one month is to solve the previous question papers. Experts suggest that solving more and more previous year question papers of XAT 2023 will help candidates in knowing different types of questions. On full practice, this may lead to a stage where candidates do not find any new question types/topics. Moreover, it coincidentally happens that the same type of question is asked in XAT 2023.
Quick Links
Questions related to XAT
Showing 1032 out of 1032 Questions