SNAP 2020 Exam Day Guidelines
SNAP 2020 Exam Day Guidelines - Symbiosis International (Deemed) University has issued SNAP 2020 exam day guidelines for all those who will appear for the entrance test on December 20 (first attempt). Due to COVID-19, SNAP is held on three different dates i.e. December 20, 2020, January 6 and 9, 2021. If a candidate fails to follow these guidelines in such case his/her candidature will be cancelled. Read the complete article by Careers360 to know all about SNAP 2020 exam day guidelines along with what to carry and important instructions related to COVID-19.
Latest SNAP Update - SNAP 2020 result released on January 21, 2021. Check SNAP cut off for various participating institutes.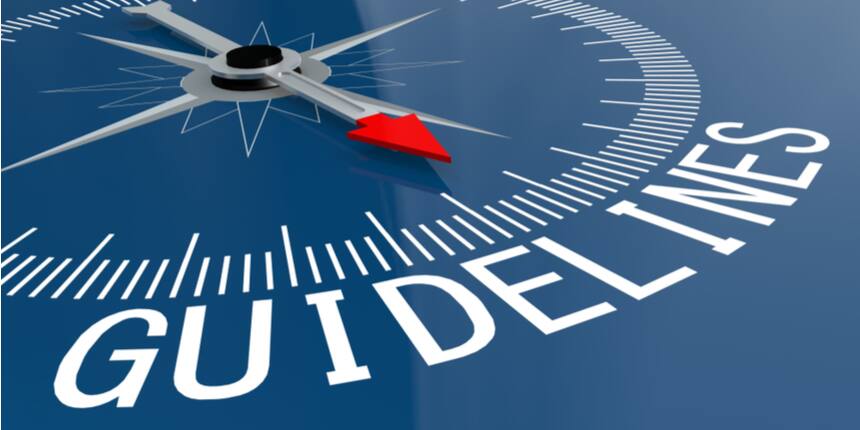 SNAP 2020 - Quick facts
| | |
| --- | --- |
| Particulars | Details |
| Formal Name of the Exam | Symbiosis National Aptitude Test |
| Commonly known as | SNAP |
| Conducting Body | Symbiosis International (Deemed University) |
| Exam Type | National |
| Periodicity | Three Times |
SNAP 2020 exam day guidelines
SNAP 2020 test will be conducted in Computer Based (CBT) mode, hence, exam centre capacities are limited. Candidates are required to report to the assigned SNAP test centre mentioned in their SNAP 2020 admit card. Candidates will not be allowed to appear for SNAP 2020 at any other examination centre.
SNAP 2020 important instructions
Read all the instructions carefully which are given below and some of them are also printed on the SNAP 2020 admit card
After downloading SNAP admit card, take a colour print out of the same. Black and white copy will not be accepted.

Request for change of SNAP 2020 test centre will not be entertained

Candidates will have to arrive at assigned test centre latest by 9:00 AM and candidates must be settled at their assigned seats latest by 10:30 AM

Paste latest passport size coloured photograph on the SNAP admit card at the provided place

Along with SNAP admit card, candidates are required to bring an original and valid ID proof to the test centre. Any one of the following ID proof will be accepted

Aadhar card

Voter ID card

Driving license

Passport

PAN card

Candidates must ensure that their SNAP 2020 admit card is stamped by the test invigilator

As a part of the identification process, candidates photograph will be captured at the examination centre

Candidates are advised to keep their SNAP 2020 admit card safe for the further selection process. No duplicate SNAP admit card will be issued further.

Electronic gadgets such as Laptop, Camera, Cell phone, Beepers, Calculators or any similar gadgets are not allowed inside the examination hall.

Those who found violating exam day instructions given bt test invigilator will be considered as disqualified

There is no facility for keeping candidates personal belongings inside the examination centre. Hence, SIU will not responsible for any damage or loss

Questions will be asked in SNAP 2020 will be in English medium only

It is advisable that candidates should visit their SNAP 2020 exam centre in advance so that they do not experience any difficulty to reach the same on the day of examination
Also check -
SNAP 2020 - Instructions related to COVID-19
Along with SNAP exam day guidelines, authorities have also released certain guidelines keeping in view the situation of COVID-19. Candidates must adhere to all the following instructions.
Candidates must maintain social distancing norms starting from the point of entry in the exam centre till exit from the test centre

Candidates will have to bring their own gloves, face mask, transparent water bottle, personal hand sanitizer (not more than 50ml), SNAP 2020 admit card and ID card. No other items will be permitted inside the examination centre

In order to maintain social distancing, candidates are advised to not to be with their parents or acquaintances to the examination centre

Candidates showing COVID 19 symptom will not be allowed to enter in the examination centre

Candidates body temperature will be checked at the entry of the test centre by using Thermo Gun. Only those will be allowed to enter the exam hall, whose body temperature is within the limit set by the competent authorities.

Mapping of candidates roll number and lab number will not be pasted outside of the SNAP examination centre, the same will be provided to the candidates individually at the time of entry post their SNAP admit card and ID proof verification

Candidates need to follow all the instruction given by representatives and need to stand in the circle drawn at the entry points

At the registration desk, candidates will have to sanitize their hands by using provided sanitizer. Candidates photograph will also be captured during the registration process
You might be interested in - SNAP Cutoff 2020
SNAP 2020 - Social distancing guidelines for candidates
There are certain guidelines pertaining to social distancing issued by the SIU in order to avoid the spread of nasal coronavirus.
Candidates reporting and entry on the exam day

One should report at the examination centre on time as mentioned on the SNAP admit card

Wear a face mask and maintain social distancing between each other

Stand in a queue in a circle drawn at the outside of entry point

Avoid overcrowding or grouping to maintain social distancing all the time

Keep all the documents ready for verification at the entrance of the SNAP test centre

One should adhere to the security guard announcements

Checking at the entrance of SNAP test centre

Candidates will have to flash their SNAP admit card and original ID proof to the security guard by maintaining a safe distance

Cooperate with the security guard for getting the body temperature checked by thermo gun

Candidates will also have to display their status on Aarogya Setu app to the security guard at the entrance

SNAP 2020 - Document verification and Bar code scan

Candidates should stand on the floor marks while waiting for their turn

The barcode on SNAP admit card will be scanned by the volunteer by using the bar code reader

Lab number will be informed by the volunteer

SNAP 2020 exam day guidelines need to be followed during the test

Candidates will have to sanitize their hands after putting a signature on the attendance sheet

Try not to indulge in any form of malpractice during the test as candidates will be under CCTV surveillance at all times

In case, any technical glitch, inform the invigilator in the lab and maintain social distancing

SNAP 2020 - Post test guidelines

The rough sheet should be dropped in a separate dropbox kept in the lab

Follow social distancing guidelines while leaving the SNAP exam centre

Do not dispose of the used mask and gloves inside the examination room or outside the gate dispose of them once reach home
Quick link -
Questions related to SNAP
Showing 708 out of 708 Questions