GD PI WAT Preparation Tips from Toppers and Experts
GD PI WAT Preparation Tips - B-School admission or selection process is basically a two step process after the entrance test, a Group Discussion or Written Ability Test and Personal Interview. The IIMs and other B-schools admit not just candidates with a high percentile, but those who are a great presenter, have sharp communication techniques, and smarter among other candidates.
Stay up-to date with CAT News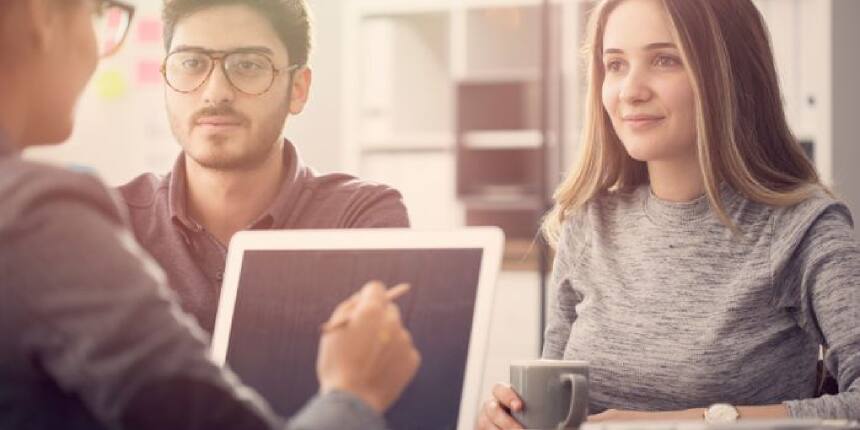 GD PI WAT rounds will be conducted after the announcement of the entrance test results, like CAT, XAT. CAT 2022 result is expected to be announced in the first week of January 2023. So, entrance exams are about to get over and it's time to focus on the preparations for the next big steps for admission into top IIMs and B-schools. Hence it is important to know how to crack GD PI WAT rounds of top B-schools.
GD PI WAT Preparation Tips from Toppers and Experts
A candidate is judged and analysed on the basis of his performance at GD-PI and WAT rounds. It is at this stage that makes or breaks your admission chance into a particular B-School. With a tough competition for the Management seats across B-schools, it is best to prepare yourself with Tips and Guidance from the toppers of top IIM and B-schools and experts of various coaching institutes. Careers360 shares how to prepare for GD PI WAT based on topper strategies, challenges, and insights, which are to be tackled with efficiency to earn a management seat in your dream B-School. Experts of various coaching institutes share their tips and guidance on How to crack the GD-PI-WAT for a successful admission.
Group Discussion- GD
Group Discussion, commonly known as GD is a method of assessing students' personality in terms of both technique and art. It is a discussion in a group of people who express their views in a free manner upon a topic. The GD, by various B-schools for admission to management programmes, assess students on the basis of confidence, communication, and managerial skills.
CAT toppers share their key mantras to crack GD rounds with Careers360.
Overall GD experience of Toppers
Shailav Goel, who appeared for GD at MDI Gurgaon shares "I had around 10 candidates in my group. I tried to get to the basics and approached it in a way different from others. I put forward my points and was able to contribute substantially to the discussion."
Sharing her GD experience at DMS IIT delhi, Akanksha Sharma explains, "The overall process went very smoothly, courtesy of the Admissions Team here. The GD topic was very generic - 'Sustainable Development in India'. We were given two minutes to ponder over and then discuss on the topic for another 15 minutes, followed by conclusion and summing up of the entire discussion. I later had my interview for about 30 minutes, which was mostly CV-based. Being an engineer fresher, I was asked most of the technical questions and a few current affairs based questions."
Chakrapani Cheripally who appeared for GD at DMS IIT Delhi shares his experience on the same. "It was one of the best experiences I had when compared to all other B-School interviews. IIT Delhi made sure we were not succumbed to stress. The process was systematic and there was not a single instance of chaos at any point of time."
Tejas Salvi, taling about his GD experience at MDI Gurgaon elaborates "It was a very smooth process. First, we were given a topic to write for around 150 words, followed by a group discussion on the same topic."
How to approach the GD topic
Akanksha Sharma explains her approach to the GD topic at DMS IIT-D, " I introduced the topic and structured the discussion along with stating a few aspects of the topic. Each of us had enough time on our hands. There was no hassle in the GD and it was peaceful."
Praneeth Reddy of DMS IIT Delhi explains his approach "It was a very different experience as compared to the interviews of other colleges. I had got to see a new dimension and experiences a different kind of exposure while attending the interviews. I felt that the amount of stress in the interview of DMS, IIT Delhi was very less. I was able to put in my 100 percent for this interview. The GD topic given to us was 'Sports and its benefits.' It was a very easy topic for me as I had fair bit of knowledge of it throughout my life. I was able to contribute to the discussion quite a few times. There were 10 members in the group."
When and how to prepare for GD
Sombit Roy, CAT Topper and alumni of IIT-D shares his preparation tips for GD "I started to prepare for GD as soon as the results were declared. I did enrol myself in a coaching institute and attended all the GD sessions. I always took notes of what others were speaking. It does help a lot. After every GD session the individual feedback which I got from the faculty I took them very seriously and tried to follow them from the next GD onwards. I think being part of mock GDs is a must as it helps a lot. You learn a lot not only about the topic but also about how to conduct yourself in the GD which includes your body posture and the way you speak. Knowledge is the key in GD and hence one needs to read anything and everything around starting from magazines, newspaper, blogs etc. Being aware of the current affairs is a must. It is also very important to have the ability to listen to others and not to interrupt. Try not to be a part of the fish market and do make your point. It is very important to have a strategy as to when you should make the point so that you are heard.
Expert Tip on GD
Vinayak Kudva, Cheif Mentor, IMS, on how to crack GD, says, "Immediately after the CAT exam gets over, MBA aspirants should start preparing for the second stage of selection: the GD stage. It is very important not to waste time and energy on thinking about your performance in the CAT and how you might have approached particular problems differently. That is a thing of the past and you cannot change it."
Stating the objective of GD or Group Exercise, Kudva mentions, "The objective of a group discussion is to appraise a candidate's ability to critically analyse a given piece of information and collectively work in a group to arrive at a solution or develop a perspective. B-schools conduct GDs to find out whether candidates possess the qualities that are critical to become an effective manager. The rationale behind this exercise is that when a group of students is given a task to accomplish within an unstructured situation, they will try to accomplish it by establishing some order or structure. In this process, they will reveal some of their personality characteristics."
Personal Interview- PI
What is Personal Interview (PI)?
A Personal Interview-PI is a conversation in which someone is asked about their background, lifestyle, experience. The personal interview with a candidate lets the panel evaluate whether or not s/he have the capability and skills required to successfully pursue and develop a career in management.
CAT toppers share the challenges he faced during the PI, and the approach they followed to successfully crack this level of the admission procedure.
PI: Structure and Panel
Dipal Kumar Patel, CAT topper and IIM Raipur students shares his PI experience " I had three panelists in my interview. Panelists started with asking my introduction then went on to my final year project of my engineering. I started off with a very nervous feeling with the interview. But the questions asked to me were very relevant. I was able to share my answer with utter confidence. Further, I was able to drive the interview with my explanation of the previous question. This led the interview in the desired direction. I don't consider it an ideal experience but, yes, an inspiring one."
How to prepare for PI
Jayesh Patil, CAT exam Topper and student of IIM-L shares his PI experience "I gave a lot of mock PIs. Practised answers with a friend multiple times. Prepared answers for general questions like why MBA, strengths-weaknesses, short term-long term plans, why XYZ."
college, hobbies, area of interest. I made sure I could speak on each point which was on my CV and Application form for a minute or so. Make sure you know about the place you were born or brought up in or any recent news, trivia related to that place. Giving mock PIs helps as you get to know how you deliver what you think. The feedback from mock PIs helped me prepare my answers better.
Toppers' advice to aspirants for Personal Interview
Arko Biswas of IIM Raipur says "The main thing they look for is the right attitude. MBA does not teach one new skills, it just nurtures and hones those skills to make better leaders of tomorrow. Willingness to learn and smartness is among one of the valued characteristics."
Expert Tip on PI:
Gautam Puri, Vice Chairman, Career Launcher suggests, "The most important thing is to be confident when you answer questions during your PI. Prepare well for current affairs. Even if the first few PIs you appear for do not go as well as planned, do not get disheartened, and do not let that affect your performance anywhere else. It is important to be thorough, confident and honest for a positive selection."
Written Ability Test- WAT
A Written Ability Test-WAT is conducted by the B-schools to test the candidates' ability to think critically, communicate the ideas, formulate a constructive critique and write the responses in a given time on paper. It is important for every Management aspirant to know how to structure the essay with three basic components - introduction, body, and conclusion, before starting to write. Now let us take a look at the hot topics for WAT and how to prepare for WAT from toppers and experts.
How to approach a WAT Topic
Ashish Shrivastava, CAT Topper and student of IIM Lucknow shares " My WAT topic was "All decisions in a democracy should be taken through referendums". Firstly, I tried to structure it. I started by introducing the topic and stating how I will approach it. I thought analysing the pros and cons would be great so I mentioned both positive and negative aspects of holding referendums and gave relevant examples. In the end, I concluded by comparing the pros and cons and taking a stand on the topic.
My topic was easy and I had practised writing WAT essays and timing myself, so I did not face much problem in this section."
How to prepare for WAT and manage time
Ashu Airan, a student of IIM Lucknow shares his WAT experience "I didn't prepare specifically for WAT. I was just keeping myself updated with the day-to-day happenings and current affairs. Other than that, I joined the WAT-PI course in an institute that helped me practice a couple of WAT topics. I started preparing for WAT-PI soon after CAT results were out without wasting time. Normally, there is enough time to think and write the WAT. Just ensure that you don't end up spending too much time on thinking."
Sneha Mittal, almuni of IIM Udaipur shares "Practice writing daily. Devote enough time every day to read newspapers so that you stay updated on current affairs. This will help you in both WAT and PI. While you practice writing, keep the following points in mind:
1) Time Yourself
2) Practice writing on different types of topics (and not only the kind you liked)
3) Try to present a balanced view on the topic
4) Structure your thoughts first, and don't start writing the moment you get the sheet
5) Keep the language simple and don't overuse jargons you don't understand
6) Be Concise
7) Make sure you get your tenses right in the whole article
8) Write regularly!!"
How to structure the essay and manage time in WAT
Julie Bania, on her WAT experience at IIFM Bhopal explains "For WAT the basic important things to keep in mind are grammar, spellings, flow of writing and above all you must be specific on what you actually wish to write. So just before starting one can close his eyes and think for minute or so and frame it in mind. Also to easily clear WAT one needs to keep themselves updated with general awareness and current scenarios (Reading newspapers is one of the best solution).
Expert Tip on WAT:
Arks Srinivas, CEO- Vista Mind, Director- Vanguard Business School, explains the Evaluation parameters on which WAT is analysed. He explains, "The parameters of evaluation for WAT are,
Quality of content Facts

Interpretation or Analysis

Conclusion/Opinion/Solution

Quality of Logical arguments

Support your Conclusion

Coherence

Clarity of Language

Basic Spelling and Grammar
While the mentioned parameters are exhaustive, each B-School decides which of these parameters they should give more weight-age to. A candidate must have the right attitude towards work and studies, which gives him that extra edge which led you to have a successful admission into your dream B-school or IIM".
Gautam Puri says, "WAT tests the candidates' knowledge on the given topic along with the writing style. To build on these two, the student must read newspapers and magazines, and cover a wide variety of topics ranging across the domestic and the international circuit."
Also Read
Questions related to CAT
Showing 10711 out of 10711 Questions