How to Create An Impact During GD?
How to Create An Impact During GD? - Due to an effective and highly competitive environment, selection procedures at various institutes or organizations have changed drastically. In earlier times, just on the basis of entrance test and personal interview rounds candidates were shortlisted and selected. But, since time has changed and the number of candidates applying to a particular institute or organization has enhanced.
Institutes and organizations have also changed their selection methods by adding different selection rounds that are anonymous to most of the candidates. The key to acing this round is to keep in mind that it is a formal round and one needs to take care of verbal and non-verbal communication. In addition, candidates must have good self-control to ace this round as they will be judged on parameters like body language, tone, speaking skills, presentation skills, listening skills, etc. To make candidates aware of admission criteria of B-Schools and other organizations and help them know about the common mistakes which are to be avoided, Careers360 brings to you this article on how to create an impact during GD?. Candidates who are planning to appear or are shortlisted for a group discussion (GD) must read the complete article "How to create an impact during GD?" to get preparation tips for GD and other group discussion tips.
Latest Updates for CAT
2 days ago:

CAT 2022 exam tomorrow; know do's and don'ts to avoid any mistake for exam day. Click here.

6 days ago:

Click here to check CAT previous year questions and paper pattern.

15 Nov 2022:

Click here to know about the revision tips to ace CAT 2022 with 99+ percentile.
Stay up-to date with CAT News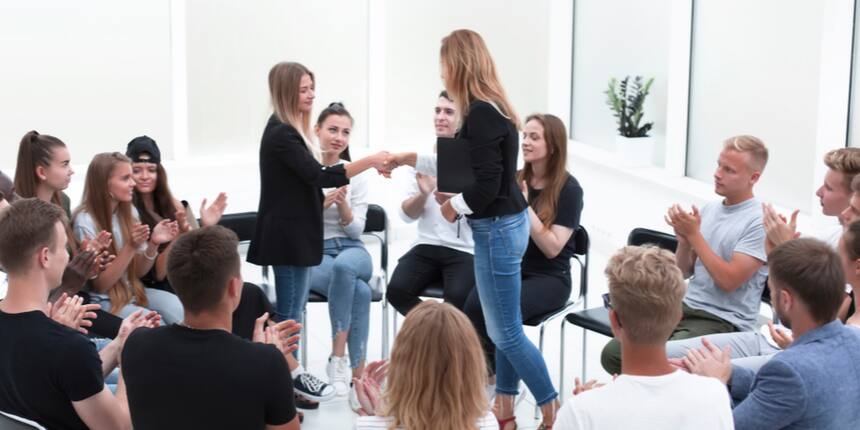 What is Group Discussion (GD)?
Nowadays, be it organizations or institutes all are conducting group discussion rounds to sort out homogenous candidates required out of the heterogeneous candidates applying. Group Discussion (GD) is another tool and a formal round of selection whereby proper groups are formulated to judge a candidate's ability to communicate and apply logic.
GD is different from regular public speaking or debate, as there are certain rules which candidates have to follow. The person who conducts the Group Discussion (GD) is called the GTO i.e. Group Testing Officer. GD has become a shortlisting criteria for many institutes. Now that CAT is over, candidates who will be appearing for GD are advised to go through the tips for GD.
How to create an impact during GD?
Now that you know what a GD is, candidates must try to focus on how to create an impact during GD? Well, it may sound difficult to stand out in a group of 10-15 minutes, but not when you know the tricks to ace the GD. There are a lot of Dos and Don't to be followed by candidates. Let us now see how to create an impact during GD?.
Quick Link -
Evaluation Criteria of Group Discussion
The major aim of conducting GD is to assess the individual as well as group qualities possessed by candidates. Individual qualities refer to knowledge about the topic, reasoning and communication skills, body language etc., while the group qualities refer to group behavior, listening skills and attentiveness, respect for group members etc.,
Major Things To Be Kept In Mind With Regard To GD
| | |
| --- | --- |
| 1. | Attentive Body Language |
| 2. | Formal Dress Code |
| 3. | Try Initiating The GD |
| 4. | Brush Up Basic Topics |
| 5. | Listen Attentively |
Let us look at each point one by one to brush them up as most of the eliminations are done through the Group Discussion rounds for institutes offering college admissions or organizations offering job letters.
Know about; CAT 2022 Sample Paper
Attentive Body Language
When in a group discussion, avoid sitting with a hunched back or a casual sitting posture as it shows a lack of interest. To look confident make sure to sit straight with your backbone being vertical. GTO also assesses the body language of group participants indirectly during the group discussion round. In business communication, body language is considered as non-verbal communication and includes eye contact, hand movements, proximity, facial expressions, posture, and much more.
Body language is also called Kinesics which can be learned by desirable candidates. Body language can be detrimental if not taken care of by candidates during the group discussion. Do not engage yourself with activities like playing with a pen, or using a mobile phone, tapping your foot, etc., as it may distract other group discussion participants and may lead to negative markings.
Quick Links -
Formal Dress Code
Appear decent in front of the GTO and other group discussion participants. Female candidates can wear a formal shirt or top along with a knee-length skirt or full trousers. While a full sleeves shirt and pants would be recommended for male candidates. Do not forget to iron the dress else it may look clumsy. Try not to be too blingy as the group discussion is conducted in daylight.
Quick Links -
Try Initiating The GD
Leadership is a chief feature that all institutes and organizations look forward to in a candidate. It is best to start the group discussion when you are familiar with the topic and know exactly how to initiate it. To be the initiator candidates need to have knowledge about the topic, thus it is important for candidates to be well-prepared. Try to learn some quotes which are common and can be used with all topics.
Quick Links -
Brush Up Basic Topics
Always prepare in advance and learn some common topics which are more frequently asked in group discussion. Check GD PI WAT Preparation Tips from Toppers and Experts who have faced these rounds. In case it happens that even after preparing well the topic given by GTO is not known to you and you have no idea then follow the next point i.e. listen attentively. Listen to what fellow group discussion participants have to say. After a few of them speak, you will have enough points to add on and speak about. This is how you will gain momentum. Prepare some topics from management, business, general knowledge, or anything related to which the Group Discussion is being conducted.
Quick Links -
Listen Attentively
As mentioned, there can be a situation in which the topic given is unknown and may not allow you to be an initiator. Hence, in such situations listen carefully to the group members. This shows a positive aspect that you allow others to speak. Gain the advantage of the situation and listen with an open mind. Try to take a cue from what other group discussion candidates have to offer and add to the topic and then make your move. If you feel you do not have much to speak and contribute to the group discussion topic, try to conclude the discussion in 4-5 lines.
Note - Summarize and put together the whole discussion by highlighting the key points and conclude the same. The summary should be short yet crisp and should include both pros and cons.
Other Key Points that can Impact Group Discussion
Avoid being dominant

Keep clarity in your speech

Do not talk irrelevant

Do not exaggerate the figures (if using any)

Let others speak

Keep eye contact with the group discussion participants and not the GTO (group testing officer)

Participate in mock GD's
Questions related to CAT
Showing 10915 out of 10915 Questions