MBA Admission 2023: MBA is among the most sought degrees across the nation where candidates pursue their careers in the field of management. Last year, a total of 3,54,421 students enrolled in the MBA programme in 3,364 institutions of the nation as per the report of the All India Council for Technical Education (AICTE). India is the nation with the second highest number of MBA aspirants applying to private and government MBA colleges every year.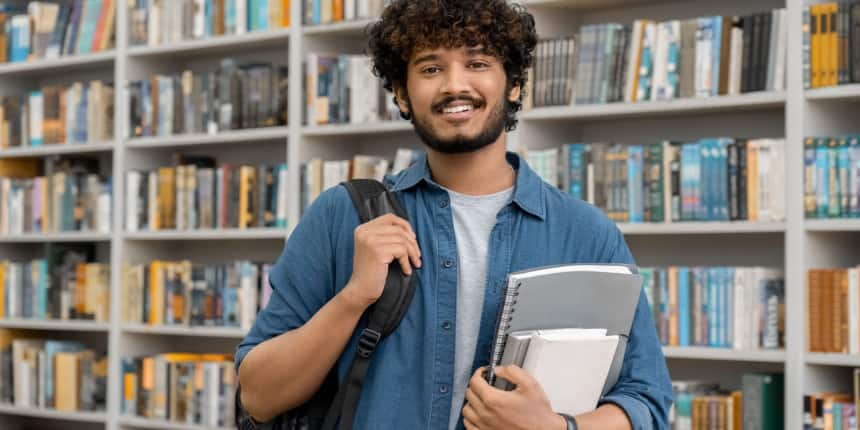 MBA Admission 2023: Eligibility, Fees, Process, Entrance Exams, Top Colleges
With the conclusion of entrance exams like CAT, XAT, SNAP, IIFT, and NMAT by GMAC and others, there are many candidates who are hunting for some good MBA colleges. There are more than 5000 private as well as government B schools and colleges in our country. If you are someone who is looking for taking admission into PGDM and MBA programs for the batch of 2023- 25, then you must go through this article of Careers360. Keep reading this article to know all about the ongoing MBA admission 2023, national-level MBA entrance exams and colleges where students can apply directly for MBA courses.
To view all colleges and apply directly, visit here
Quick Facts about MBA Admission 2023
MBA and PGDM are two similar courses where the basic difference is that MBA is a degree course that can only be offered by colleges affiliated with universities, whereas PGDM is a diploma course offered by autonomous institutes.
Candidates must meet the eligibility criteria such as having a Bachelor's degree in any discipline, a minimum of 50% in graduation, valid score in any national, state, or university-level entrance examination, and so on.
MBA admission 2023 can be through either any top MBA entrance exams or can take admission directly.
MBA admission fees vary as per the college, location, specialisations and other factors.
An attractive and handsome salary is expected out of all the MBA programmes.
Related Article - Difference between PGDM and MBA
MBA Admission 2023 in India: Ongoing MBA admissions
If you are an MBA aspirant looking for a suitable B-school that is still taking admission, you must check this list of colleges provided in the table below. Most of these top B schools take admissions of the candidates by the different MBA entrance exams followed by Group Discussion, and Personal Interviews.
| | | |
| --- | --- | --- |
| College names | Exams accepted | MBA admission Status |
| Great Lakes Chennai | CAT, XAT, CMAT, GMAT | Open /Apply here |
| JAGSOM Bangalore | CAT, XAT, MAT, GMAT | Open |
| Welingkar Mumbai | CAT, XAT, CMAT, ATMA | Open/ Apply here |
| SDA Bocconi Asia Center | CAT, NMAT, GRE, GMAT | Open/ Apply here |
| Great Lakes Gurgaon | CAT, XAT, CMAT, GMAT | Open/ Apply here |
| IFMR Chennai, Krea University | CAT, XAT, CMAT, NMAT, GRE | Open/Apply here |
| Jaipuria Noida | CAT, XAT, MAT, CMAT, ATMA | Open/Apply here |
| IPE Hyderabad | CAT, XAT, MAT, CMAT, ATMA | Open |
| ISBM Pune | CAT, XAT, MAT, CMAT, ATMA | Open |
| SOIL Gurgaon | CAT, XAT, MAT, NMAT, GMAT | Open/Apply here |
| VIT Business School Vellore | CAT, XAT, MAT, CMAT, NMAT, VITEE | Open Apply here |
India's Top NIRF-Ranked Private B-Schools
Appearing for CAT 2023? You must aim for these Top NIRF ranked B-Schools. Check out courses, fee, placements and more.
Download EBook
Resource Links for Online MBA
Online MBA
Online MBA Colleges
Online MBA Syllabus
Online MBA Admission
MBA Admission 2023 Without Entrance Exam
Candidates often look for getting MBA admission 2023 without entrance exams. There are many top B-schools that offer MBA courses without any entrance exams and candidates can apply directly. Check below the list of the MBA colleges which have the process of taking admission directly.
MBA Entrance Exams 2023-24: Major National Level Entrance Exams
Now, coming to the major MBA entrance exam which must be considered by the candidates to get into top MBA colleges, an exhaustive list of top MBA exams has been provided with their important dates and events.
MBA Admission 2023 date and events
MBA entrance exam 2023-24

Top MBA Colleges

Registration & Application Dates

Entrance Exam Date

CAT 2023

20 IIMs, FMS, SPJIMR, MDI, IITs, IMI, NITIE, IMT

First week of August to Last week of September 2023

November 28, 2023 (Tentative)

XLRI, XIMB, XIME, IMT, TAPMI

Second week of August to last week of November 2023

January 7, 2024 (Tentative)

NMIMS, VIT, SPJIMR, XUB, ISB

First week of August to second week of October 2023

Second week of October to second week of December 2023

SIBM Pune, SCMHRD, SIIB, SIBM Bangalore

First week of August to third week of November 2023

December 2023




IIFT Delhi, Kolkata

Fourth week of September to fourth week of November 2023

Second week of December 2023

K J Somaiya Mumbai, GIM Goa, IFMR Chennai, Welingkar, BIMTECH

February 13, 2023 to March 13, 2023

May 2, 2023

More than 100 B-schools including Balaji University (BIMM) Pune, Jaipuria Noida, NDIM Delhi, JBIMS

Last date of registration:

PBT: May 16, 2023
CBT 2: May 30, 2023

PBT: May 21, 2023
CBT 2: June 4, 2023
Apart from these national-level MBA exams, there are different state-level entrance tests as well. These MBA entrance exams are conducted by a state-level testing body or a top state B-school on behalf of the other participating colleges in that state. eg: MAH-CET, KMAT, OJEE, TANCET or APICET.
Steps involved in MBA Admission 2023 Process in B-schools other than IIMs
The MBA admission across India is carried out by shortlisting the candidates on the basis of an entrance exam followed by group discussion and personal interview rounds. Let us check the different phases involved in the MBA admission process in general for other MBA colleges than the IIMs:

Phase 1: MBA entrance exam that is conducted nationally, or on a state or university level
Phase 2: Candidates are shortlisted on the basis of marks secured in the entrance exam, academic profile, and work experience.
Phase 3: Conduct WAT/GD/PI and other personality assessment tests
Phase 4: The final selection for MBA admission is done on the basis of consideration of performance in all three phases
Related Articles -
MBA Admissions 2023 India: Top MBA Colleges in India Accepting national-Level Entrance Exam Score
Also Read -
Top Colleges (apart from IIMs) Accepting CAT Exam Score: MBA Admission Cutoff
The following are the top B-Schools in India that offer MBAs. Check out the expected cutoff and application form schedule for the 2023 session.
Also check: MBA Fees in India for admission in Top B-Schools
MBA Admission cutoff for Colleges Accepting XAT score
| | |
| --- | --- |
| MBA College | Cut Off |
| | 95 |
| XIM Bhubaneswar | 90 |
| IMT Ghaziabad | 90 |
| | 85 |
| | 80 |
MBA Admission Cut off 2022: Colleges accepting SNAP Score
| | |
| --- | --- |
| MBA College | Cut Off |
| | 97 |
| | 96 |
| | 93 |
| | 89 |
| | 88 |
| | 89 |
MBA Admission 2023: Colleges accepting NMAT by GMAC score
| | |
| --- | --- |
| MBA College | Cut Off |
| | 95 |
| | 80 |
| | 75 |
| | 75 |
Read More:
Steps involved in MBA Admission 2023 Process in IIMs
There are a total of 20 IIMs at present in which most of the IIMs have started conferring MBA degrees instead of Post Graduate Diploma in Management (PGDM) after the enforcement and implementation of the IIM Act 2017. The most important aspect of IIM 2023 admission is the CAT exam (Common Admission Test). Candidates must clear the CAT cutoff required by the individual institute to get shortlisted for attending the other rounds of selection.
The first and foremost step towards getting admission to IIMs is qualifying for the CAT 2022 exam which was conducted on November 27, 2022 in online mode. The result of CAT was declared on December 21, 2022 at the official website, iimcat.ac.in.
Steps of MBA admission in IIMs
The stages involved in the MBA admission process for batch 2023-25 in IIMS included the below-mentioned three steps.
Stage 1: Shortlisting of candidates on the basis of their CAT 2022 exam score
Stage 2: Screening of candidates for WAT/GD-PI
Stage 3: Calculation of Composite Score and Final Selection
Parameters for Admission in IIMs
| | |
| --- | --- |
| CAT 2022 score | Overall percentile score obtained in the CAT 2022 exam. |
| Class 10 Score | The aggregate percentage scored in class 10 or equivalent. |
| Class 12 Score | The aggregate percentage scored in class 12 or equivalent. |
| Graduation Score | The aggregate percentage obtained in a three-year/four-year degree course or equivalent. |
| Online PI | Each candidate's performance in Personal Interview is assessed and marks are allotted accordingly. |
| Academic Diversity | Candidates from non-engineering backgrounds are given extra points to ensure fair representation of students from other streams. The points for academic diversity vary for each campus. |
| Gender Diversity | The IIMs give extra points to female/transgender candidates to encourage fair representation of each gender. The points for Gender diversity vary for each campus. |
| Work Experience | Extra points (from 1-5) are given to candidates having work experience. For this, a range is defined from lowest to highest. The points for work experience vary for each campus. |
Also check:
Top Colleges in India offering Management Courses