MBA Admission 2020: Check Application Deadline of Top B-Schools
MBA Admission 2020 - Most of the colleges have started their MBA admission process for the academic year 2020-2022. MBA or Master's in Business Administration is a two-year postgraduate degree course which offers a plethora of openings for candidates. To take admission in an MBA course, the first and foremost requirement is to have a bachelor's degree in any specialization from a recognized institute. Many colleges offer MBA courses of two years time duration. Whereas some institutes offer MBA courses for more than two years duration. Careers360 in this article of MBA admission 2020 will help candidates know all about the MBA course, eligibility criteria, admission process, top institutes offering MBA courses as well as some of the major entrance exams. Candidates who have missed some major exams for MBA admission 2020, should not be disheartened and prepare for the same for the next year admissions.
Latest: CAT application form 2020 correction window opened from September 27. IIM Indore introduces change in the exam pattern of CAT 2020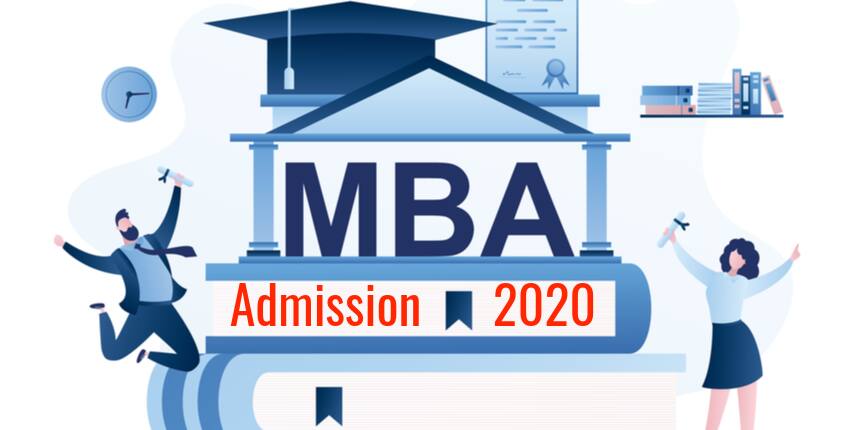 What is an MBA?
Master's in Business Administration which is more aired as MBA course amongst the folks is a two years postgraduation degree that is offered in various specializations. In India, candidates willing to pursue MBA course have varied options. Candidates can opt for a regular MBA course, distance MBA or part-time MBA. Even if the working professionals are willing to pursue an MBA for careers upliftment, they can do so by enrolling themselves in executive MBA course.
What is Eligibility Criteria for MBA Admission?
The first and foremost requirement of MBA admission 2020 is an undergraduate degree for all colleges across India. The bachelor's degree could be in commerce or science or humanities etc., domains. Eligibility criteria of MBA admission 2020 include details related to the educational qualification, marks required, age limit, nationality etc., Candidates who are planning to take admission in MBA course must check the MBA admission 2020 eligibility criteria individually for any preferred college. The basic eligibility includes the following-
Candidates must have a bachelor's degree from any recognized institute

Minimum marks for open category candidates is 55% and 45% for reserved category candidates

Final year candidates are also eligible to apply
What is MBA Admission Process in India?
Thousands of colleges in India offer MBA course at affordable fees. Hence, candidates who are planning to take up an MBA course from India have huge preferences. However, what must be carefully monitored is the MBA admission 2020 process, as each and every institute follows different admission criteria to admit candidates. MBA 2020 admission process must be checked by candidates before they plan to apply in any particular college. Over the years, MBA admission process can be categorized into the following steps:
Choose a B-School

Check the MBA Entrance

Check Eligibility Criteria

Appear for the MBA Course Selection

Take Admission
List of Top Institutes Offering MBA Program
Never can one omit to mention the Indian Institute of Management while talking about MBA courses. Above all the management institutes, IIMs hold an important charm amongst the candidates who are willing to pursue an MBA course in India. Currently, there are 20 IIMs functioning in India that provide MBA course to candidates in the managerial domain. For MBA admission 2020 some of the colleges have started their selection procedure, some have closed while some will commence soon. Complete details on the Top institutes offering MBA course are given below and can be referred by candidates.
Top Institutes - All 20 IIMs (for the Academic Year 2020-22)
Top Institutes Offering MBA Other than IIMs (for the Academic Year 2020-22)
Major MBA Entrance Exams
Colleges these days have become more peculiar about admitting candidates in MBA because of which exam have been rooted by the authorities. MBA course entrance exams can be divided into three major parts i.e. National Level, State Level and University Level. Some of the entrance exams are:
CAT - Common Admission Test is a national level entrance exam which is conducted majorly to provide admission to candidates across India. CAT is conducted by IIMs every year and has an intake of around 2 lacs candidates who aspire to take admission in IIMs. Considered to be highly competitive, CAT scores are considered not only by IIMs but other major B-Schools as well. Check B-Schools accepting CAT score to know and select your preference.
IIM (CAT) Admission Process
Determining factors selection of candidates for IIM WAT/ GD-PI are as follows
CAT score
Class 10 score
Class 12 score
Graduation score
After WAT/ GD-PI round, composite score of each candidate is arrived by calculating marks obtained by them on various parameters.
IIM Admission- Final selection criteria
CAT score
WAT/ GD-PI score
Class 10 score
Class 12 score
Gender diversity
Graduation score
Academic diversity
Work experience
Note: Weightage allotted to each parameter varies for each IIM
MAT - Management Aptitude Test is also a national level test which is conducted by All India Management Association four times in a year. Clearing MAT opens the gateway to more than 600+ B-Schools across India. MAT is conducted in both paper-based and computer-based mode. Application form of MAT 2020 May session is available in online mode.
CMAT - Common Management Admission Test is conducted only in computer-based mode once in a year by the National Test Agency. CMAT 2020 was conducted on January 28. More than 800 colleges accept CMAT scores to admit candidates in post-graduate courses.

XAT - Xavier Aptitude Test is another major national level entrance test for MBA courses which is conducted by XLRI, Jamshedpur. The normalization process of XAT is slightly different as compared to other national level entrance exams. In India, apart from XLRI, more than 600 colleges accept XAT scores. XAT 2020 was conducted on January 5. Passing candidates can apply to various colleges.

SNAP - Symbiosis National Aptitude Test is considered as a national level test. SNAP is conducted annually by Symbiosis International Deemed University for admission to 16 participating institutes across India. SNAP 2020 registration will begin tentatively from the third week of August, 2020.
Apart from the above mentioned exams, some other major entrance exams for MBA course are-
TISSNET

TANCET

AP ICET

TS ICET

LPU NEST MBA etc
Frequently Asked Question (FAQs) - MBA Admission 2020: Check Application Deadline of Top B-Schools
Question: How to select an institute for full-time MBA or PGDM programme?
Answer:
One will have to consider the following parameter prior to selecting an institute for taking MBA admission
Institute's infrastructure
Accreditation of the institute
Specialization offered
Teaching faculty
Tuition fees
Past placements records
Industry interface
City preference
Question: How much would it cost to pursue full-time MBA or PGDM programme?
Answer:
Every B-school/ college has its own fee structure. Overall, it may cost you Rs 25000 to Rs 15 Lakh or more to pursue full time MBA or PGDM programme.
Click here to check MBA fees
Question: What is the eligibility criteria to pursue full-time MBA or PGDM programme?
Answer:
In order to eligible for full time MBA or PGDM programme one need to fulfill the followinng criteria
Candidates should have done their graduation in any field with having 50% marks in total aggregate
Candidates need to clear the selection process of the B-school, starting with an entrance exam accepted by B-school i.e. CAT, MAT, XAT, SNAP, CMAT etc
Question: What is the selection process for admission full-time MBA or PGDM programme?
Answer:
The selection/ admission process in B-school is based on:
Past educational qualification
Scores in management entrance exam
Performance in Group Discussion (GD)
Performance in Personal Interview (PI)
Work experience
Question: What entrance exam need to be taken for admission into MBA or PGDM programme?
Answer:
For admission into MBA or PGDM programme, one need to take management entrance test accepted by B-schools you are targeting. Check below some of the popular entrance exam.
CAT - Common Admission Test
MAT – Management Aptitude Test
CMAT – Common Management Admission Test
IBSAT – ICFAI Business Studies Aptitude Test
GMAT – Graduate Management Aptitude Test
XAT – Xavier Aptitude Test
SNAP – Symbiosis National Aptitude Test
NMAT – NMIMS Management Aptitude Test
IRMA – Institute of Rural Management Anand entrance test
IIFT – Indian Institute of Foreign Trade entrance test
Question: What minimum score/ percentile is required in CAT to get into IIMs?
Answer:
It depends on candidate's profile. However, as per past year trend the minimum percentile range to getting a GD/ PI call from IIMs is 85-90 percentile
Questions related to CAT
Showing 8935 out of 8935 Questions