Tips To Ace CAT Personal Interview - Check Here!
Tips To Ace Personal Interview - Do you get jittery when it comes to facing the judge's panel? Although the personal interview of MBA colleges differs a bit in terms of the external job interview. Yet it is most likely for candidates to have apprehensive thoughts.
Stay up-to date with CAT News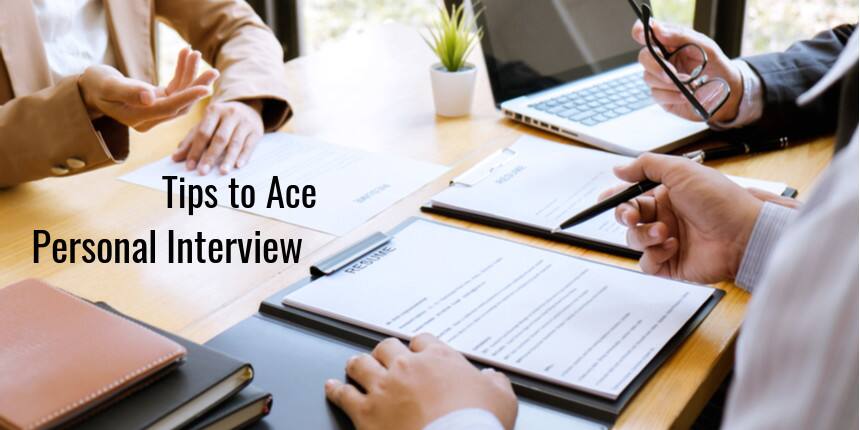 What if I couldn't crack the interview? What will I say if I do not know the answers to some questions? How should I ace my CAT personal interview? Are there any tips to ace it? Well yes, we at Careers360 will provide you with tips to an ace personal interview in this article. What a personal interview is? What questions can be asked? What to avoid during personal interview etc, will be there in this article along with the tips to an ace personal interview. These tips can also be used by candidates during a job interview. As the MBA admissions in India are on peak time, candidates who are to face the admission process of B-schools can also use these tips to ace personal interview rounds.
4 min read
Mar 05, 2022
Read More
What is a Personal Interview?
With context to admission or jobs, a Personal Interview is a one on one real-time interaction between a personally called interviewee and another personal / group of personnel called interviewer or panel. Personal Interview is a major tool used by institutes (at time of admissions) / organizations (at time of job placements) to gauge the abilities of an individual. In a personal interview not only the verbal responses are noted by the interviewer or panel, but also implied behaviour is carefully monitored.
What is asked in the PI?
Interviewers are curious to know everything about the interviewee. In a personal interview, there will be questions about your personality, your work style, work experience, psychological behaviour towards things and work interest. Always remember to bring out the positive side even if the interviewer has asked a negative question. While there are some questions that do not have any right or wrong answers, make sure to be specific about them and try to answer in a dominating manner.
12 min read
Mar 05, 2022
Read More
Major Things To Be Kept In Mind For Personal Interview
Do not speak wrong if you are not familiar with the topic asked by the interviewer

Speak only the actual algorithms. Do not try to bluff to look intelligent

Avoid slang/jargon

Be in a formal dress code

Show your presence of mind

Be prepared
Tips To Ace Personal Interview
Now that you know what a Personal Interview is and what you should not do. Let us now move onto the tips to ace Personal Interview.
Do your research

Do not be empty-handed

Know the basic etiquettes

Learn behavioural interview techniques

Dress for success

Demonstrate confidence

Be an active listener

Use illustrations

Ask questions

Stay calm and motivated
Let's look at the detailed tips to crack Personal Interview one by one carefully:
Do your Research For Personal Interview
Learn about the institute or company in which you are about to give the Personal Interview. Take your time to research the institute or company. Doing good research will allow you to stay confident on this aspect and you will be ready to answer all related questions. Read the "About Us" section on the website of the institute or company. If you know people who have studied at the same institute or worked for the same company, go and ask out their opinion about the institute or company. Do not go unprepared.
Do not go empty-handed
Do not land up without any certified documents or original certificated. Going empty handed may leave the interviewers thinking about exact qualification. Make sure to take the following listed documents.
For Admission Personal Interview- Take class 10 and 12 certificates. In case of postgraduate admission take a Bachelor's degree as well.
For Job Personal Interview- Take certificates, a Few copies of your resume/CV, any additional educational certification.
Basic Documents- Some passport-size photographs, a pen, notepad/papers.
Know the Basic Etiquettes
Due to agitated state of mind, candidates make minor blunders and end up losing points. Candidates remain unaware of the basic etiquettes. Take your time and prepare yourself. Some of the basic etiquettes that candidates must follow are-
Be on time and don't be late

Do not use a cell phone during the personal interview

Pay attention to what the interviewer is communicating

Talk only about what is necessary. Do not over-talk

Do not badmouth any institute or organization

Maintain a proper body posture
Learn behavioral interview techniques
Apart from the basic interview question, candidates need to prepare themselves for some behaviour based questions as the Personal Interview also judges what is implicit. Behavioural interviews are aimed at judging candidates on how well they have handled their past situations. The best way to prepare for this is to make a list of your strengths and weaknesses and then try thinking of situations where you think you have applied them.
Quick Links-
Top MBA Personal Interview Questions for Admission
How to crack GD/WAT PI rounds of top B-schools
Dress for success
Be in formal attire and look confident. It is said that a well-dressed person is half prepared. Although, there is no proper dress code defined for the interviewee, do not try to be creative with the dress code. Wear a formal dress code. Do not wear heavy perfume. Avoid doing too much makeup if you are not interviewing for a creative company or fashion institute.
Be confident
Be confident in how you look, speak and behave. Never let the interviewer feel that you are losing confidence through your answers. Remember that non-verbal communication is equally important and helps you portray yourself in a good manner. To look and stay confident maintain a positive body posture. Think positive during the interview. Your mood is reflected in your voice and hence is considered a factor of how confident you are.
Be an active listener
Do not force the interviewer to feel that you are losing interest and are being non-attentive to his questions. Listen to what he says and not hear what he says. Remember that "Listening is active" and "hearing is passive". Hence, be attentive and an active listener.
Use illustrations
If the interviewer asks you any questions, try giving the answer along with some examples. Make sure to showcase the positive aspects of the question. Do not exaggerate the examples as they make sound confusing and a part of storytelling. Prepare some illustrations in advance and imagine a situation. Make it sound like a real situation and above all speak it with confidence.
Ask questions
As already known that a Personal Interview is conducted as interpersonal communication. Henceforth, the candidates also have the option to ask question/s from the interviewer with regard to the institute or company. Do not hesitate in asking something that you think can be relevant and support your decision to join that organization or institute. Take complete advantage of the opportunity.
Stay calm and motivated
In the case of nervousness, try using the washroom and make yourself at ease. Remember that it all shows on its face. Hence, be confident and remain calm. Prepare yourself in advance to see the after-effects. Take some deep breaths for freshening your mind and enchant that your personal interview will be successful.
CAT Personal Interview
Now that CAT 2022 result has been declared, candidates must prepare themselves for the CAT PI round. The best way to ace CAT Personal Interview is to follow all the tips above and be thorough with your research on CAT Personal Interview questions. Preparing for answers beforehand and being prepared for how you will react in a particular scenario will increase your confidence.
Quick links
CAT 2022: When and how to start preparation
How to prepare for CAT without coaching
Questions related to CAT
Showing 10585 out of 10585 Questions