How to prepare for CAT 2020 in 3 months
How to prepare for CAT 2020 in 3 Months - Common Admission Test i.e. CAT 2020 is scheduled to be conducted on November 29 and be conducted by IIM Indore. Experts of CAT suggest that to score good committed preparation of three months would be ample enough. After clearing the national level entrance test, candidates will be called by IIMs and other top B-Schools of India. If you aspire to see yourself for getting graduated from reputed institutes then you should dedicate yourself completely in preparing for India's toughest exam i.e. CAT. Indian Institutes of Management collectively conduct the CAT entrance exam on a rotational basis. CAT is considered toughest amongst all exams due to the fact that candidates are required to answer. Candidates are advised to check the best books for CAT preparation. Careers360 brings to you expert advice on how to prepare for CAT 2020 in 3 months before the D-Day.
Latest- Know all about CAT Mock Test 2020. Candidates will be able to download CAT 2020 admit card from October 28.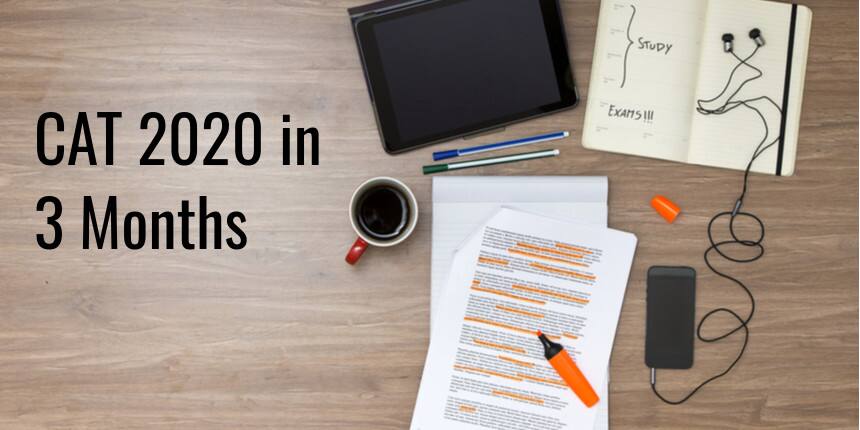 CAT 2020 Preparation in 3 Months
Although cracking CAT 2020 exam may seem impossible for beginners without coaching and guidance, however, it is not. To crack the code of CAT 2020, candidates need to follow a standardized approach. Candidates need to have an elementary knowledge of CAT 2020. Once the candidates hold a grip on the basic paper pattern and syllabus of CAT 2020, half of the work is done. No question that preparing for the toughest exam of India may lead you down with a bit of discomposure and stress, but do not be disheartened and lose motivation. Candidates are requested to follow the below-mentioned key points.
Overview on How to Prepare for CAT 2020 in 3 Months:
Sectional Division of Overall Preparation

Know your strengths along with weaknesses

Accept the importance of previous year question papers

Time management

Coaching or self-preparation

Mock test
Sectional Division of Overall Preparation
As per the exam pattern of CAT, the question paper of CAT 2020 will be divided into three major sections namely quantitative ability, verbal ability & reading comprehension, logical reasoning and data interpretation. As of now, no such information on an addition or deletion of any section has been notified by IIM Indore. Thus, all candidates are advised first break their preparation on the basis of each section individually as they have to hit CAT 2020 in 3 months only.
For Quantitative Ability Section
Candidates should take at least two hours daily for this section as it requires clearing basic mathematics

Major focus while preparing for QA section should be upon building up mathematics from the core level

The common topics which are asked in this section are geometry, profit and loss, number system etc.,
For Verbal Ability & Reading Comprehension Section
Read more newspapers be it physical copies or virtual ones

Read blogs, articles to enhance grammatical skills

Buy books that contain basic comprehension and inferences

Try to comprehend in English with your family and friends
For Logical Reasoning and Data Interpretation Section
This section is considered to be the most unpredictable by CAT toppers

As per topper Lakshya Kumar, the questions in this section are not from any fixed or particular topic
Quick Links-
Know Your Strengths Along With Weaknesses
With CAT 2020 being almost three months aways, candidates who will start their preparation must target on finding out their strengths rather than focusing on what they can not do. Learn new methods of solving the questions which you already know. Take leadership and start with the major topics of CAT 2020 syllabus which you think you are good at. On the other hand, it is always advisable for CAT takers to know their weaknesses as well. Once you know which areas you need to work on, a better preparation strategy can be devised to aid those areas as well. According to CAT topper Rishi Mittal, "capitalize on strengths and work on weaknesses, and repeated this cycle".
Accept the Importance of Previous Year Question Papers
Before being eye to eye with the CAT 2020 question paper, candidates should check out past year CAT question papers. After completing the process of knowing the pros and cons, candidates must make a schedule in which they should start solving at least one CAT question paper to know the exact CAT 2020 exam pattern. Solving previous year question papers will help to improve their question-solving pace as well as accuracy. The biggest advantage of solving previous papers is that after solving a few question papers candidates will not notice any new question.
Quick Link-
CAT Sample Paper 2020

Time Management
Most of the toppers consider time management as an important factor in the CAT exam. Without knowing how to solve 100 complex questions within the time duration allotted, candidates will not be able to score good marks and may end up losing more marks because of negative marking. CAT Topper Somansh Chordia says, " ensured that I maintained my efficiency by switching between different tasks whenever I felt saturated. I believe time management is much easier when you are passionate about what you are doing, so simply realizing that makes a lot of difference". Whereas another CAT topper Sukumar said," I think Time management combined with my knowledge on my strong and weak areas benefited me to get 99+ which I never expected. I managed to schedule the preparation time along with placement preparation. During the exam, I found 2 sections in DILR time taking and chose not to attempt them. Coming to QA, I knew which questions I would solve in 60 minutes and attempted only 20 questions".
Coaching or Self-preparation
Once decided that you have to score good in CAT to take admission in top B-School, it is necessary to decide how you would like to start your preparation. Candidates have two options with them i.e. either take coaching classes or take everything in their hand and start preparation by themselves. Both have their advantages and disadvantages. Lets have a look at what our CAT 2019 toppers have to say on this aspect.
Rahul Gupta said, "I took coaching from T.I.M.E. As the performance was good in mock test, I got an opportunity to meet the head of the institute at Chennai and he gave me feedback which was very useful for me. As far as self-study is concerned, one needs to have proper study material for the same and one has to maintain consistency while covering the syllabus. A test series from a good coaching institute will prove beneficial along with the CAT mock tests."
Rahul Manglik said, "I had joined TIME coaching classes and Career Launcher mock tests. However, I didn't attend many classes and rather focused on self-study. My sister guided me through the process. I don't think coaching classes are necessary if one has the discipline for self-study on a regular basis."
Anumay Ashish said, " I believe coaching is not the most necessary part but yes something like TIME really helps to keep u up for the exams. Not only this, but the entire concept of coaching also makes you ready for sitting in 3 hours for an exam since most of us have lost that ability."
If you plan to study on your own, then check out our article of CAT 2020 without coaching to have better insights on the success tips.
Mock Test
Every year for preparing candidates in a well-informed manner, Particular IIM provides the facility of mock test. Complete exam day simulated ambience is created through the mock test of CAT. Candidates also get their hands on the stressful experience through CAT mock test. Topper Ronit Banerjea said, "I was also regular with my attendance of scheduled mocks and attempting of sectional mocks, which helped boost my performances in all 3 sections."
While topper Ankit Desai who scored 99.91 percentile in CAT 2019 said, "I appeared for around 40 mocks (35 of them from TIME), and analysed them to understand my mistakes and worked on them. Starting August, I practiced 50 questions for each topic in Quant, around 200 sets for DILR and solved over 100 RCs (excluding mocks). This way I had studied all topics by mid October and then started to strengthen my weaker sections. The last 15 days were all about giving mocks (one in three days) and analysing them and going through past year papers."
Basic Tips on How to Prepare for CAT 2020 in 3 Months
Apart from the above-mentioned candidates must check the following tips to excel in CAT. Enlisted below are the key points which candidates need to focus -
Practice as much as you can

Concentrate

Eat healthy food

Exercise

Focus on tricks
Questions related to CAT
Showing 9060 out of 9060 Questions