How to prepare for CAT 2021 DI & LR
How to prepare for CAT 2021 DI & LR- To ace CAT 2021, every aspirant must follow an effective preparation strategy to have a good score both section-wise and overall. Data Interpretation and Logical Reasoning is one of the most challenging section in CAT 2021. As the name suggests, CAT DILR section assesses a candidate's ability in problem solving. Regular and vigorous practice helps one to get an edge in this section. So how do you prepare for CAT DI and LR questions? Well, one must begin with understanding the basic concepts of CAT DI and LR. The logical reasoning and data interpretation section of CAT has a sectional time limit of 40 minutes in which candidates have to answer 24 questions (as per CAT 2021 exam pattern). Careers360 brings you details on all the aspects of how to prepare for CAT DI and LR questions.
Quick Links-
CAT preparation tips for beginners
How to prepare for CAT without coaching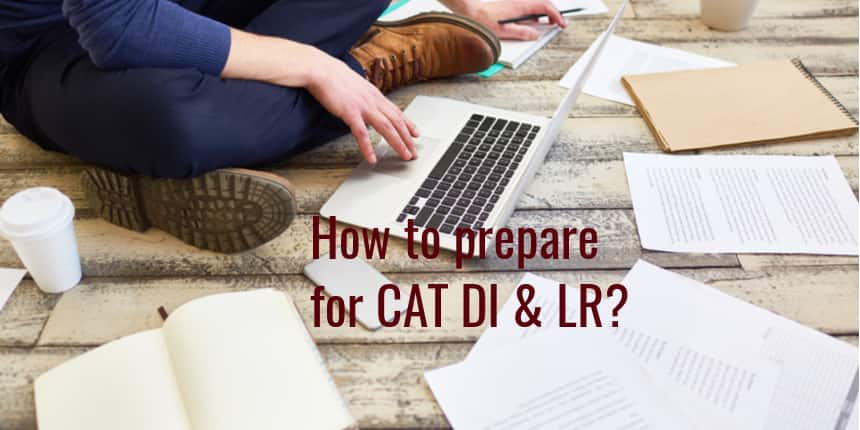 How to Begin your Preparation for CAT DI and LR section?
To begin the preparation of Data Interpretation and Logical Reasoning sections you must start practicing CAT study materials or any coaching modules. You must start with solving the basic concepts like ranking, seating arrangements, quantitative reasoning, Venn diagram and so forth. Such topics will help you to build the concepts strong for CAT 2021.
Preparation strategy for CAT 2021 at different levels
Beginners:Students who have never solved the puzzles, logical reasoning questions or sudoku must begin by solving the basic sets of questions from study materials or online websites.
Intermediate:Students who are generally interested in solving questions can skip solving the basic sets and raise the difficulty level of sets by solving questions from rankings, arrangements and matrices.
Expert: Students who have earlier attempted CAT and are confident enough with the basic concepts of the LRDI can begin their preparation by solving previous year questions of SIMCAT, AIMCATs andCAT previous year mock papers and so forth.
Test-Taking Strategy
Once you are done with solving the basic sets of questions, the next step is to have a good test strategy. Some of the effective test strategies are:
Scan the test:While you solve the practice papers or mock tests don't start over with the first set provided. Give 4-5 minutes to read all the questions of DI LR and pick the few sets which you can solve quickly. Pick 1-2 sets which are easy to solve first and then move to difficult sets.
Set selection: In every paper, there are easy to difficult sets of LR DI. Identify the easier sets and attempt them first. Make sure you don't leave the easy sets and get stuck to difficult sets. Regular practice from each type of set will help you identify the difficulty level. For instance, pick the sets which have few people or less number of variables in questions and leave questions with heavy information for later.
Move ahead:While solving the questions of CAT LRDI it is very important to leave the questions from which you are not able to derive the answer. Not all questions are meant to be solved as some are tricky questions. If you are not able to solve the question in the prescribed period move to the next question without wasting any time.
Get CAT Question Papers here.
Steps to Solve CAT DI and LR Questions
Before solving the CAT DILR, be familiar with the time limit for each section in CAT 2021. To solve the DILR questions of CAT don't just focus on practicing more and more number of questions. Instead focus on the right approach to be used for solving the questions. Some of the important steps to solve the DI LR questions are:
Analyze the type of questions:Before beginning with your CAT 2021 preparation, know the important topics of DILR sections. Knowing the complete CAT DILR syllabus will come handy when you will solve CAT questions within the time limit of 40 minutes. With the sectional time limit, it becomes imperative to select the type of sets that can be solved with high accuracy.
Know the tricks to solve different types: Each type of set has some trick to solve. One can find these tricks in the study materials of various publishers or coaching institutes. Take the note of these tricks and ensure that while you attempt the CAT questions from any particular type you must apply the trick. Knowing the trick to solve the questions helps to save time and effort. With the frequent application of the tricks, they become automatic responses to the stimuli and maintain the pace.
Related Article- Best Books for CAT 2021 preparation
Build mental legend:DILR section includes questions like arrangements, puzzles, Venn diagrams and so forth. Such topics include a lot of information which becomes difficult to retain while solving the complete question. Hence, students are advised to note the keys to all the abbreviations and symbols before getting confused. Mental legends can vary from person to person. Its sole importance is to avoid any kind of silly mistake or confusion.
Decode constraints: DILR questions for CAT say more than what appears on the surface, often tricking the students. Hence, while solving the CAT DILR section, it is important to find the hidden meaning or information. If you are unable to solve the question there might be some information that you are missing upon.
Tips to Answer Logical Reasoning Questions in CAT 201
Check the following tips on how to tackle Logical Reasoning questions in CAT 2021:
During preparation days, candidates are advised to give equal importance to the information provided in the question and the factual data
Before choosing the correct option, candidates should read the choices carefully
While answering the Logical Reasoning question, candidates must understand first the information provided in the question
Do try to utilize the provided table, graph or chart to organize your information
There are lots of videos available on the internet of CAT toppers on how to prepare for CAT Logical Reasoning section. So, during preparation days one should watch such videos for conceptual clarity
On the D-day, if a candidate facing the problem of Logical Reasoning question, then in such case it is good to skip that one
When the exam date is nearby, try to take CAT mock test as much as one can and also solve previous year CAT question paper to understand the exam structure
Other Important Tips: How To Prepare for CAT DILR
Brainstorming activities: Questions of Logical reasoning and Data Interpretation are all about hidden information in the question. Don't limit yourself to the questions provided in the study material rather utilize your leisure time by solving Sudoku and puzzles. Also, you can enhance your skills by playing mobile games like 2048. Such activities help in brainstorming and simpler ways to prepare for the LR section.
Take Frequent Mock Test:CAT mock test helps aspirants to become familiar with the exam environment and structure. Further, mock tests will help you formulate a strategy on how to move from easy to difficult questions within the prescribed time limit. Additionally, mock tests help you provide valuable feedback which should be incorporated to score more.
Manage time: As CAT 2021 will include a sectional time limit of 40 minutes for each section, students must formulate their strategy as per the exam pattern. Don't get stuck on the questions which you are not able to solve within the time limit you have set for each question. Move to the next question and solve all the easy questions first.
Previous year exam papers:Past year question papers act as an extremely good source for preparation. Solving the questions papers will help you develop the necessary skills. Not only it will help you get familiar with the types of questions and the difficulty level but also it acts as a great source of question bank with good questions.
Analyse your performance:After having solved a number of questions from previous year papers or mock test, now is the time to analyse your strengths and weaknesses. Make a category of problem types and identify which questions you are comfortable and with which you are not. By categorizing you will be able to know which topics require more attention.
Improve your performance:After analysing your performance now work upon to improve your speed and focus on mental calculations to consume less time dor DI questions. Preferably students are suggested to learn the square at least till 30, a cube at least till 20, square roots at least till 10 and conversion from fraction to the percentage for quick calculations.
Questions related to CAT
Showing 9654 out of 9654 Questions