CAT 2022 Preparation Tips for Beginners - How to Prepare for CAT
How to prepare for CAT 2022 - How to prepare for CAT is one of the most common asked questions among fresh graduates or working professionals. CAT remains one of the most coveted entrance examinations in which few students are able to make their way through IIMs.
Latest Updates for CAT
4 days ago:

CAT 2022 exam tomorrow; know do's and don'ts to avoid any mistake for exam day. Click here.

21 Nov 2022:

Click here to check CAT previous year questions and paper pattern.

15 Nov 2022:

Click here to know about the revision tips to ace CAT 2022 with 99+ percentile.
Stay up-to date with CAT News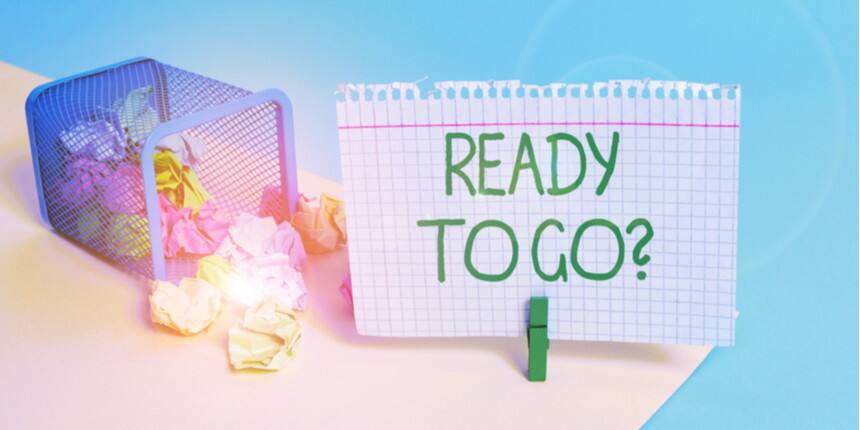 Students must note that completing the syllabus of CAT is not sufficient to bell CAT exam, it also requires a versatile approach and incorporating changes in the study plan. CAT is conducted in online mode. CAT exam pattern consists of three sections with a sectional limit of 40 minutes. To ace, these sections Careers360 brings to you CAT 2022 preparation tips for beginners. It is imperative for all fresh aspirants to run through the CAT preparation tips for beginners to know how to ace the test. Here are some essential tips for beginners to prepare for CAT Exam.
CAT Preparation Tips for Beginners - Common Mistakes To Avoid
Starting late
It is advisbale to begin CAT exam preparation early. One of the tips for CAT preparation by toppers is one cannot improve verbal ability in a month or so as it requires continuous practice and attention. Students must know that the formation of a reading habit takes time, hence one should start early to have good reading skills. As per the experts starting preparation nine months before the examination is the ideal time.
Ignorant about exam pattern and syllabus
One of the important and foremost things to do is to know the CAT syllabus. Many students spend time on obscure concepts, for example, students might know that reading comprehension is a major component of verbal ability, hence practicing vaguely without knowing the topics from which reading comprehension is given is a waste of time. Students must make the list of topics that are covered under each section and know the percentage of each question asked.
Lack of strategy
Not having a plan of action is similar to walking through a maze. If you learn something and don't put it into practice then it is a sheer waste of time. Also, avoid practicing questions from one skill set. Remember if you can't solve basic questions while practicing then surely there is an error in strategy. Make sure to have a weekly schedule on how many questions you will practice and mocks you will give. As the syllabus of CAT is vast, cover the topics by setting weekly goals and learn formulas to build confidence
Balancing between strengths and weaknesses
It is always easy to solve questions from the areas you are strong in, however, one of the important CAT preparation tips for begineers is not to focus on the short term rather focus on long term goals by building the foundation and working on the areas you are weak in. Take ample time to understand the topic you are weak in before jumping to another topic.
Lack of practice
Students should learn to make a difference between passive learning and active learning. Passive learning is understanding the concept through lectures and videos and not implementing it in practice. Whereas, active learning is understanding the concept and practising a number of questions related to that topic. Therefore, students should not presume that they have understood the topic without practising at least 5-10 questions from each set.
Focus on process over result
Many beginners fixate on a target of achieving 99 percentile rather than focusing on preparation. It is always advised to focus on your preparation and accuracy to answer questions over the percentage you desire to achieve. Despite you have scored less in class 12th or graduation, always focus on the future on how to get an additional 1 per cent through preparation.
CAT Preparation Tips - How to Prepare section-wise
How to Prepare for Quantitative Ability
Know the syllabus and exam pattern
The syllabus of CAT quantitative ability is generally covered from class 10th, 11th and 12th level which includes the common topics like Arithmetic, Algebra, Geometric Progression, HCF & LCM, Logarithms, Number Systems, Profit & Loss, Time-Speed and Distance and so forth. While practising the questions from the topics above, note down the time you take to solve questions from a topic. You know how much time you are needed to devote in a particular section to manage time effectively.
Decide your Strategy
While you decide to appear for CAT 2022, you don't know what might appear on your plate. On the other hand, you know the topics from which questions are likely to be asked, hence prepare your strategy accordingly on how to tackle the questions with accuracy.
Speed and Accuracy
Once you know the topics, the next step is to work on speed and accuracy. Sectional limit of 40 minutes is given for each section, hence for each question we have less than 1.5 minutes. Make sure you practice each unsolved/wrongly marked questions minimum two-three times so that they become a part of your subconscious knowledge. Also, while you read the question paper be selective on which questions you can attempt correctly and leave the difficult questions for later. Also, improve your calculation speed by learning the tables, square roots, fractions every night before sleeping. Deduce your calculation with the help of the options that will be provided.
How to Prepare for Data Interpretation and Logical Reasoning
Vedic Mathematics
Data Interpretation evaluates the candidate's ability to solve the questions. DI questions usually involve a lot of calculations, hence Vedic math helps to solve questions quickly and with accuracy.
Read carefully
Logical reasoning questions are set based hence before selecting the answer, read the question properly and collect the facts shared in the question.
Do not Assume
Always read the question properly, don't take a shot in the dark. Stay alert with the keywords like, 'none', 'some', 'all', 'unless' and so forth.
How to Prepare for Verbal Ability
Reading is the key
Reading is one of the important ways to improve your vocabulary. Always read from different genres and step out of your comfort zone. By reading from different genres you will run into new words. Make sure you take note of the new words and definition.
Each day, a new word!
Promise yourself to learn a new word each day from the text you read. What about downloading the mobile application and making it a piece of cake? Applications such as Vocabulary.com, Magoosh Vocabulary Builder, Word to Word and many more helps you learn new words and their usage in a sentence.
Apply!
Now that you are learning a new word each day, try to use that word in your daily life. Also, if you hear any new expression, idiom or phrase try to inculcate them in sentences while talking to friends or family. It becomes easy to remember more often you use.
Reading Comprehension
Assess your current reading by noting the time you take to read a passage. To know your capability pick a passage from any magazine, book, newspaper or novel and note the instances where you lag, for example, difficulty in understanding a few words. If you take time to understand a few words, focus on improving your vocabulary by creating flashcards of the words you were not able to relate to. Write the definition of the difficult words and twice or thrice take a quiz of yourself from the vocabulary you have written on your flashcard.
Frequently Asked Question (FAQs) - CAT 2022 Preparation Tips for Beginners - How to Prepare for CAT
Question: When will CAT 2021 be held?
Answer:
CAT 2021 is likely to be held on November 28, 2021, in 156 cities across India. The examination will be conducted in more than 425 examination centers in two or three sessions.
Question: Which IIM will conduct CAT 2021?
Answer:
The name of the institute that conducts CAT 2021 will be announced by June 2021. The official announcement will be available in the last week of July 2021.
Question: How many months is enough to prepare for the CAT exam?
Answer:
It takes a minimum of 6 to 9 months to prepare for the CAT exam. Daily 8-10 hour surveys are required at least 5 days a week.
Question: What is the difficult section of the CAT exam?
Answer:
One can't really say which category is tougher in CAT. Although QA is considered difficult, it is computational-serious, but in the past, it has become VARC tricky or DILR has surprising questions. Overall, the difficulty level of the CAT exam is higher than any other MBA entrance exam.
Question: Can I prepare for CAT 2021 on my own?
Answer:
Yes, you can prepare your own CAT exam, but it will require serious self-discipline, hard work, and dedication.
Question: Is coaching institute mandatory for scoring 99+ percentile in CAT?
Answer:
No, the coaching institutes are not mandatory for CAT exam preparation. Many students in the past have scored 99+ percent through self-examination. However, whether or not to enroll in a training institute is a personal decision that must be made with personal discipline and time available for CAT preparation. The advantage of coaching is that students will get a guide to guide them through their preparation journey.
Question: How many questions are asked in the CAT?
Answer:
The CAT exam question paper has 100 questions. The VARC section has 34 questions, the QA section has 34 questions, and DILR has 32 questions. As per last year's trends, in CAT 2020 the total number of questions was 76.
Question: Are there any negative mark to incorrect answers in CAT?
Answer:
Yes, there is a negative marking of -1 mark for every incorrect attempt. There is no negative marking for TITA questions.
Question: Do PwD candidates get extra time in CAT exam?
Answer:
Yes, PwD candidates get 20 minutes extra for each section in the CAT exam. To avail of this facility, they need to upload the PwD certificate with the CAT 2021 application form and carry one copy of the certificate to the exam centre.
Question: Are practicing sample questions enough to cover the DILR section?
Answer:
Since DILR is a logic-based unit, one might think that practicing sample papers would be sufficient, but to build a strong platform to solve any puzzle, it is important to understand the basics of DILR topics.
Question: How can I expert in VARC section of CAT?
Answer:
To gain a foothold in the VARC section, start reading English novels and books of all genres from the earliest stages of CAT preparation. This will strengthen your vocabulary, grammar, and reading comprehension skills.
Questions related to CAT
Showing 10892 out of 10892 Questions