CAT Quant Syllabus 2022 - Quantitative Aptitude Questions pdf, Mock Test
CAT Quantitative Aptitude Syllabus 2022 - Indian Institute of Management (IIM) Bangalore will conduct CAT 2022 on November 27. There is no predefined syllabus for CAT 2022 quantitative aptitude section, however, Careers360 provides you with the compiled CAT syllabus 2022 which has been determined on the basis of the past years' question papers of CAT.
Stay up-to date with CAT News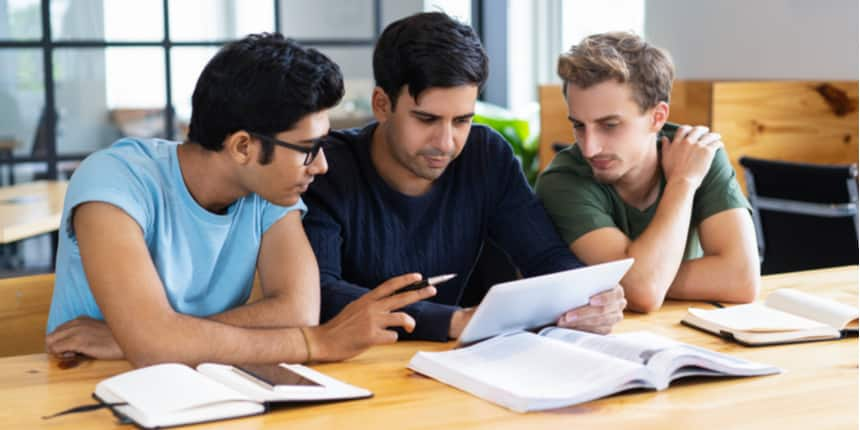 In the quantitative aptitude section of CAT, there are 22 questions that will be asked. The aim to provide CAT quant syllabus 2022 is to enable the candidates to identify which topics they find difficult and which might require more time as compared to others.
CAT Quantitative Aptitude Syllabus 2022 - Overview
Candidates who will appear for the Common Admission Test must be well versed with CAT exam syllabus for IIM and its quantitative aptitude syllabus. There is no syllabus provided on the CAT exam syllabus 2022 official website. Moreover, while trying to cover the syllabus of quantitative aptitude, candidates can also check what are the best books for them. Also, it is imperative for the candidates to be aware of the CAT exam pattern.
Read the full article to know all the details related to the CAT exam syllabus for quantitative aptitudes such as the topics that are covered, how many questions are likely to be asked in CAT 2022, what are the best books and preparation tips.
Browse Top MBA Colleges Accepting CAT Score: Location-Wise
Events

Details

Name of the section

Quantitative Aptitude

Number of questions

26

Type of questions asked

MCQ and TITA (Non-MCQs)

Total marks

78

Number of MCQs

24-26

Number of TITA questions

6-8

Sectional time limit for QA

Yes, 40 minutes (53 Minutes 20 Seconds for PwD candidates)

Difficulty level

Moderate to high

Marking scheme

+3 for every correct answer

-1 for every wrong/incorrect answer
CAT Exam Syllabus for Quantitative Aptitude
The quantitative aptitude of CAT 2022 consists of numerical-based questions to assess the candidate's mathematical skill and accuracy. The CAT quantitative aptitude syllabus includes questions related to elementary and basic mathematics.
This section will consist of a section-time limit of 40 minutes (53 Minutes 20 Seconds for PwD candidates). On the basis of previous year's CAT question papers, let's have look at the important topics of the CAT quant syllabus 2022.
Top Colleges in India offering Management Courses
Topics for CAT 2022 Quant Syllabus
| | | |
| --- | --- | --- |
| Coordinate Geometry | Mensuration | LCM & HCF |
| Set theory & Function | Probability | Quadratic and Linear Equations |
| Number System | Averages | Complex Numbers |
| Ratio, Proportion & Variation | Speed, Time and Distance | Geometry |
| Compound Interest | Profit, Loss and Discount | Algebra |
| Trigonometry | Permutation and Combination | Progressions and Series |
| Quantitative Aptitude Questions | Quantitative Aptitude Shortcut Techniques for CAT | Number System Shortcut for CAT |
| Shortcuts in Averages | Remainder Concepts | Circles |
| Factorials | Power Cycle | Relatives Speed |
| Arithmetic Progression | Polygons | Harmonic Progression |
| Quadrilaterals | Points, Lines and Planes | Circles |
| Angles | Geometric Progression | Weighted Average |
| Graphical Division Geometry | Similar Triangles | Derangement |
| Applications of Averages | Conditional probability | Application of Power Cycle |
| Constant Product Rule | Laws in Set Theory | Properties of Ratio |
| Triangles | Boats and Streams for CAT | Escalator Questions for CAT |
Topics and Total Number of Expected Questions in Quantitative Aptitude
Some of the topics are expected to repeat in CAT 2022 on the basis of the previous year's question paper analysis. There are a total of 26 questions among which 8 questions in TITA (Non-MCQs) and 18 questions in MCQs. Check the table below to know the expected topics and their number of questions.
Expected Topics and Number of Questions
| | |
| --- | --- |
| Topics | Number of Expected Questions |
| Geometry & Mensuration | 8-6 |
| Arithmetic Questions | 9-11 |
| Algebra | 5-6 |
| Number System | 4-5 |
| Others | 2-3 |
Marks Distribution of CAT Quantitative Aptitude 2022
| | |
| --- | --- |
| Topic Name | Expected Number in percentage |
| Geometry | 29% |
| Algebra | 24% |
| Arithmetic | 23% |
| Number System | 15% |
| Modern Maths | 9% |
Best Books for CAT Quant Syllabus 2022
Candidates can refer to some of the important books for CAT quant syllabus section as mentioned below:
CAT 2022 Quantitative Aptitude Syllabus Books
| | |
| --- | --- |
| Name of the book | Name of the author |
| How to Prepare for Data Interpretation for CAT | Arun Sharma |
| Quantitative Aptitude for CAT and Other MBA Entrance Exams | Trishna Knowledge Systems (Pearson) |
| Quantitative Aptitude for Competitive Examinations | Abhijit Guha (Tata McGraw-Hill) |
| The Complete CAT Digest, by Tata McGraw-Hill | Arun Sharma |
Tips and Strategies to prepare for CAT Quantitative Aptitude
Students must follow the following tips and strategies suggested by experts and toppers while preparing for CAT quantitative aptitude.
People might be interested in-
Focus on basics
Pick a topic and start solving various questions until you are clear

Practice each concept one by one and gradually move to difficult questions or topics
Prepare time table
Go through the CAT quant syllabus and exam pattern

Identify the topics which are uncovered

Assess the time to be needed to cover each topic
Take mock tests
Familiarize with the type of questions asked in the exam by solving mock tests/ previous year question papers

Helps you give exam environment and prepare you for D-day

Analyze your performance and weak and strong areas.
Practice as per sectional time limit
A sectional time limit of quantitative aptitude is 40 minutes, follow the time pattern while solving mock test

Assign time for each question. Don't waste time over a question
Focus on weak areas
After giving mock tests of CAT, analyze the weak areas

Overcome that mistake by practicing various questions on the particular topic from recommended books
Frequently Asked Question (FAQs) - CAT Quant Syllabus 2022 - Quantitative Aptitude Questions pdf, Mock Test
Question: How to Prepare Quantitative Aptitude section for CAT 2022?
Answer:
Quantitative aptitude requires a lot of practice, and to save time to practice, one should follow all the small and simple tricks to increase his practice and reduce errors. He would often have to provide pseudo-tests and go through different research materials and books of different sizes to strengthen the basic concept and basics.
Question: What is the syllabus of Quant in CAT?
Answer:
CAT Quantitative Aptitude refers to a person's ability to solve number and mathematical calculations in a given time. It logically evaluates the ability to play with numbers. This is often required in most competitive exams.
Question: What is the syllabus of Quantitative Aptitude for CAT?
Answer:
This MBA entrance is not having any defined CAT exam syllabus. So, students are required to prepare from various topics and more or less rely on the previous year's question sets of CAT. So, to solve this dilemma, they have to follow the Toppers tactic and the opinion of the experts. At the same time, a candidate should try to appear in the fake tests that are often available online.
Question: What are the topics in quantitative aptitude?
Answer:
Following are the most crucial topics to prepare for CAT 2022 Quantitative Aptitude Test.
Permutations and Combination

Probability

Time and work

Percentages

Profit and loss

Simple and compound interest

Ages

Averages

Calendar and clock (not too imp)

Time, speed and distance

Number systems
Question: Which are the best books for the CAT Quantitative Aptitude Section?
Answer:
Previous year's papers are the best to practice and check your CAT preparation. Practice and practice because it will make you perfect. Candidates can refer to some of the best books for CAT 2022 like Arun Sharma, Abhijeet Guha, NCERT, etc.
Question: Which are the best CAT experts Quantitative Aptitude Tips & Tricks to score high in the Quant section?
Answer:
The weightage of each topic must be checked by students in order to decide how much time they wish to devote to that particular QA topic. It is recommended that students should focus more on the basic topics of number systems and geometry as they hold a good amount of weightage in the CAT 2022 entrance exam.
Not only in CAT but other top business institutes that also cover most of these topics from the Quantitative Aptitude section. When students are done with the basic concepts, they should pick up past year's question papers and practice them
Question: Is Quant difficult in CAT?
Answer:
Most of the candidates for the CAT 2022 exam believe Quantitative Aptitude to be the hardest section.
Question: How do I start my quantitative aptitude preparation?
Answer:
The candidates must analyse the CAT exam syllabus of quantitative aptitude first. It should be followed by extensive practice with the suggested tips and tricks to crack this section.
Question: Is CAT hard to crack?
Answer:
CAT is among the prestigious MBA entrance exam. However, it can be cracked with good preparation.
Question: What level of maths is asked in CAT?
Answer:
The CAT question will be from basic and elementary mathematics.
Questions related to CAT
Showing 8252 out of 8252 Questions