How to Prepare for Logical Reasoning for CAT
How to Prepare for logical reasoning for CAT – Close on the heels of Data Interpretation in CAT comes Logical Reasoning in the DILR section. Presumed to be unpredictable and complex, CAT DILR is in reality nothing like that. Since the gestation period of learning and cracking the section is lower than the Quant or the Verbal Ability & Reading Comprehension sections, it is perceived to be tougher than the other sections. But, the high accuracy of solving this section also makes it the most interesting one to prepare and ace.
Stay up-to date with CAT News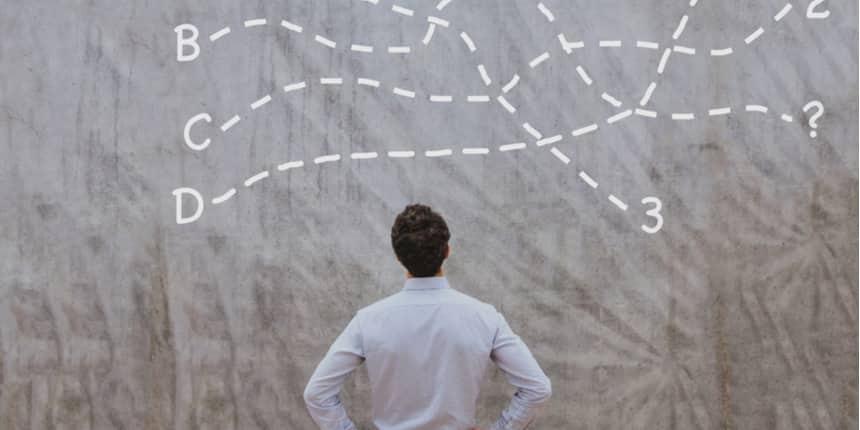 DILR section has to be solved in 40 minutes; it has 5 sets of data to be solved. Considering this, the key to prepare for logical reasoning and solving the questions easily is in building familiarity and ensuring consistent practice.
Logical Reasoning - Key Topics:
This article will solely focus on acing logical reasoning for CAT exam. The topics you will need to cover in preparation for logical reasoning are:
Topics to Prepare for Logical Reasoning for CAT
| | |
| --- | --- |
| Venn Diagrams | Calendars, Cubes and Clocks |
| Number and Letter Series | Binary Logic |
| Seating Arrangement | Games and Tournaments |
| Routes and Networks | Connectives |
| Blood Relations | Matching |
Note: There is no shortcut to preparing for just the LR questions of CAT 2021 exam. It is essential to cover the breadth of all the topics given above. Drilling through one topic might not be the best course of action considering there is a big chance that no question is asked from it in the exam. Also, unfamiliarity with select topics can lose you marks in the scenario of an easy set appearing from that topic.
MBA Admission Open Now:
How to Prepare for Logical Reasoning for CAT
While the LR part of CAT requires some presence of mind while solving, a lot can be achieved by consistent practice. This will make you familiar with standard templates and help you identify the general patterns in questions. Understanding these patterns will help you solve variations of questions from a single topic. Keep practicing various types of questions from different topics to build familiarity. As CAT exam approaches – solve at least 3/4 logical reasoning sets every day. Ensure that you solve a mix of questions covering all topics.
Giving a structure to the information provided on-screen is the crucial skill one needs to master to ace CAT LR. One needs to quickly jot down the required information from the question before going about solving it. This process should, however, not be done in a hurry. It is easy to get lost in the labyrinth of conditions/statements given. To avoid this, you must systematically go through each line of the information and understand it. Bringing the data into easily analyzable forms is vital. This trait must also be practice during preparation for Logical Reasoning for CAT.
Also Read
How to prepare for LR section for CAT exam – Practice Tips
Solving previous years' CAT questions can help give you an idea of the questions asked. However, it is recommended that you take the last five years CAT papers as mocks, as they can serve as a good gauge of your preparation levels. Puzzles, brain teasers outside of CAT questions can also help improve your ability to identify patterns. A habit of solving SUDOKU can help in solving certain questions which rely upon similar logic.
MBA entrance exams that you can apply for
At what phase of my CAT preparation for LR do I begin to factor in the time taken?
Familiarity with the LR syllabus is a must. Once you can identify the question type, you should begin to time your attempts. The ideal time to solve an entire set is less than 8 to 10 minutes. Any longer, you must move onto the next set. This discipline will pay off in the longer run. It ensures that you improve your speed while also seeing that you do not fixate on any given set and lose precious time.
Note: NEVER develop the mindset of attempting all questions of a set. It would be best if you always chose questions from the given set. Some questions may be time-consuming, while some others might be a cake-walk. Fixating on a difficult question can cause you to lose out on 2 to 3 questions of easy/medium difficulty levels. This is an important pointer to keep in mind during preparation for logical reasoning for CAT.
Attempt strategy for LR during CAT exam:
While the aim is to solve all five sets in the given 40 minutes, this may not always be realistic. Picking sets to solve becomes more relevant in Logical Reasoning as compared to DI. If you pick sets you can solve at the start of the exam the pressure will ease and help you build momentum. You can base your decision to pick a set upon two factors – the complexity of the set and your familiarity with the topic.
It would be best if you attempted sets with high familiarity and lower complexity first. Questions with low difficulty should be next. Higher complexity sets can be saved for the latter half of the exam. It is vital that you know your weaknesses and consider skipping questions from those topics. Optimize your time and attempt questions that you can be sure of answering right.
CAT Exam Strategy for LR:
Sectional tests and mocks are essential in getting your strategy right. Experimenting with the division of your time is important. But the most crucial part would be the post-mock analysis. Looking back at questions that went wrong, identifying tricks in solving certain questions to save time, and understanding the logic behind solving higher-difficulty questions are all the areas that require constant working on.
Aim to do sectional mocks once or twice a week and CAT mock tests at least once in two weeks. The frequency must increase as the exam day approaches.
How to prepare for logical reasoning for CAT – Other Tips:
It is not always necessary to have all the information to get a question right. Some questions can be solved by careful elimination of options with the available data. Very often, the process of elimination of options can save bucket loads of time.

Data can sometimes be converted into visually aiding diagrams and figures. This can help make a clear representation of the data and solve it quicker.

Never make assumptions on what has not been clearly stated in a question. Always consider only the information given in the passage.

Pay keen attention to the wording of questions.

Voluminous amounts of data in a question doesn't necessarily mean that the question is complex. Always spend a minute or two analyzing the difficulty of a set.
Browse Top MBA Colleges Accepting CAT Score: Location-Wise
Logical Reasoning for CAT can be an intimidating section. However, one must realize that consistent effort and confidence in one's abilities is all that is necessary to ace this section. Remember to have a proper plan to prepare for logical reasoning in CAT and stick to it. All the best!
Other Top MBA Entrance Exams
Questions related to CAT
Showing 9971 out of 9971 Questions