CAT Logical Reasoning & Data Interpretation Syllabus 2020
CAT Logical Reasoning & Data Interpretation Syllabus 2020 - IIM Indore does not provide any official syllabus for CAT 2020 logical reasoning & data interpretation section. As per the exam pattern of CAT 2020, DILR is the second section in the CAT exam. The questions asked in the CAT DILR section require critical and decision-making skills. If we talk separately, logical reasoning (LR) questions can be answered by analysing the information that is provided. Whereas, Data Interpretation (DI) will consist of such questions which have to be attempted step by step. Students aspiring to appear for CAT 2020 must be thorough with the syllabus of CAT Logical Reasoning & Data Interpretation syllabus 2020 by knowing the important topics and solving the previous year question papers. CAT 2020 will be conducted on November 29. Read the full article to know all the details pertaining to CAT Logical Reasoning & Data Interpretation Syllabus 2020 such as topics related to this section, exam pattern as well as marking scheme.
Latest - CAT Mock Test 2020 will soon be available. Candidates can download CAT 2020 admit card from October 28.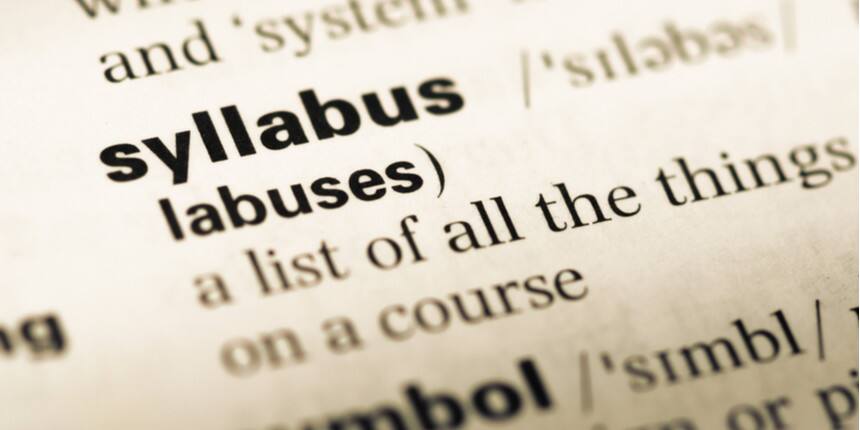 Also Read - Know when and how to start CAT preparation
CAT Exam Dates 2020
| | |
| --- | --- |
| Events | Important Dates |
| CAT Notification 2020 | July 29, 2020 |
| Availability of CAT 2020 application form | August 5, 2020 |
| CAT 2020 correction window | September 27- September 29, 2020 |
| CAT 2020 | November 29, 2020 |
CAT Syllabus 2020 - Logical Reasoning and Data Interpretation Highlights (As per past year's trend)
| | |
| --- | --- |
| Particulars | Details |
| Nature of questions | MCQs and TITA (non-MCQs) |
| Number of questions | 32 questions |
| Total marks | 96 |
| Difficulty level | Moderate to high |
CAT Syllabus for Logical Reasoning 2020
CAT 2020 Logical Reasoning topics are mentioned in the table below from which questions might be asked in the entrance exam.
CAT Logical Reasoning 2020 - Topics
| | |
| --- | --- |
| Calendars | Binary Logic |
| Clocks | Seating Arrangements |
| Assumption | Premise |
| Blood Relations | Logical Sequence |
| Linear and matrix arrangement | Conclusion |
| Direction sense and decision making | Team formation |
| Series | Input-output |
| Cubes | Syllogism |
| Set theory, network diagrams, Venn diagrams | Rows |
| Puzzles | Quantitative reasoning |
| Critical reasoning | Logical reasoning based on ranking |
Logical Reasoning Questions for CAT(LR) - Key Points 2020
There will be 16 questions in Logical Reasoning

Logical Reasoning contains both MCS and non-MCQ type questions

Sectional weightage for this section will be 16 percent

The number of MCQs and non-MCQs may vary

There will be negative marking for MCQs

Non negative marking for non-MCQs
Might be interested in - CAT 2020 important topics for preparation
CAT Syllabus for Data Interpretation 2020
CAT 2020 Data Interpretation questions consists of the following topics that are asked in the IIM entrance exam.
CAT Data Interpretation 2020 - Topics
| | |
| --- | --- |
| Bar diagrams and charts including simple, stacked, composite bar charts | Data tables and charts |
| Graphs - line X-Y graphs | Pie charts |
| Caselet based data | Data analysis and data comparison |
CAT 2020 Data Interpretation and Logical Reasoning Preparation Tips
Prior to starting the CAT DILR preparation one needs to make a strategy for this section. Here are a few tips to follow during the CAT Data Interpretation and Logical Reasoning section.
Read Magazines and Business Newspaper

Utilize Calculator

Take mock test

Time management
Read Magazines and Business Newspaper
While preparing for the CAT DILR section, one should include reading business newspapers and magazines in their preparation schedule. It plays a major role in preparing candidates to deal with interpreting data and with business aptitude. It will also help candidates to learn the analysis of charts and bar graphs. Reading magazines and business newspapers also sharpens the thinking ability and reasoning section through different case studies.
Utilize Calculator
On the day of examination, candidates will be required to access an on-screen calculator for basic computations. Questions that will be asked from the Data Interpretation section in CAT are known for being calculation intensive. One should be well versed with the calculation tricks, so that they can save time and solve the questions with more accuracy.
Take Mock Test for Data Interpretation and Logical Reasoning Questions for CAT
During CAT preparation one should take a Mock test, through this candidates can identify their strong and weak areas. Many 99 percentilers have shared the experience on the importance of taking CAT mock tests. They have stated that they gave as many as possible mock tests every week to analyse their mistakes and weak points.
Lakshya Kumar, CAT 2019 topper (99.99 percentiler) shared his preparation strategy for CAT DILR sections. Lakshya stated - "Data Interpretation and Logical Reasoning section during my preparation phase was attempting a wide variety of questions from the previous year papers of CAT and then re-attempting them. During the mocks, I made sure that I read all the question sets fire and then picked out the ones that were easy and could be managed instead of doing the questions in order of question paper. After all, CAT is never about attempting all questions but getting one more right than your competitors".
Time Management
Candidates must manage their time while attempting questions from DILR section, they should solve such questions first in which they are more confident and can solve in less time. By solving easy questions first candidates can manage their time and utilize rest of the time in such questions which are generally time consuming.
Recommended Books for CAT DILR 2020
Candidates can refer to the following books while preparing for the Data Interpretation and Logical Reasoning section. Basically, experts suggested these books for the DILR section for good percentile in CAT 2020.
Books and Authors
| | |
| --- | --- |
| Books | Author |
| Logical Reasoning and Data Interpretation for the CAT | Nishit Sinha |
| A Modern Approach to Logical Reasoning | R.S. Aggarwal |
| How to prepare for Logical Reasoning for CAT | Arun Sharma |
CAT Exam Pattern 2020
As per the revised CAT 2020 exam pattern, candidates will get to know the section wise total number of questions, total time duration, total marks and marking scheme. The section time limit for each section has been reduced to 40 minutes from 60 minutes. Check the below table to know the exam pattern of CAT 2020.
Exam Pattern of CAT 2020
| | | | | |
| --- | --- | --- | --- | --- |
| Section name | Total MCQs | Total TITA | Total number of questions | Marks |
| Verbal Ability & Reading Comprehension (VARC) | 27 | 7 | 34 | 102 |
| Data Interpretation & Logical Reasoning (DILR) | 24 | 8 | 32 | 96 |
| Quantitative Ability (QA) | 23 | 11 | 34 | 102 |
Quick Links -
Know CAT evolution over the years
Questions related to CAT
Showing 9072 out of 9072 Questions