Top Colleges In India Accepting CAT Score in 2022
Top Colleges in India Accepting CAT Score - Common Admission Test 2022 one of the most coveted management entrance exams is taken by more than 2 lakhs students every year. Students who going to appear for CAT exam always find it difficult to find the top colleges in India accepting CAT 2022 scores.

Other than IIMs, over 1000 MBA colleges in India accept CAT exam scores which include MDI Gurgaon, FMS Delhi, SPJIMR Mumbai, IITs, and IMI and the list is endless. Not only are these top institutes but there are top colleges in India that accept low CAT scores as well. Herein, Careers360 brings you the complete list of top colleges in India accepting CAT scores for different percentiles.
Stay up-to date with CAT News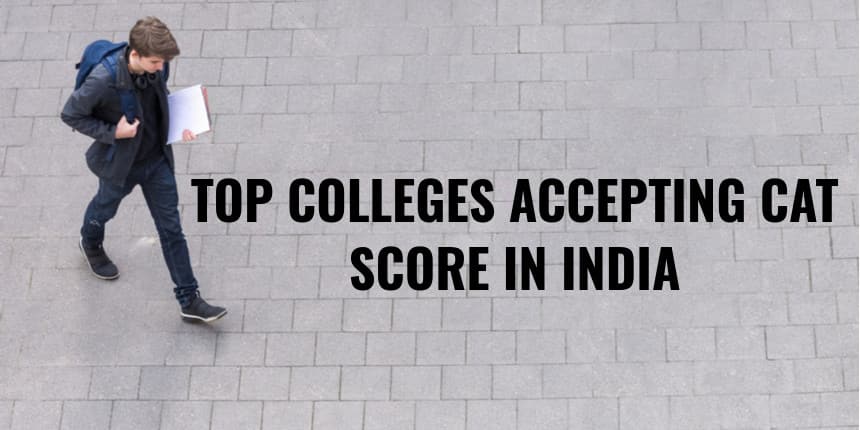 Top CAT Colleges in India 2022
IIMs Accepting CAT Score
Check the list of IIMs that offer admission based on CAT 2022 scores along with their fee structure:
List of IIMs, Number of Seats, and Fee
| | | |
| --- | --- | --- |
| Name of the Institute | Number of Seats | Programme Fee (in Rs.) |
| | 385 | Rs. 25 lakh |
| | 412 | Rs. 23 lakh |
| | 462 | Rs. 27 lakh |
| | 436 | Rs. 14.16 lakh |
| | 375 | Rs. 19 lakh |
| | 451 | Rs. 16 lakh |
| | 180 | Rs. 23.6 lakh |
| | 60 | Rs. 12 lakh |
| | 240 | Rs. 15.8 lakh |
| | 60 | Rs. 8.85 lakh |
| | 160 | Rs. 10 lakh |
| | 60 | Rs. 10.34 lakh |
| | 45 | Rs. 11.5 lakh |
| | | Rs. 15 lakh |
| | 210 | Rs. 14.20 lakh |
| | 210 | Rs. 13.15 lakh |
| | 120 | Rs. 19 lakh |
| | 180 | Rs. 13.25lakh |
| | 126 | Rs. 12.10lakh |
| | 60 | Rs. 12 lakh |
List of IITs Accepting CAT Score 2022
Indian Institute of Technology (IITs) will begin its admission process anytime soon after the declaration of CAT result 2022. IITs have proved themselves to be the premier institutes in terms of both studies and placement. Check the list below where you can apply:
List of IITs Accepting CAT score 2022
| | |
| --- | --- |
| IITs | Name of the Department |
| | Department of Management Studies |
| | Shailesh Jha Mehta School of Business |
| | Vinod Gupta School of Management |
| | Department of Management Studies |
| | Department of Management Studies |
| | Department of Management Studies |
| | Department of Management Studies |
Top Colleges Accepting CAT Score between 90-100 Percentile
Other than IIMs, the list of colleges accepting the 90-100 percentile of CAT scores are:
Top Colleges in India Accepting CAT 2022 Score of 80-85 Percentile
Students scoring between 80-85 percentile must not lose hope as the list below will inform you about the top colleges in India accepting CAT 2022 scores:
Checkout: MBA Colleges Accepting 80-90 Percentile in CAT Exam
Top Colleges in India Accepting CAT Score of 70-80 percentile
With most of the colleges considering the cutoff, below is the list of colleges that shortlist candidates based on their academic performance and profile. These colleges help students to hold admission into MBA programmes through other components as well. Some of the colleges are:
Also Check: Browse all MBA Colleges in India Accepting 70-80 Percentile in CAT Exam
Now that we have a clear image of the institutes accepting CAT exam scores for different percentiles, check the links below to know the top colleges in India accepting low CAT scores 2022 in various states:
| | |
| --- | --- |
| Reference | Link |
| Good MBA Colleges in Karnataka that Accept Low CAT Scores | |
| Good MBA Colleges in Tamil Nadu and Telangana that accept low CAT scores | |
| Good MBA Colleges in Haryana, Delhi, Uttar Pradesh, and Rajasthan that accepts low CAT score | |
| Good MBA colleges in Madhya Pradesh, West Bengal, Punjab, and Bihar that accept low CAT scores | |
| Good MBA Colleges of Maharashtra and Gujarat that Accept Low CAT Score | |
Students must note that the list of colleges mentioned not only accepts CAT score 2022, but a few of them also accepts other entrance exam scores as well such as:
Top Colleges in India offering MBA
Frequently Asked Question (FAQs) - Top Colleges In India Accepting CAT Score in 2022
Questions related to CAT
Showing 10652 out of 10652 Questions