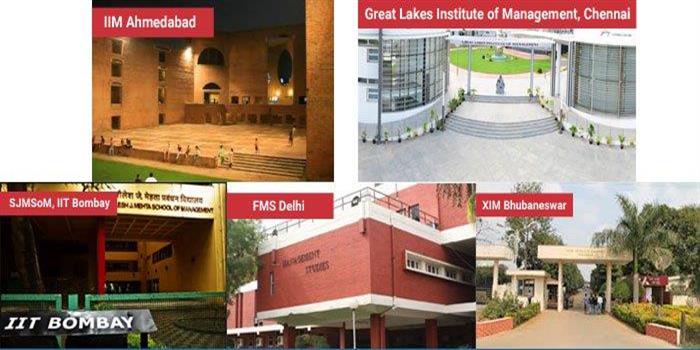 Which B-schools can I get if my CAT percentile is between 90 and 100? - The CAT 2017 result has been declared on January 8, 2018. With the help of the CAT answer key, released for the first time by IIMs, test takers could gauge their score with the help of which, they can estimate the percentile as well. Those who have secured a percentile of 90 to 100, can hope to receive calls from one of the top B-schools in India and fulfil their MBA dream. The feeling of being in the league of toppers in a competitive exam like CAT, taken by around two lakh candidates, is indeed unparalleled. Having secured a place among the top 10 percent test takers with 90 percentile or above deserve to be in the dream B-School namely IIMs, FMS and the likes. Although CAT toppers will receive a plethora of calls from B-schools across tiers owing to your high percentile, they should not select anything but the best for them.  While applying to a B-School whose cutoff is 99 percentile would not get a CAT taker with 92 percentile a call, similarly, there is no point in applying to an institute whose CAT cutoff is 90 percentile if his/her percentile is 99. So how would you decide your admission chances among the top league B-schools?

Latest: CAT Result 2017 Announced

To clarify doubts and confusions of CAT toppers, Careers360 is launching a special series to guide you with the right institute based on your percentile and the former's CAT cutoff.
CAT Percentile Predictor
Know your expected Percentile
Use Now
Which B-schools can I get if my CAT percentile is between 90 and 100?
The first article of the series is meant for the CAT 2017 takers securing 90 to 100 percentile. We have further classified the percentile range in three brackets, 98 percentile and above, 95 to 98 percentile and 90 to 95 percentile. Take a look and know your best-fit B-School.   
Case 1 – 98+ Percentile
With this top percentile, you undoubtedly have IIM calls awaiting for you. Here you stand to claim a seat in your dream B-schools like IIM BLACKIS or IIM Bangalore, Lucknow, Ahmedabad, Calcutta, Kozhikode, Indore and Shillong. Apart from IIMs, other institutes which you can eye on include FMS Delhi,  DMS, IIT Delhi among others. Let us take a look at the MBA colleges you can expect interview calls from.
B-schools with 98+ Percentile CAT Cutoff
There is a caveat to the above mentioned B-schools. While you have all the right to get thrilled at the prospect of bagging a seat at one of these B-schools, you must note that IIMs and top B-schools like DMS, IIT Delhi also consider other components of candidate profile. Factors such as past academic background and work experience form important components at the shortlist and final selection criteria. For instance, IIM Bangalore gives 50 percent weightage to the academic records including Class X, XII and Graduation marks and eight percent to work experience for shortlisting. For the final selection, the institute will give only 25 percent weightage to CAT performance and rest of the 75 percent weightage will be assigned to WAT-PI performance (40 percent), past academic records (25 percent) and work experience (10 percent).  Hence, even if you secure 99 percentile or above, there is no surety of IIM calls unless you have a strong and consistent background.
Case 2 – 95-98 Percentile
If your CAT percentile is between 95 and 98, you have a host of Tier I B-schools where you can apply for admission in 2017-19 batches. The table below consists of the new IIMs, IITs, MDI Gurgaon and the likes.
B-schools with 95-98 Percentile CAT Cutoff
The institutes mentioned above also give due weightage to the Profile factor. Along with the candidate profile and fulfilling the cutoff, candidates have to also perform well in the Group Discussion (GD) or Writing Ability Test (WAT) and Personal Interview (PI) rounds to convert the call.
Case 3 – 90-95 Percentile
If your percentile is in this bracket, you can still choose from a wide range of top institutes. At one hand, you can expect calls from the new IIMs and on the other hand, there are noted institutes like XIMB, Great Lakes Institute of Management and Goa Institute of Management to name a few. Let us take a look at the list below.
B-schools with 90-95 Percentile CAT Cutoff
Selected the B-schools? What next?
Upon fulfilling the eligibility and shortlist criteria, you will receive interview calls from B-schools. Hence it is high time to prepare for the next rounds of selection process. You can also identify and apply to MBA institutes with appropriate cutoffs in case you had missed applying earlier.
Apply to B-schools: IIMs shortlist candidates for the WAT-PI rounds after the declaration of result. If you have not applied in any of the above mentioned institutes apart from IIMs, check whether the application process is still open. Several B-schools which had closed their application window before CAT reopen the process after the declaration of result. Visit the official websites to find out whether you can still apply for the upcoming academic year.
Know the Admission Criteria: As stated above, high CAT percentile is not the only criterion to get a call or convert from IIMs. Each of the 20 IIMs has separate admission criteria comprising of the different components and their weightages also vary from IIM to IIM. Go through the IIM Admission Criteria 2018-20 to know the processes and estimate your chances at each IIM.
Start preparing for GD, PI and WAT - Clearing CAT cutoff is just half the battle won. You have to do the rest by performing your best in the final rounds of selection. If you are yet to start preparing for these rounds, don't delay and start the preparation right away.
Target top B-schools through state level exams
If you are looking for admission in other institutes like JBIMS Mumbai or SIMSREE Mumbai appear for MAH CET 2018 exam. The MAH CET cutoffs for these B-schools range from 95-99 percentile. If you prepare and appear for the test with similar dedication and approach, chances are high that you can crack the admission at these B-schools as well.
Also Read