MBA from IITs: Know seats, fee and admission process
MBA from IITs - The Indian Institutions of Technology (IIT) have seen some interesting developments in the past two decades. Since the time the IITs forayed into the league of premier B-schools of India, MBA from IITs has picked up the pace. Low IIT MBA fees is also one of the major reasons behind students choosing them over a popular but private B-School.
Stay up-to date with CAT News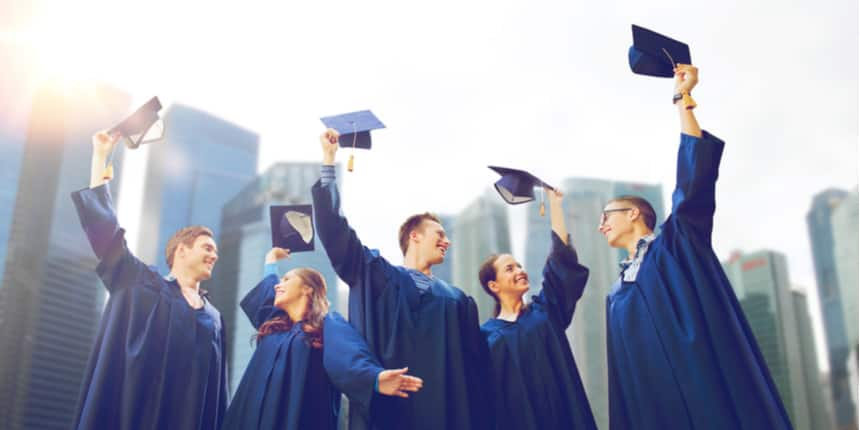 Undoubtedly, while the top three ranks in the list of best B-schools of India are occupied by the Indian Institutes of Management (IIMs), the list now also includes the IITs. Amongst the best Government-owned B-schools of 2021 listed by Careers360, DMS, MBA from IIT Delhi ranks number 9 followed by SJMSoM, IIT Bombay MBA.
Ongoing MBA Admission 2021
MBA in IITs: Overview
So what makes MBA from IITs distinctive from IIMs? As management education is a relatively recent phenomenon at IITs, their courses are comparatively young as compared to established B-schools like the IIMs. Nouveau subjects like management in telecommunication systems offered by DMS, IIT Delhi is an example of a unique specialization that is not found in the curriculum of IIMs. Out of the 23 IITs at present, there are seven that are currently offering management programmes including IIT (ISM) Dhanbad.
The IITs also score points when it comes to the cost of MBA education. The fees range from Rs. 2-9 lakh for an MBA in IITs as compared to the hefty fees of IIMs which can be up to Rs. 22 lakh. As for placements and RoI, many companies that offer the most attractive pay have opened their recruiting efforts for the MBA graduates of India's elite IITs.
Earlier IITs conducted admission through their own entrance exam called JMET. From 2011 onwards, IITs started accepting only Common Admission Test (CAT) scores for admission to management programmes. A candidate is required to have done graduation from a recognized university or possess an equivalent qualification recognized by the Ministry of HRD, Government of India to be eligible for CAT.
On the basis of CAT scores, the profiles of the candidates are shortlisted for further rounds of Group Discussion (GD) or Personal Interview (PI), or Writing Ability Test (WAT). The overall performance is evaluated to grant admission to the MBA programme in IITs.
The following table provides a detailed overview of the MBA programme at IITs in terms of fee, cutoff, number of seats, and the average placement salary. Also read on to know about other important factors like admission criteria, eligibility, exam scores accepted, and placement statistics of MBA from IITs.
MBA from IITs: Admission Dates 2022
The following table shows the tentative dates for the upcoming MBA 2021-23 session. The admissions for 2021 batch have already concluded while some of the IITs are still releasing the lists of GDPI rounds.
| IIT name | Last Date to Apply | GD-PI-WAT Dates | Final Result |
| --- | --- | --- | --- |
| IIT Delhi | 31-Jan-2022 | Second Week of March, 2022 | 30-Apr-2022 |
| IIT Bombay | 31-Jan-2022 | First week of March, 2022 | First week of May, 2022 |
| IIT Kharagpur | 07-Feb-2022 | Last week of February to First week of April, 2022 | 30-Apr-2022 |
| IIT Roorkee | 07-Feb-2022 | Last week of February to last week of March, 2022 | 30-Apr-2022 |
| IIT Madras | 07-Feb-2022 | Last week of February to last week of March, 2022 | 30-Apr-2022 |
| IIT Kanpur | 31-Jan-2022 | Second week of February, 2022 | 30-Apr-2022 |
| IIT-ISM Dhanbad | 07-Feb-2022 | Third week of March, 2022 | First week of May, 2022 |
| IIT Jodhpur | 07-Feb-2022 | First week of March, 2022 | 30-Apr-2022 |
MBA in IITs: Seats, Fee and Programme
IIT

Name of the Institute

Programme Name

Programme Tuition Fees for the course
(in lakhs)

Cutoff (in percentile)

Number of Seats(past trend)

Average Salary (in lakhs per annum)

Delhi




MBA

MBA Telecom Management

9.60+

90+

115

16.21

Bombay

MBA

8.30+

General- 90
NON-OBC- 81
PWD- 60
SC- 60
ST- 60

120 (For admission 2021)

19.06

Kharagpur




MBA

11.3+

General- 90
NON-OBC- 80
PWD- 75
SC- 75
ST- 75

140

15.61

Madras

MBA

8.0

96+

68 (For admission 2021)

12.4

Roorkee




MBA

8

94.6+

95

9.18

Kanpur




MBA

2.91

General/EWS- 85+
NON-OBC- 85+
SC- 75+
ST- 75+

78 (For admissions 2021)

10.42

IMS, Dhanbad

MBA

3.4

80+

MBA Programme-62
MBA in Business Analytics- 30

8.00
Department of Management Studies at IIT Delhi
While IIMs are synonymous with high-quality business education and enviable placement records, DMS at IIT Delhi ranks amongst the top 10 B-schools of the country. IIT-D runs a two-year full-time MBA programme costing about Rs. 9.60 lakhs and also provides a focus on Telecommunication Systems Management. On the basis of the CAT score, candidates will be shortlisted for WAT and personal interviews.
As part of the eligibility criteria for an MBA in IIT Delhi, a candidate must possess a Four-Years Bachelor's Degree in any discipline with a minimum of 60 percent aggregate or 6.00 CGPA on a 10 point scale in their graduation. A relaxation of five percent in marks is provided to the SC/ST candidates.
A minimum CAT percentile of 90+ acts as a basic filter to select candidates. As per the last year's trend, the total number of seats in DMS, IIT Delhi is 115; 91 in Management and 24 in Telecommunication Systems Management. The average placement salary at the renowned institute stands at Rs. 16.21 LPA. Leading recruiters include Airtel, American Express, Berger Paints, Bosch Ltd, CITI Bank, E&Y, and JP Morgan Chase.
Top MBA Entrance Exams
Shailesh J. Mehta School of Management (SJMSoM) at IIT Bombay
IIT Bombay established its management school in 1995 to offer a Two-Year Full-time Master of Management (M.Mgt) Programme. In order to be eligible for M.Mgt in SJMSoM, a candidate is required to have a four year Bachelor's degree or a Master's degree in any discipline with first-class or 60 percent marks in aggregate. In the case of candidates belonging to the SC/ST category, 55 percent aggregate is the minimum marks required to apply in SJMSoM.
Additionally, a minimum CAT percentile as mentioned in the above table will act as the next step for qualification. International students can take admission on the basis of GMAT scores. Shortlisted candidates are called for WAT and PI for final selection during the admission process at IIT Bombay's management programme.
Masters of Management taught at SJMSoM, IIT Bombay is a unique course with core subjects like Technology Policy, R&D Management, and Managing technology transfer. Final year students of the Master of Management programme at SJMSoM are also taught innovative courses like "Mission, Vision and Leadership" which convey the essence of Leadership and Entrepreneurship through a series of lectures by some of the eminent leaders in the Indian Industry.
The total tuition fee of the Masters of Management programme at SJMSoM IIT Bombay is Rs. 8.30 lakh. With an intake of 120 seats for one of the best management programmes of the country, IIT Bombay holds a 100 percent placement record with an average placement salary of Rs. 20.08 LPA in 2021. Top recruiters who scout for talent in the SJMSoM campus are Accenture, Cummins India Ltd, Dell, Deloitte, DHL, Goldman Sachs, Google, Johnson & Johnson, Nestle, and Wipro.
Vinod Gupta School of Management (VGSoM) at IIT Kharagpur
IIT Kharagpur, being the pioneer of teaching business education in 1993, set suit for the other IITs to follow and snowball themselves into prominent management schools. For admission to MBA in IIT Kharagpur, a Bachelor's degree in Engineering/Technology or Master's degree in Science Economics or Commerce (with Mathematics or Statistics at Bachelor's level) is accepted.
General and OBC candidates must have a minimum of 60 percent marks in their graduation, or else a CGPA of 6.5 on a 10 point scale. A relaxation of 5 percent is offered to the SC/ST category candidates. A minimum of 55 percent marks is required by them to apply to DoMS, IIT Madras.
Candidates are shortlisted on the basis of their score in the CAT exam (GMAT for international applicants). Shortlisted candidates have to appear for WAT and PI rounds. The total tuition fee of MBA at IIT Kharagpur is approximately Rs 11 lakh per annum for the entire PG course.
The average salary during the recruitment season in 2021 was Rs. 17.42 LPA. Companies like Crisil, American Express, IBM, Coca-Cola, Deloitte Consulting, Ericsson India, Google, HSBC, Siemens are seen flocking the VGSoM campus during placement seasons.
Top Colleges in India offering Management Courses
Department of Management Studies (DoMS), IIT Madras
Graduates in any discipline possessing a first-class division or 60 percent marks (55 percent for SC/ST) are eligible to apply for MBA in IIT Madras. Interestingly, IIT graduates who have obtained a CGPA of 8 and above are exempted from the CAT score.
The following factors are taken into consideration for shortlisting candidates for the Two-Year MBA Programme at IIT Madras:
CAT Score

Previous Academic Performance

Work Experience

Diversity

Gender
The final selection is made on the basis of performance in WAT, PI, and Composite Score. There is also a certain relaxation provided to reserved categories. MBA from IIT Madras costs Rs. 8 lakh. The average salary amounts to Rs. 12.4 LPA offered by top recruiting companies like Amazon, Bank of America, Cisco Systems, JP Morgan Chase, KPMG, McKinsey, RBS (Royal Bank of Scotland), Titan Industries, Wipro, and many more.
Department of Management Studies at IIT Roorkee
Department of Management Studies in IIT Roorkee was set up in 1998 to impart high-quality formal education in management science. The MBA programme at IIT-R had only 95 seats (2019 admission) to offer for its Two-Year MBA Programme. The programme costs Rs. 8 lakh and offers dual specialization in the areas of Marketing, Finance, Information Technology, Operations, and Human Resource management.
In order to pursue MBA from IIT Roorkee, candidates to be graduates from any discipline of Engineering/Technology with first class or its equivalent or a Master's degree with first-class or equivalent in any discipline from a recognized Institution or University. Final year students are also eligible to apply. Candidates of the General/OBC category seeking admission to the MBA programme in IIT Roorkee must have at least 60 percent marks or a CGPA of 6.00 on a 10 point scale. For SC/ST category candidates, this percentage is 55 percent or 5.50 CGPA on a 10 point scale.
Initial shortlisting of candidates is done on the basis of their performance in CAT. The final merit for making offers of admission to the Programme will be on the basis of their aggregate performance in CAT with 94.6+ percentile being the minimum percentile, followed by Group Discussion, Interview and their Work Experience as per respective weightage given below:
CAT Percentile 65 percent

Group Discussions 10 percent

Personal Interview 20 percent

Work experience 5 percent
IIT-R has 10 hostels for boys and three hostels for girls. Each hostel has a state-of-art Cyber Cafe which is managed by students. The Institute has some of the best facilities in 14 games which include Badminton, Athletics, Tennis, Swimming, Hockey, Cricket, Squash, Gymnastics, Football, Basketball, Table Tennis, and a few more. When it comes to placements also, IIT-R does fairly well with an average placement salary of Rs. 9.18 LPA and recruiting companies such as Ernst & Young, Goodyear, HCL, Jubilant, KPMG, TCS, Tech Mahindra, Wipro, etc.
Department of Industrial and Management Engineering (DIME) at IIT Kanpur
IIT Kanpur offers a highly affordable Two-Year MBA costing Rs. 2.91 lakh in residential mode. Hostel fees in IITK come to around Rs. 24,350 yearly. Students pursuing MBA from IIT Kanpur are offered specialization options in sectoral areas like Manufacturing Management and Service Management. The student to teacher ratio at IIT Kanpur is almost 5:1 which works really well for the students as well as the faculty. The SIDBI Innovation and Incubation centre at IIT Kanpur offers a gamut of facilities for aspiring entrepreneurs.
Candidates only from certain disciplines like B. Tech., B. Sc. Engineering, B.E. or B. Arch. (having Mathematics in Class XII) are welcome to apply for the management programme at IITK. They must possess an aggregate of 60 percent at least in their graduation from any AICTE recognized institute, IITs, NITs, or IIITs. The eligibility criteria for admission to DIME, IITK also requires a valid CAT score, with a minimum percentile of 85+.
As part of the selection process, candidates are shortlisted on the basis of their score in the CAT exam (GMAT for international applicants) and then invited for the Group Discussion (GD) and Personal Interview (PI).
With an impressive RoI and average salary of Rs. 10.42 LPA, IIT Kanpur boasts of renowned recruiters for its graduates like Ernst & Young, Ranbaxy, Reliance Energy, Schneider Electric, Tata, and many more.
Department of Management Studies, IIT (Indian School of Mines), Dhanbad
MBA Programme-62
MBA in Business Analytics- 30
After getting tagged to IIT in 2016, DMS ISM Dhanbad has come under Tier-1 College. DMS, IIT Dhanbad offers a Two-Year MBA Programme with specializations offered in Marketing, Finance, Human Resource and Systems and Operations Management costing Rs. 3.4 lakhs. While the fee of an MBA from IIT Dhanbad may seem paltry, only 62 coveted seats are offered in the MBA programme, whereas for MBA in Business Analytics 30 seats are offered.
The eligibility criteria are a minimum of 50 percent marks in graduation from a recognized University for the general category and 45 percent for the reserved category. The candidate also has to appear for the CAT exam to be eligible for admission in the management program and secure a percentile of about 80 to 85 or more. Shortlisted candidates are further called for group discussions and personal interviews as part of the final selection for the MBA programme at IIT Dhanbad.
During the placement season, top companies like Genpact, GM Motors, Godrej, Google, Honeywell, Samsung, Sony, and Videocon are seen hunting for talent and offering an average salary of Rs. 8.00 LPA as of 2016.
The IIT tag, a widely integrated alum base, fees factor – all these topped up with a rigorous curriculum are the USPs that help IITs to compete with top-notch management institutes. Candidates who are planning for MBA from these reputed IITs are advised to take up thorough research to know the admission process.
B-School Accepting CAT Scores - Location-wise
Questions related to CAT
Showing 9996 out of 9996 Questions