CAT 2022 Tricks for Quant, DI & LR, VRC by 99 Percentilers
CAT 2022 Tricks for Quant, DI & LR, VRC by 99 Percentilers - CAT is an aptitude test which means it basically tests your aptitude while questioning under various sections of the test and to solve these problems by your rationale, you must learn some CAT exam tips and tricks. Here are some of the tricks given by the toppers and 99 percentilers of past years CAT toppers, for the sections like Quant, DI & LR and VARC to help out the aspirants who aim to ace CAT.
Stay up-to date with CAT News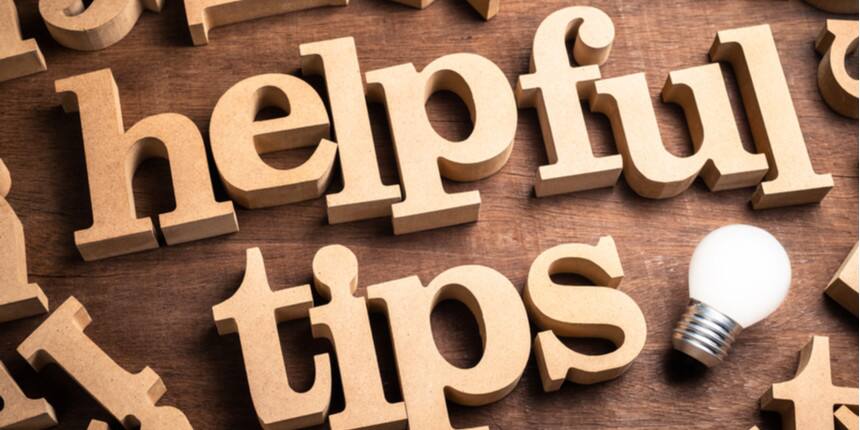 CAT Exam Tips and tricks for quantitative aptitude section
The quant section is considered to be the most challenging section for all the CAT aspirants. Let us look into the Quant preparation tips for CAT 2022 by the CAT toppers to get a better insight into this section of the CAT exam. To crack the QA section with ease, Soumyajeet Ghosh (2018, topper) says – "QA section demands a lot of practice and to save time for practising more, one should adopt all small and simple tactics to increase his practice and reduce his errors."
100 percentiler, Rahul Gupta says, Before the exam, somehow I was not able to score very well in the quantitative ability section and I used to be not satisfied with my performance. I practised a lot of mock tests and gradually I started doing well.
Shikhar Mathur, 99.68 percentiler, says – one should note down the weak areas in each topic (say it's Permutations and Combinations, or DI) after two to three tests. Pinpoint the errors made and also what kind of errors they were. Sometimes, many errors in the same topic are because of a pre-held mental fallacy that will be cleared after one reading, but sometimes it's a conceptual roadblock. Aspirants should make sure they note down where and WHY they are going wrong. He further suggests, plugging in the values given in the option of the questions, increases the probability of a question getting correct but this trick only applies to the questions in which it is possible to get the answers by putting in the values.
Ankit Desai got 99.91 percentile in CAT 2019, he shared his experience to handle Quant section, Ankit says- I was weak in Geometry and Numbers. So, first I revised all the formulas and wrote them down. After that, I solved around 50 questions more on these topics to understand the concepts better.
Candidates can utilise these Quant preparation tips for CAT 2022 exam and achieve the aim of scoring well in this section.
7 min read
Mar 05, 2022
Read More
4 min read
Mar 05, 2022
Read More
Suggest Books for Quant and DI & LR by Experts
| | |
| --- | --- |
| Book Name | Author/ Publisher Name |
| CAT 2021 Data Interpretation & Logical Reasoning | Gautam Puri |
| Logical Reasoning and Data Interpretation for the CAT | Nishit K. Sinha |
| How to Prepare for Data Interpretation for CAT | Arun Sharma |
| Data Interpretation & Data Sufficiency | Ananta Ashisha |
CAT Exam Tips and tricks for DI & LR section by 99 percentilers
The Data Interpretation (DI) and Logical Reasoning (LR) section in CAT is there to test your decision–making ability within the given time. To ace this section, 99 percentiler Kumar advises, "you must bound your time for solving the questions of this section, I did not give more than 8 minutes to any puzzle questions irrespective of the fact that I got stuck in some questions that seemed to be easier. So one should adopt this as one of the tips that s/he not is allowed to spend much time on a particular question whether it is easy, moderate or difficult instead, they should spend some minutes in the starting of the test to categorize the questions as easy, moderate and difficult.
In common, all the 99 percentilers suggest that aspirants should spend most of their time on the analysis of mock tests as it will lead them to land up at any management school of their choice.
CAT 2019, 100 Percentiler Rahul Gupta shares his DI & LR preparation strategy, he quoted - I used to practice many questions from particular topics and focused a lot on them while taking the mock test.
Quick Links:-
How To Crack CAT 2021
CAT Score Vs Percentile
CAT Exam Tips and tricks for VARC section
The VARC sections may prove to be the easiest section to improvise the sectional and overall score, says CAT 2017 topper, Madhur Gupta. Further, while sharing his preparation strategy, he says – "this was not the area I was good at and consequentially, I landed up at a conundrum about how I should deal with this section. Then I decided to look for some simple tactics to ace this section. I adopted the strategy of eliminating the wrong options to help me decide the right one. This helped me later."
99 percentiler in CAT 2016, Naman Singhal while sharing his preparation tips, stated that he solved RCs and Para jumbles as much as he could during his preparation for CAT 2016 and used them to analyse the VARC section after taking mock tests. He used to practice the questions of Verbal Ability (VA) and Reading Comprehensions from the modules of different coaching institutions.
Topper Mayank Raj, while sharing his strategy says, - "I faced major challenges in this section. So, to improve my verbal ability, I started reading newspapers, novels, etc. This helped me increase my reading speed and also in developing an understanding of the passages I was reading".
CAT 2019 topper, Lakshya Kumar shares his experience of VARC section with us, quoted "My approach was building up my reading speed and that was achieved by reading newspaper daily as it contains an article from various fields of life ranging from psychology to biology which is similar to the Reading Comprehension section of CAT. The verbal ability section was a tough nut to crack for me but thinking about the question from an examiners perspective and allocating it a greater percentage of time during the actual exam (feasible due to fast reading pace) did help me a lot.
Recommended Books for VARC section for CAT
| | |
| --- | --- |
| Book Name | Author/ Publisher Name |
| How to prepare for Verbal Ability and Reading Comprehension for CAT | Arun Sharma and Meenakshi Upadhyay/ Arihant |
| 30 Days to a more powerful vocabulary mass market paperback | Wilfred Funk & Norman Lewis/ Simon & Schuster |
| PSC for VA for CAT | Nishit Sinha |
| How to prepare for Verbal Ability and Reading Comprehension for the CAT | Sharma and Upadhyay |
Also Read:
Questions related to CAT
Showing 10584 out of 10584 Questions