CAT 2022- How to crack exam by preparing in 45 Days
CAT 2022 - How to crack the exam by preparing in 45 Days: The time has come now to change gears for those who are preparing for the Common Admission Test popularly known as the CAT exam. When 45 days are left for the CAT 2022 exam, candidates are required to change their strategy so that they are able to crack the exam with ease. Now that the candidates will have to complete the CAT exam 2022 in two hours, there will be less fatigue on the day of the exam as well.

Hence now if an individual is wondering how to crack CAT 2022 exam by preparing in 45 days, they need to now focus on revision of the basics, move to advanced study material and concepts, take regular mock tests, avoid too much discussion with friends, do not waste time on social media and last but not the least avoid stress. Read the full article to know how to crack the CAT 2022 exam by preparing in 45 days.
Latest Updates for CAT
1 day ago:

CAT 2022 exam tomorrow; know do's and don'ts to avoid any mistake for exam day. Click here.

6 days ago:

Click here to check CAT previous year questions and paper pattern.

15 Nov 2022:

Click here to know about the revision tips to ace CAT 2022 with 99+ percentile.
Stay up-to date with CAT News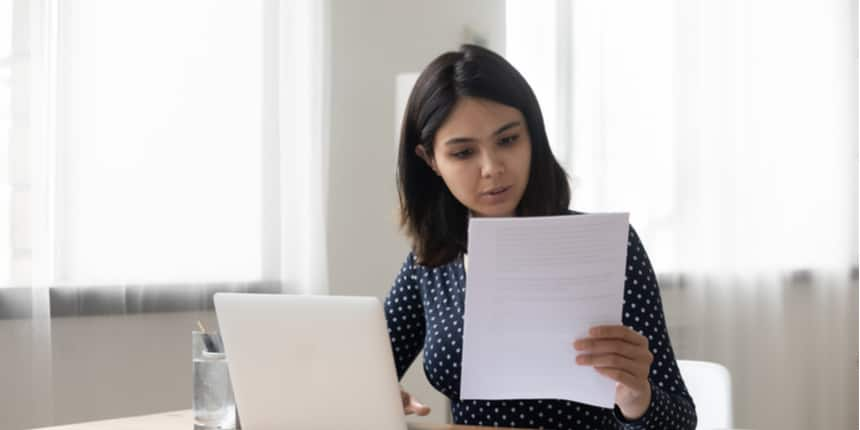 CAT 2022 - How to crack the exam by preparing in 45 Days- Brush up the basics
All those who are planning to appear for the CAT 2022 exam, must be now well versed with the CAT syllabus and also with the changed exam pattern. Hence, in order to crack the CAT exam by preparing in the next 45 days, candidates should first and foremost brush up on the basics so that they feel more confident. They should first proceed by revising the formula for quantitative ability, then move on to analyzing relatively easy comprehension passages followed by data interpretation and logical reasoning. Try to finish the basics in one and a half weeks.
How to crack CAT 2022 exam by preparing in 45 Days- Study from Advanced study material
Once the individual is well versed with the basics of the CAT exam, he or she should then move towards using the advanced study material so that they can apply whatever they have learned. Application of the knowledge acquired in the right way is essential during the course of the CAT 2022 preparation. While studying from the advanced study material what is important is that one does not rush to complete the topics, rather the focus should be on understanding.
Remember in the CAT exam 2022, one should aim at answering the questions in CAT correctly, rather than attempting all the questions without being sure about the answers of fifty percent of them. Beating about the bush will not work in the CAT 2022 exam. Hence to crack the CAT exam in 45 days, make sure you are thorough with the advanced study material in the next two weeks.
Also Check;
Top B-schools in India - Know the Seats and Fee
Selecting The Right B-school
Take the CAT 2022 Mock Tests
After being well versed with the basics and the advanced study material, now is the time to assess one's preparation by taking the CAT mock tests. Hence, the candidates must now regularly take CAT 2022 mock tests, the first section-wise and then full-fledged mock tests. Ensure that you are not careless while taking the mock test as it will prove to be detrimental on the day of the CAT 2022 exam.
Hence, what is important is that one remains honest with oneself while answering the questions in the CAT mock test 2022. After taking each CAT 2022 mock test, candidates must ensure that they analyze the mistakes which they committed while taking the CAT mock test and not repeat it on the day of the CAT exam.
Avoid unwanted discussions with friends
One very important thing that must be kept in mind while only 45 days are left for CAT preparation 2022 is to have an unwanted discussion with friends as it might cause distractions. Each individual is different and their style of studying and grasping things is different. So if one's friend has studied more than the other, it should not lead to anxiety or nervousness. Remember that at this stage of CAT preparation what is important is that one recalls whatever they have studied till now and remain confident about it.
Read more;
Part Time MBA in India
A Quick Guide to WAT and PI
CAT 2022 Exam Preparation in 45 Days - Evade Social Media
Though social media has become a good source of information, however, one must avoid it during the fag end of CAT 2022 preparation as it is sometimes intoxicating. Suppose one finds something interesting while browsing through the social media sites which are not part of one's CAT preparation, then he might waste his or her time in watching it or analyzing it. This can lead to distraction and one might not get back their focus.
Avoid Stress
Remember, now is the time to remain calm and composed as whatever you have studied till now is done and now one cannot really turn around the table. Hence do not unnecessarily take stress about what one has not studied. Also, remember that now is the time to feel confident about whatever one has studied and not think about what they have not studied.
No need to ponder over the result of CAT 2022 or what will happen on the day of the CAT exam. In order to beat stress, candidates can mediate regularly, pursue their hobbies which can relax their mind, and exercise regularly as it helps in proper blood circulation to not only the brain but also to the body.
Top MBA Entrance Exams
Questions related to CAT
Showing 10916 out of 10916 Questions