MAT 2021 Preparation Tips for Mathematical Skills: Best Books, Study Plan, Topics
MAT 2021 Preparation Tips for Mathematical Skills: The Mathematical Skills section of the MAT entrance exam is the most challenging and calculation-intensive section. The Mathematical Skills Section of the MAT exam contains 40 questions out of 200 questions. The difficulty level of this MAT Mathematical Skills section generally ranges from moderate to difficult.
Latest Updates for MAT
10 Jun 2021:

MAT 2021 registration

for PBT & CBT reopens for the June session. AIMA also adds two new slots for IBT mode.

07 Jun 2021:

Check your MAT results for the May-June IBT exams by entering your roll number and registration number.

25 May 2021:

May-June MAT Exam Registrations Open Apply Online.
Stay up-to date with MAT News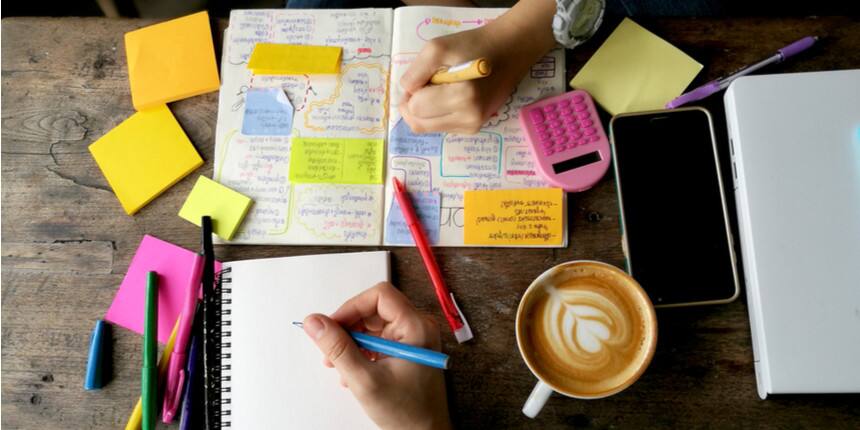 So, during the exam, pay attention to selection of questions. Those, who are good with numbers may not find it difficult to crack the Mathematical Skills section of the MAT exam. With the right kind of MAT preparation strategy, testers can easily master this area. Solving questions from the previous year MAT question papers may also be helpful to get familiar with the questions that can be asked in the exam. Check below some MAT 2021 preparation tips for Mathematical Skills and score a perfect 40/40.
Other related articles-

MAT Mathematical Skills Preparation 2021: Key Highlights
MAT Mathematical ability section is the most time-consuming section. More or less it depends on the computational skills of the candidates. The MAT 2021 mathematical skills section is generally the most popular section for students who like calculations. Some questions may require a lot of calculations, some can be solved quickly using logic. The total time for this section depends on the candidates' problem-solving skills and understanding of logic. Candidates should solve mock test papers to get an idea about the total time taken by MAT quantitative ability section which can be helpful on the exam day.
Solving the Mathematical Skills questions from the previous year's MAT question paper will help you to know the questions that can be asked in MAT 2021. This article covers the most important topics and preparation tips for the Mathematical Skills section of the MAT exam. Here, candidates will get an idea of the MAT syllabus, marking scheme, topics, and an average/ good score in the MAT 2021 mathematical skills section.
Also Check:
MAT Exam Dates 2021
MAT Eligibility Criteria 2021
MAT Exam Mathematical Skills Topics 2021
There are 40 questions in the mathematical skills section of the MAT exam. Each question carries one mark. Candidates can check the list of all the topics under this category:
Topics in MAT Mathematical Skills Section

Algebra

Algebra

Pure Maths

Pure Maths

Mensuration/ Geometry

Triangles, Circles, Coordinate Geometry

Arithmetic

Permutation and Combinations, Commercial Maths, LCM and HCF, Number System (3-4) questions, Percentages, Profit and Loss, Speed, Time and Distance; Time and Work; Averages; Ratio and Proportion and others, Interest (Simple and Compound), Elementary Mathematics, Sequence And Series, Mixtures and Allegation, Unitary Method, Number System, Heights, and Distance.

Other topics

Linear Equations; Quadratic Equations, Venn diagrams, Complex Numbers, Logarithm; Binomial Theorem, Surds and Indices, Inequalities, Set Theory, Progressions, Mixtures and Alligations, Co-ordinate Geometry, Linear Programming, Trigonometry
MAT Exam Mathematical Skills: Sectional Breakage
Candidates can check the number of questions asked in the exam and the total weightage of the section in the table below:
| | |
| --- | --- |
| Type of Questions | Multiple Choice Questions(MCQ) |
| Total weightage in MAT 2021 syllabus | 20% |
| Number of Questions in Mathematical Skills section | 40 |
Best Books for MAT Exam Mathematical Skills Section
Listed below are the most recommended preparation books for the Mathematical Skills section of the MAT 2021 exam. These preparation books are suggested by the toppers and experts in the MAT exam.
| | |
| --- | --- |
| Books for MAT Exam | Author/ Publication |
| Quantitative Aptitude for Competitive Exams | R S Aggarwal |
| The Pearson Guide to Quantitative Aptitude | Dinesh Khattar |
| Arithmetic and Quantitative Aptitude for Competitive Exams | R Gopal |
| How to Prepare for Quantitative Aptitude | Arun Sharma |
| Magical Book on Quicker Maths | M Tyra |
| Vedic Mathematics: Secrets Skills for Quick, Accurate Mental Calculations | Sumita Bose |
| Speed Mathematics: Do it quick, Do it right | Rajesh Kumar Thakur C |
| Mathematics for MBA | R S Aggarwal |
Read More-
Top B-Schools Other Than IIMs
MBA Admission Without Entrance Exam
MAT Exam Pattern 2021
Candidates can also solve MAT sample papers provided by Careers360 in order to have a better grasp of MAT exam pattern for Mathematical Skills. MAT 2021 consists of 5 sections with a total of 200 questions. There are 40 questions in each section. One mark will be awarded for each correct answer and 0.25 marks will be deducted for each incorrect attempt. The maximum time for the exam is 150 minutes. There is no time limit for any section, so candidates can set aside any time for any section.
Candidates have to solve MAT mock test papers to get an idea of the total time taken in each section which can help on the day of the MAT 2021 exam. Also, the difficulty level of each section is different. Candidates should try to solve the easy ones first so that they can save time for long and complicated questions.
| | | | |
| --- | --- | --- | --- |
| Section | No. of Questions | Total Marks | Suggested Time |
| Mathematical Skills | 40 | 40 | 40 |
| India and Global Environment | 40 | 40 | 15 |
| Language Comprehension | 40 | 40 | 30 |
| Intelligence & Critical Reasoning | 40 | 40 | 30 |
| Data Interpretation and Sufficiency | 40 | 40 | 35 |
| Total | 200 | 200 | 150 |
Know more about MAT 2021 Exam Pattern here.
Preparation Tips for MAT 2021: Mathematical Skills
Study MAT Mathematical Skills topics thoroughly
The MAT 2021 exam will have a score of 40 questions each in the mathematical skills section. If the candidate has ideological clarity on each topic, it is easy to distort any issue with accuracy. The MAT 2021 Mathematical Skills section includes - Speed, LCM and HCF, Time and Distance, Time and Work, Number System, Unitary Method, Average, Triangles, Coordinate Geometry, Venn Diagrams, Circles, Trigonometry, etc.
Memorize Theorems, Formulas, and Shortcuts
To pass each topic in the Mathematical Skills section of the MAT exam, examinees need to know all the formulas and theorems. Read each topic one by one. Get complete conceptual clarity and understand the application of each theorem. If you do not understand the principles, you will not be able to solve the questions accurately. After completing a topic, solve some questions to evaluate whether you can apply them to math problems.
Memorize all the Geometry, Trigonometry, and Mensuration, formulas, and theorems of Algebra. Also, memorize Tables up to 20, Square Root, Square, and Cubes.
Follow the step by step formulas to learn practice problems
When preparing for MAT 2021, follow a step-by-step strategy to learn formulas and practice problems. Avoid random tactics because it can cause more confusion and stress at the same time. It is good to start learning easy formulas. Let's say you find algebra easier than other math topics. Learn the principles of algebra first, then strengthen your grasp of topics by solving algebra-based problems. The next step is to learn the intermediate level of formulas and theories. Use the same strategy followed for easier formulas. Finally, move on to advanced-level math topics.
Learn Time Management Skills
MAT, like any other MBA entrance exam, is a speed-based test. Mastering time management skills are important as the Mathematical Skills section of MAT has calculation-intensive questions which take time. Amounts are tricky if you do not master the application of the correct formula or theorem.
Therefore, practice MAT mock tests and sample questions in a timely manner. Try the same questions again and try to solve them in less time. Repeat this process three times to get both speed and accuracy. It is a self-test drive that helps you learn the time management skills for the MAT exam.
Avoid Guesswork in MAT Exam
Mathematical questions must be solved through the application of formulas and theories, the correct answer to a question can only be known by calculation. Do not resort to speculative work. This can lead to negative references.
Finally, start early by preparing the math skills section. The sooner you start preparing, the better you will get basic clarity on tough topics like vectors, differential equations, trigonometry. Formulas and theories for preparing for a mathematical skill problem.
Make notes of formulas, principles learned, and shortcuts found during preparation for the MAT exam. These tips will be very useful for making corrections in the final stages of MAT 2021 preparation.
Also Read:
Questions related to MAT
Showing 3951 out of 3951 Questions
Management Aptitude Test (MAT)