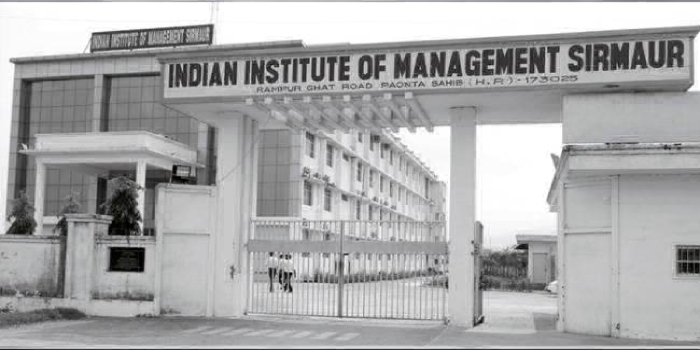 IIM Sirmaur Admission Criteria 2019 – The admission criteria of IIM Sirmaur for the batch 2019-21 has been released with some major changes in comparison to the last year. Just like last year, the maximum weightage has been given to CAT score in the final merit list. The institute, however, has increased the CAT cutoff criteria for General category candidates from 90 to 95 percentile. IIM Sirmaur Admission Criteria 2019 also mentions that other factors such as Written Ability Test (WAT), Personal Interview (PI), Work Experience, Academic Performance and Diversity will also be considered for the final selection with a significant weightage. However, to reach that stage, candidates have to meet the minimum eligibility criterion i.e. CAT percentile. Every factor has got some weightage. Read the article to understand the entire IIM Sirmaur admission criteria 2019.
MBA/PGDM Admissions Open 2019
SOIL School of Business Design
Stages of IIM Sirmaur Admission Criteria 2019
Stage 1: IIM Sirmaur Admission Criteria 2019 – Shortlisting candidates based on CAT score for WAT and PI process
The first stage is the common eligibility criteria for shortlisting candidates for WAT and PI process. This criterion is same for all other participating IIMs for CAP 2019. The following table explains the minimum eligibility criteria i.e. CAT sectional and overall percentile.
CAT Pathfinder
Know your call chances for Admissions
Use Now
IIM Sirmaur Cutoff for CAT 2018
Category

DILR

Percentile >=

VARC

Percentile >=

QA 

Percentile >=

Aggregate

General

80

80

80

95

NC-OBC

60

60

60

78

SC

50

50

50

60

ST

30

30

30

40

DAP

30

30

30

40
*VARC – Verbal Ability & Reading Comprehension
*DILR – Data Interpretation & Logical Reasoning
*QA – Quantitative Analysis
Note: Above mentioned are the minimum eligibility criteria and do not imply entitlement. However, the criterion is subject to revision at any point of time depending upon the institutional requirements. The criteria w.r.t. individual sectional percentile and the overall percentile may be lowered/relaxed if the actual number of shortlisted candidates are found to be less than the required number of candidates to be called for WAT and PI in one or more categories. The relaxation, if any, in the cut-off criteria shall be to ensure a sufficient number of candidates for each of the categories for the WAT and PI process. The participating IIMs/Admission Committee at IIM Sirmaur reserve the right to have a higher/lower cut-off than those mentioned above. 
Stage 2: IIM Sirmaur Admission Criteria 2019 – WAT and PI
Candidates who meet the above-mentioned minimum eligibility criterion i.e. CAT percentile, will be asked to appear for WAT and PI. Post that, other factors such as work experience, past academic performance including class 12th and graduation marks, and diversity factor including academic disciplines and gender will also be considered before announcing the final selection. A composite score will be generated on the basis of all the factors.
Stage 3: IIM Sirmaur Admission Criteria 2019 – Preparing Final Merit/Selection List
The final merit list will be generated as per the following:
Marks to Each Factor for Final Merit List
| | |
| --- | --- |
| Stage | Marks  |
| Scaled CAT score | 30 |
| WAT | 15 |
| PI including Extempore test | 15 |
| Class XII marks | 5 |
| Graduation marks | 10 |
| Work Experience | 15 |
| Diversity Factor (DFa): Academic Disciplines | 5 (if academic discipline is any of those mentioned in the table below); Else = 0 |
| Diversity Factor (DFb): Gender | 5 for Female candidates; Else = 0 |
| Composite Score | 100 |
Note: Only full-time employment will be considered for calculation of work experience score. Also, only completed months will be taken into account. Total marks for the Diversity factor are 5. Candidates can either avail DFa marks or DFb marks.
The next table explains the topics/subjects covered in the DFa. Let's have a look.
Academic Disciplines eligible for diversity factor DFa marks
Arts/Humanities: Anthropology, Archaeology, Education, Fine Arts (Dance, Music, Painting), Geography, History, Journalism, Languages, Library Science, Literature, Philosophy, Political Science, Psychology, Public Administration, Social Work/Welfare, Sociology, Liberal Arts, Performing Arts (Drama/Theatre), Education (including Physical Education and Sports), Law
Commerce/Economics: Accountancy, Auditing, Banking, Business Mathematics, Business Administration, Business Organization, Commerce, Economics, Economic Development and Planning, Public Administration, Public Finance, Secretarial Practices.
Chartered Accountancy, Cost and Works Accountancy, Company Secretaryship
Computer Application
Science: Biology, Chemistry, Mathematics, Physics, Statistics, Pharmacology/Pharmacy, Medicine/Dentistry
Final discretion on the academic category that an academic program will be classified into rests with the Admissions Committee of IIM Sirmaur.
IIM Sirmaur Admission Criteria 2019 – Offer Acceptance and Withdrawal
A candidate receiving the admission offer from IIM Sirmaur shall be required to accept the offer within the specified time and date and shall need to deposit an offer acceptance amount @ Rs. 50,000/- through an online transaction to reserve the candidature. The amount so deposited shall be adjusted in the Term Fee at the time of Registration. However, a candidate may wish to subsequently withdraw the offer up to a time limit as may be specified by the Institute. In such case/s, the amount shall be refunded to the candidate after deducting the processing charge of Rs. 1,000/- only. In the event of withdrawal from the Programme after Registration, No Refund of Offer Acceptance Amount and/or Term Fee will be made. 
Note: Any dispute concerning Admissions for Batch 2019-21 would be subject to the jurisdiction of the competent Courts within the territorial jurisdiction of District. Sirmaur.
IIM Sirmaur Admission Criteria 2019 – Reservation Policy 
IIM Sirmaur follows the Government of India reservation policy for admission to Central Educational Institutions (CEIs).