How to Prepare for CAT 2020 in 2 Months?
How to Prepare for CAT 2020 in 2 Months? - No one is unfamiliar with the competitiveness of the CAT entrance exam. The importance of CAT can be easily acknowledged through the number of applicants who register every year. Although it is advisable that candidates should start their preparation 4-5 months prior to the exam, candidates preparing for CAT 2020 must note that it is never too late to start preparing for the CAT. But the question is how to prepare for CAT 2020 in 2 months? Honestly, it requires hard work, determination and dedication to put your mind in order to achieve 100 percent results. In this article of how to prepare for CAT Exam 2020 in 2 months, Careers360 will give you major tips on formulating a study plan that will help you in preparing for CAT in this little time. This study plan will also ensure peek performance that gives maximum output. Candidates must know that CAT is an aptitude exam and not a knowledge exam.
Latest: Candidates can take the CAT 2020 mock test to get familiar with the exam pattern. IIM Indore will release CAT 2020 admit card on October 28.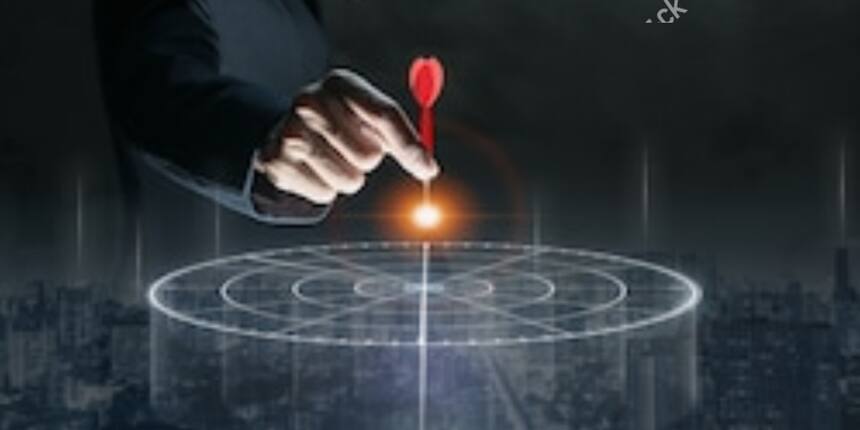 Strategies To Be Followed For CAT 2020
Candidates who will register for CAT 2020 and will start their preparation prior to two months are requested to go through the basic strategies listed below to have better understanding.
Decide In Advance The Number of Hours to Devote for CAT 2020 Preparation?

Do Not Start A New Topic

Maintain Speed and Accuracy Through Revision

Increase Attempts of Mock Tests

Look For a Guide/Mentor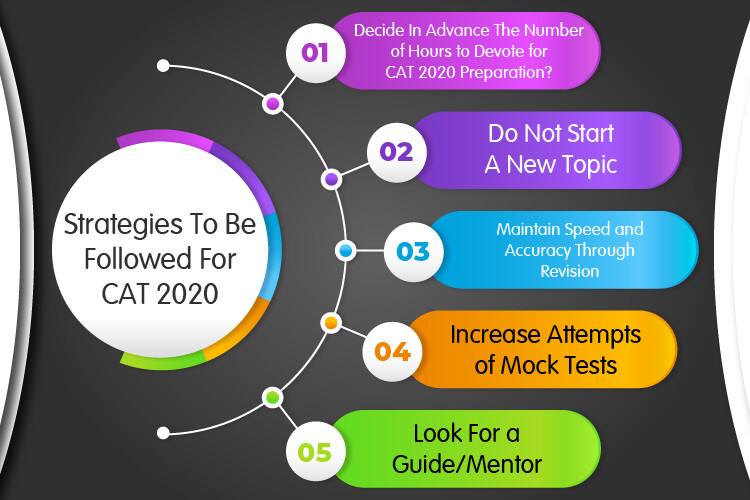 Let us look at each CAT 2020 Strategy one by one closely -
Decide In Advance The Number of Hours to Devote for CAT 2020 Preparation?
As per CAT 2019 Topper Lakshya "Time management & hard work will lead to success". Lakshya believes that in IIM Entrance exam, time plays a pivotal role. As per the exam pattern of CAT 2020, candidates will have to face a sectional time limit in which three sections each with a 60 minutes limit will be there. Try to make a timetable that allows you to study each section 3 hours a day on a daily basis.
For example if a day is 24 hours, and you devote 3 hours daily to each section i.e. three hour to Verbal Ability & Reading Comprehension, three hour to Data Interpretation & Logical Reasoning and three hour to Quantitative Ability. Only 9 hours out of 24 are used. In the remaining time i.e. 24-9 = 15 hours you can do what extra you want.
Section-wise Quick Links
How to prepare for CAT VARC (Verbal and Reading Comprehension)
How to prepare for CAT DI & LR
How to Prepare for CAT Quantitative Ability
Do Not Start A New Topic
One of the most important things to keep in mind while starting your preparation prior to 2 months before CAT 2020 is that you should not start any new topic. Take some time, get a print out of CAT syllabus 2020 and note the familiar topics. Now candidates should be very careful and not choose a new topic from the CAT 2020 syllabus because starting a new topic will be time consuming. Moreover, the known topics might get affected too as well as candidates will be uncertain on how much command they can attain in the new topics. Thus, instead of starting any new topics, the candidates should practice the topics they already have prepared previously.
Maintain Speed and Accuracy Through Revision
Once you are half way through the syllabus of CAT 2020, try to revise the topics that you have already learned and covered in order to maintain momentum. Make sure that speed and accuracy both are at pace as both are equally important. Note that CAT 2020 will never be about attempting all questions; instead it will be getting one more right than your other fellow test takers. Both speed and accuracy can be maintained by solving more and more CAT question papers/sample papers. Search google and try to find a simpler, easier and yet fastest way of solving tricky questions. Apart from solving MCQs, try to study TITA Questions as well. Revise all the known topics, make sticky notes of important formulas so that it gets into your head easily.
Quick Links
How to tackle TITA questions in CAT?
Increase Attempts of Mock Tests
Importance of mocks is known only after its taken as described by CAT 2019 toppers. "The mock test of CAT and its subsequent analysis form the backbone of candidate's preparation, so it's very important to join at least one if not two different mock test series", says Ronit Banerjea who cleared CAT 2019 with 99+ percentile. Mock tests help you analyze your relative performance across a variety of different kinds of papers. Along with that critically analyse them to clear concepts.
To be specific, Roughly 100 hours should be used in practicing the CAT 2020 mock tests. After each test taken, analyze your performance and ensure the balance between both strongest and weakest sections.
Quick link -
Why, When and How to take CAT Mock Test?
Look For a Guide/Mentor
For any exam, be it competitive or informal, it is important to have a guide/mentor as this will lead to better results. For those who will be appearing or giving CAT 2020 for the first time, it is advisable to take help of a mentor or teacher who can assist you with getting questions done accurately without hampering time. Moreover, forming a focused friend circle who is attempting for the same/has given CAT in previous years can be beneficial and help clearing doubts and formulating a test strategy.
Last but not the least, CAT is such an exam that tests not only your subject knowledge but also tests your mental grit as well as determination. Remember that everyone faces low points during preparation and there will be a time when even you would, but that should not let you down.
Questions related to CAT
Showing 9065 out of 9065 Questions